The first reporting period of the new year proved to be one of, if not, the most exciting periods I've ever had the good pleasure to be a part of since beginning this journal back in 2014! Wholly dominated by the effects of a powerful coastal nor'easter (unofficially dubbed Winter Storm Grayson by outlets affiliated with The Weather Channel), this period was utterly jam packed with rarities, and an explosion of waterfowl also occurred as most inland bodies of water iced over completely and forced many species to the coast. Heavy snowfall impacted Virginia Beach from about 7 PM on Wednesday, 3 Jan through about 3 PM on Thursday, 4 Jan, leaving anywhere from 8-12 inches on the ground depending on the specific location within the city. Normally cryptic/secretive species were pushed out into the open as available foraging habitat became swiftly constricted by the snow cover. The plethora of incredible reports was topped by new records for COMMON MERGANSER, GREATER WHITE-FRONTED GOOSE, ICELAND GULL, GLAUCOUS GULL, BREWER'S BLACKBIRD & LINCOLN'S SPARROW, continuing reports of CACKLING GOOSE, LECONTE'S SPARROW & BLACK-LEGGED KITTIWAKE, unseasonal occurrences of Blue-winged Teal, Least Bittern, Yellow-throated Warbler & Ruby-throated Hummingbird, and late reports for Cattle Egret!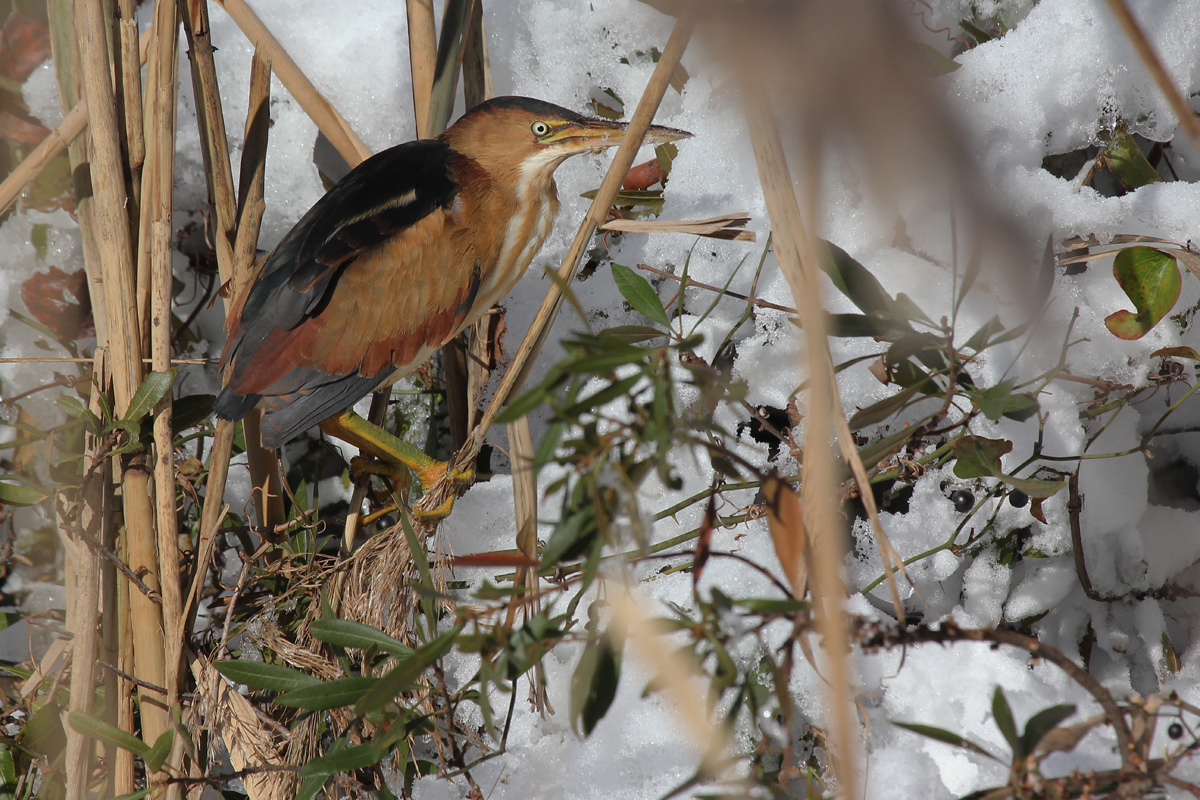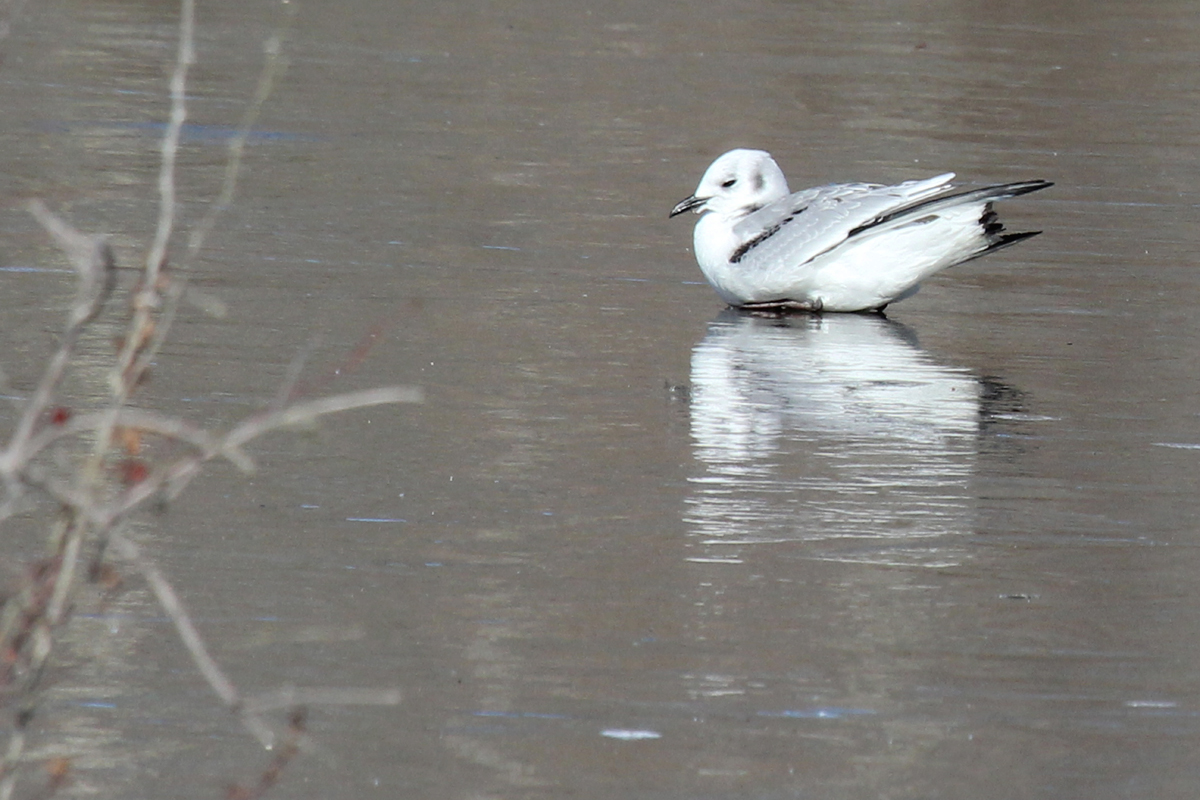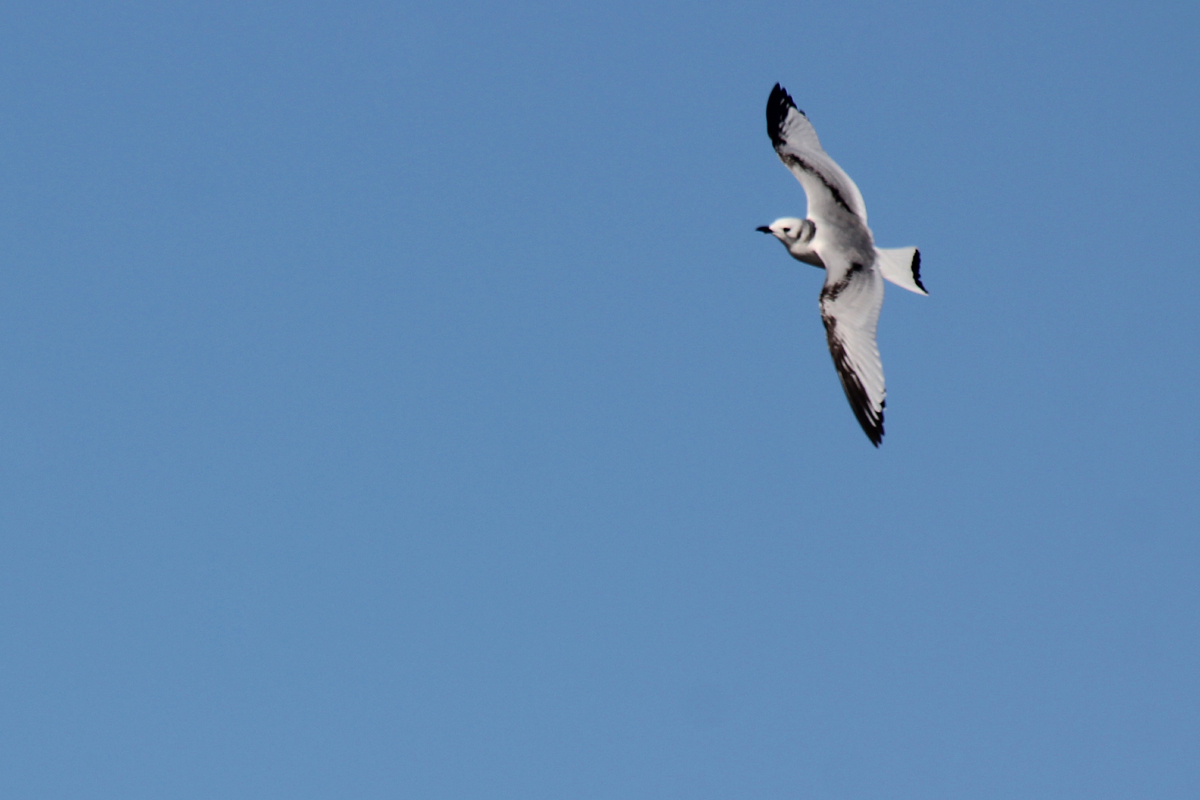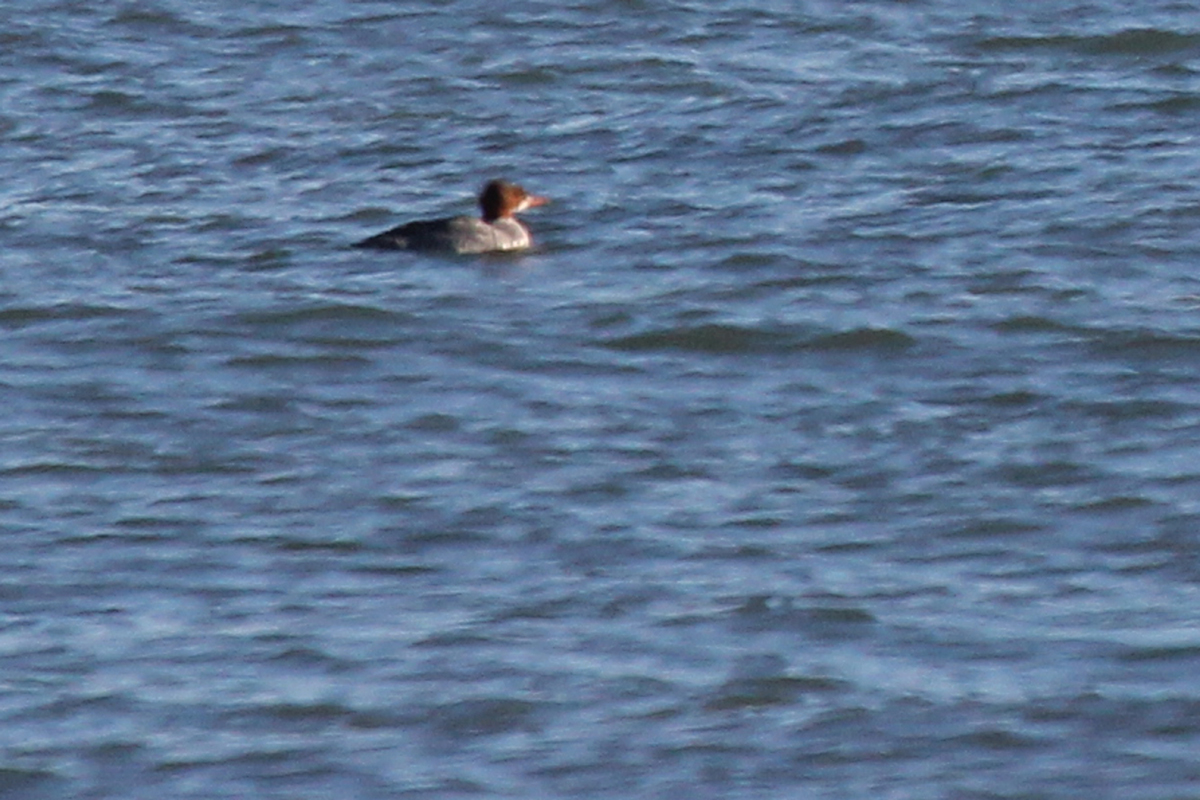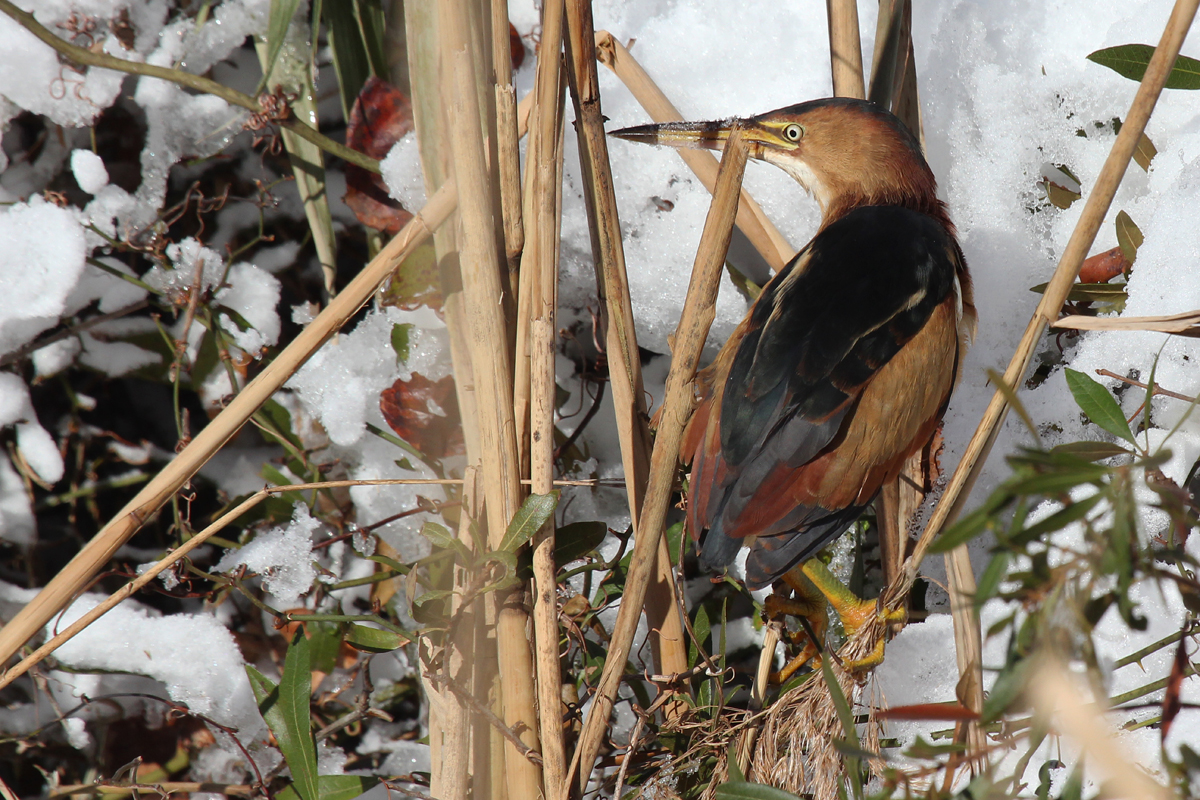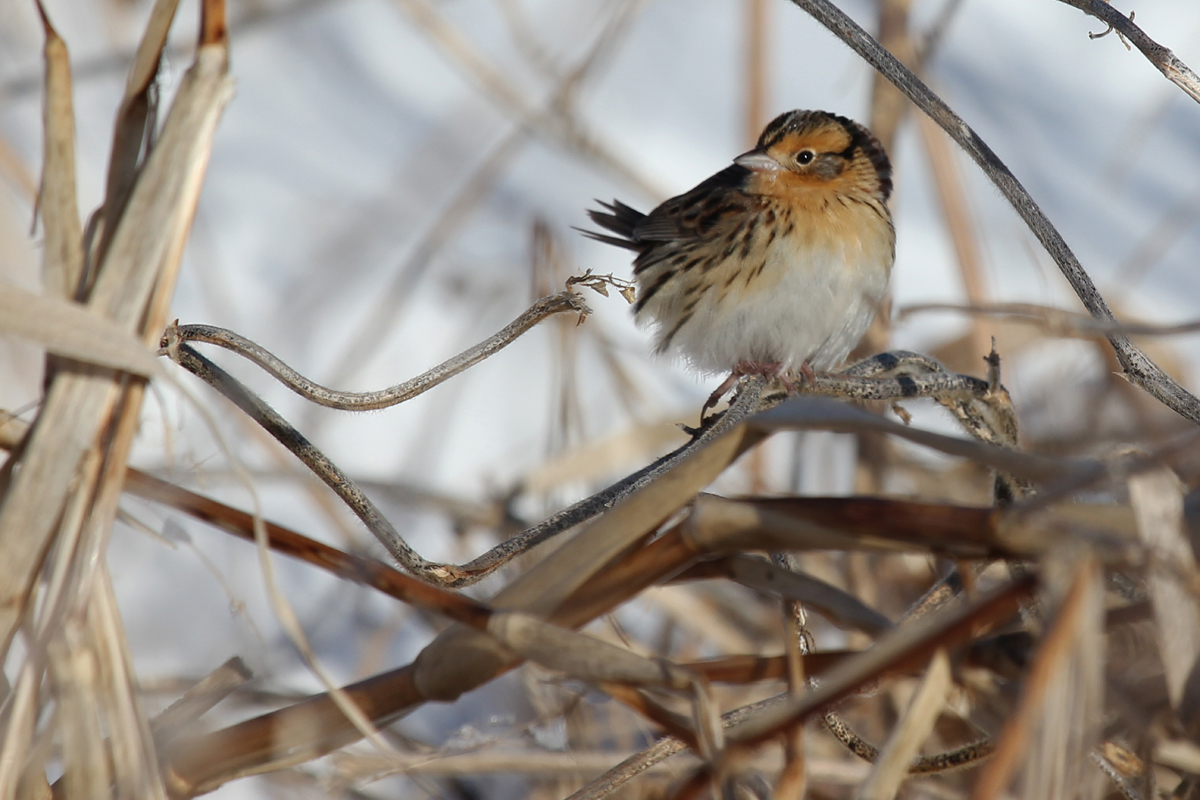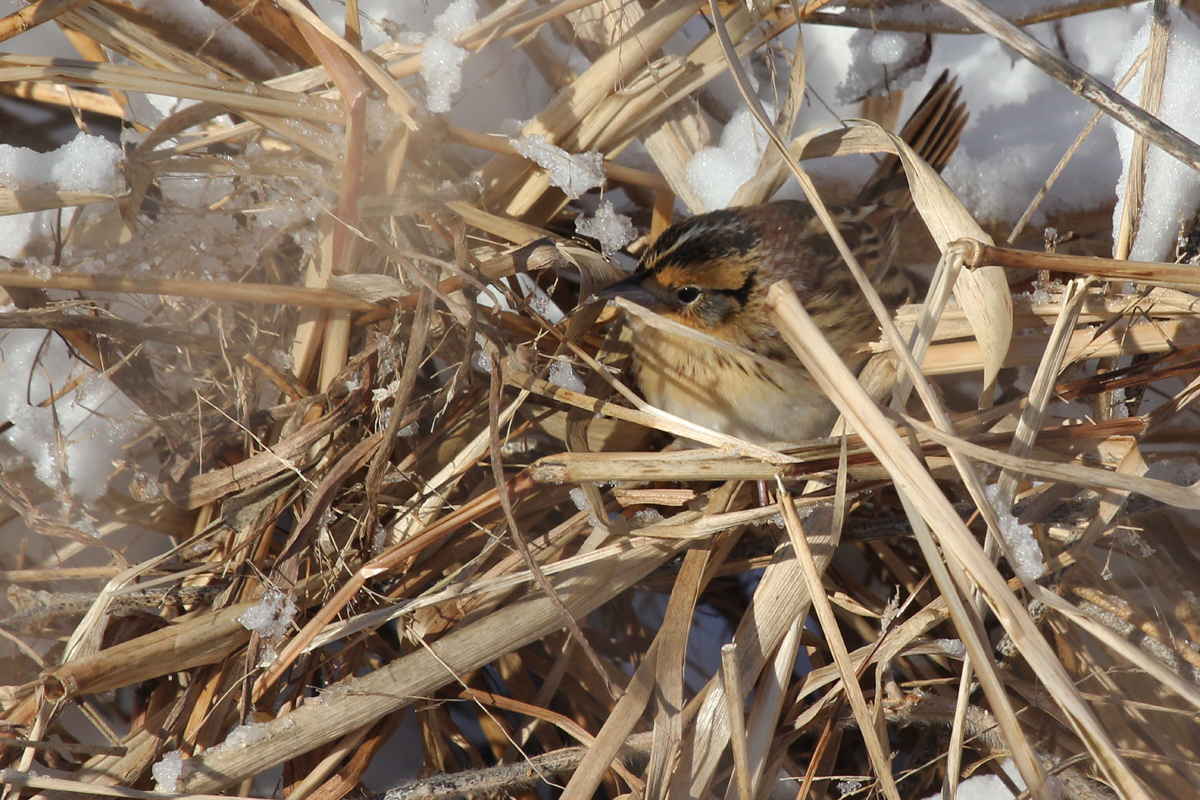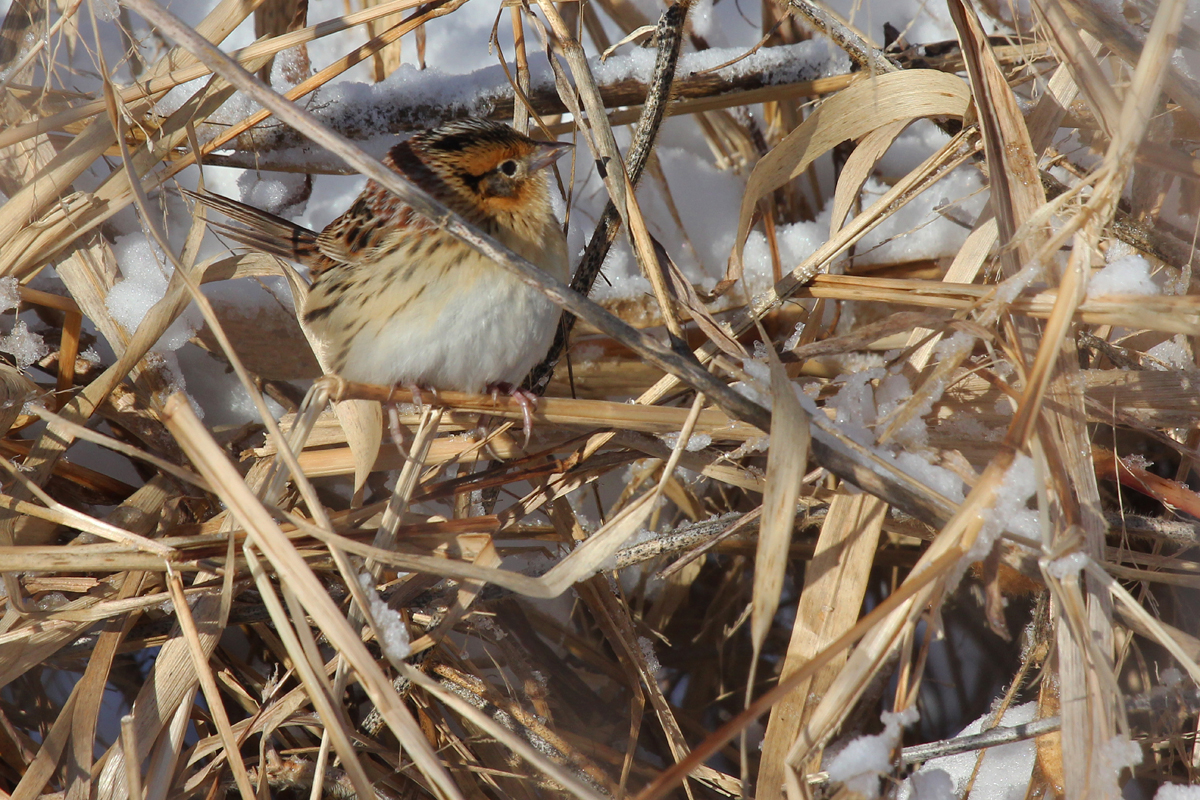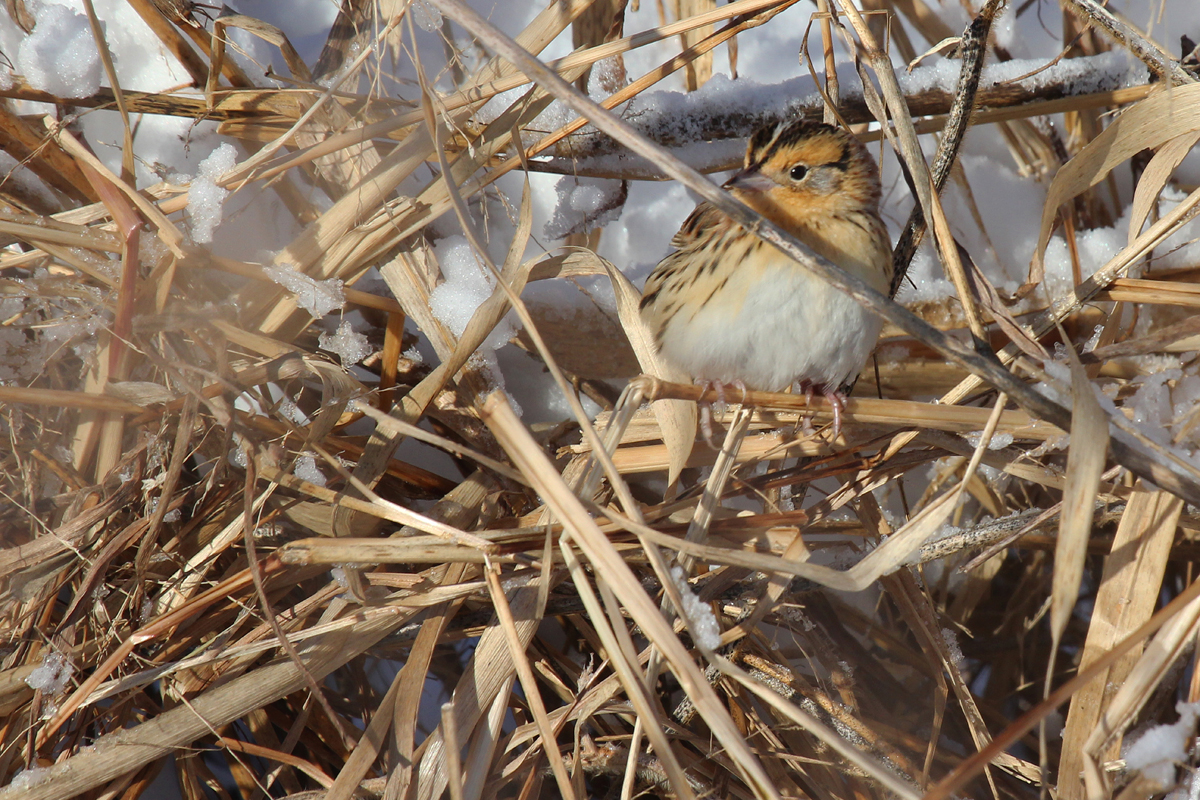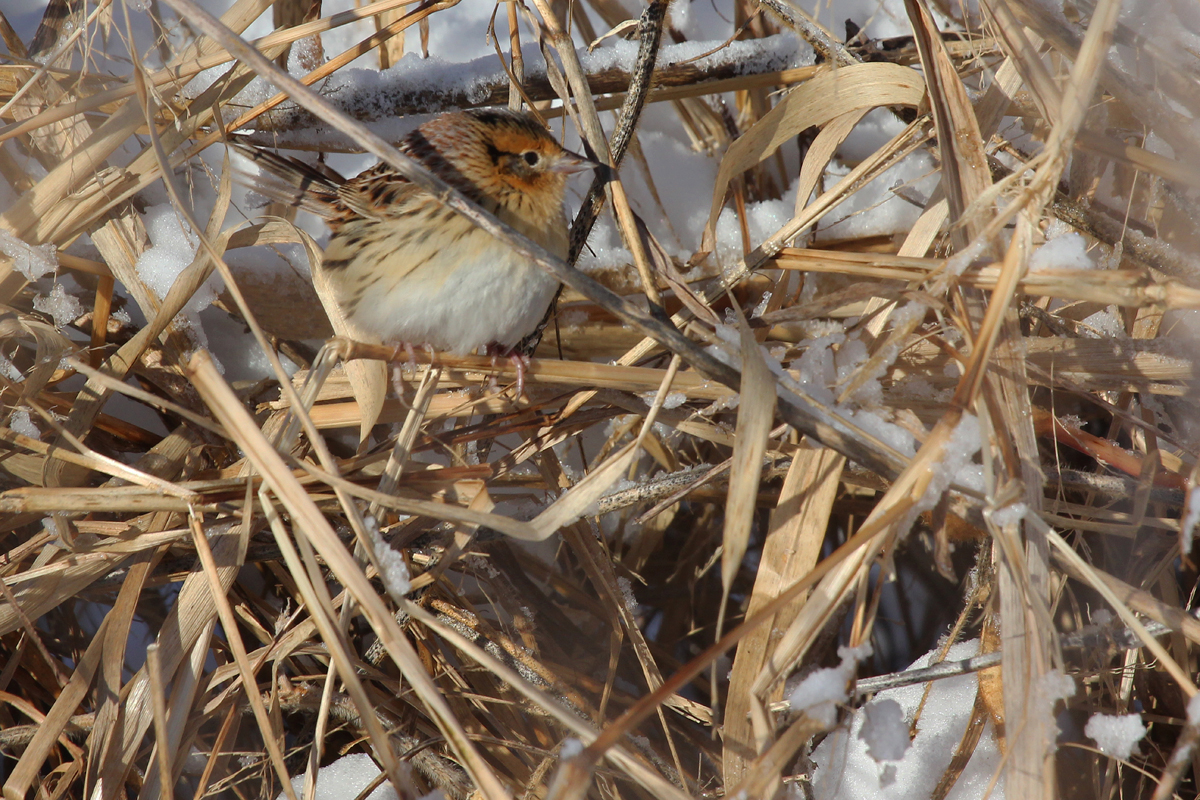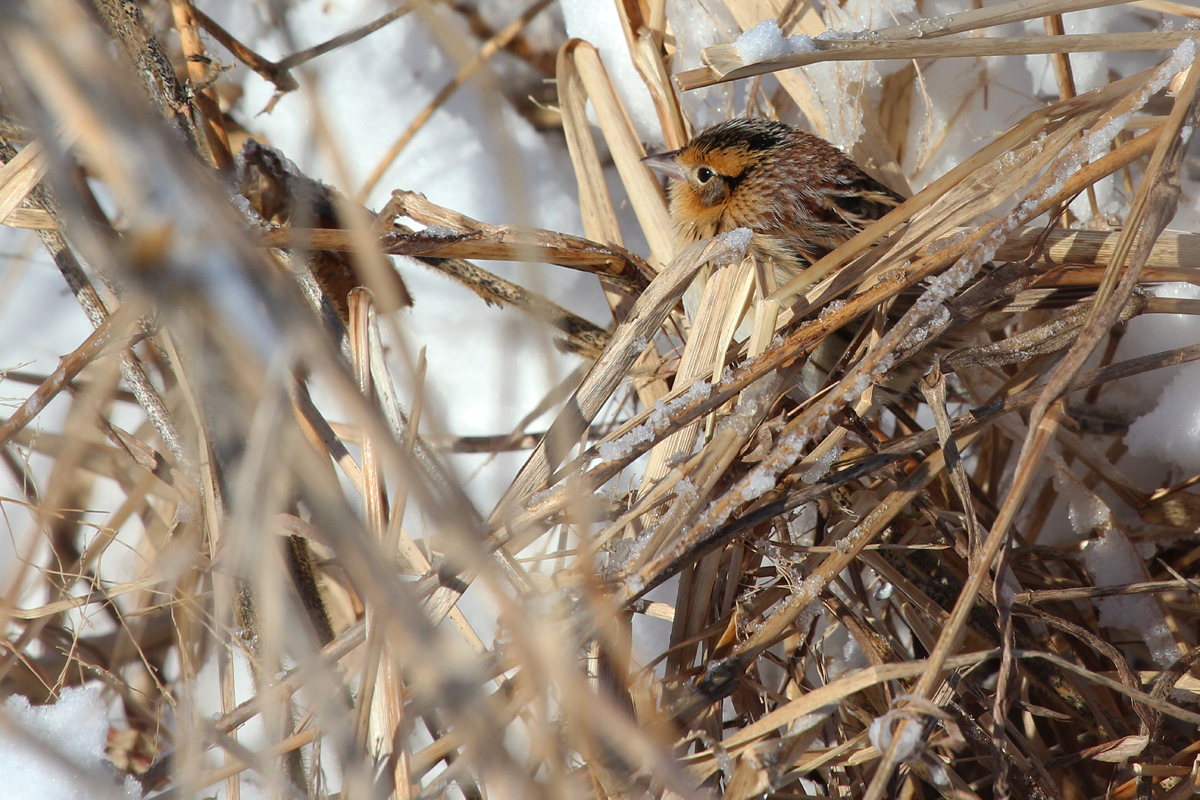 For starters, high winds and localized snowfall kicked off 2018 as a 'Chesapeake Streamer' impacted the southern and eastern portion of the city. Amusingly, accumulations of about a half inch occurred on some roads along Back Bay's western shore, but even a few miles to the west, no snow fell. Frigid temperatures persisted from late December into early January, with lakes icing up by the first of the year, even in locations that haven't iced up completely for years. Prior to the arrival of an extremely powerful coastal nor'easter in the morning hours on 3 Jan, a flock of 12 COMMON MERGANSERS was discovered on Sherwood Lakes (ph. Carson Lambert / Andrew Rapp / Robert Wood). This is the second report of the species in Virginia Beach this winter, as a group of three were previously observed in flight off Back Bay NWR on 29 Dec during the Christmas Bird Count (obs. Edward Brinkley). Sherwood Lakes, thanks to its depth and volume of water was able to stay ice-free even in the persistent sub-freezing temperatures of early January. Due to this, it became a true haven for waterfowl and other waterbirds like Coots and Grebes. In past years, the lakes (north & south ponds) have been the most reliable place in this city to observed Common Mergansers, which are probably outnumbers here by Red-breasted Mergansers about ten thousand to one. The flock continued through the remainder of the reporting period, with most observations occurring on the smaller southern pond. In addition to the Sherwood Lakes flock, a single COMMON MERGANSER was also found on the ocean waters just off of Little Island Park on 6 Jan (ph. Andrew Baldelli & Rob Bielawski).
As a direct result of the Common Mergansers being found on Sherwood lakes, on 3 Jan, our first GREATER WHITE-FRONTED GOOSE report of the season was logged when a pair was found on the north pond (ph. Karen & Tom Beatty). Last winter, the first individual observed at this location occurred on 4 Dec, with thirteen then being found on 18 Dec and a high count of 15 eventually being reached before the sightings stopped on 6 Jan ahead of a strong snowstorm. Prior to this past winter, only one other report exists for the species in eBird within Virginia Beach, that being an individual present on the field at Baybreeze Farms off Sandbridge Road on 14-15 Feb 2014 (obs. Robert Ake). So with two winter seasons in a row showing this species, perhaps this will become a more regular occurrence. Or, perhaps it is a regular occurrence, and the goose flock around Sherwood Lakes simply didn't receive the same attention in past years? In either case, it is exciting to know this species again has a presence in the city, and reports continued for the pair on 6 Jan (ph. Marie & Ron Furnish) and 7 Jan (obs. Nick Newberry).
At least two different ICELAND GULLS were observed during early January, with an immature bird found at Rudee Inlet on 4 Jan (obs. Andrew Baldelli) while the heavy bands of snowfall impacted the region. Potentially the same individual, or a second immature, was observed at the Lynnhaven Fishing Pier on 8 Jan (ph. Andrew Baldelli & Tracy Tate, and later ph. Kathy Louthan). Lastly, what is most likely the same adult Kumlien's Gull found initially on 20 Dec 2017 (ph. Andrew Baldelli) was observed again at 57th Street Beach among a large flock of gulls that were actively feeding on the immediate shoreline in the wake of the nor'easter on 5 Jan (obs. Andrew Baldelli). This individual seems to be moving around along the Oceanfront and anyone interested in tracking it down basically needs to start around Rudee Inlet, and slowly work north, spot checking the beach every few blocks to see if large groups of gulls are around that may be concealing this rarity.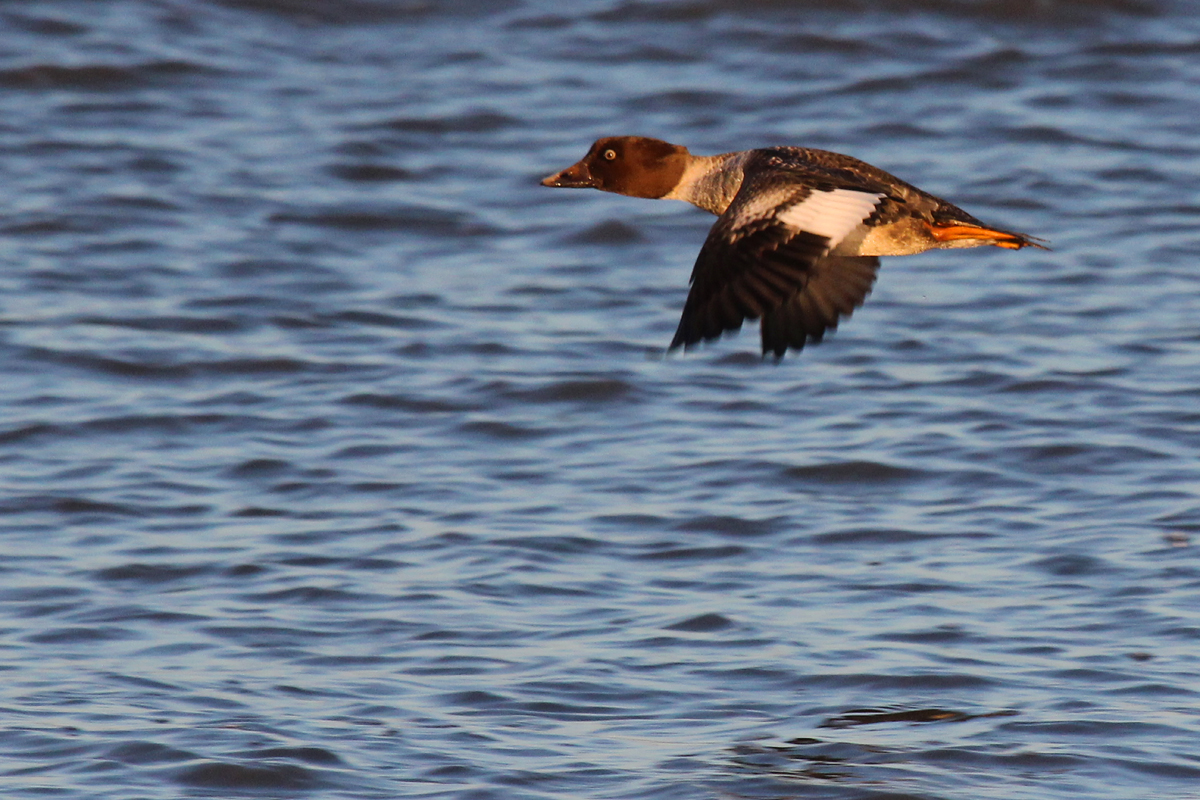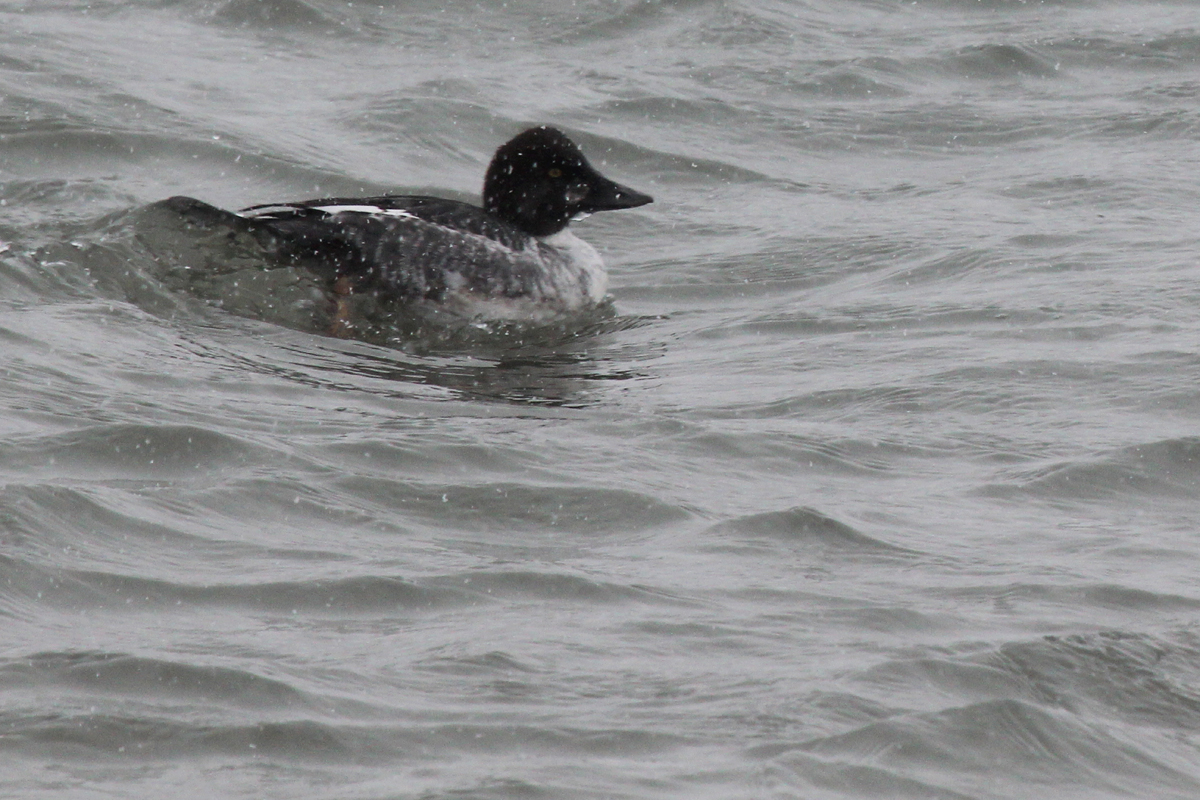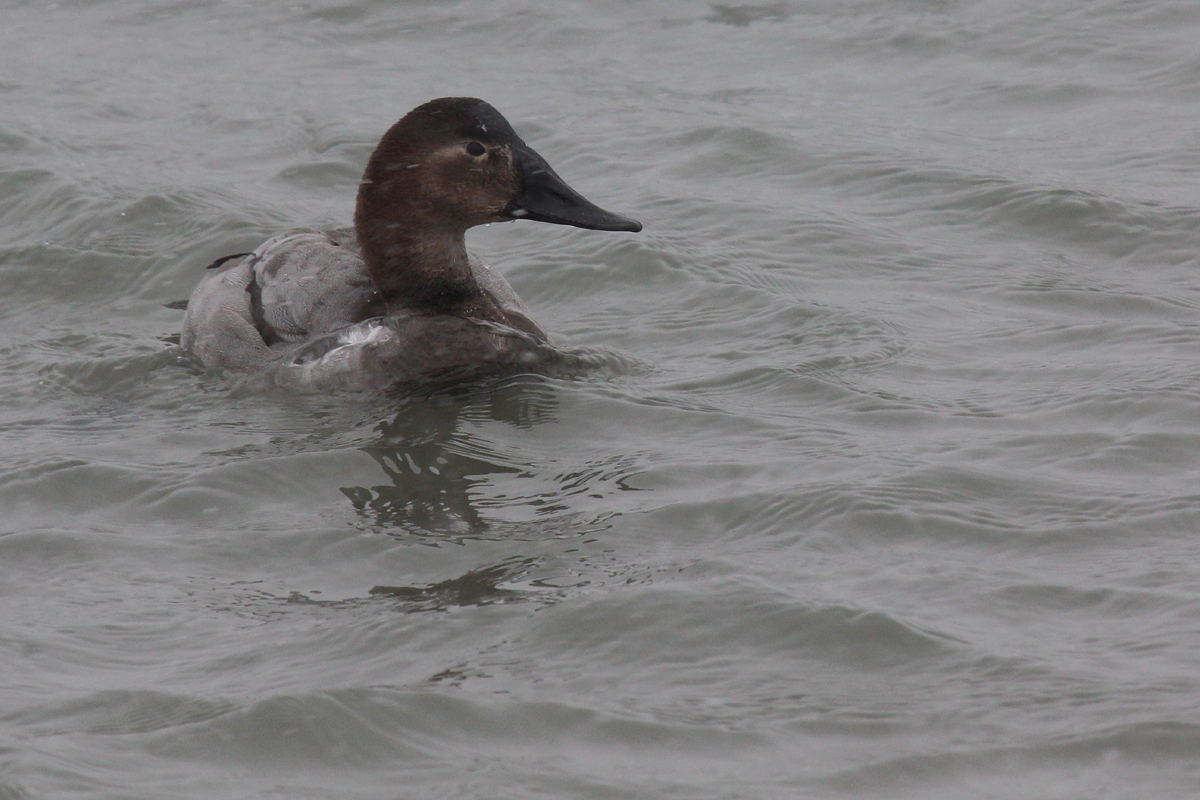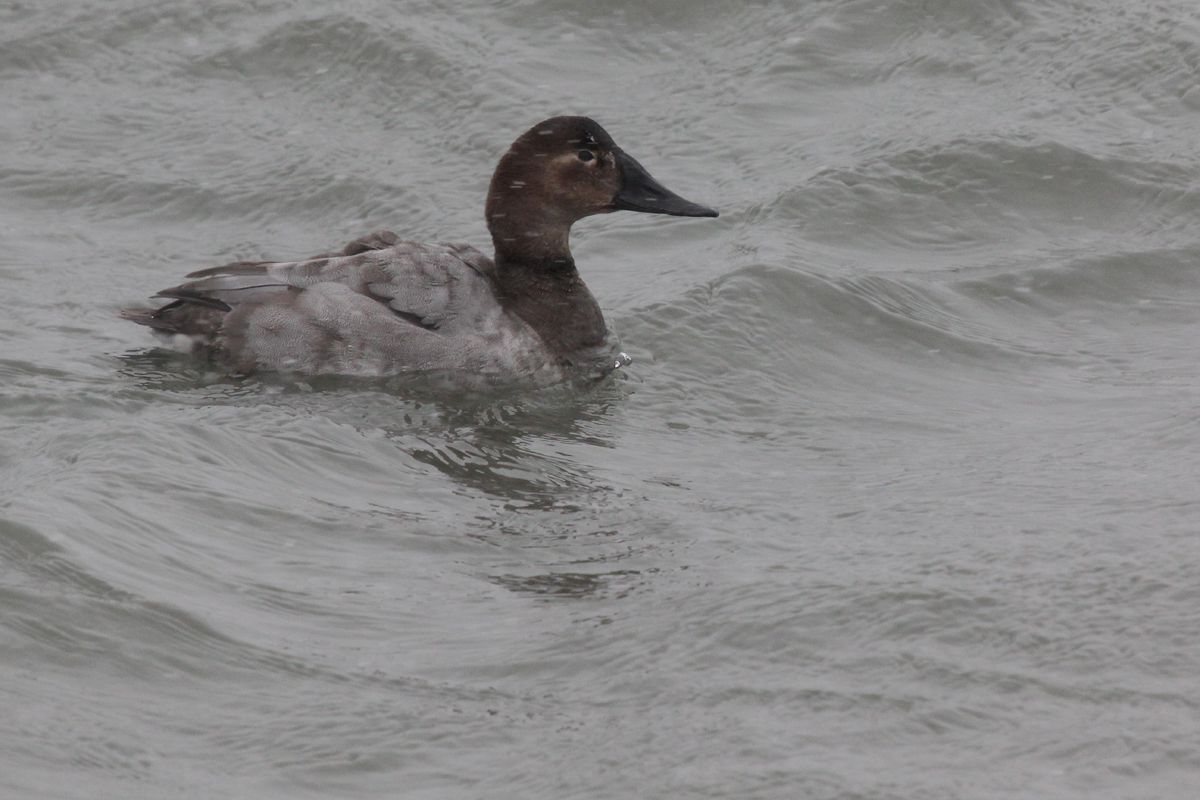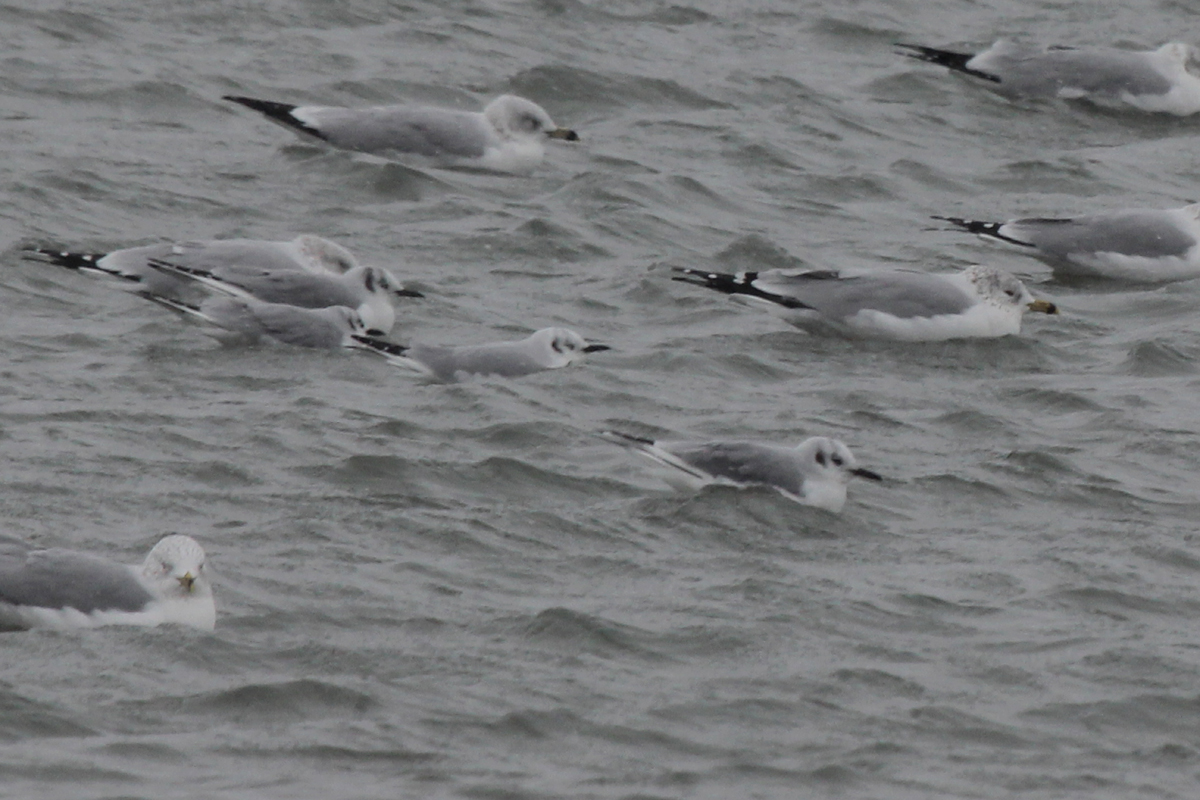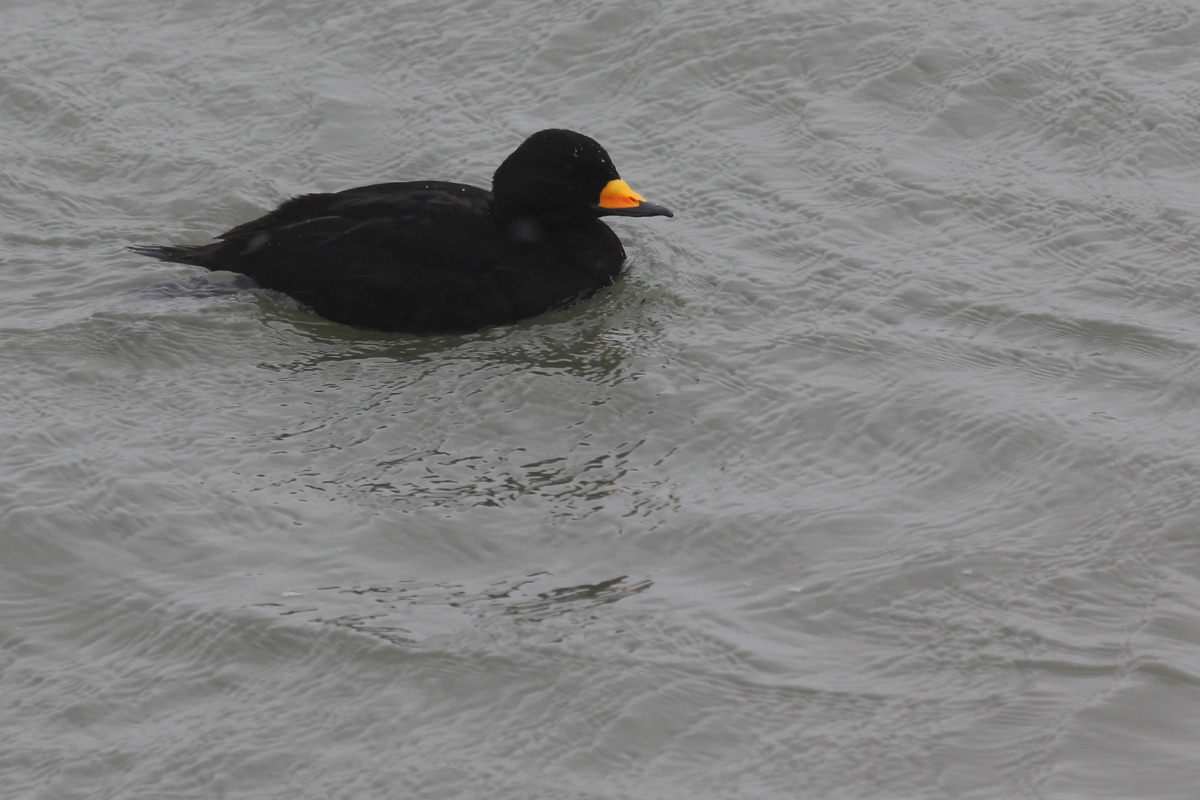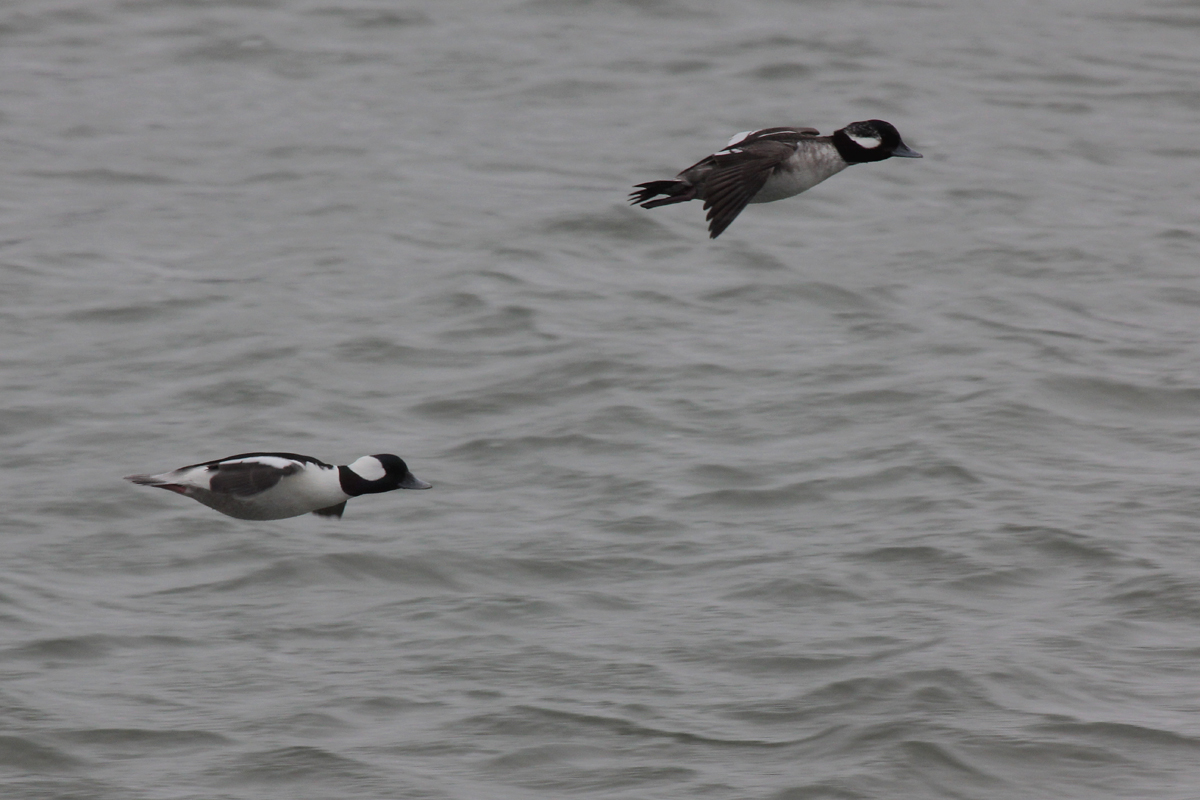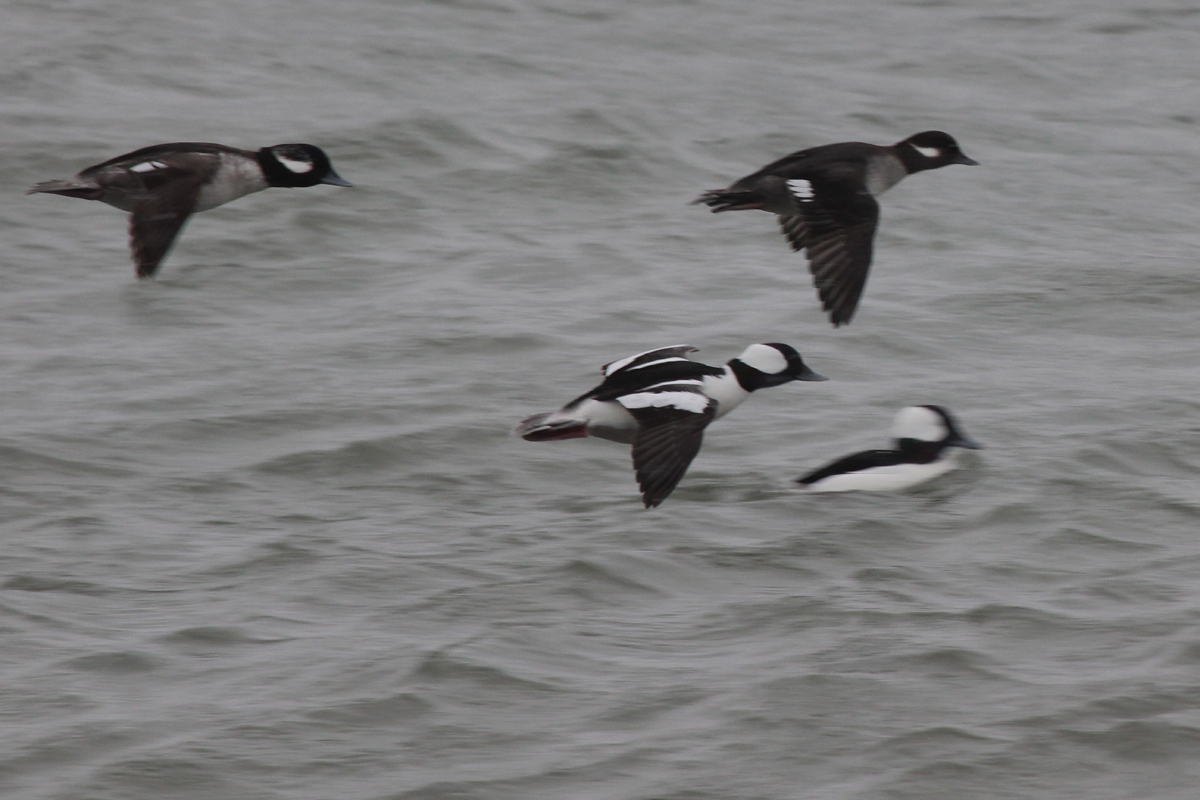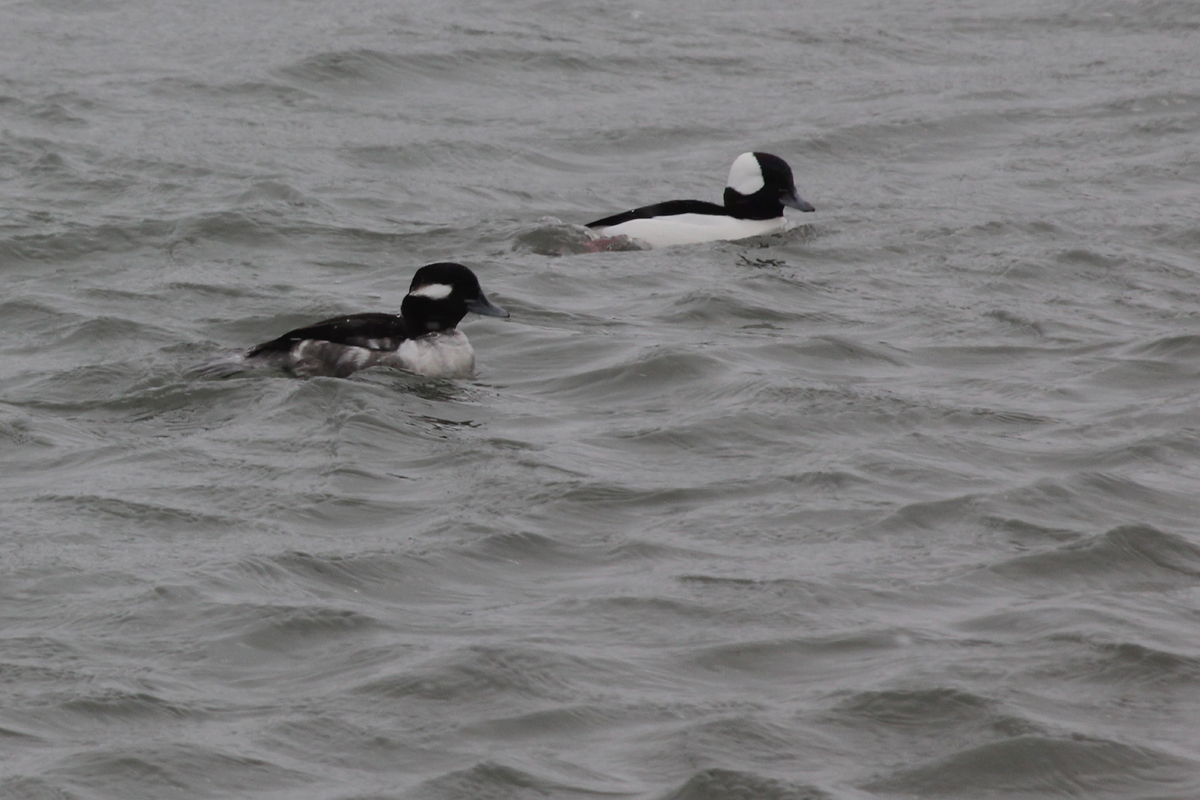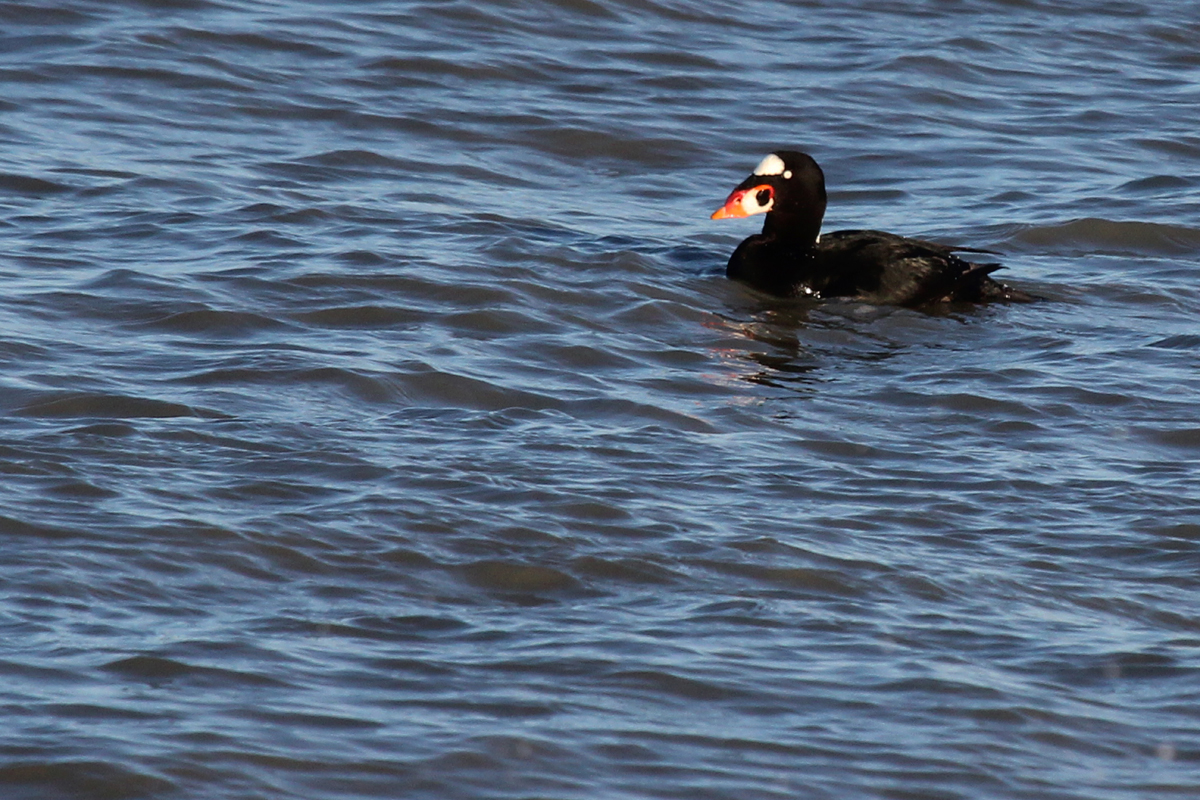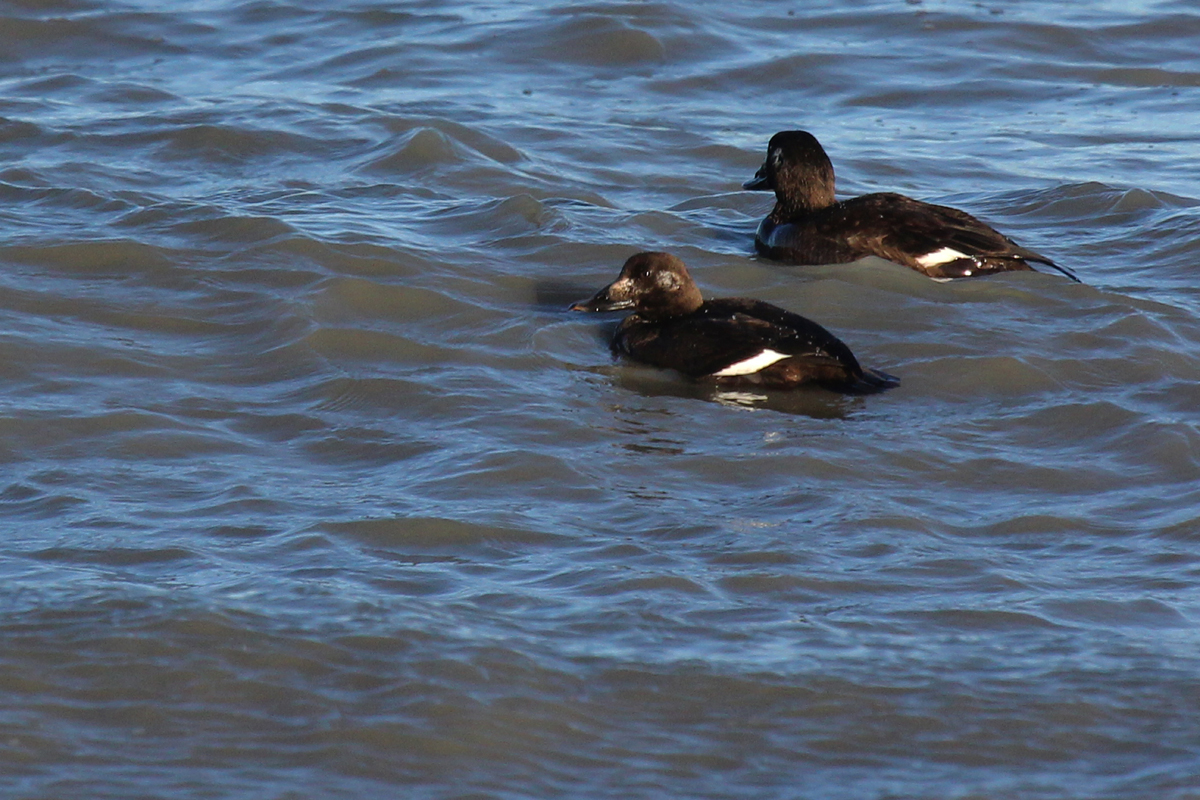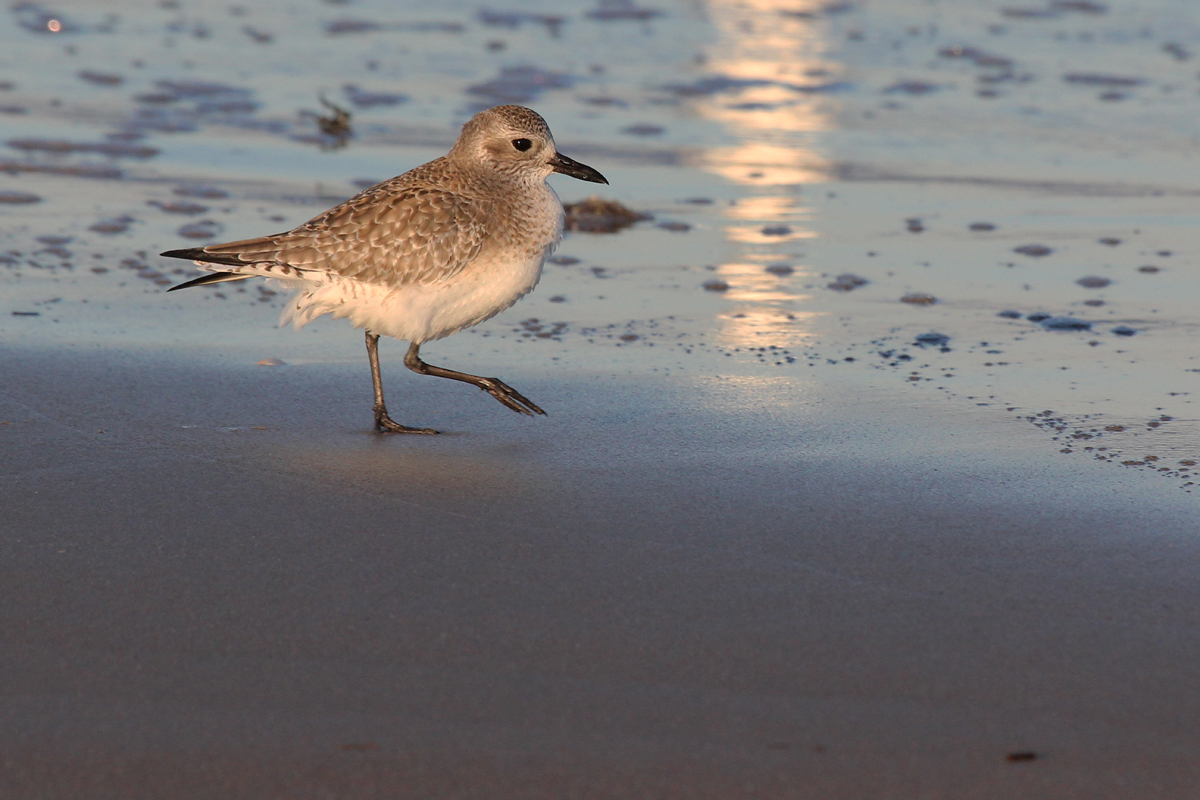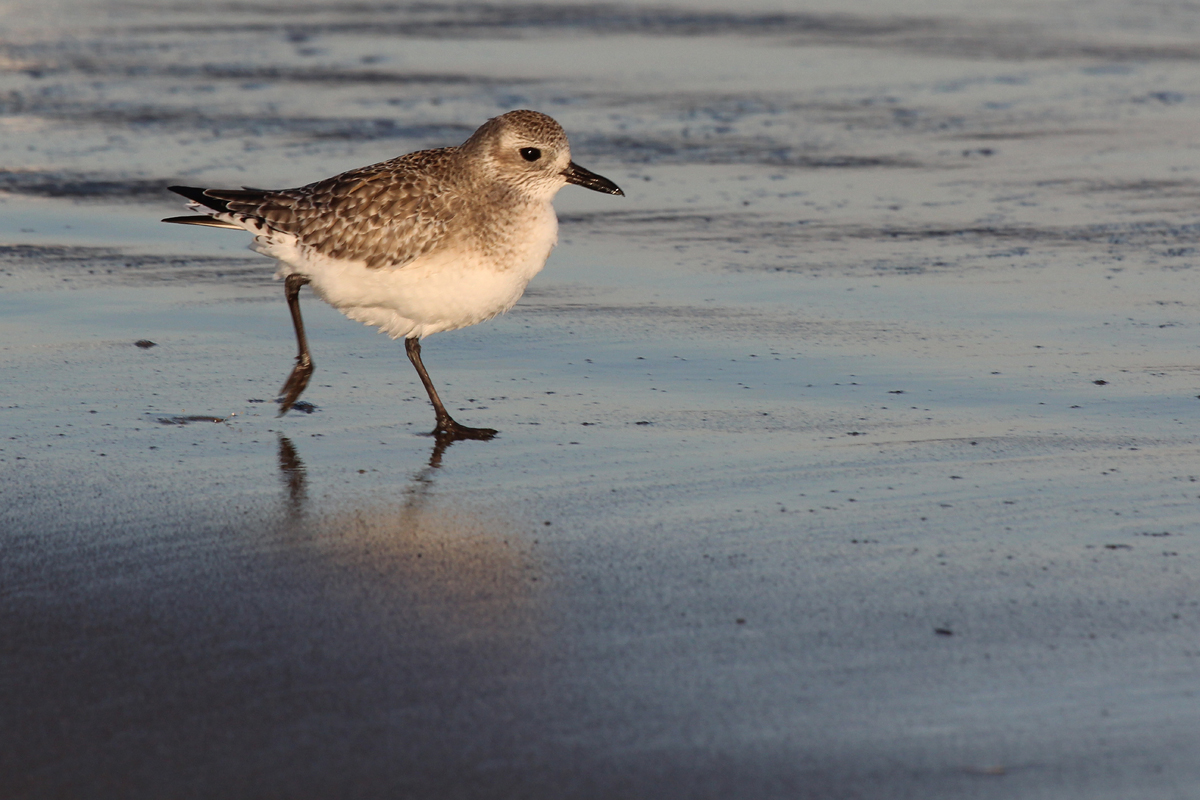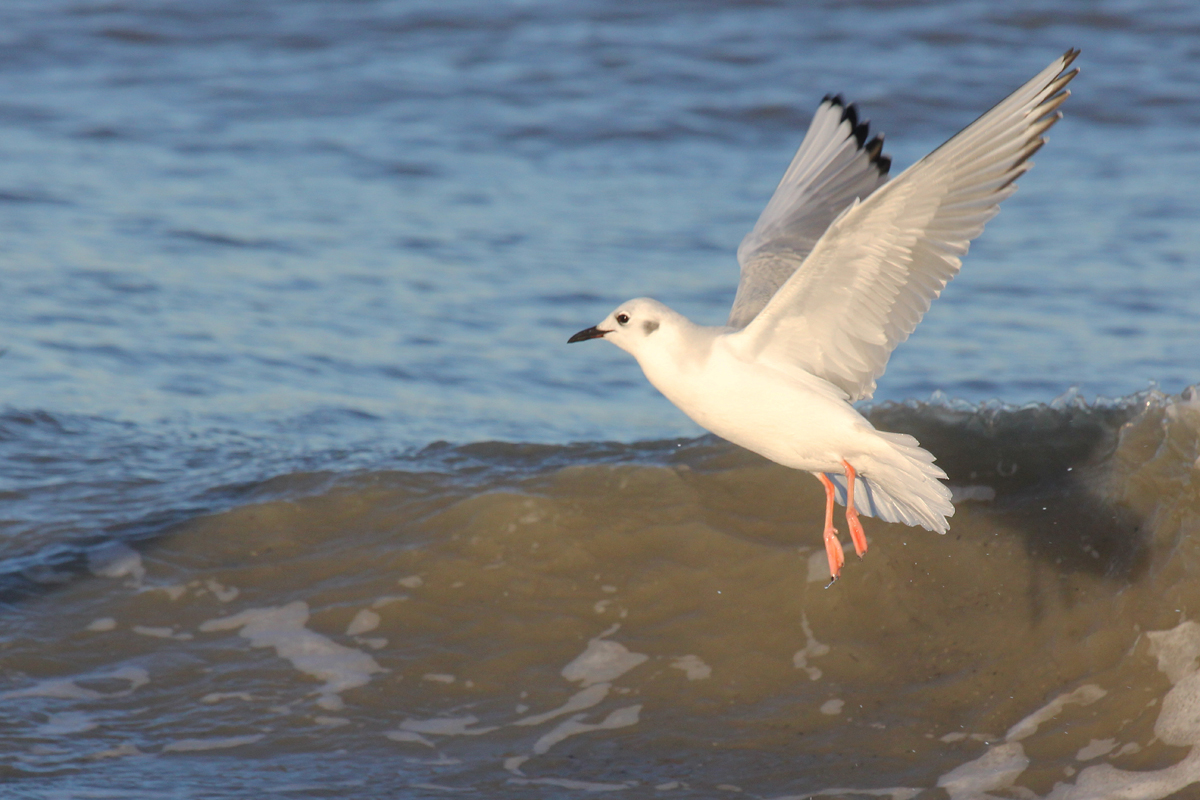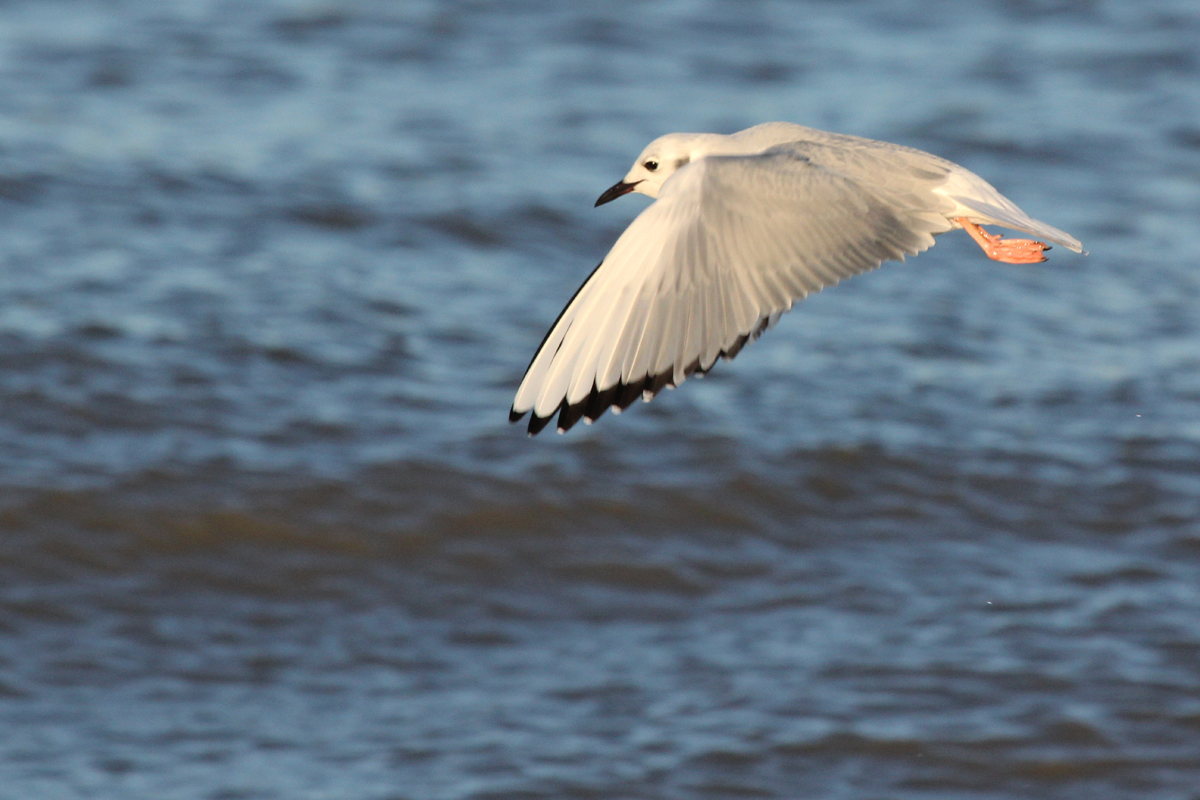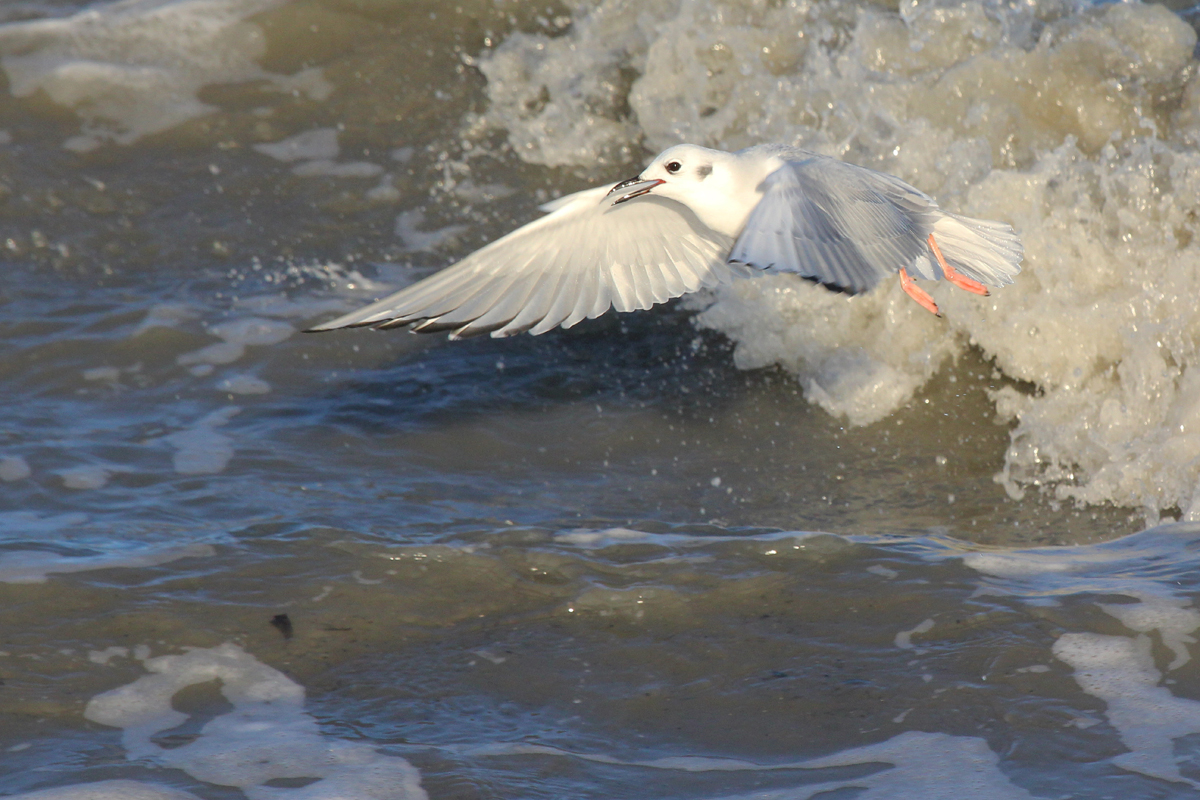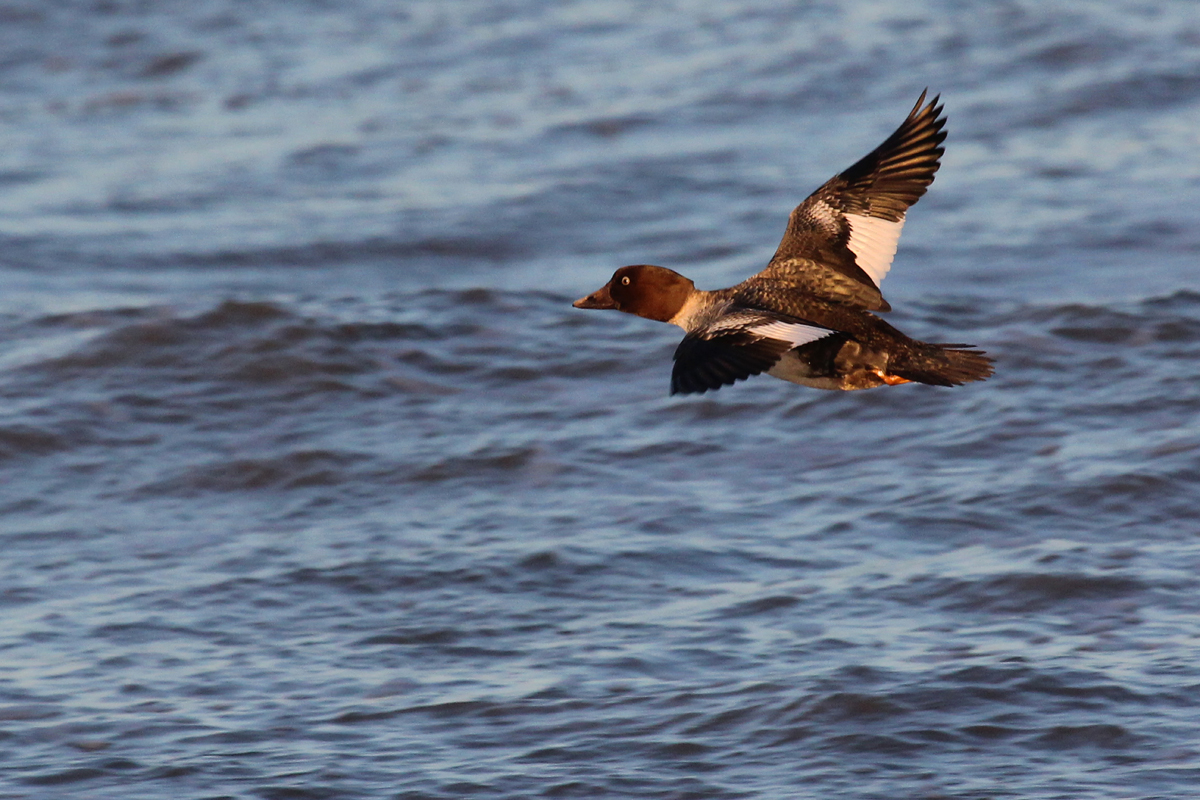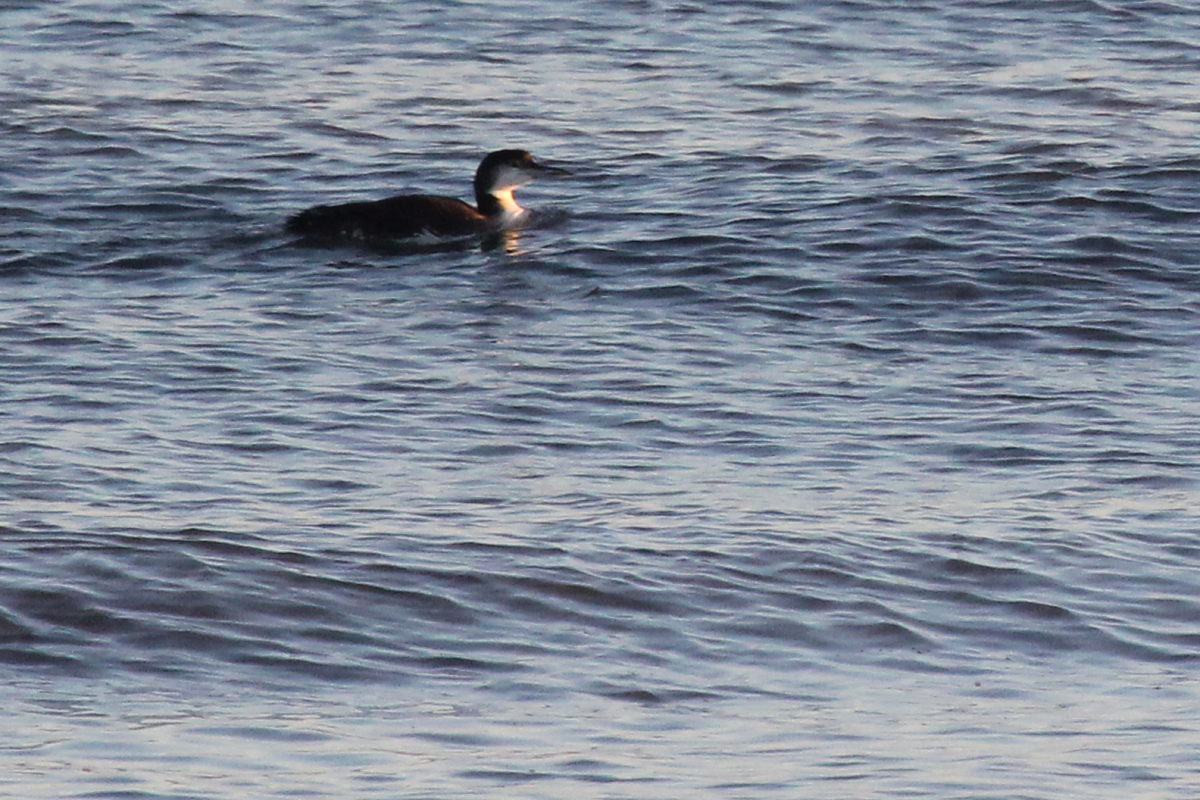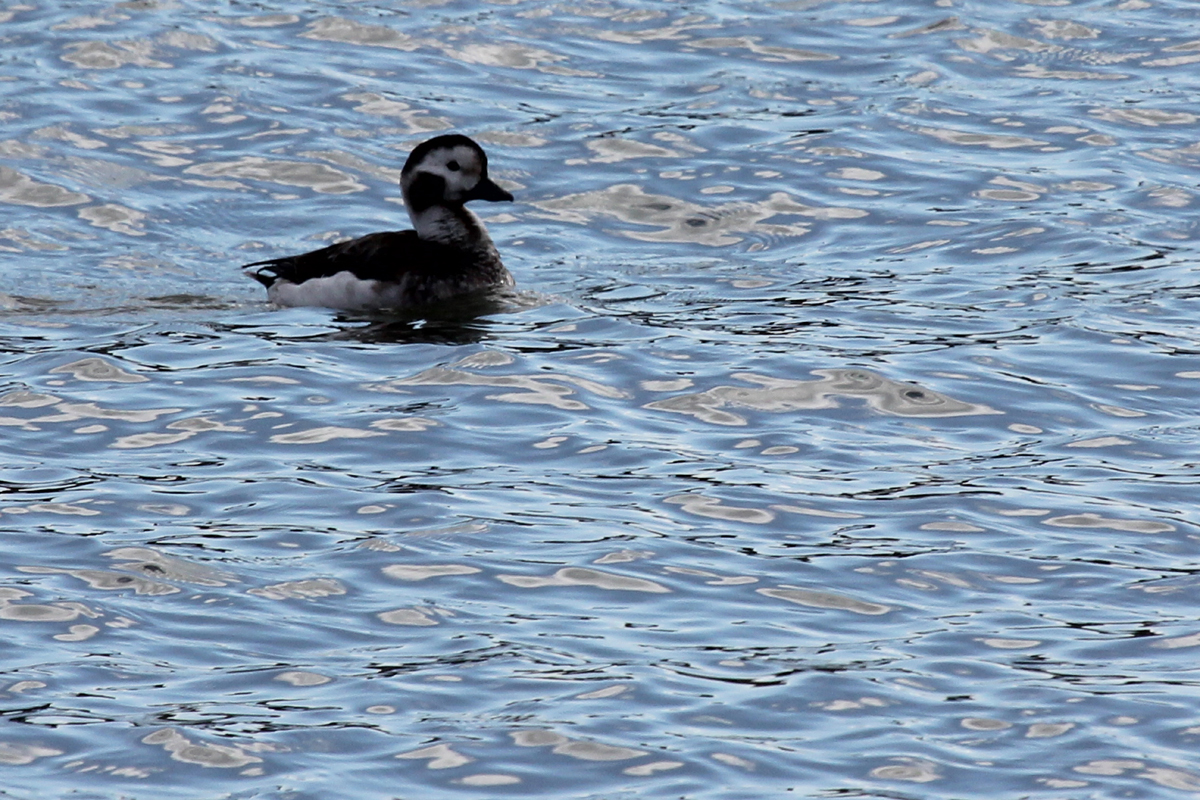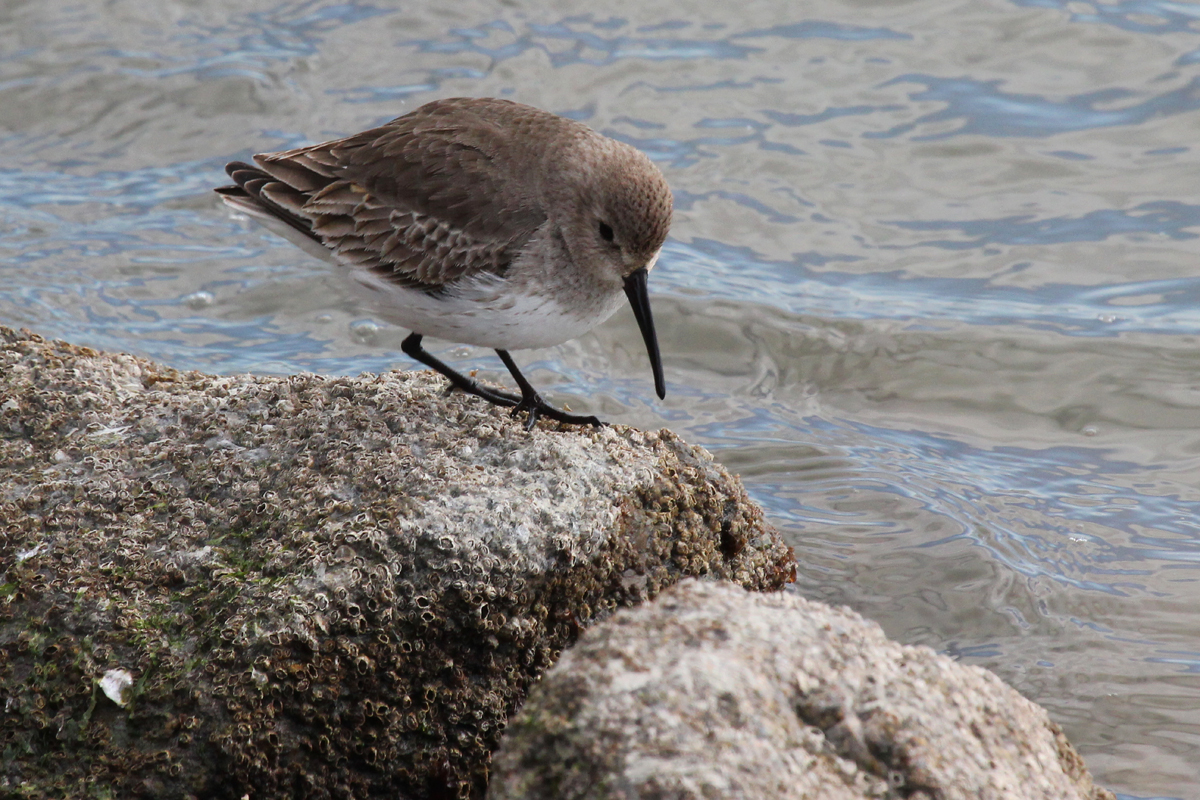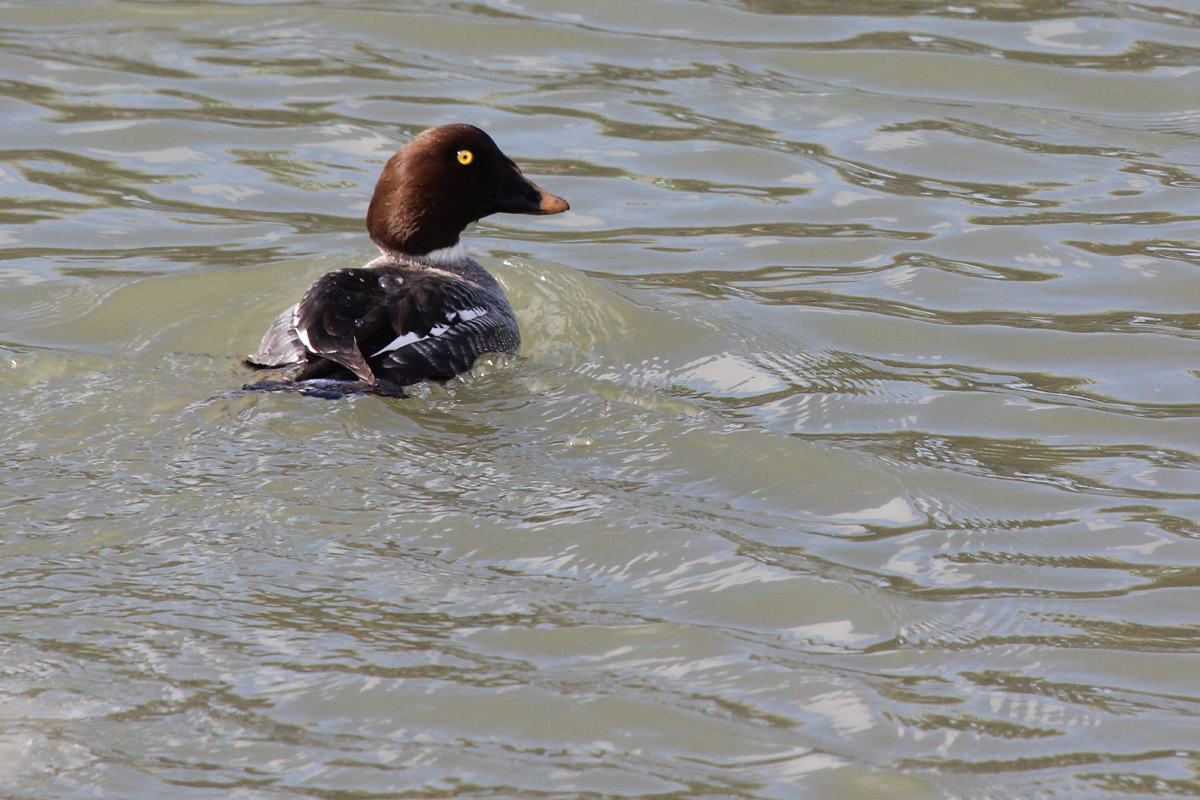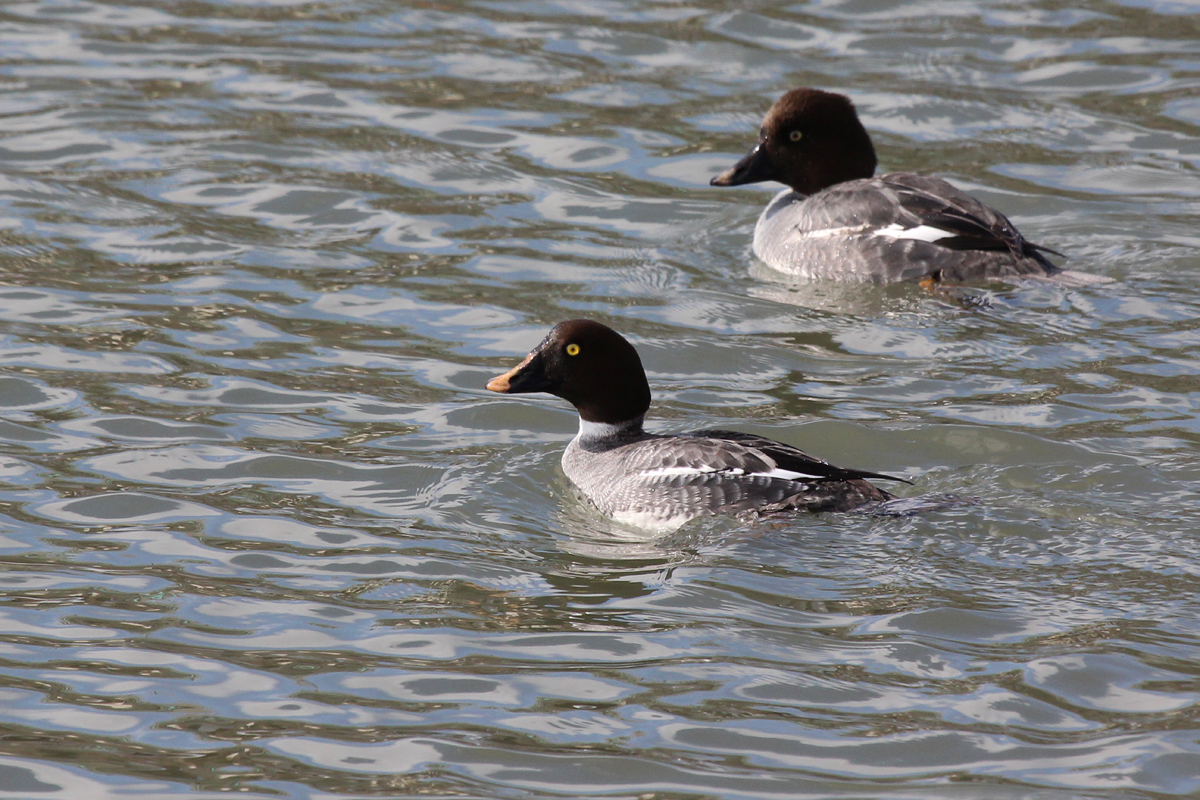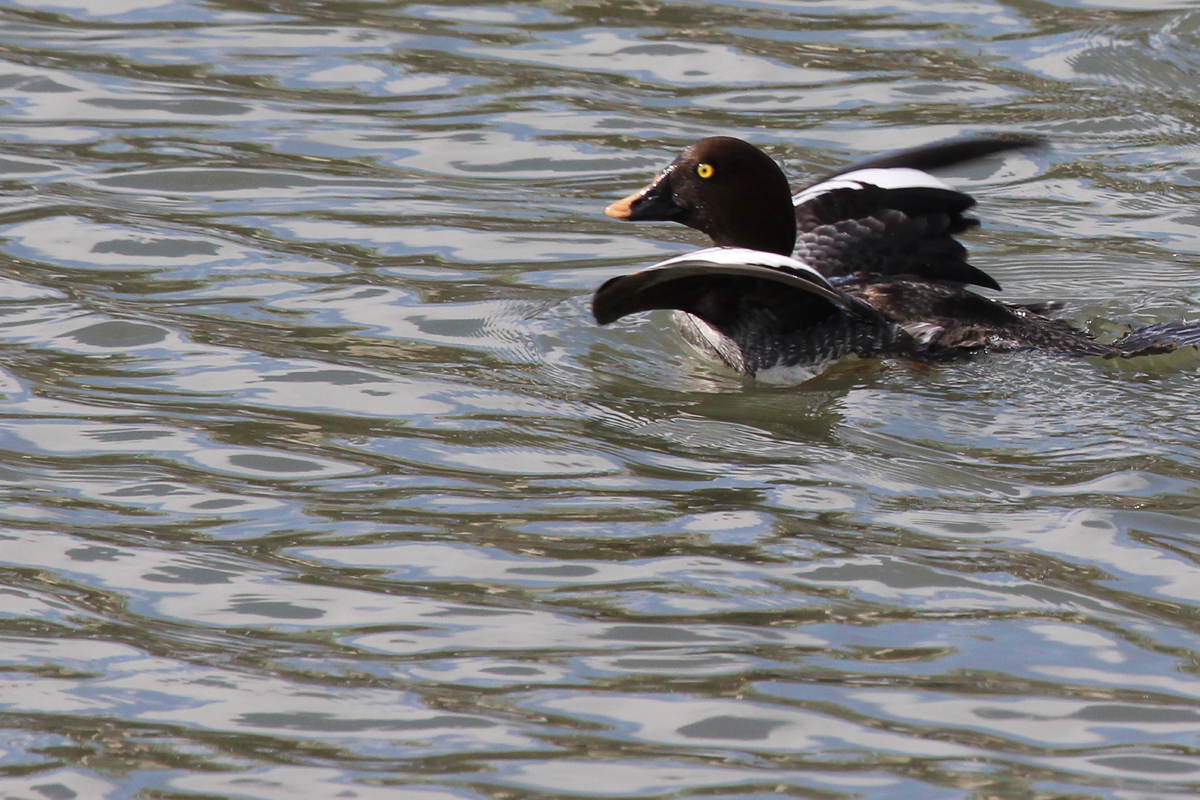 Interestingly a second 'white-winged gull' species was observed along with the Iceland Gulls mentioned above. An immature GLAUCOUS GULL was observed at Rudee Inlet on 4 Jan (obs. Andrew Baldelli), and in a perfect mirror of the Iceland Gull reports, an adult Glaucous was found at 57th Street Beach on 5 Jan (obs. Andrew Baldelli). Unfortunately, those were the only two reports for these separate individuals during the report period, but it is likely that the birds are still present somewhere along the immediate coastline. This species has been observed in the past on the armored shorelines of the Chesapeake Bay Bridge-Tunnel and at Rudee Inlet, so it would seem that these locations as well as Fort Story might be likely spots to find this species as we head deeper into the winter.
Likely present for quite some time but unnoticed due to lack of coverage during the Back Bay CBC this season, three BREWER'S BLACKBIRDS were found at Breeze Farms on West Gibbs Road on 9 Jan (obs. Andrew Baldelli & Tracy Tate). This location held up to 16 Brewer's Blackbirds during the 2016-17 winter, having first been observed during the Back Bay CBC (ph. Andrew Baldelli & Arun Bose). Please remember that this farm is all private property, and thus viewing must be done from the public roadway. Often times, these birds will retreat to the dark cover in the horse stalls making them difficult to track down, and often requiring more than one attempt to view. However, some folks have gotten lucky and had the birds simply perched in the trees near the road. The females perhaps stand out the most, with their dark eyes and dark bodies looking different than all other blackbird species/plumages. The male are a bit glossy like a grackle, but showing the short tail of a blackbird.
Rarely observed anywhere in Virginia during the winter months, a LINCOLN'S SPARROW found in the Ashville Park residential development on 9 Jan (ph. Mary Catherine Miguez) currently represents the only 2018 record for the state! Last winter, a single individual was also known to be present in Virginia Beach, having been discovered at Back Bay NWR during the CBC on 29 Dec 2016 (obs. Edward Brinkley & Paul Sykes), and continuing until 16 Jan 2017 in the scrubby field to the west of the Visitor Contact Station. So far, only the single report for the 2018 individual exists, but hopefully as time goes on, it continues to be observed. Wintering records for this species are very worth keeping close tabs on, to help further our knowledge of whether individuals survive the entire winter season here, or not.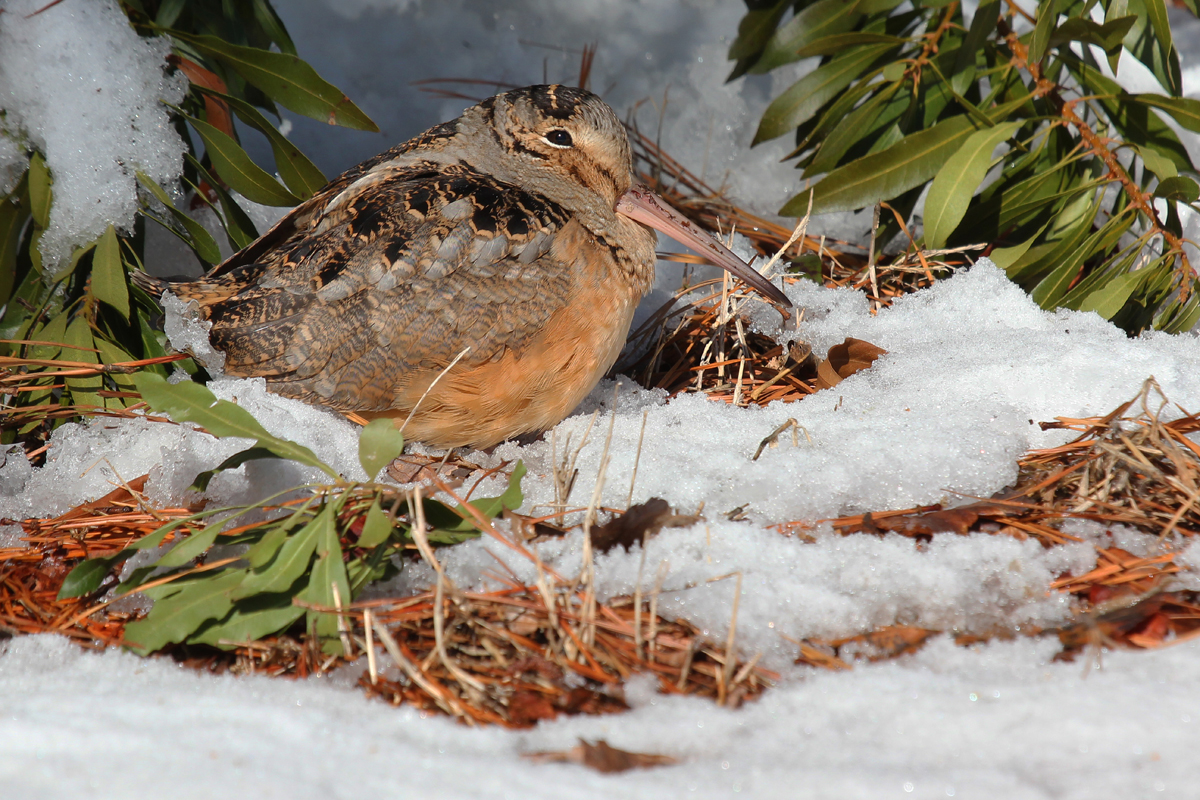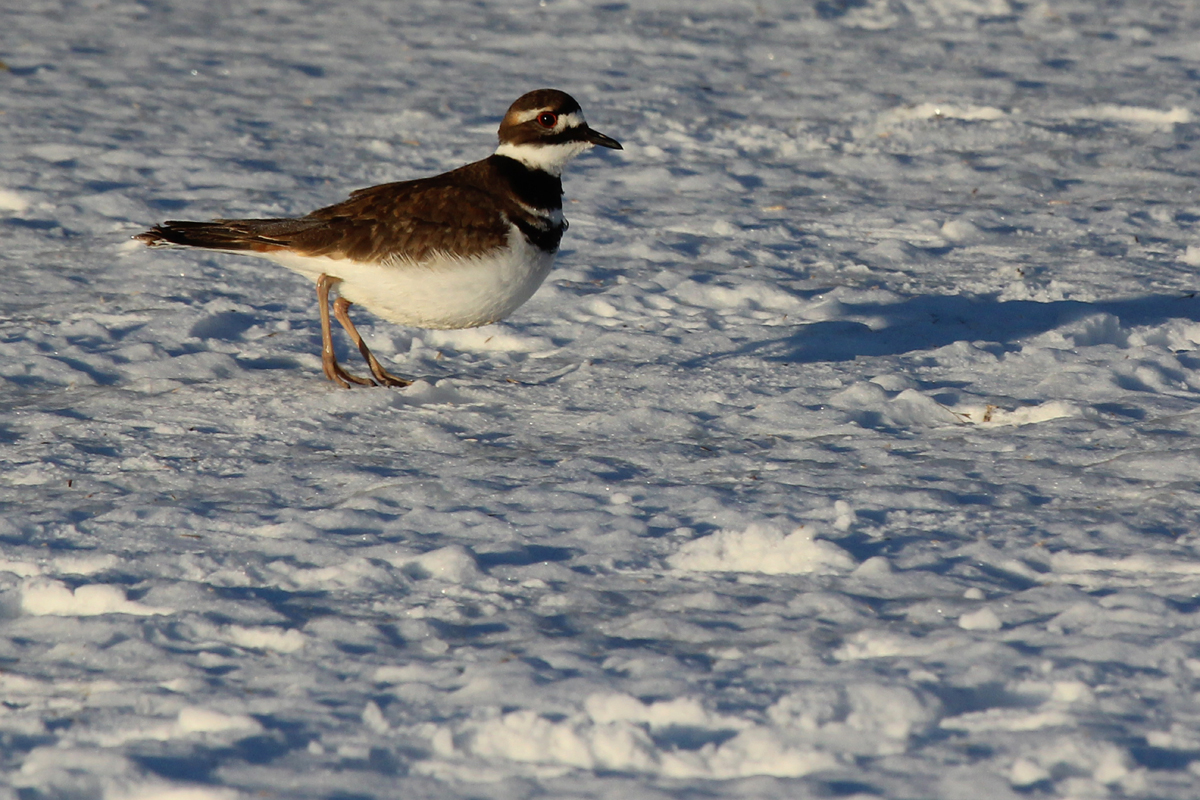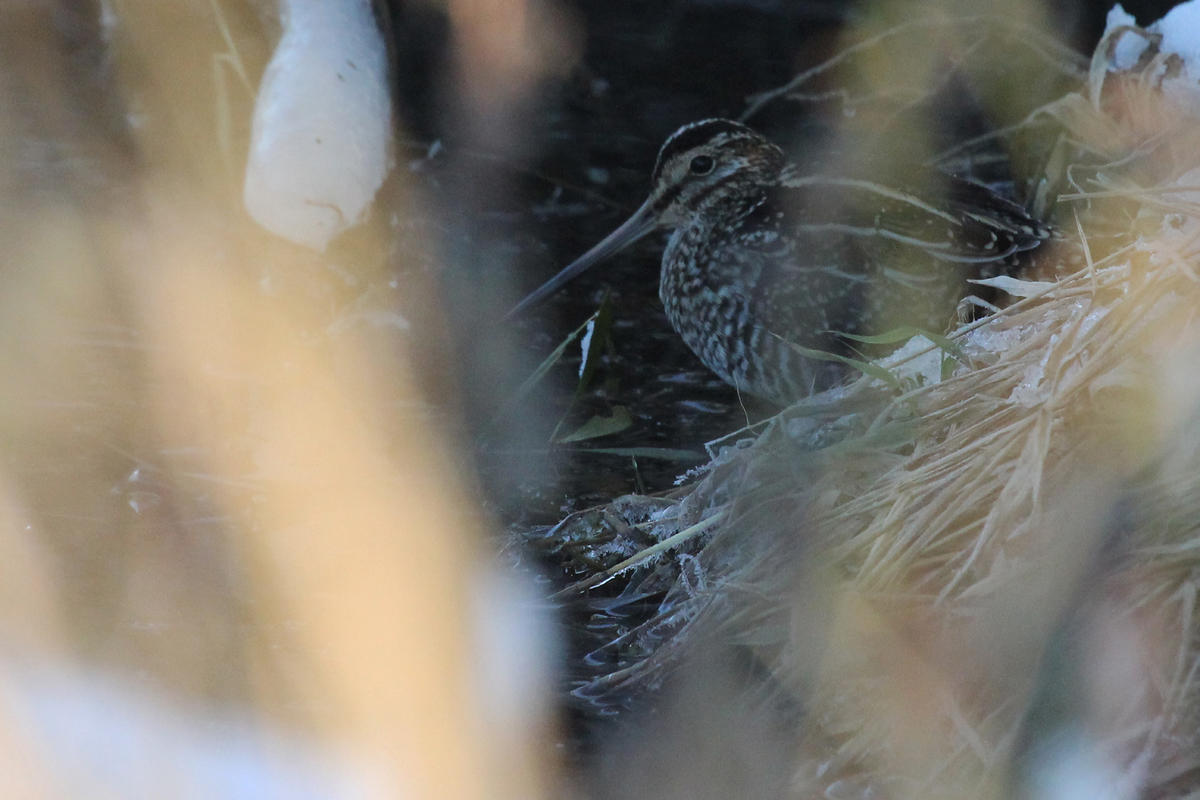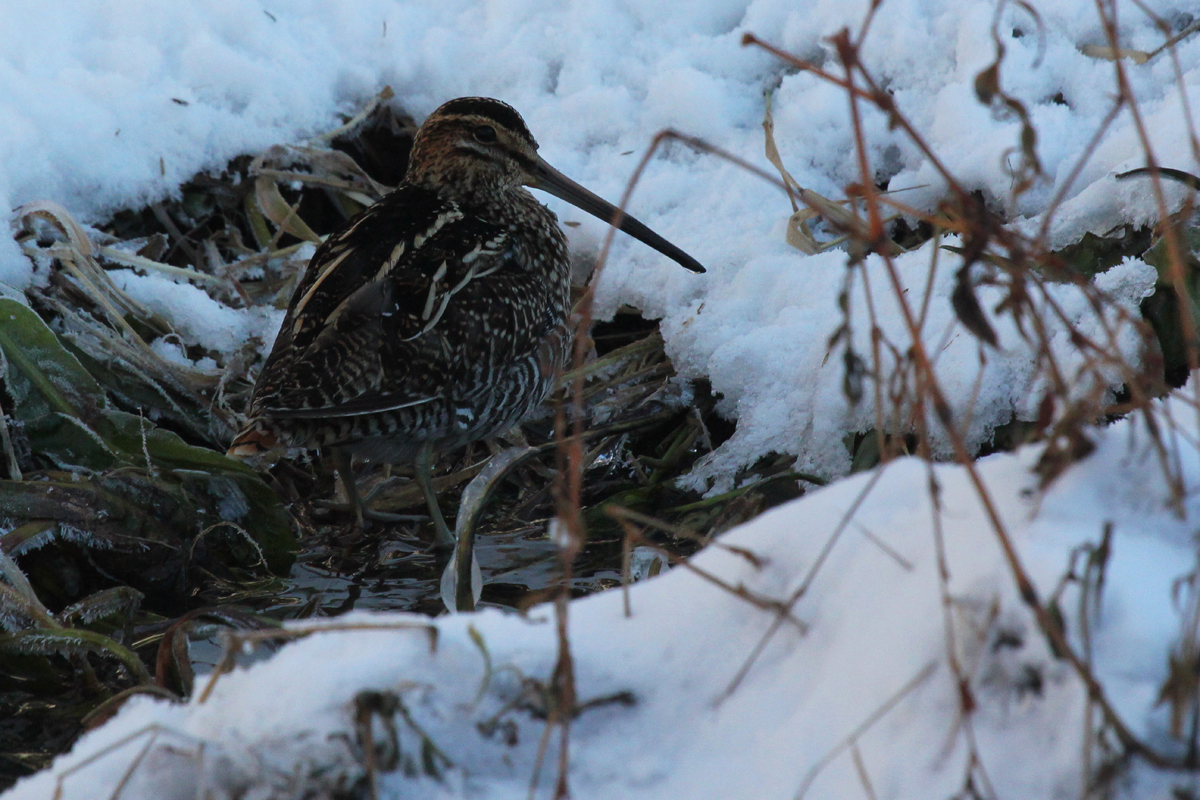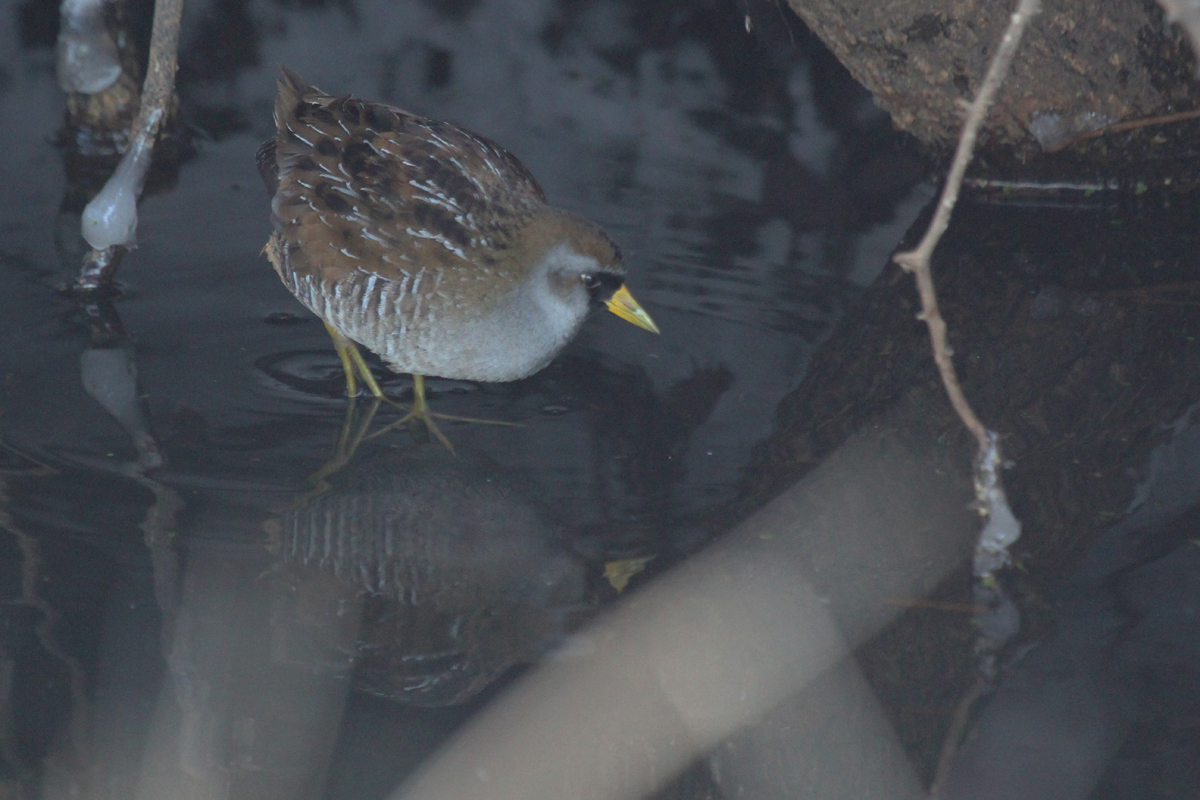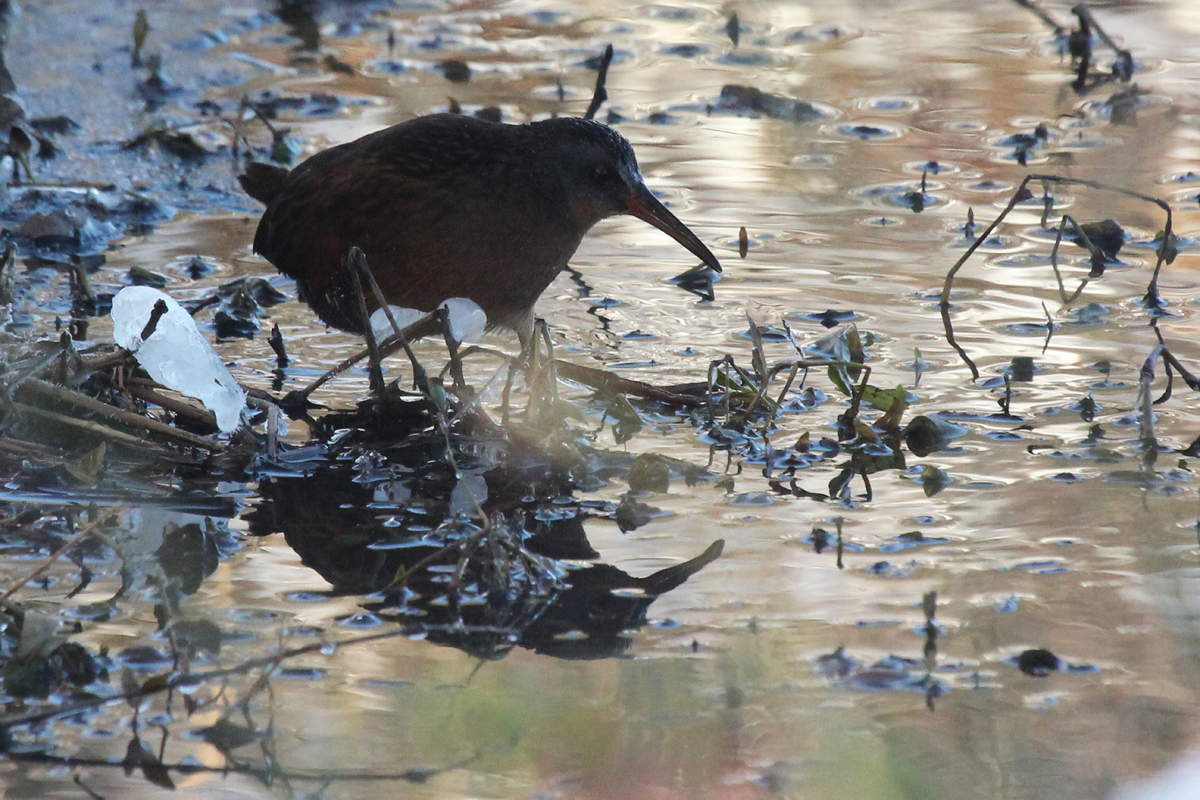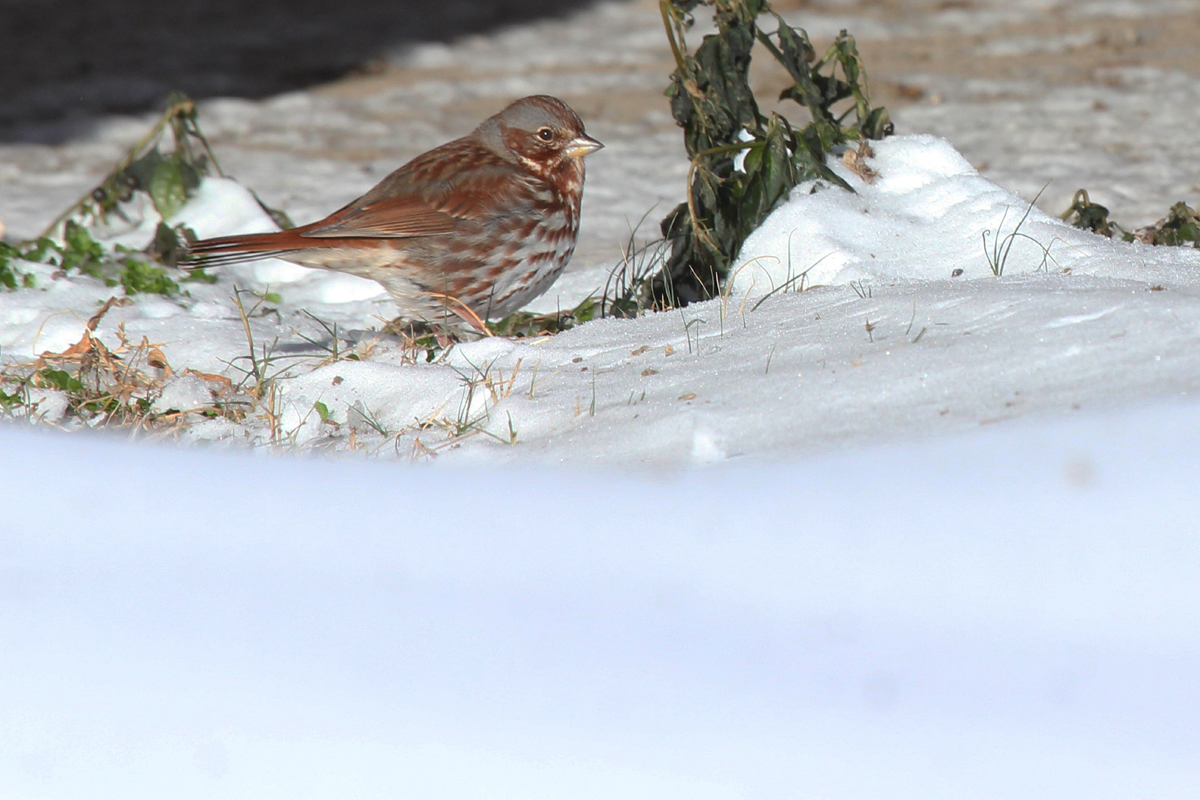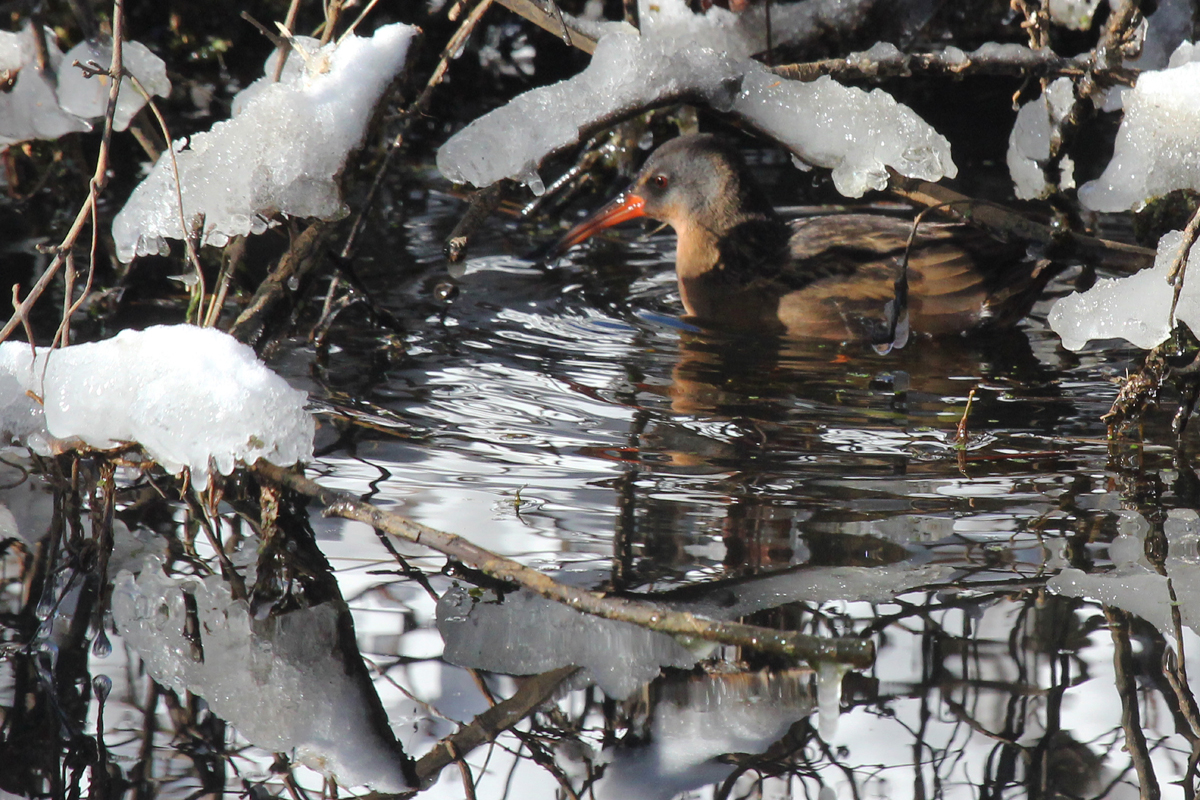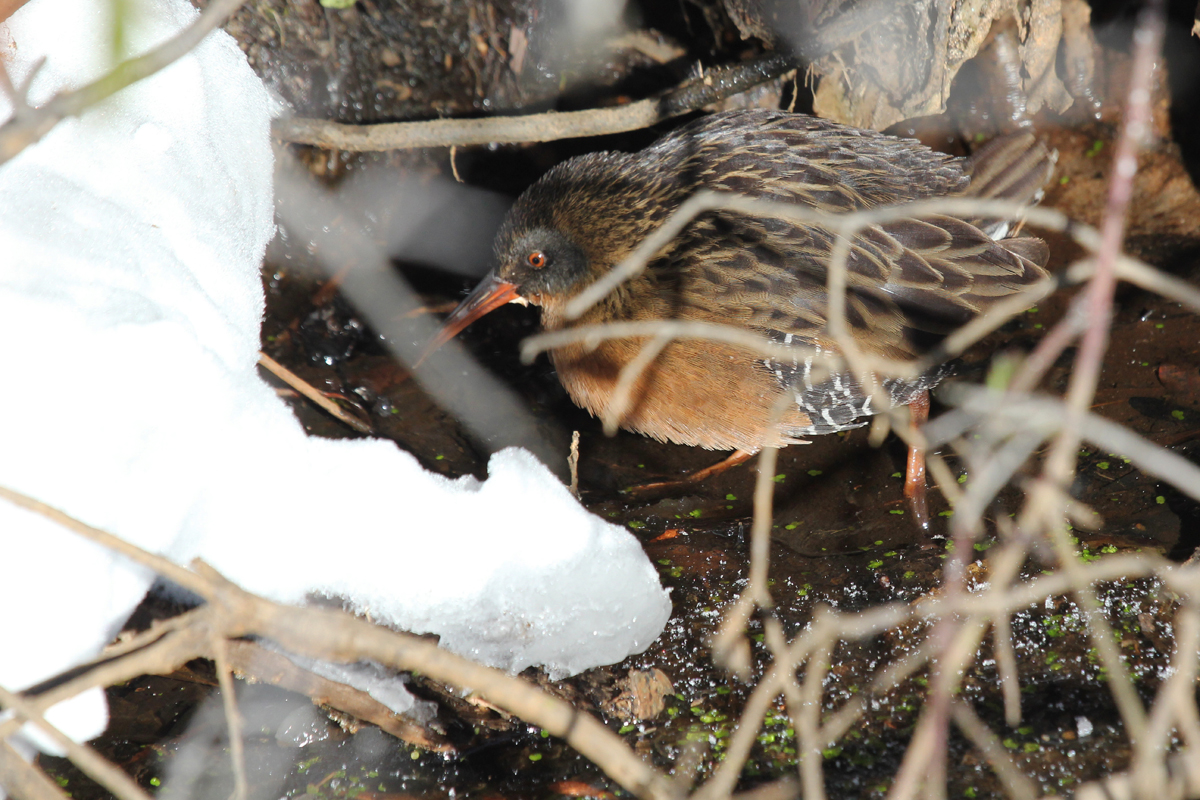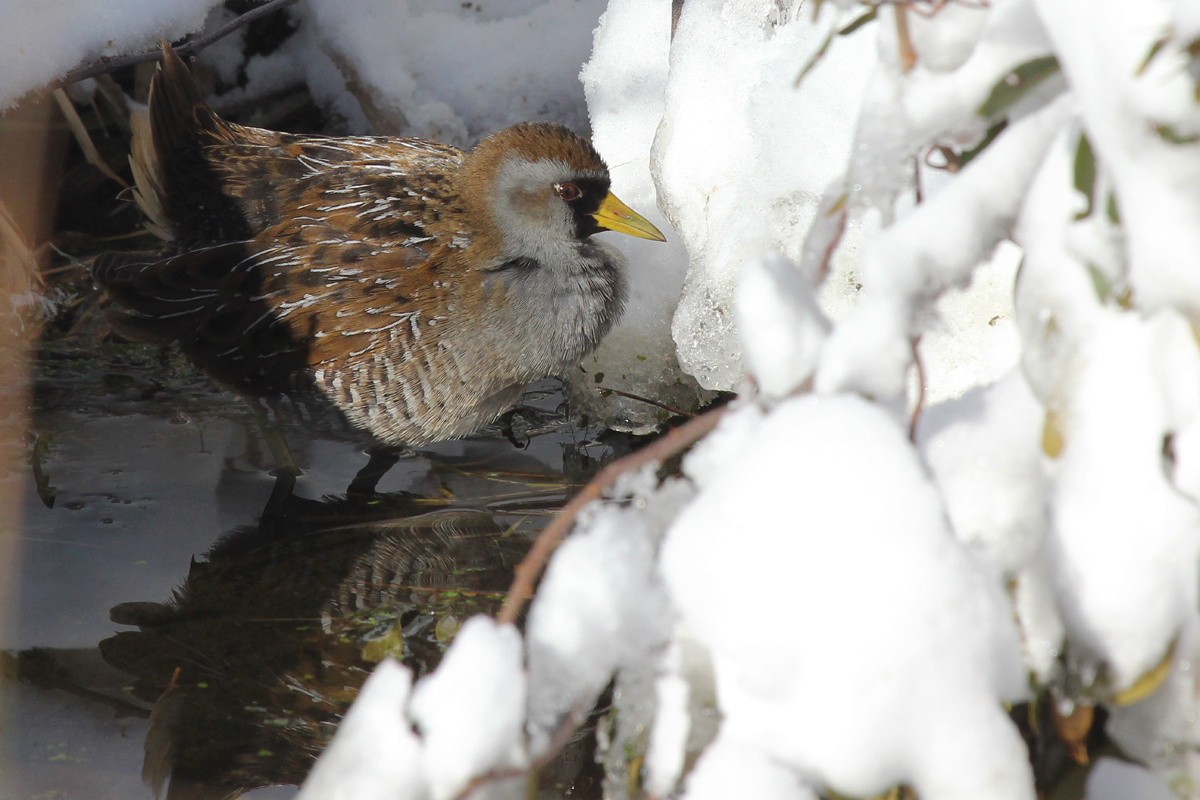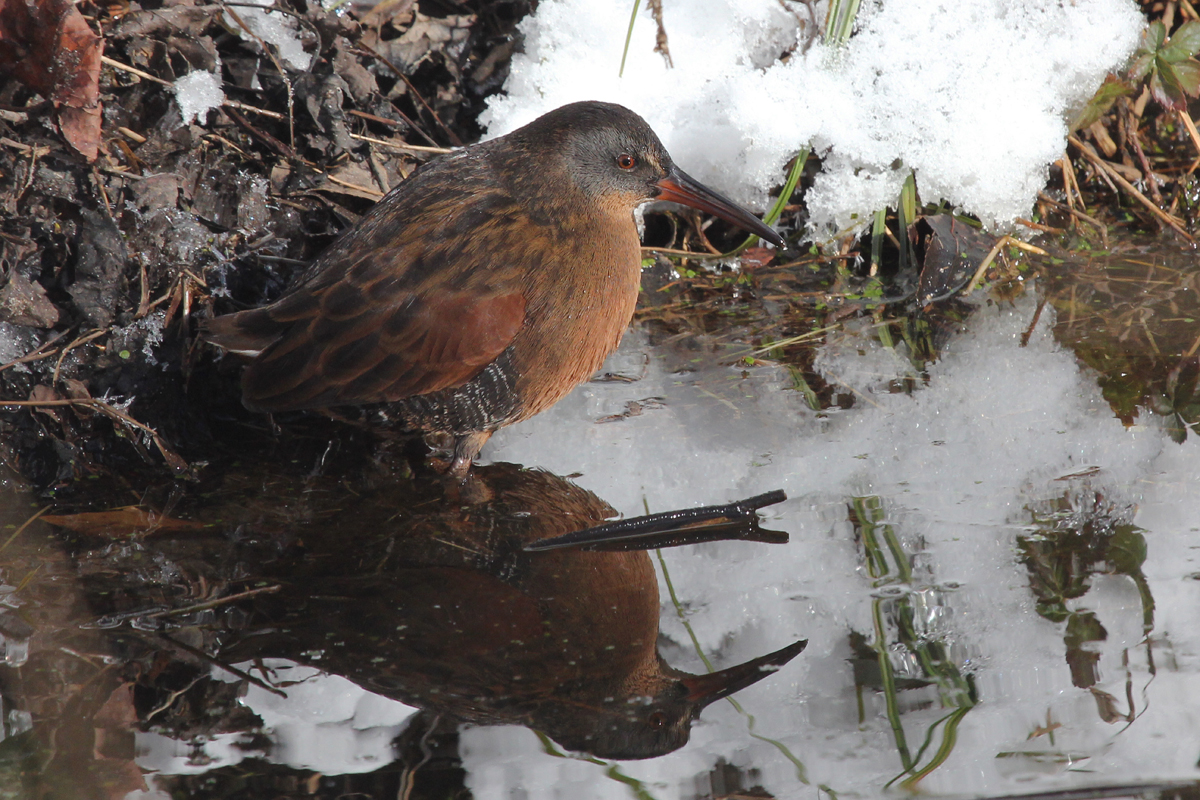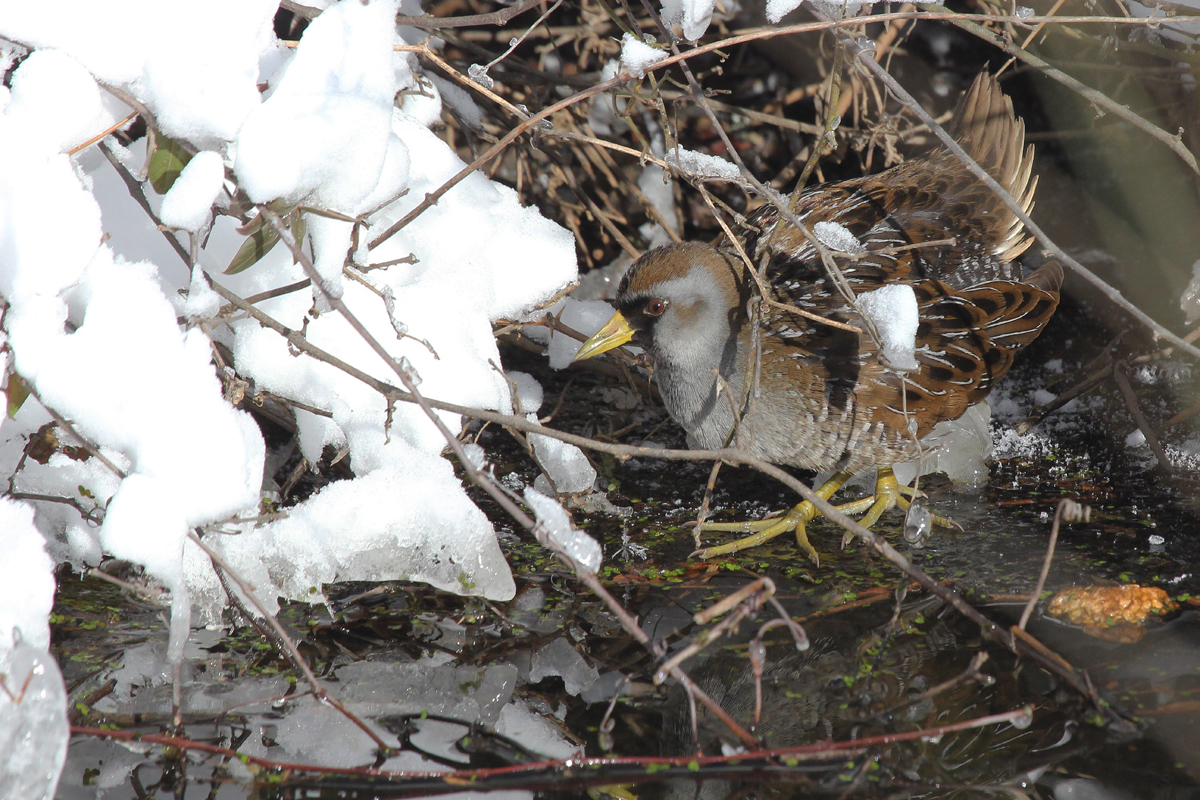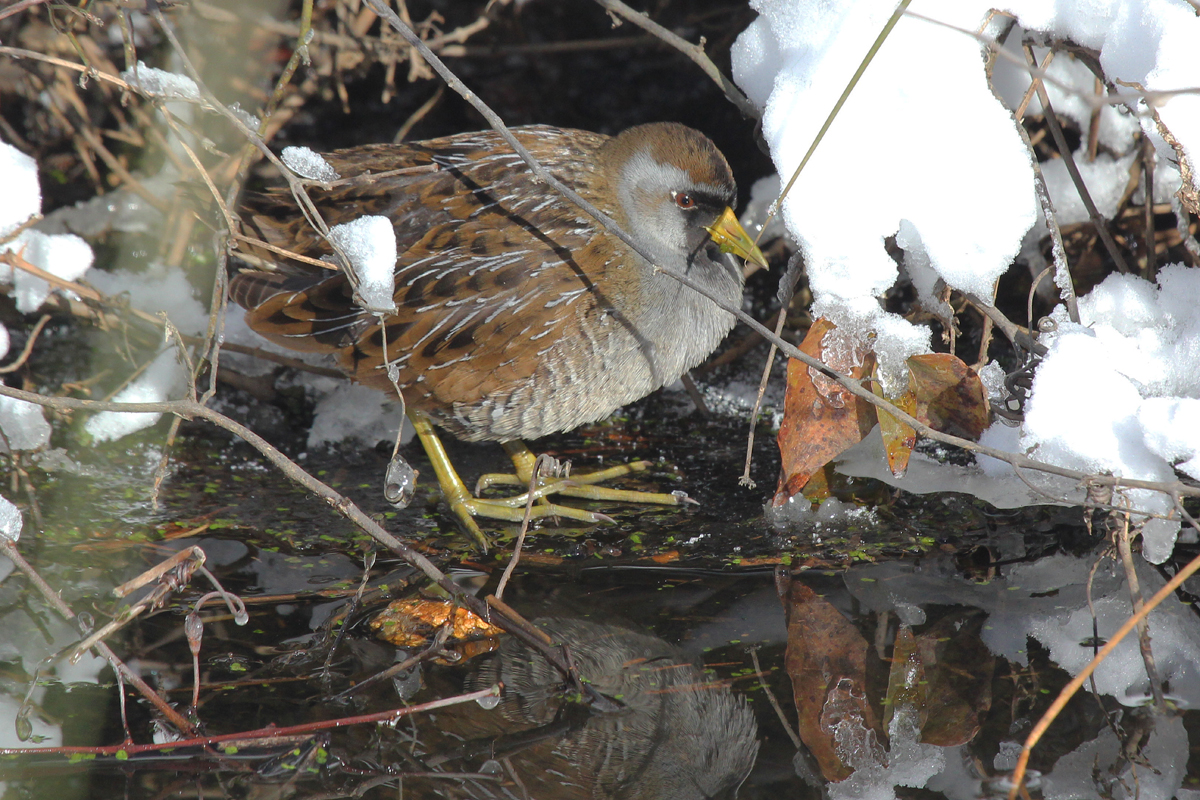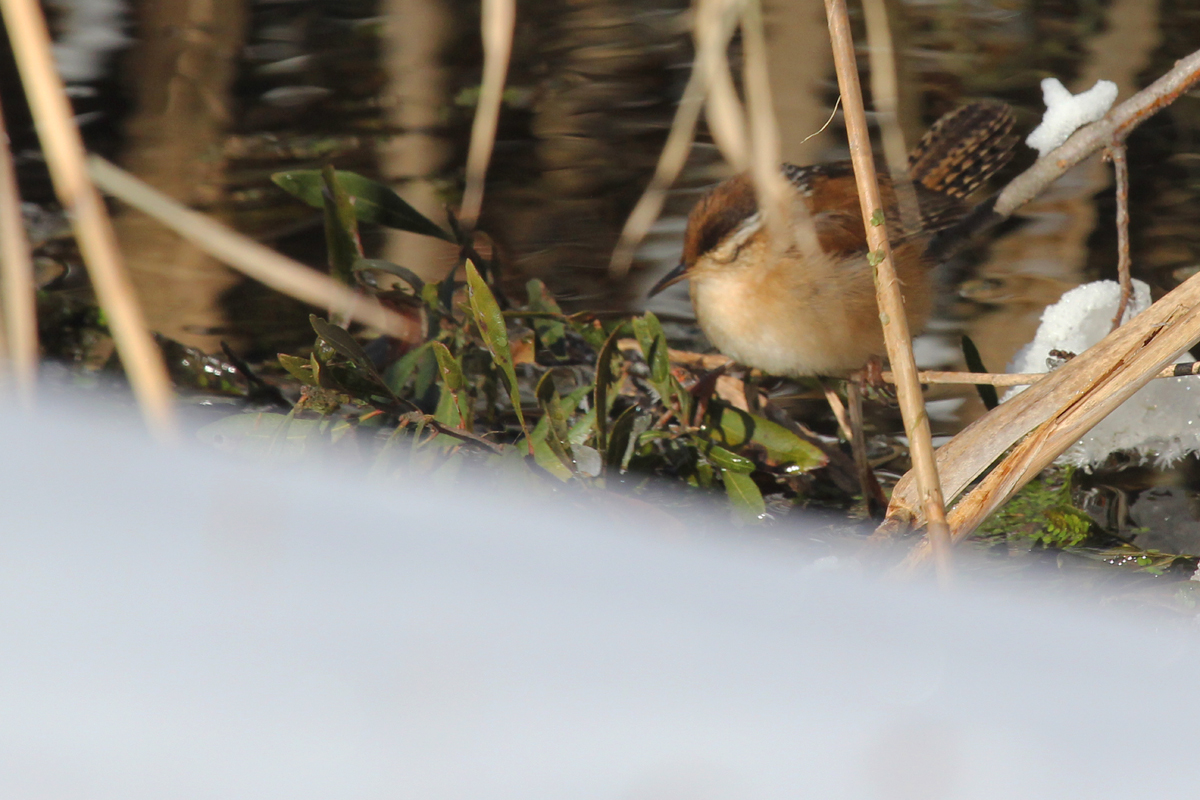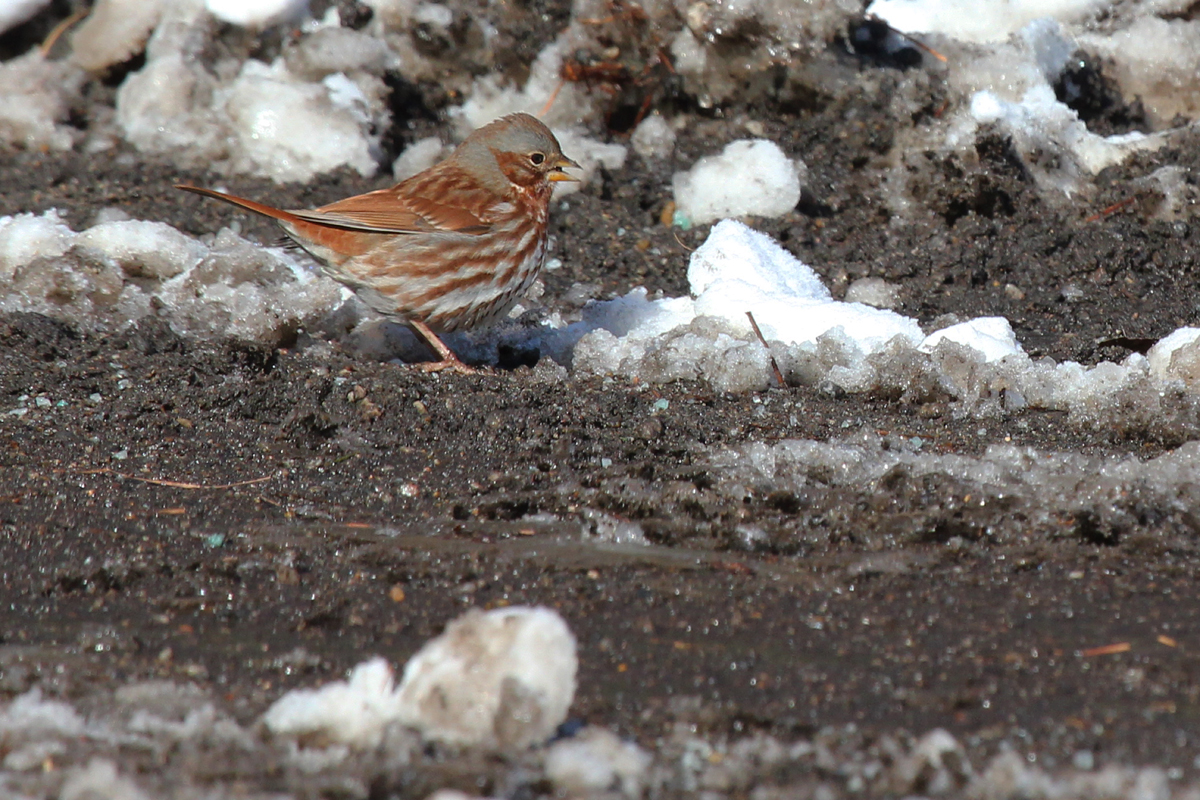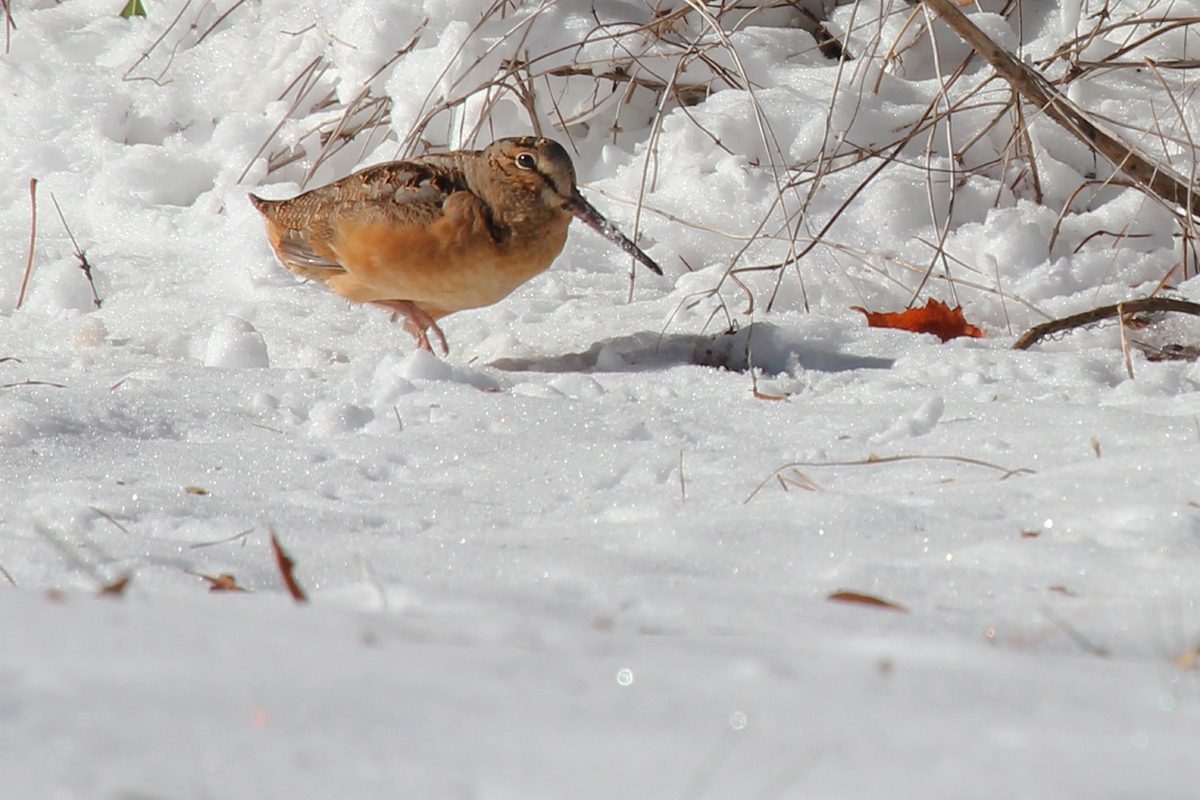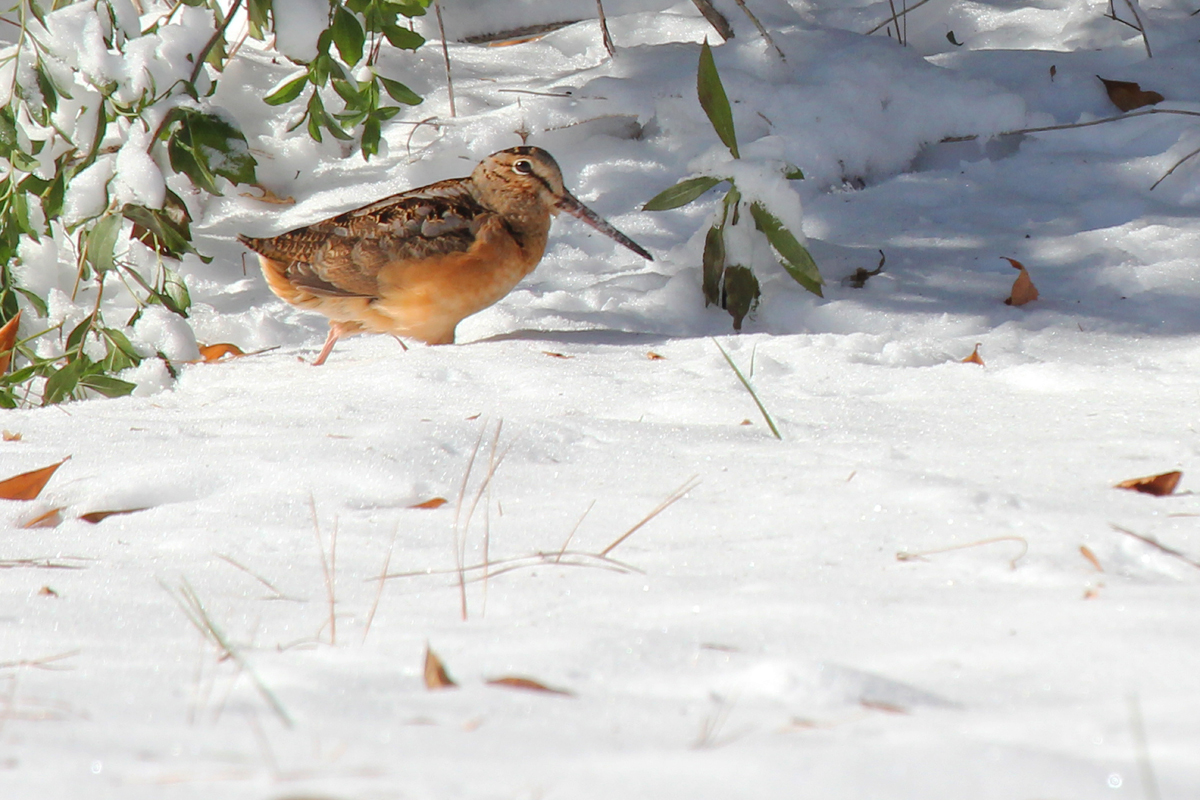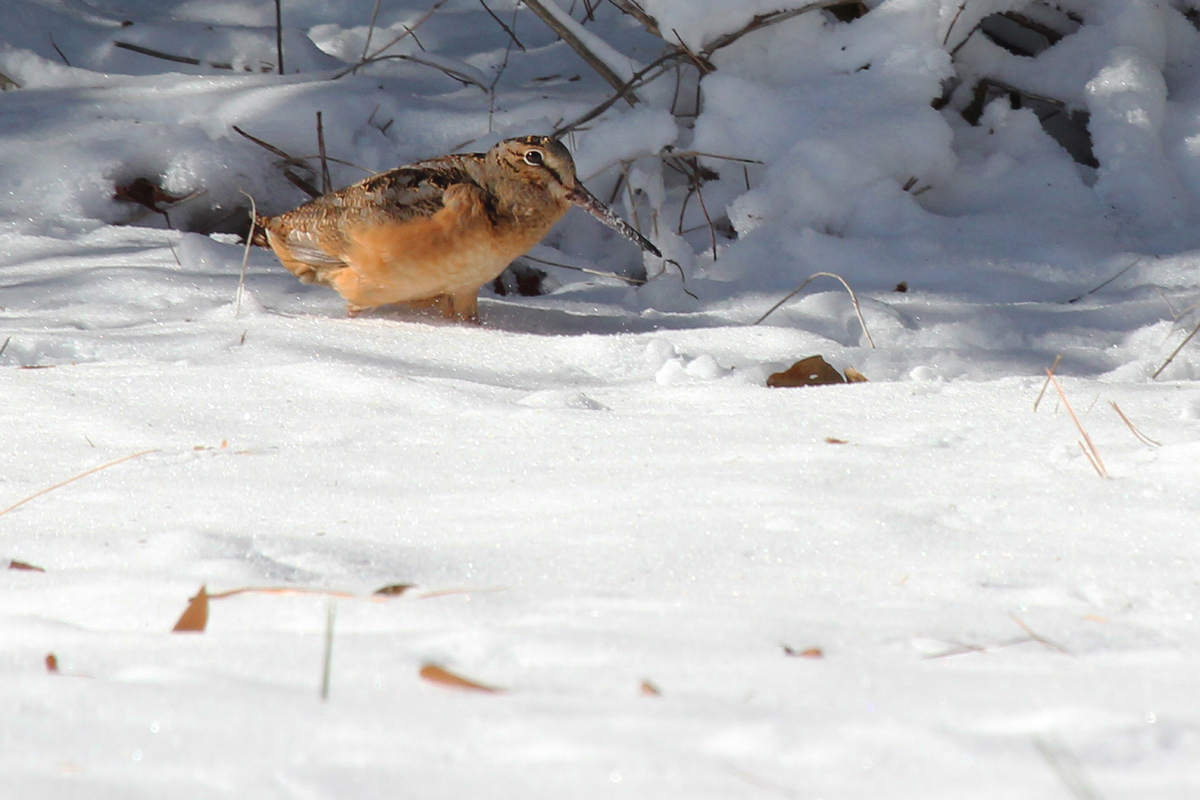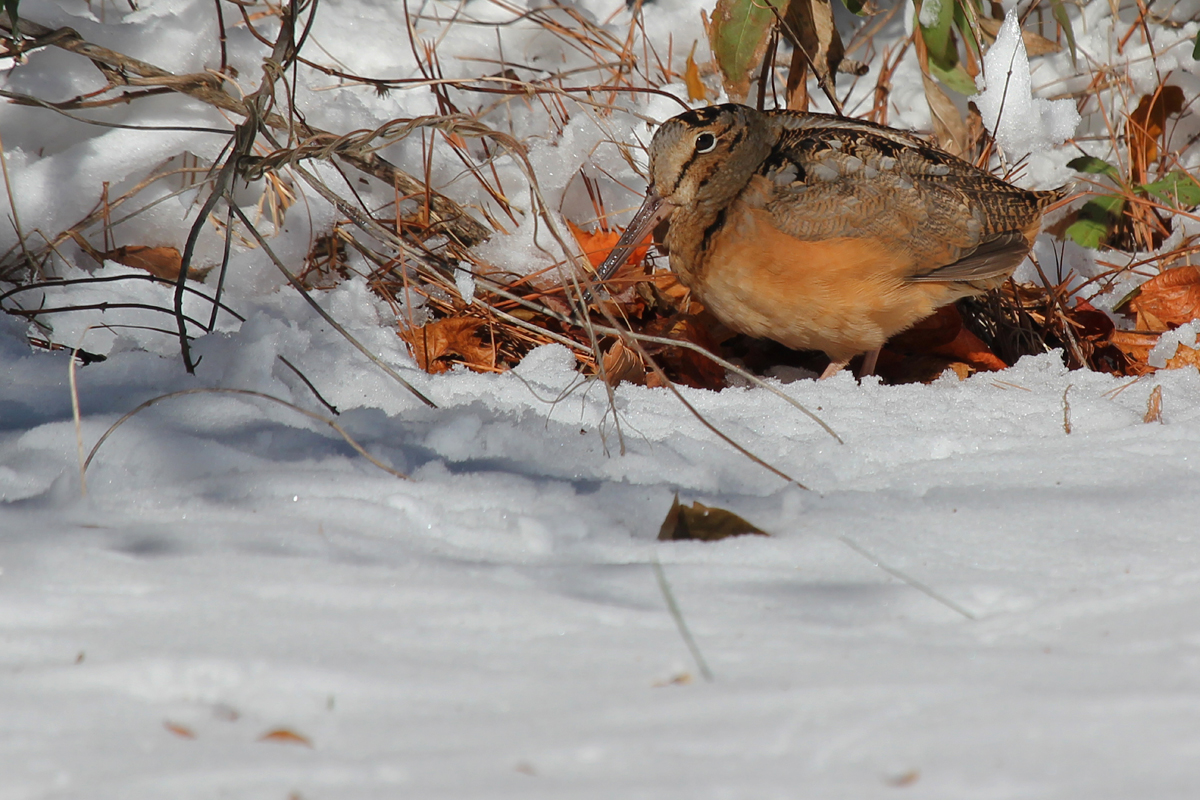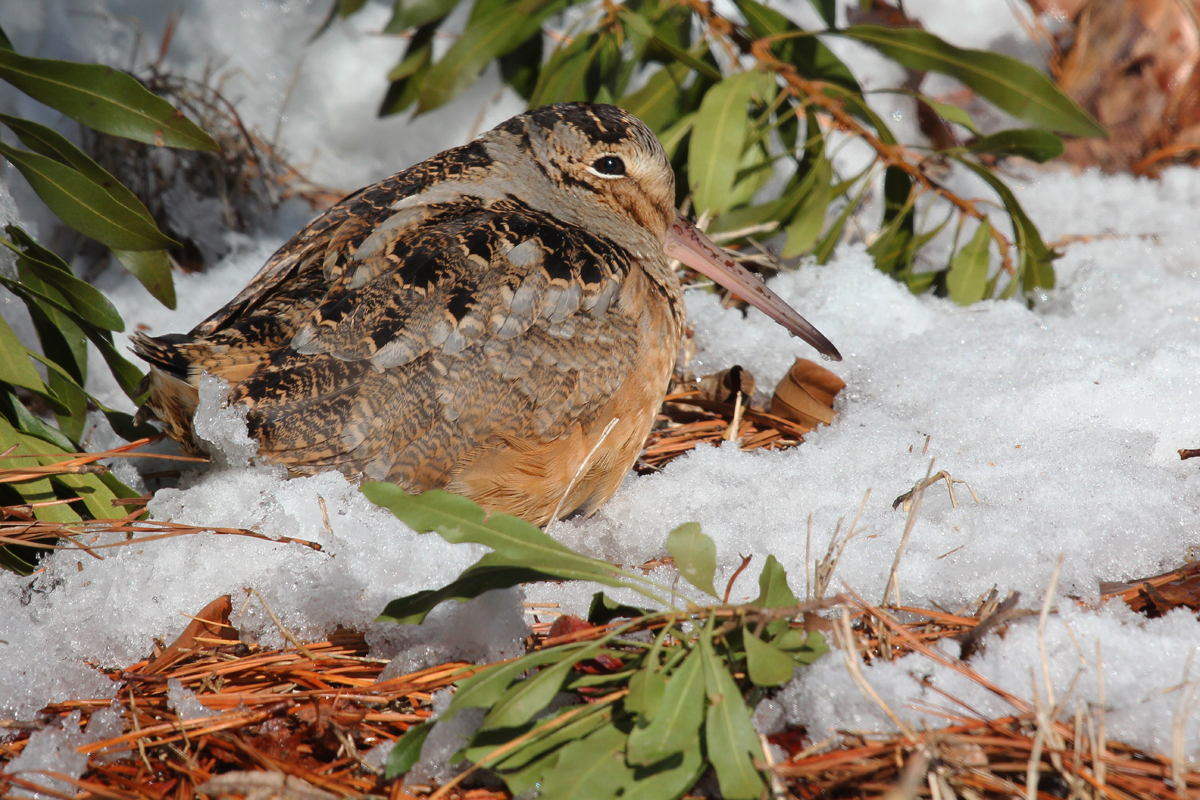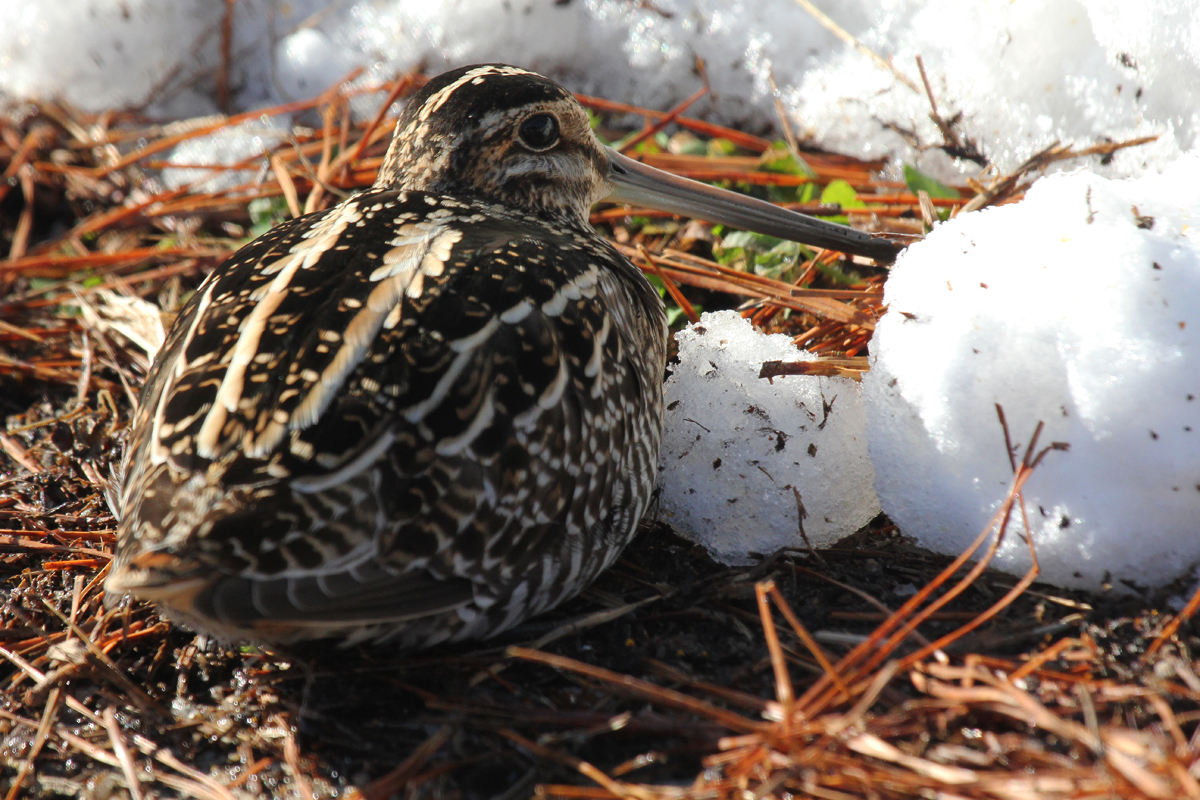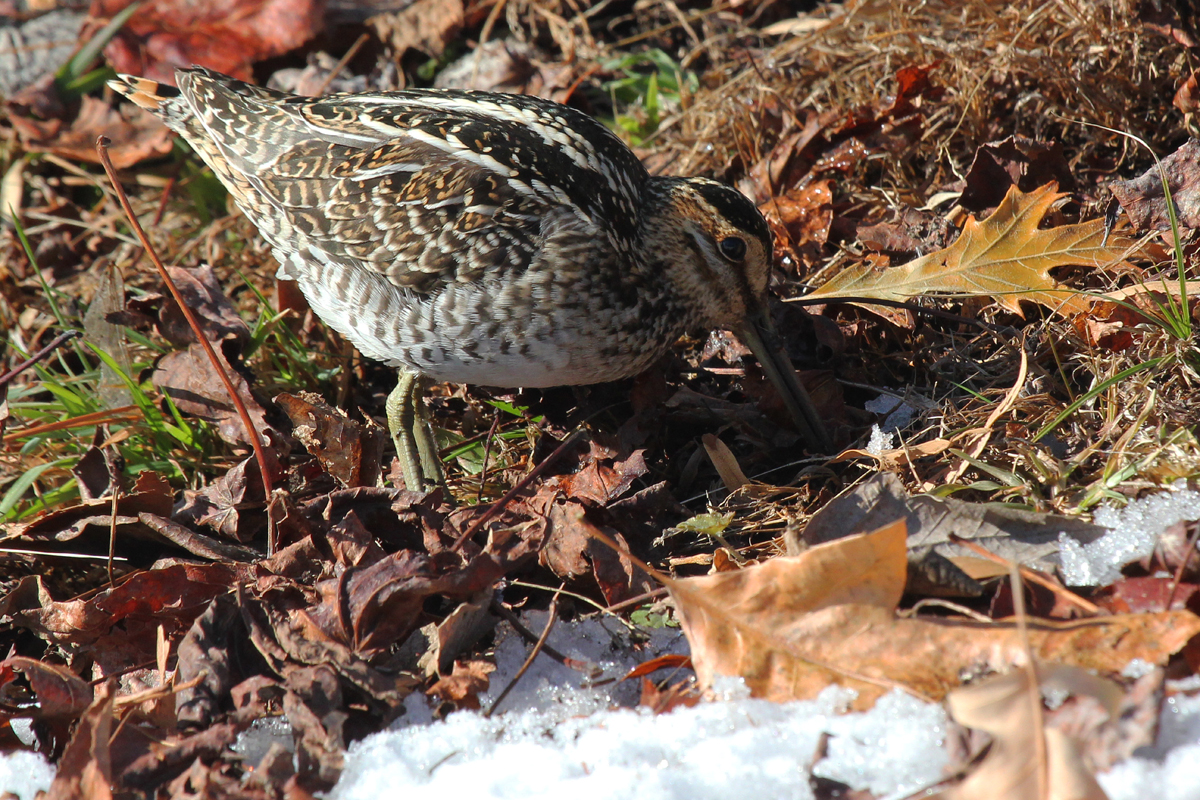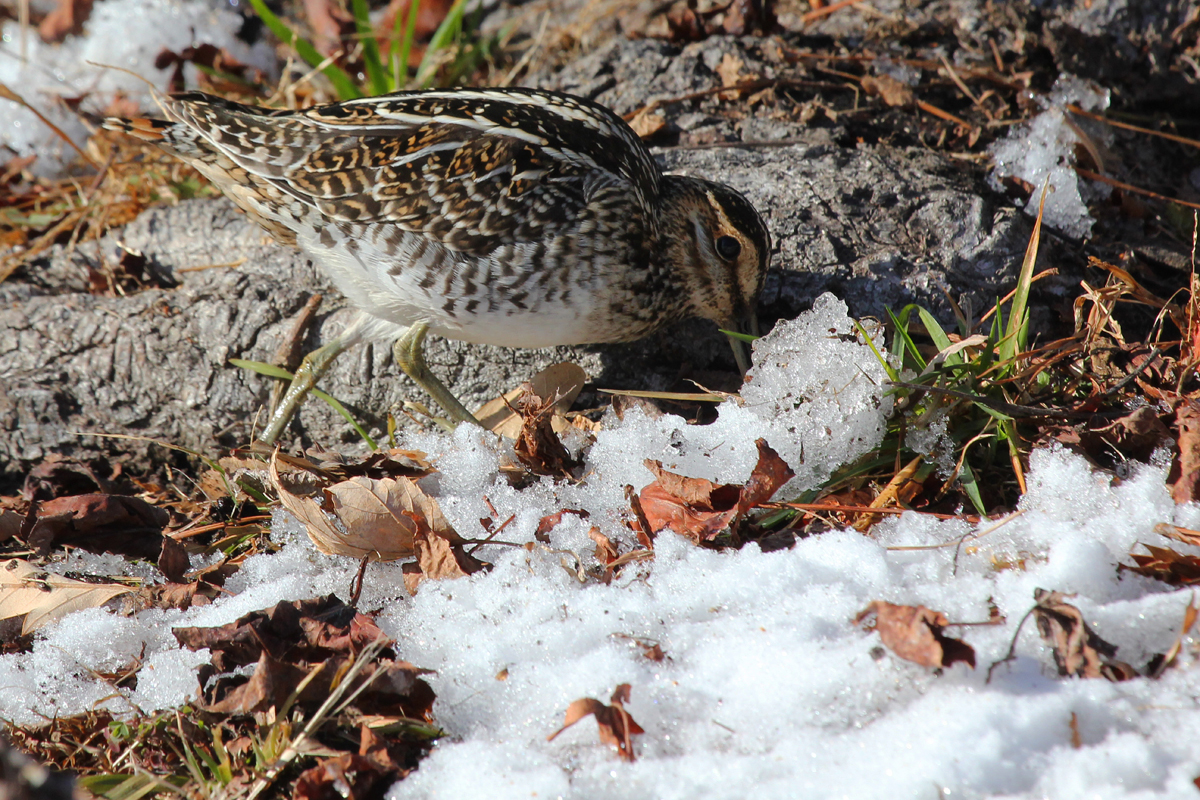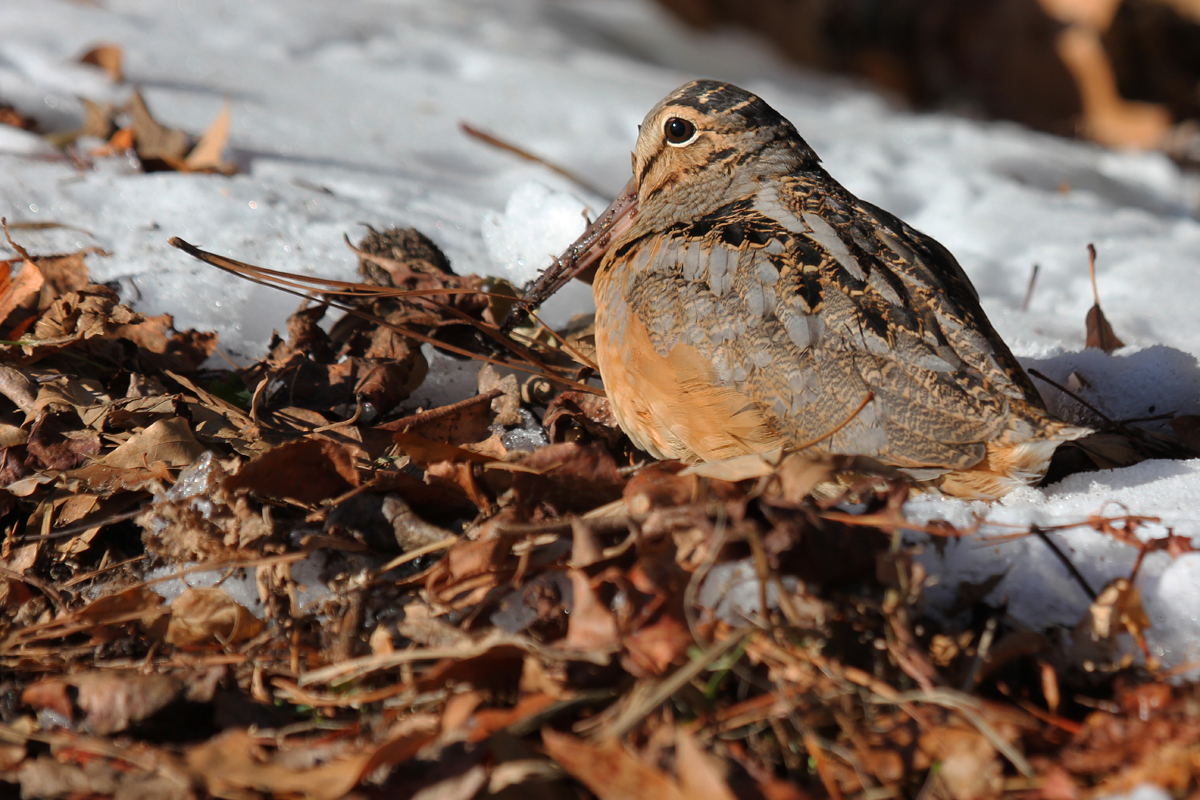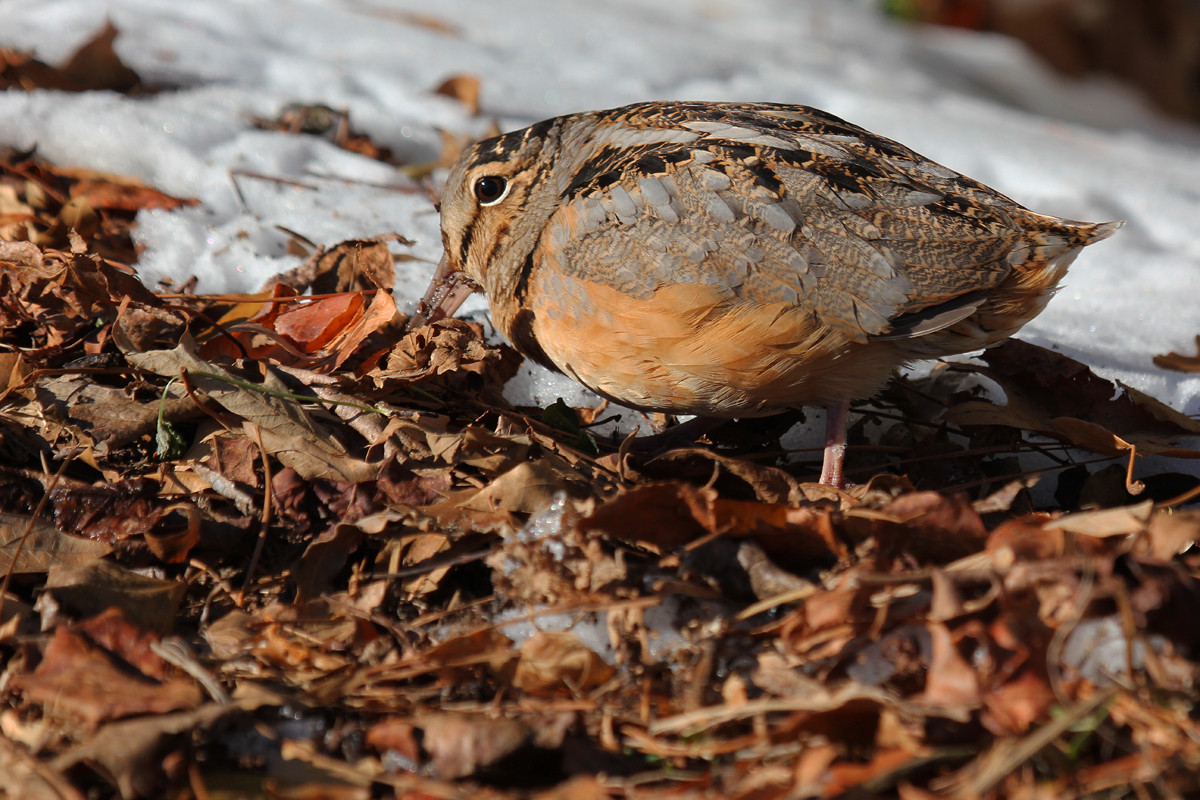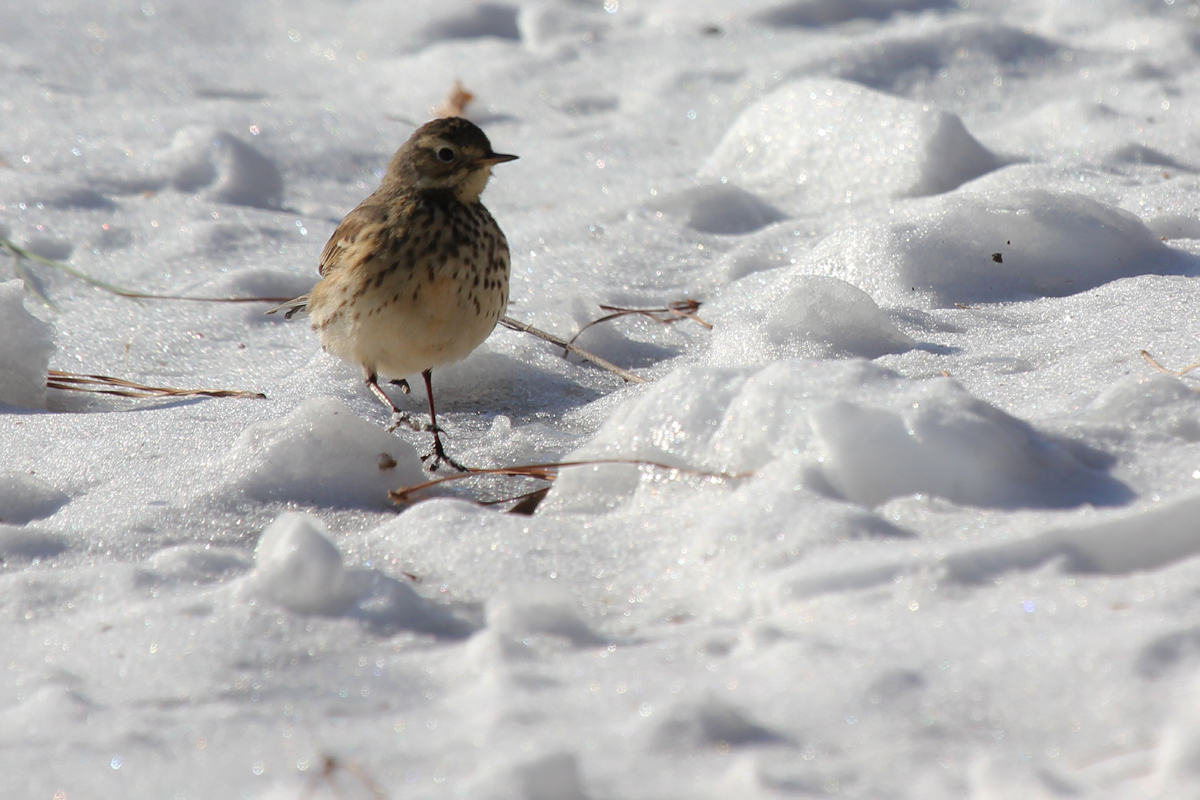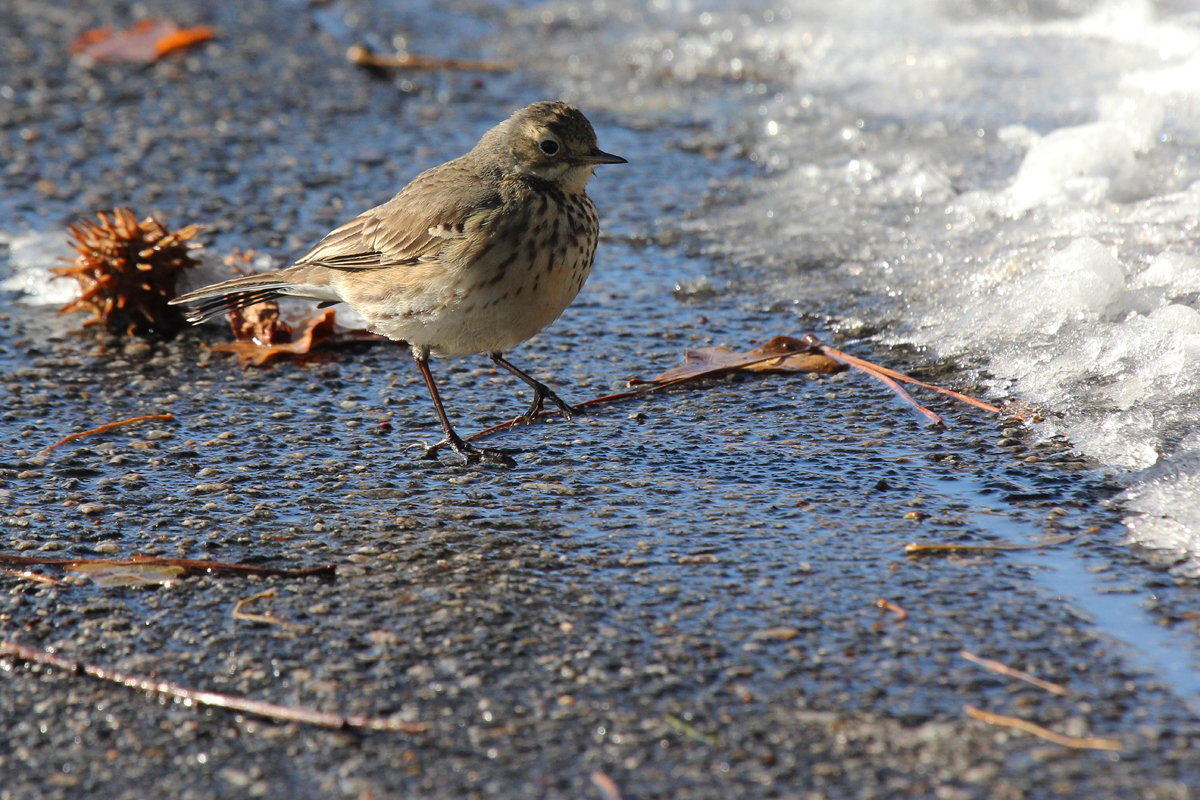 A third waterfowl rarity has persisted into 2018 as well, with at least one CACKLING GOOSE still present in the goose flock that moves between Sherwood Lakes and the fields off Firefall Drive to the northeast. There have been a number of reports for Cackling Geese, but given that a few small-race Canada Geese are also present, it would greatly behoove observers to try to photographically document the birds suspected as Cackling Geese. While their size usually helps them stand out from the Canadas (especially when on the water), size alone is not a perfect differentiator. The proportions of the bill, almost taller at the base than it is long, and a much silvery/grayish plumage coloration are also important identification factors. At least one was documented on the north pond going back as far as 26 Dec (obs. David Clark), and it is likely that this same individual is the one being reported.
Another species of rare sparrow was observed this period, that being the continuing LECONTE'S SPARROW at Princess Anne WMA's Beasley Tract north of Munden Road. Originally observed 3 Dec 2017 (ph. Andrew Baldelli & Rob Bielawski) in the southern impoundment of the park, the individual was observed again on 7 Jan (ph. Rob Bielawski & later obs. Nick Newberry), though this time with about 10 inches of snow covering the ground! This species has now been observed in Virginia Beach in three straight calendar years, though with records across two winter seasons. One has to wonder if this individual is the same one that wintered at this location in 2016-17, or if this is a different bird altogether. Last winter, the final observation for the season occurred on 9 Apr (ph. Andrew Baldelli & Rob Bielawski), so it is likely that this individual will persist for several months, especially given that it has successfully made it through our first major snowstorm of the season.
Lastly for the true rarities in the city this period, the immature BLACK-LEGGED KITTIWAKE that has been present at Stumpy Lake NA since 4 Dec 2017 (ph. Jonathan Snyder) was observed by many birders on 1 Jan, but has not been reported since. On the first of the year, the bird spent most of its time loosely associating near a flock of Ring-billed Gulls on the ice around the causeway leading the natural area / golf course. Whether the bird survived the nor'easter on 3-4 Jan or simply moved out of the area is not known, but hopefully birders continue to look for this individual now that the ice has begun melting to end the period.
While not year-round rarities, several seasonally unexpected species were reported during early January, including: Blue-winged Teal, Least Bittern, Yellow-throated Warbler & Ruby-throated Hummingbird. First off, for the teal, at least two reports came in, with a single individual at Back Bay NWR on 3 Jan (obs. Karen & Tom Beatty) and a pair found at First Landing SP on 2 Jan (obs. Marie & Ron Furnish). With the icing up of most inland lakes, and of Back Bay, it isn't a surprise that reports for this species occurred into the new year.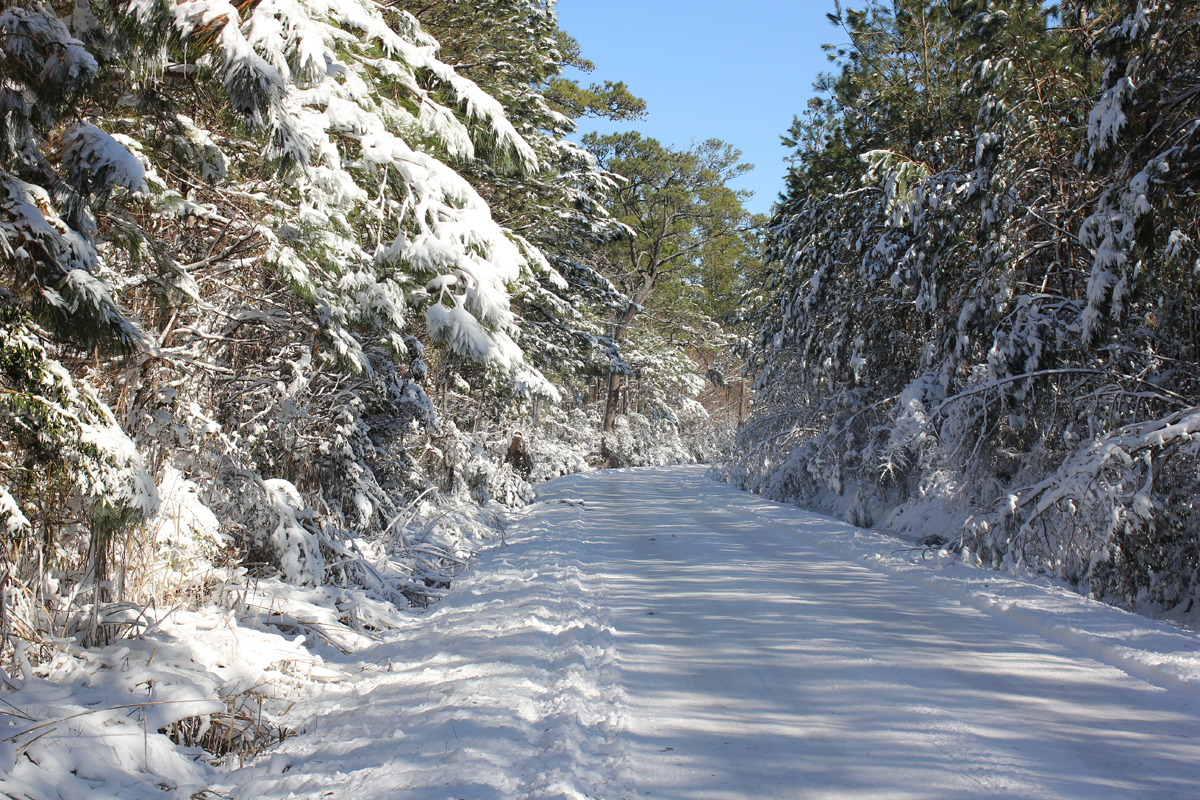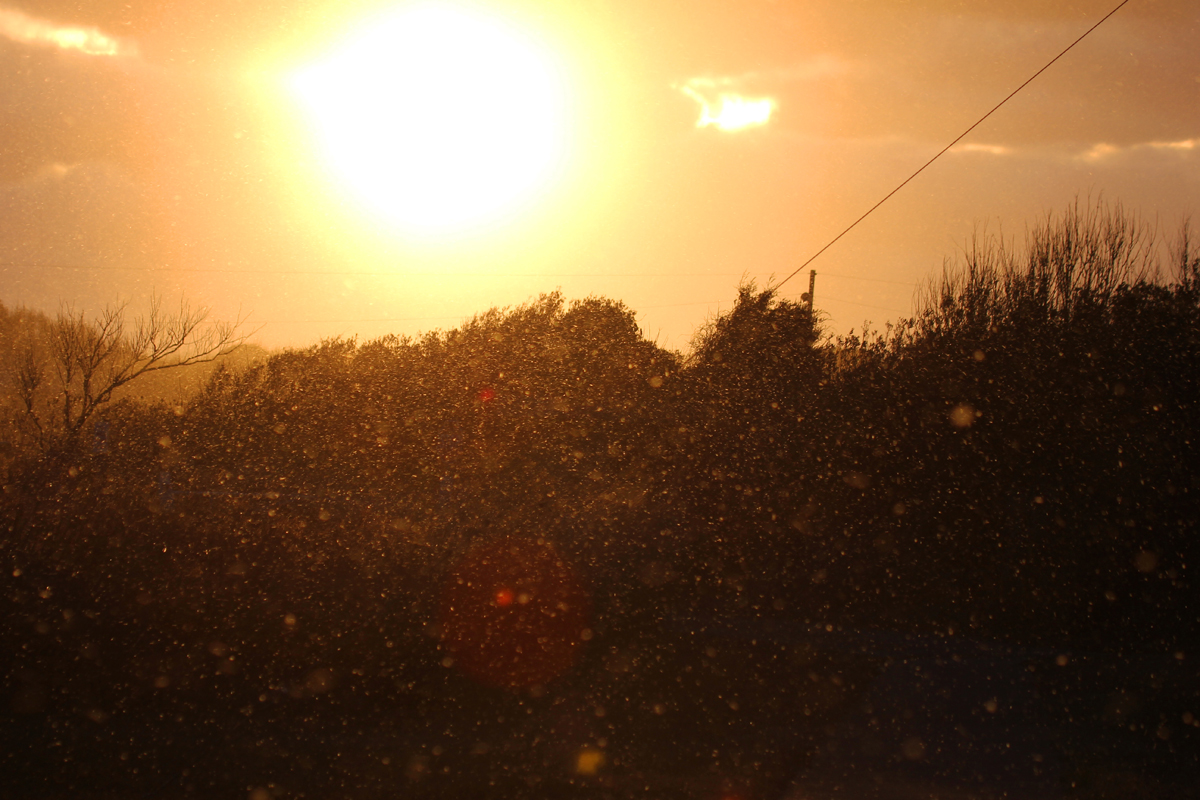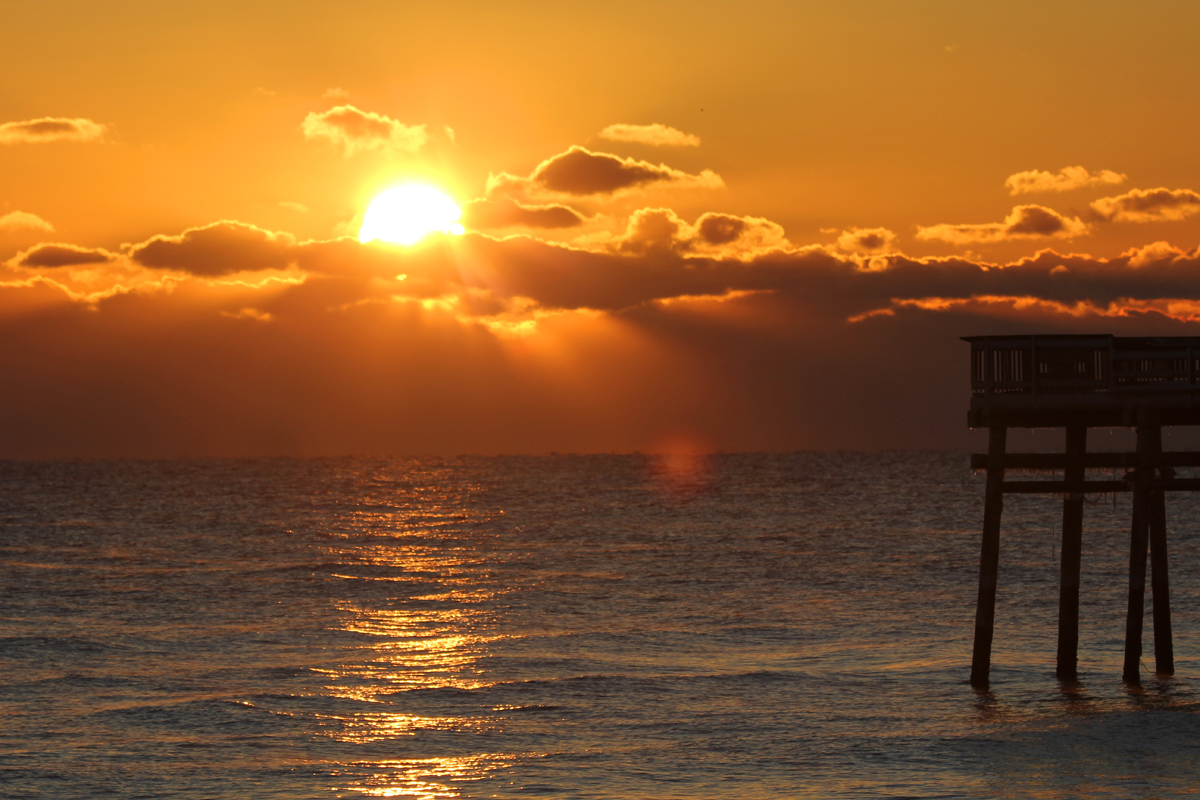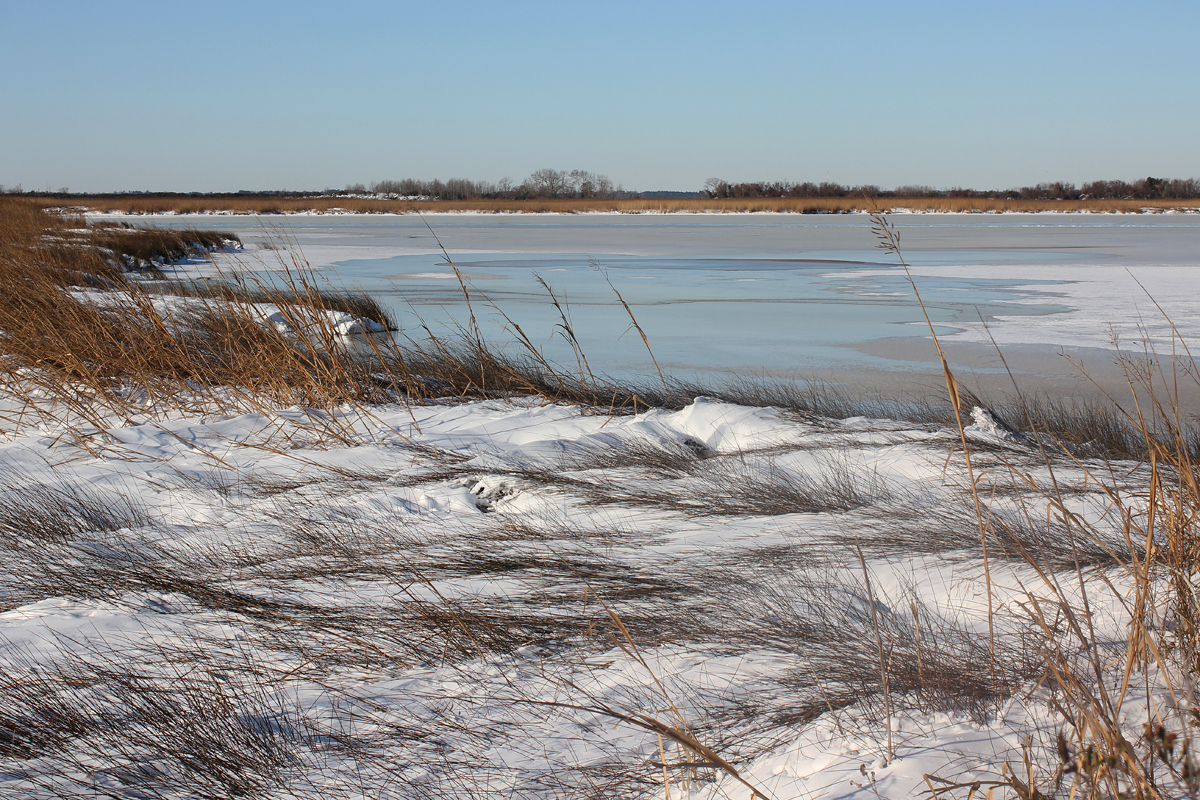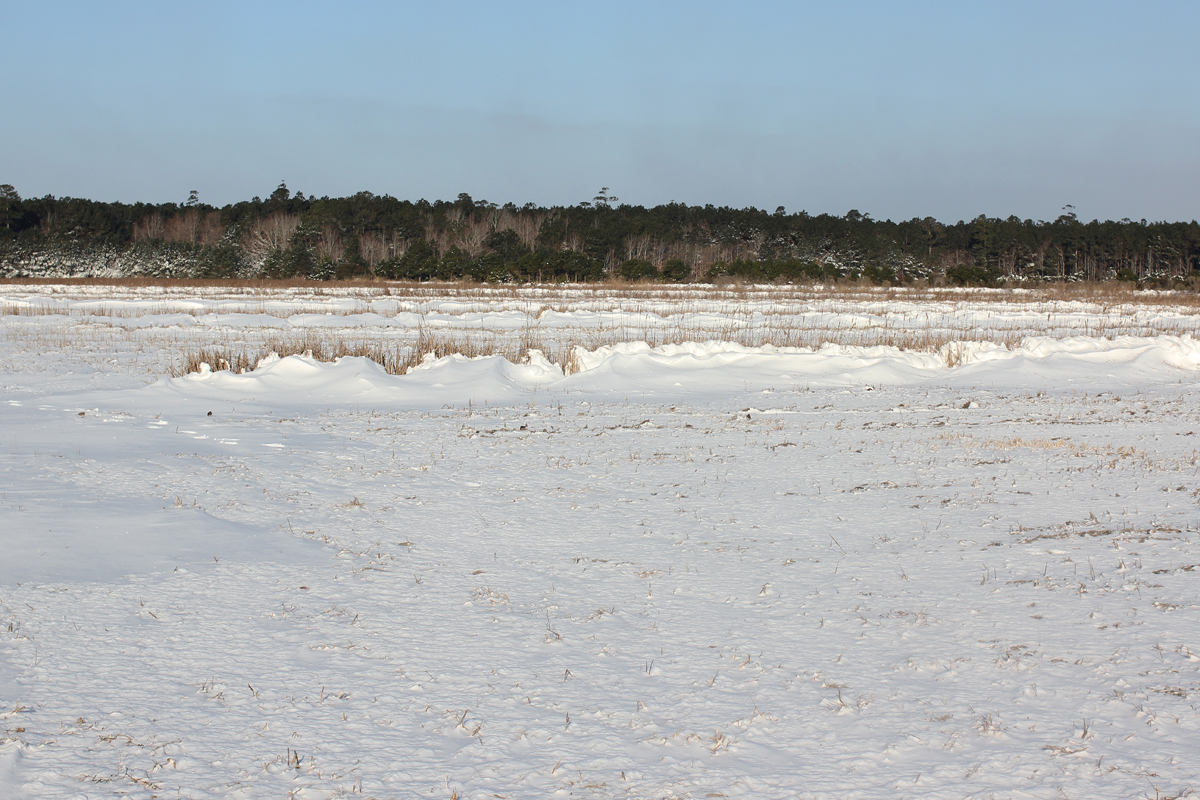 Also due to the recent ice up of almost all the available fresh water in southeastern Virginia, not one, but two Least Bitterns were found along the small ditch at the Little Island Park kayak launch on 6 Jan (ph. Andrew Baldelli / Rob Bielawski / Mike Collins). A single report occurred during January of 2017 as well when a group of North Carolina-based birders observed a single individual at this very same location. Perhaps the species attempts wintering around the shoreline of Back Bay more often than is noted simply due to being a very secretive species, with most summertime observations being only known due to vocals. According to The Gold Book, only 3 other winter records exist in Virginia as a whole, with one in Chesapeake (1961), one in Portsmouth (1981), two at Back Bay (1985), and a single eBird record on the west shore of Back Bay from 2007). Reports continued through the remainder of the reporting period as many observers visited the site to see these birds, as well as the Virginia Rails and Soras that were also noted in this open water ditch.
The Yellow-throated Warbler first noted 7 Dec 2017 (ph. Maggee Smith) at an Aragona Village private residence continuing through the reporting period as well, and surprising wasn't hindered at all by the snowfall event of 3-4 Jan. It appears also that we're down to only one Ruby-throated Hummingbird being reported to eBird in the city, with a persistent individual at a private residence (ph. Debbie Schroeder) being reported most recently on 3 Jan in advance of the heavy snowfall, but not reported since.
Since we finished up the expected arrivals for the season in late December, with Canvasback being the final species, now we just have to worry about late/lingering individuals. During early January, only one such species was noted, that being Cattle Egret, with a typical departure date of 31 Dec, any January records are worth mentioning. This small flock of egrets continued along Princess Anne Rd. after being logged on the Back Bay CBC to close out the year. At least 1 individual persisted until 3 Jan at Sherwood Lakes of all places (ph. Karen & Tom Beatty), but it is likely we've seen the last of this species within the city's borders until early April when they typically return for the spring.
With the inlands waterways being covered in ice, and with the effects of the nor'easter felt throughout the period, an incredible number of interesting reports were submitted this period to eBird. The heavy snowfall forced a great many normally secretive species out of typical habitat, with loads of observations occurring for American Woodcock, Wilson's Snipe, Sora, Virginia Rail, King Rail, Fox Sparrow, American Pipit and Hermit Thrush. Waterfowl are present in numbers and variety not seen in Virginia Beach in many years it seems, with a great many reports for White-winged Scoter, Common Goldeneye, Common Eider, Canvasback and Redheads. Many of these species have typically been difficult to come by out here, Goldeneye in particular only had a couple of records in the winter of 2016-17 compared to dozens this winter! Shorebird observations have included plenty of Dunlin and Black-bellied Plovers, the latter of which hasn't held many records during the winter months here. One inland report of a Dunlin occurred on 7 Jan at Kempsville Lake (obs. Brandon Holland) which seems interesting enough to note here. Pine Siskins were noted at a private residence (obs. Karen & Tom Beatty) and also at Back Bay NWR. This irruptive species has not provided many reports this winter to date, nor have Purple Finch or Red-breasted Nuthatches, two other irruptive species. With over 400 eBird checklists submitted for Virginia Beach during this period, tallying around 150 species of birds, I likely missed some things, but, what an incredible kickoff to the new year. Get outside and enjoy it if you have the time, and if not, make the time!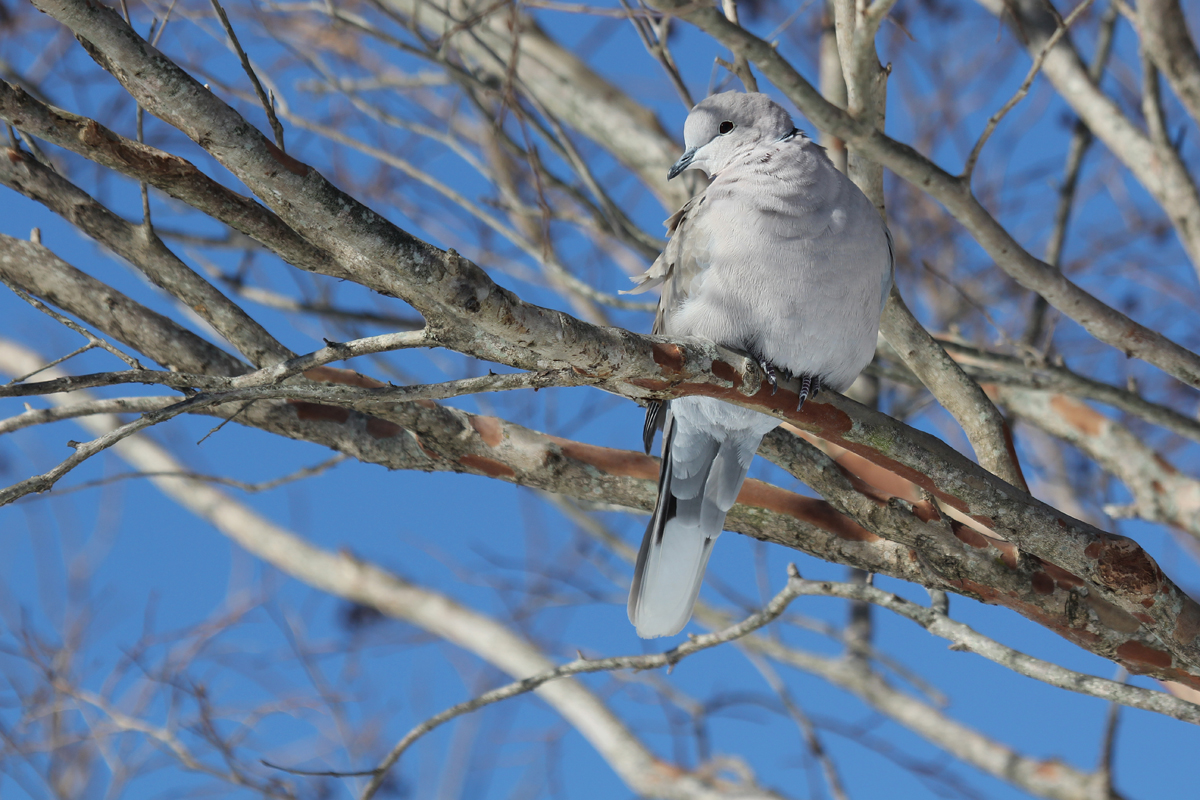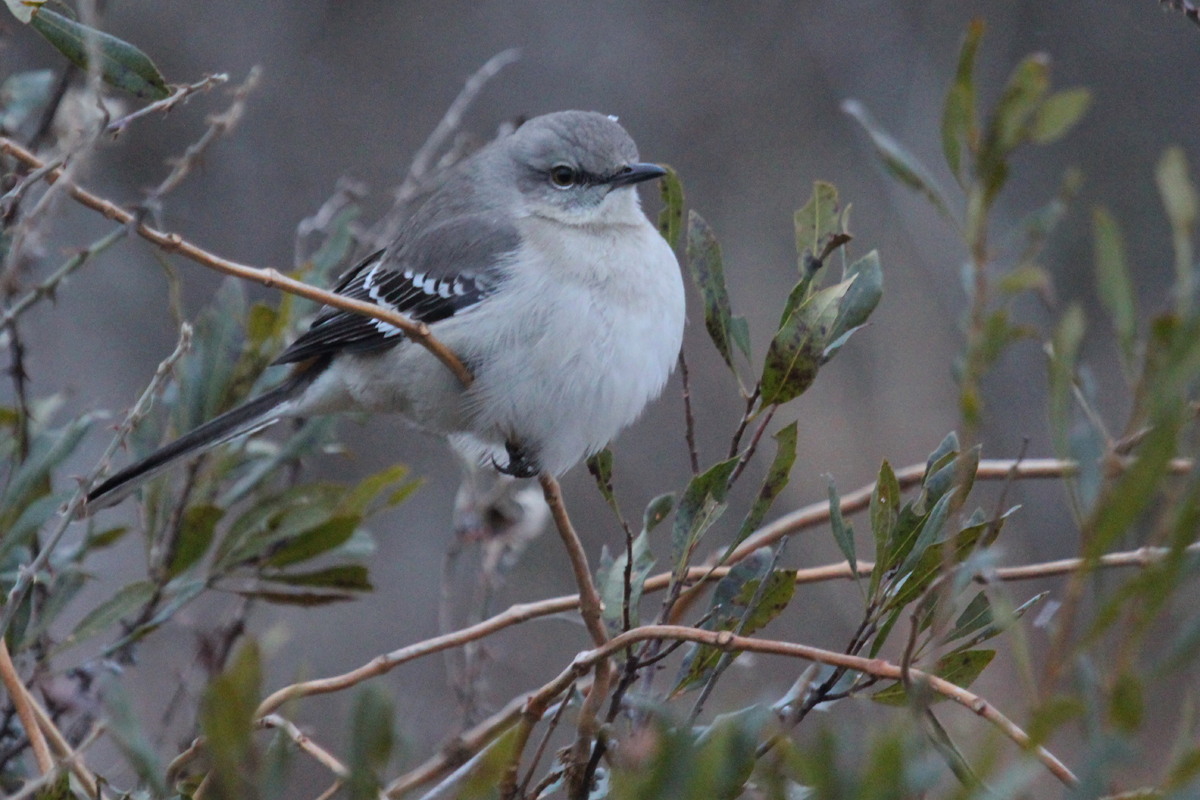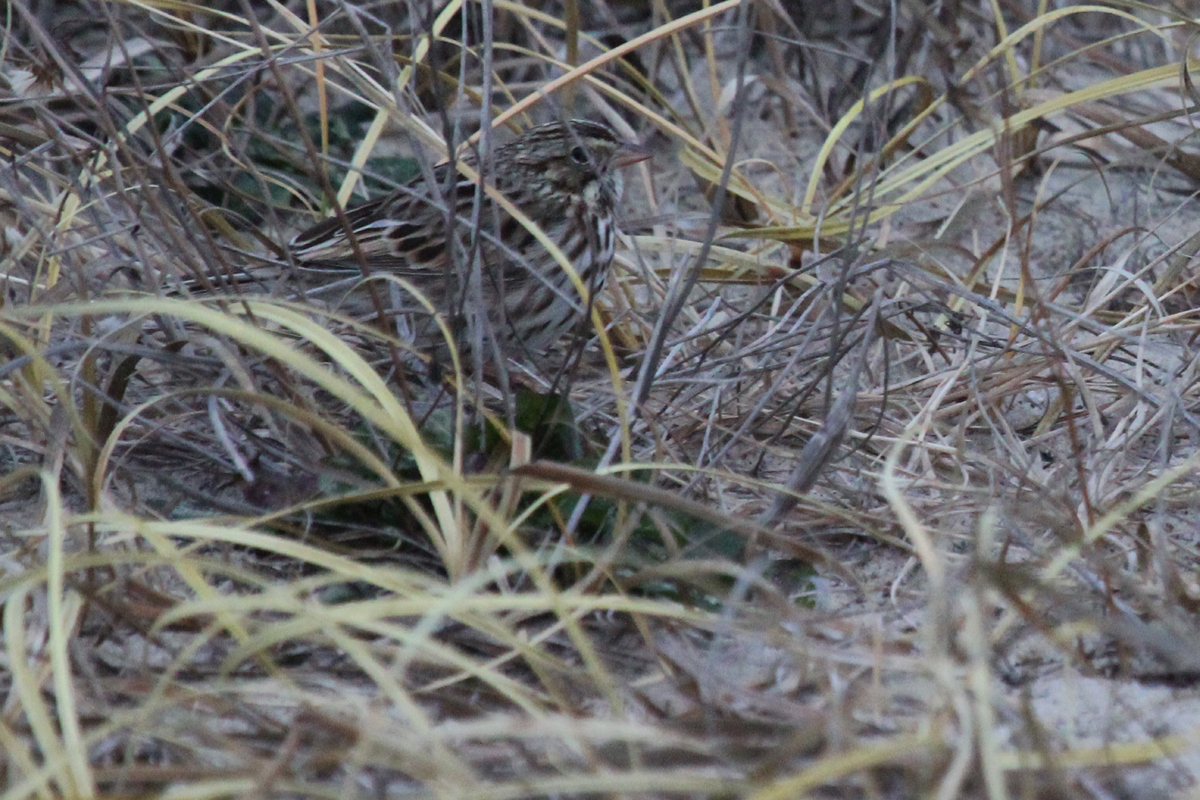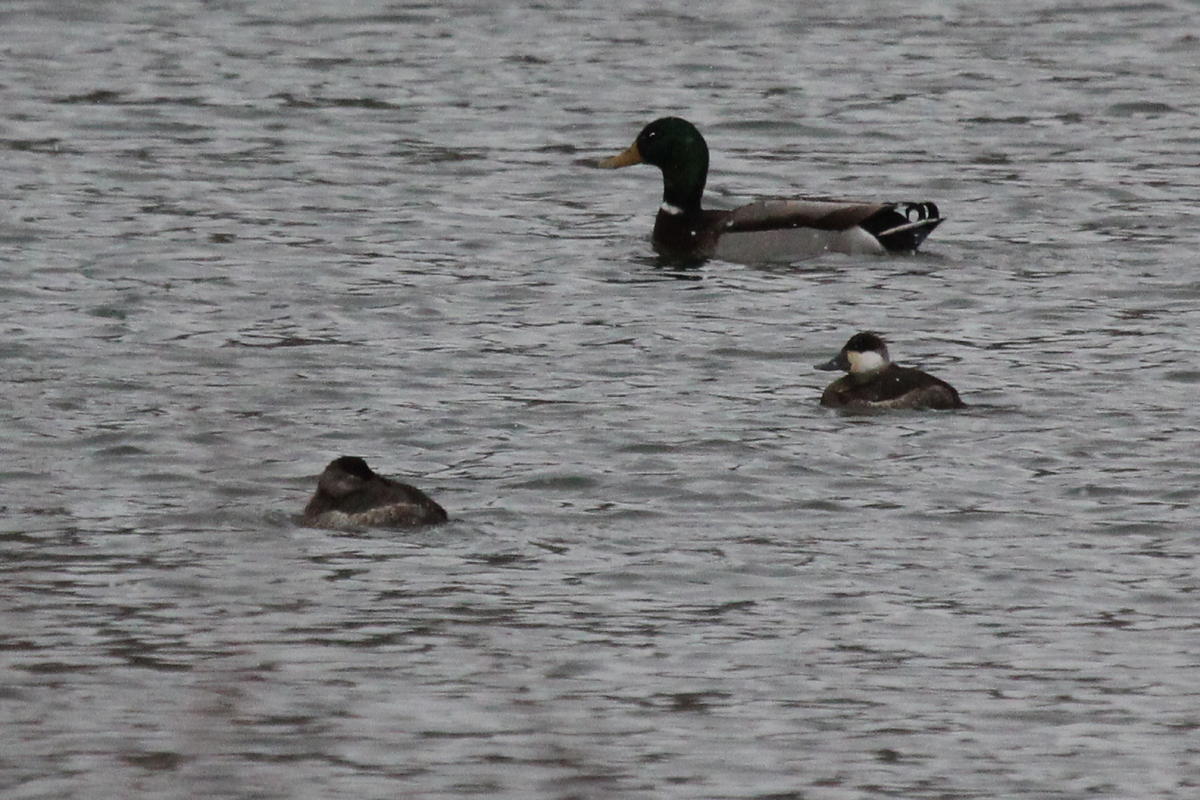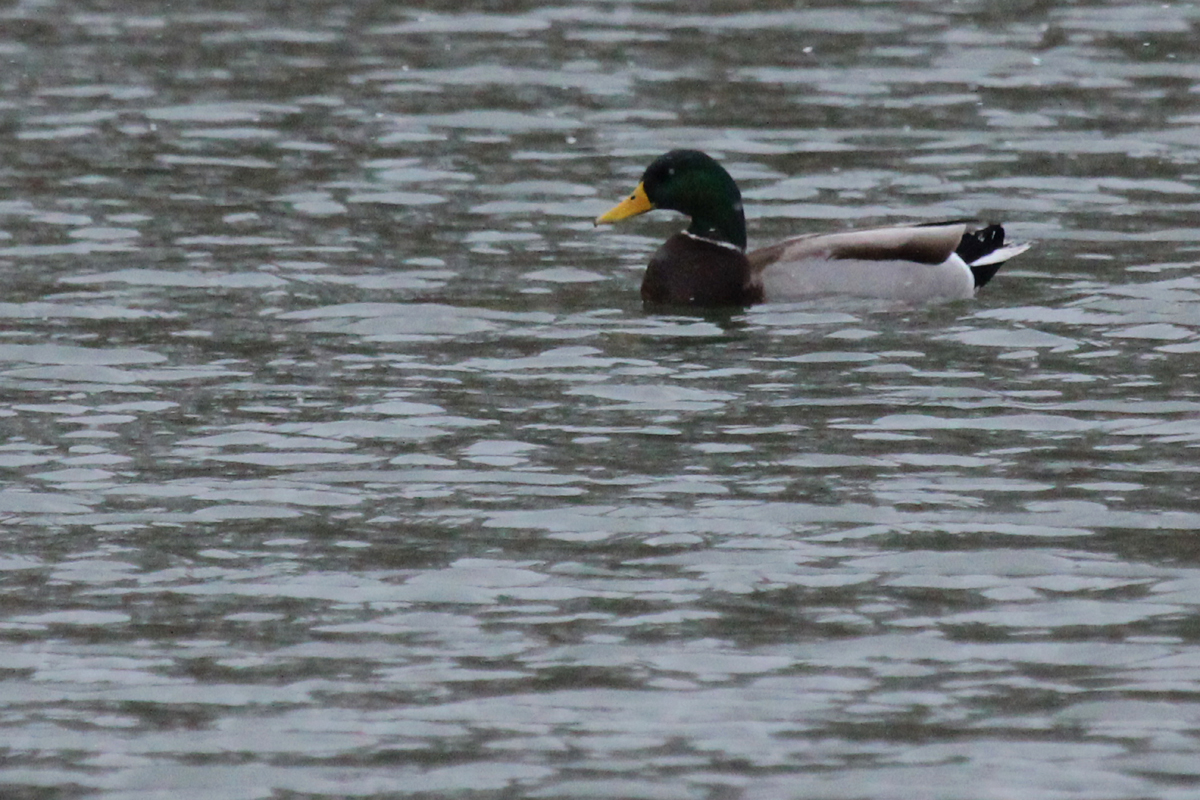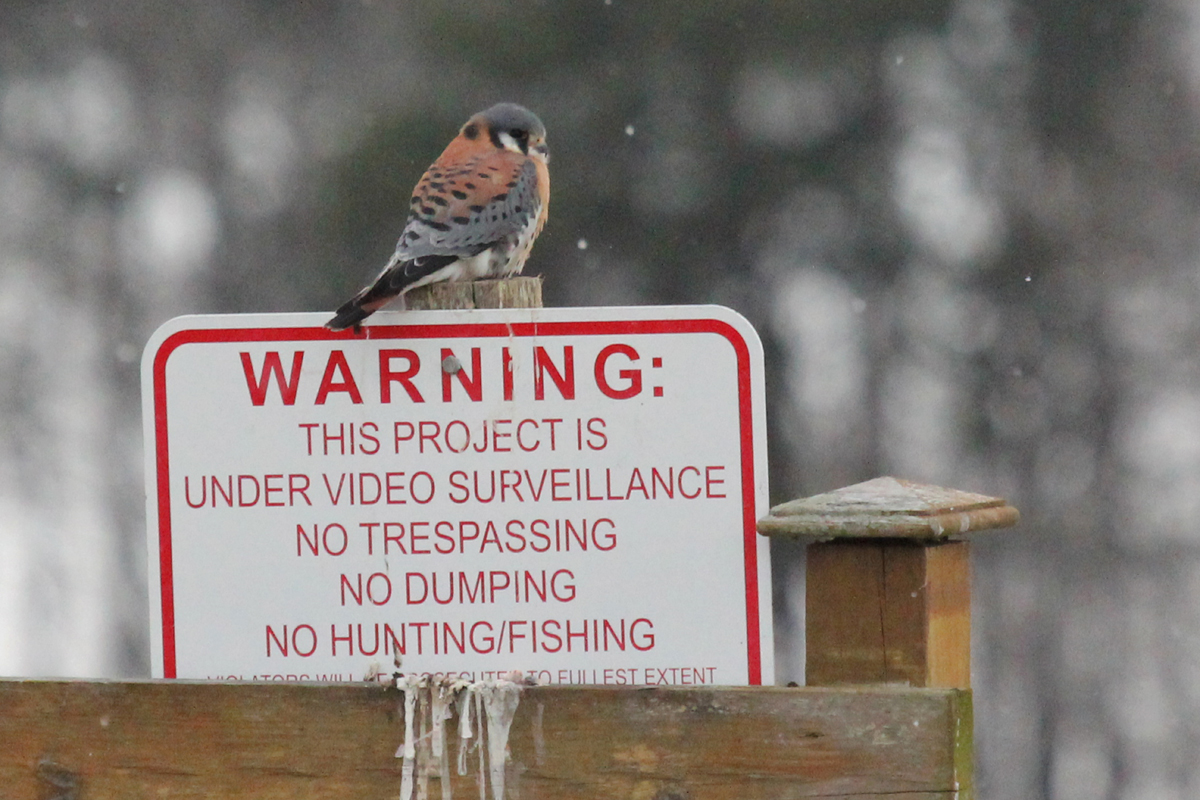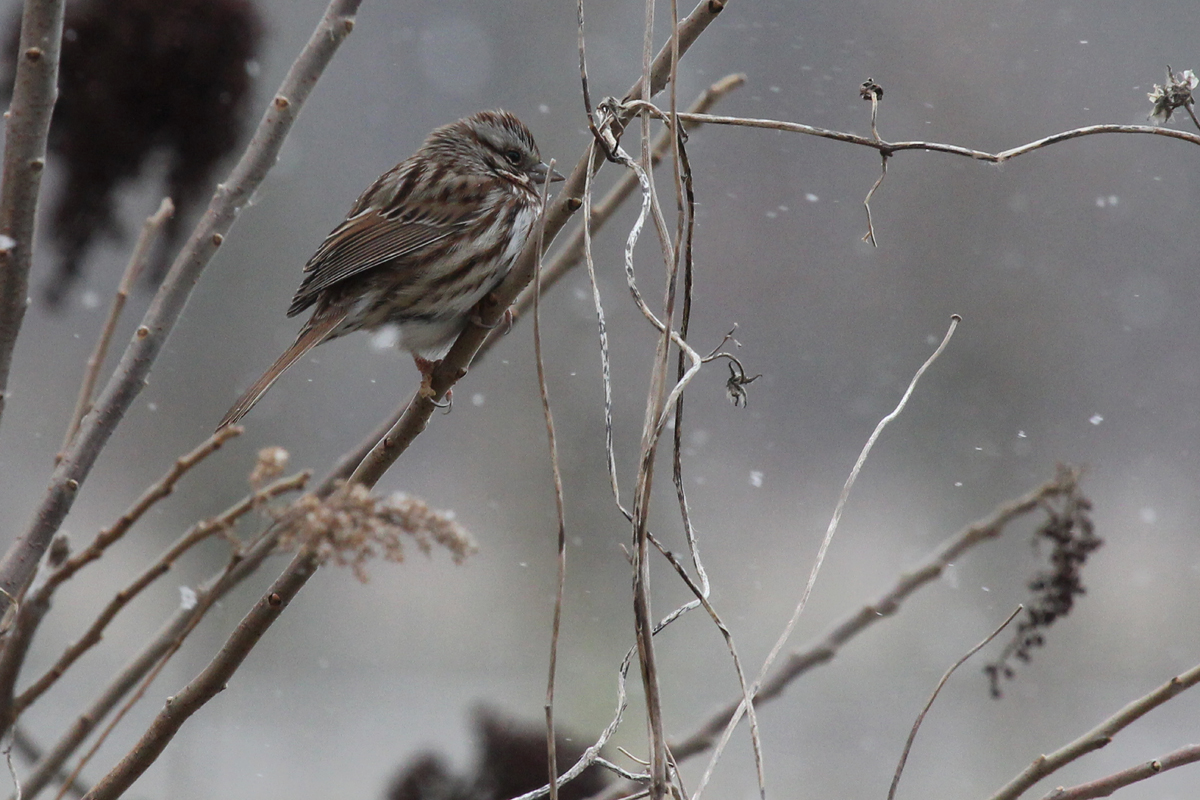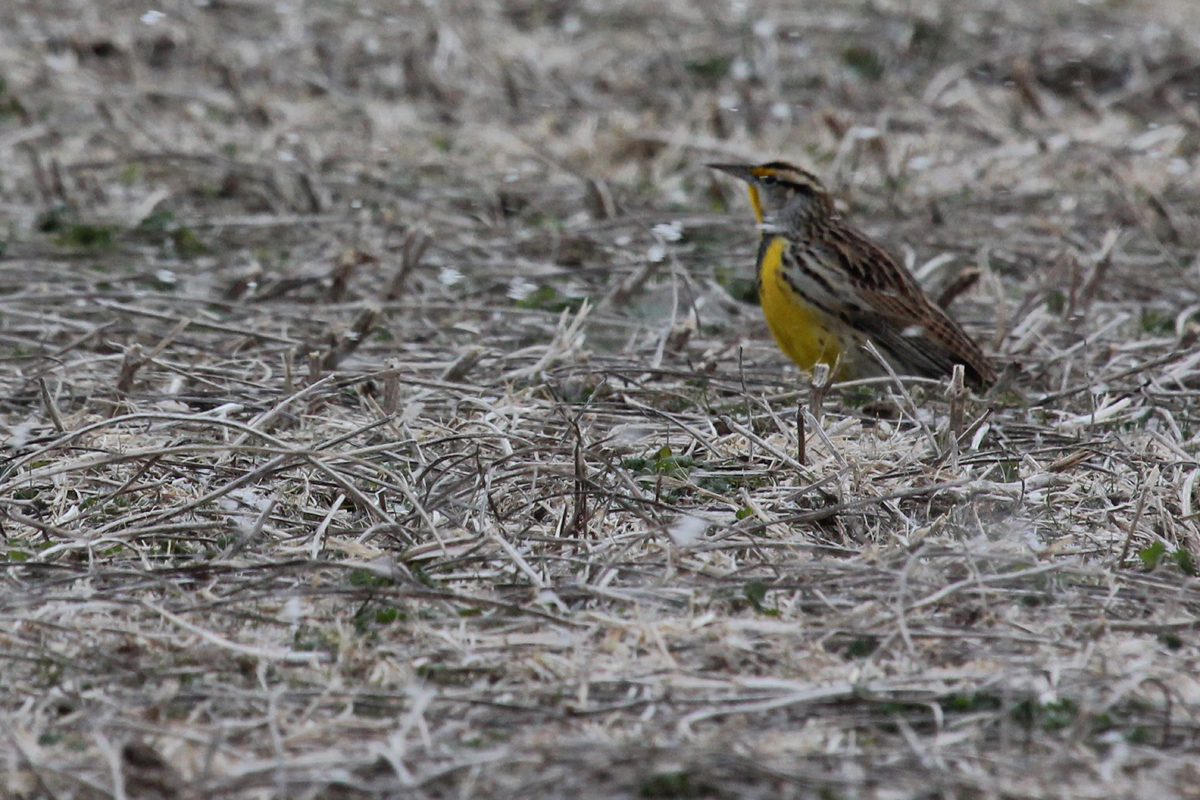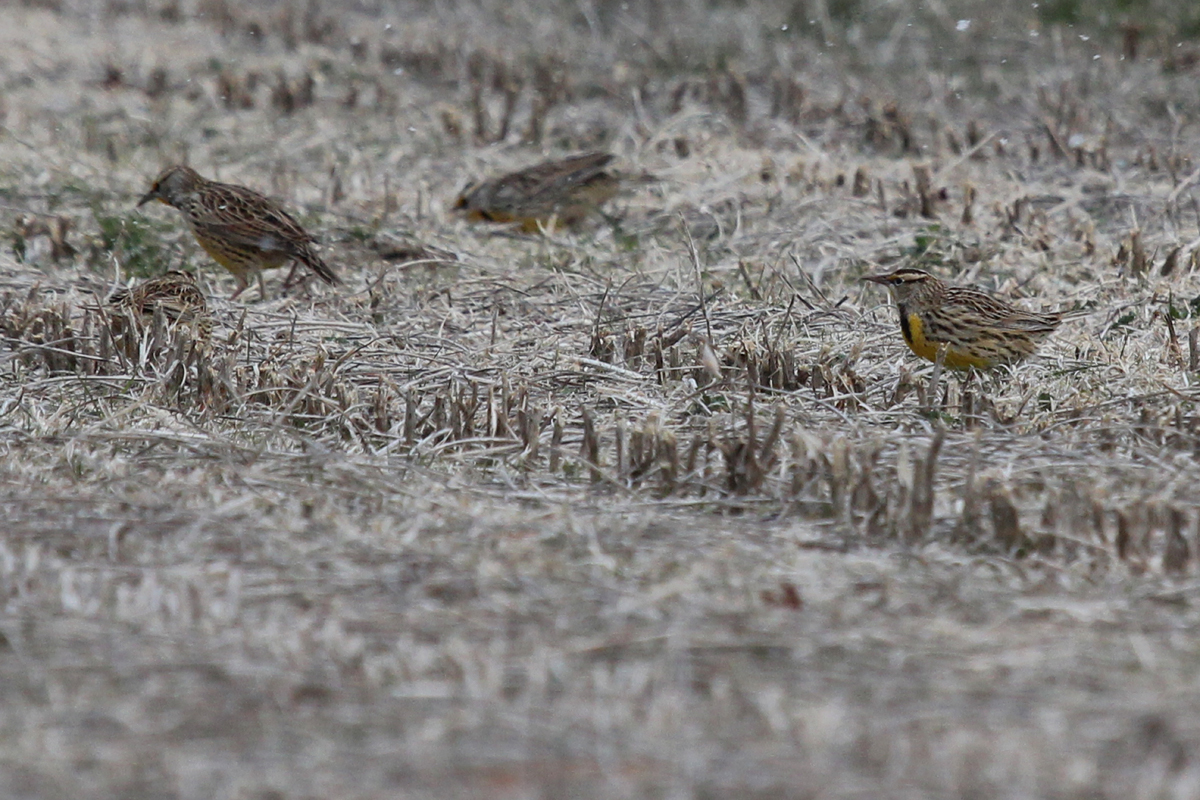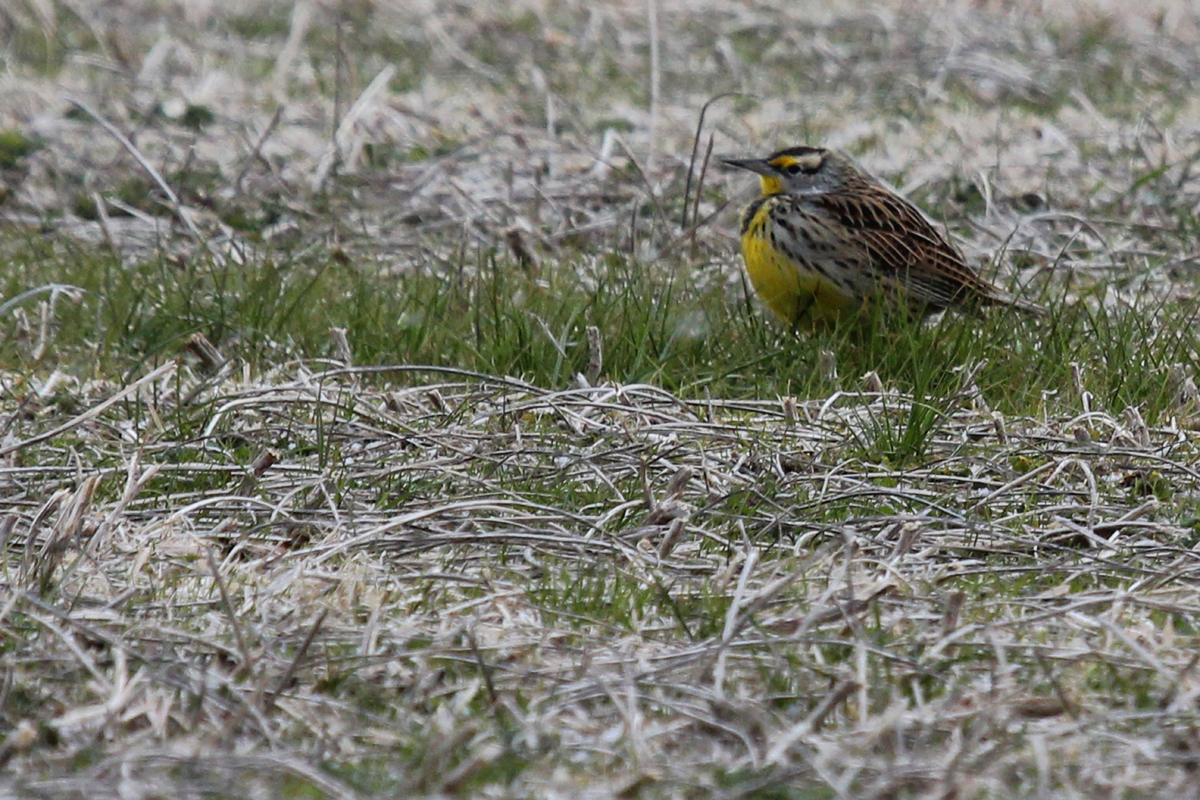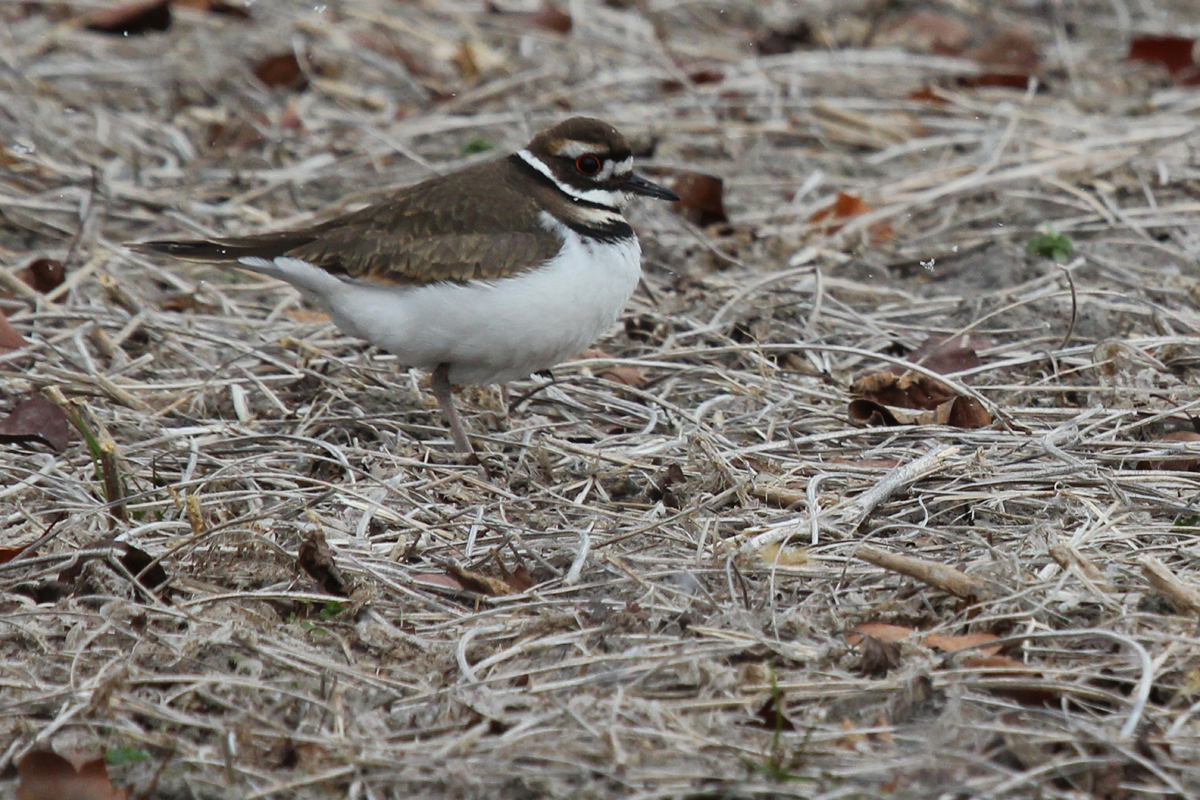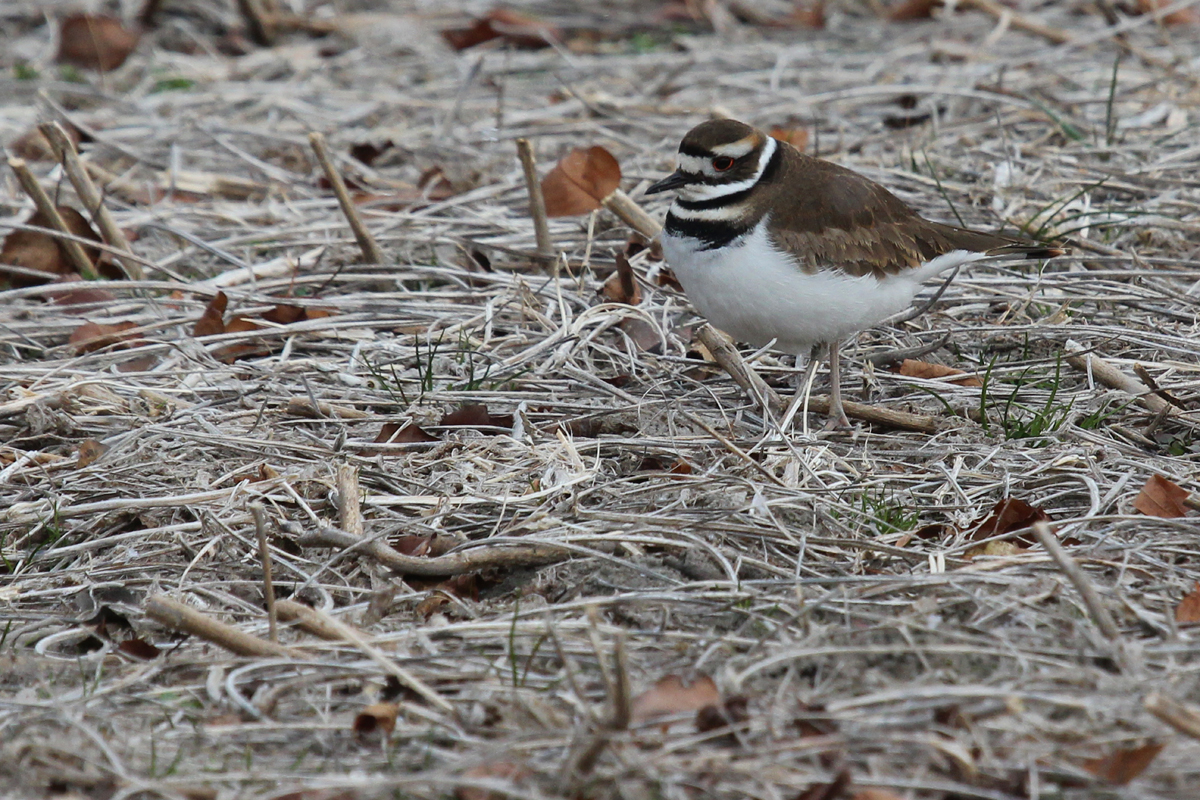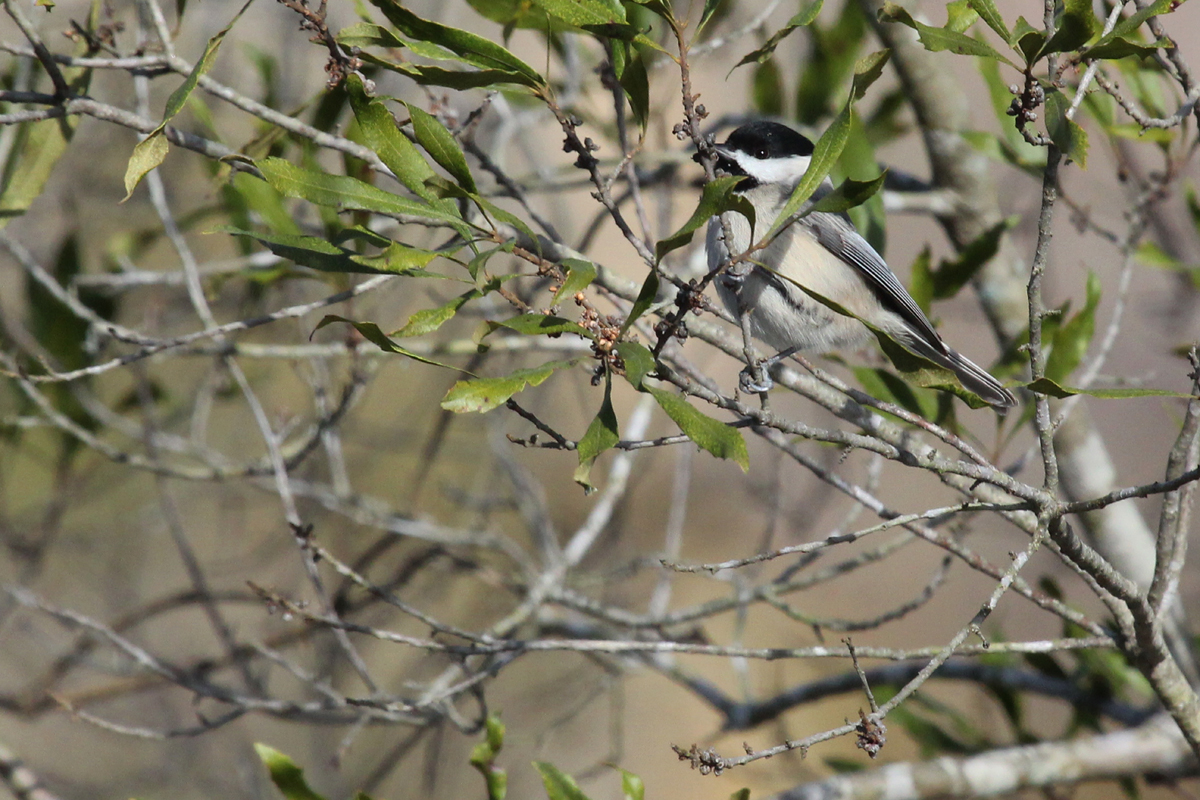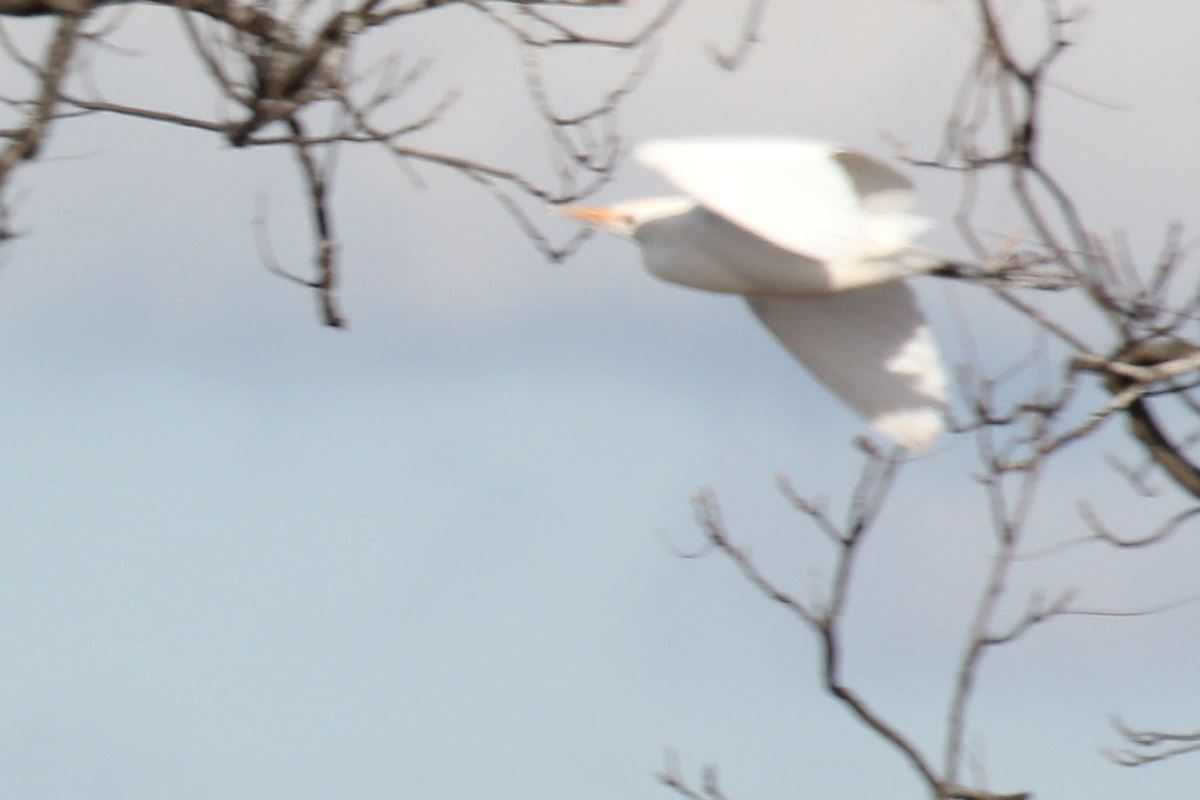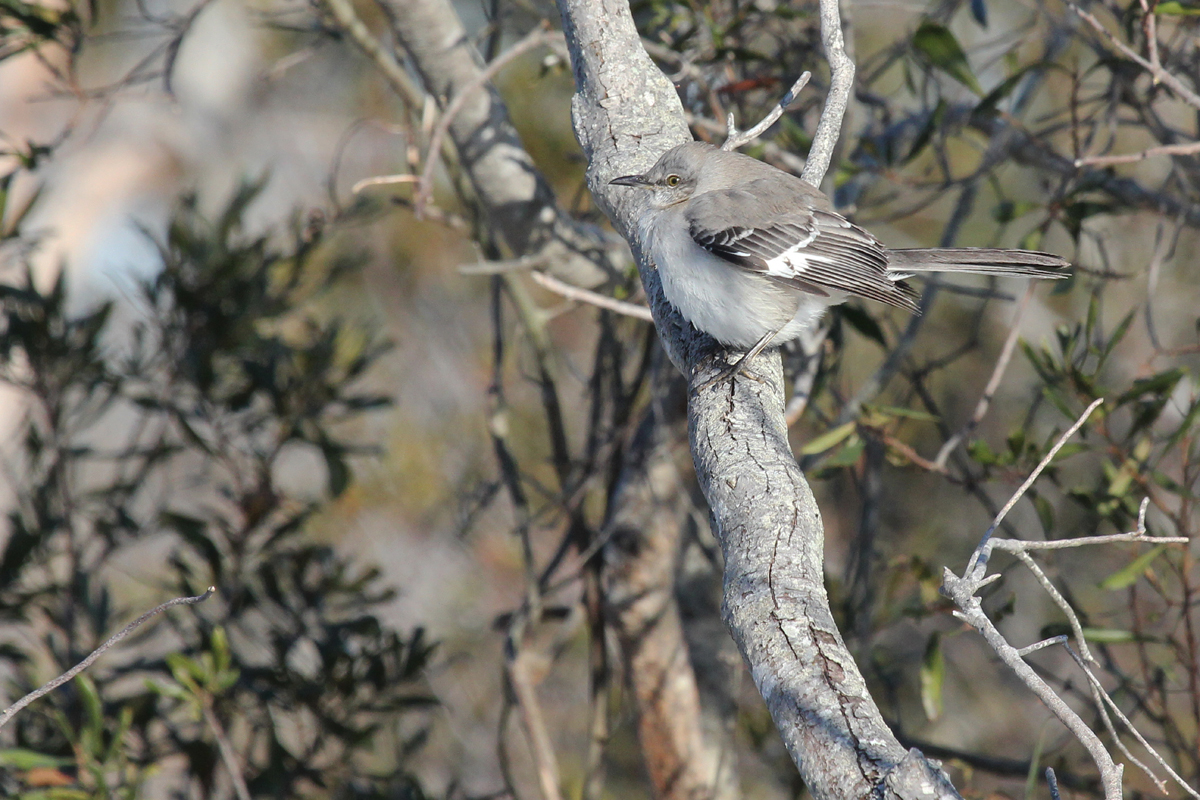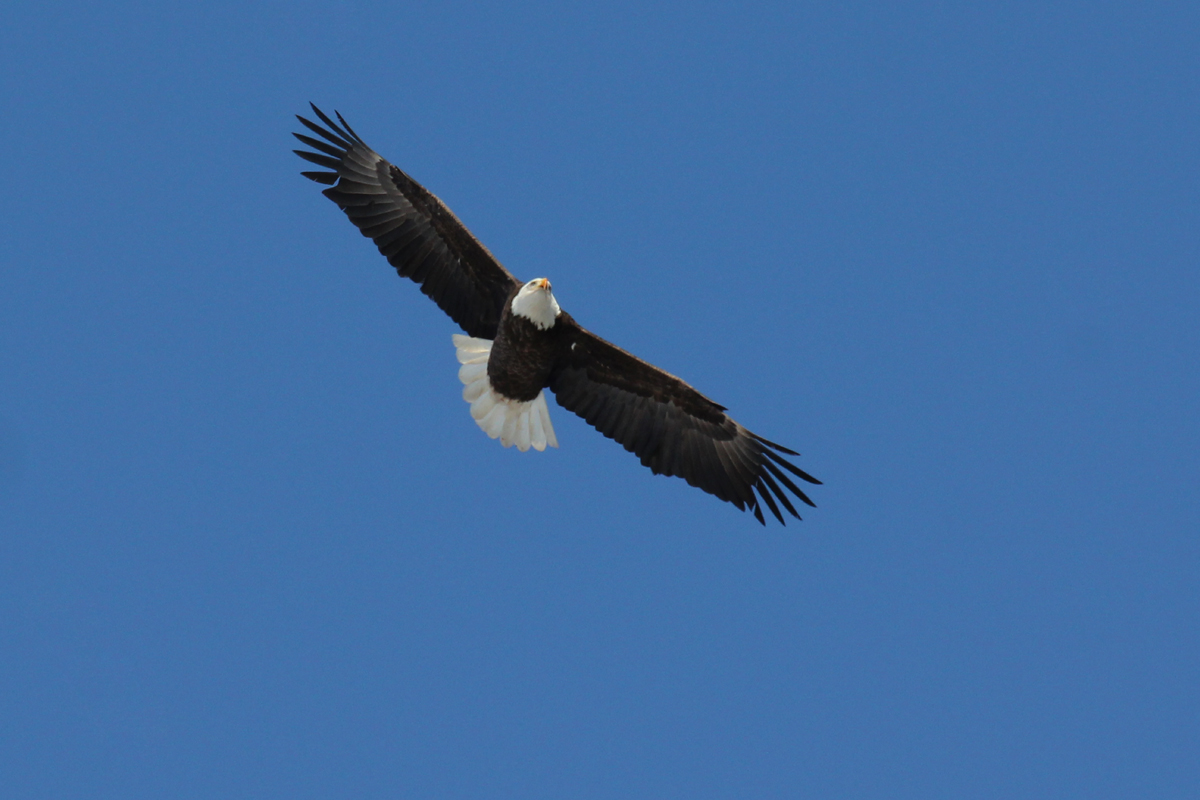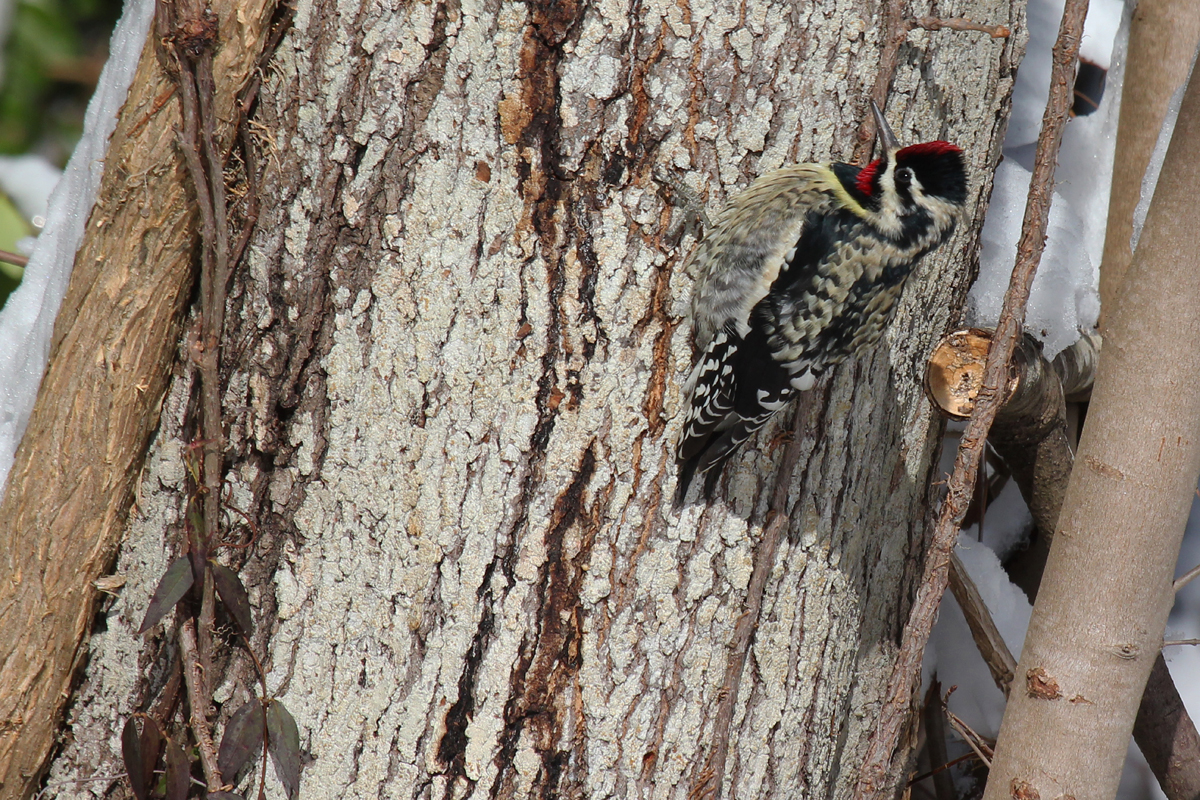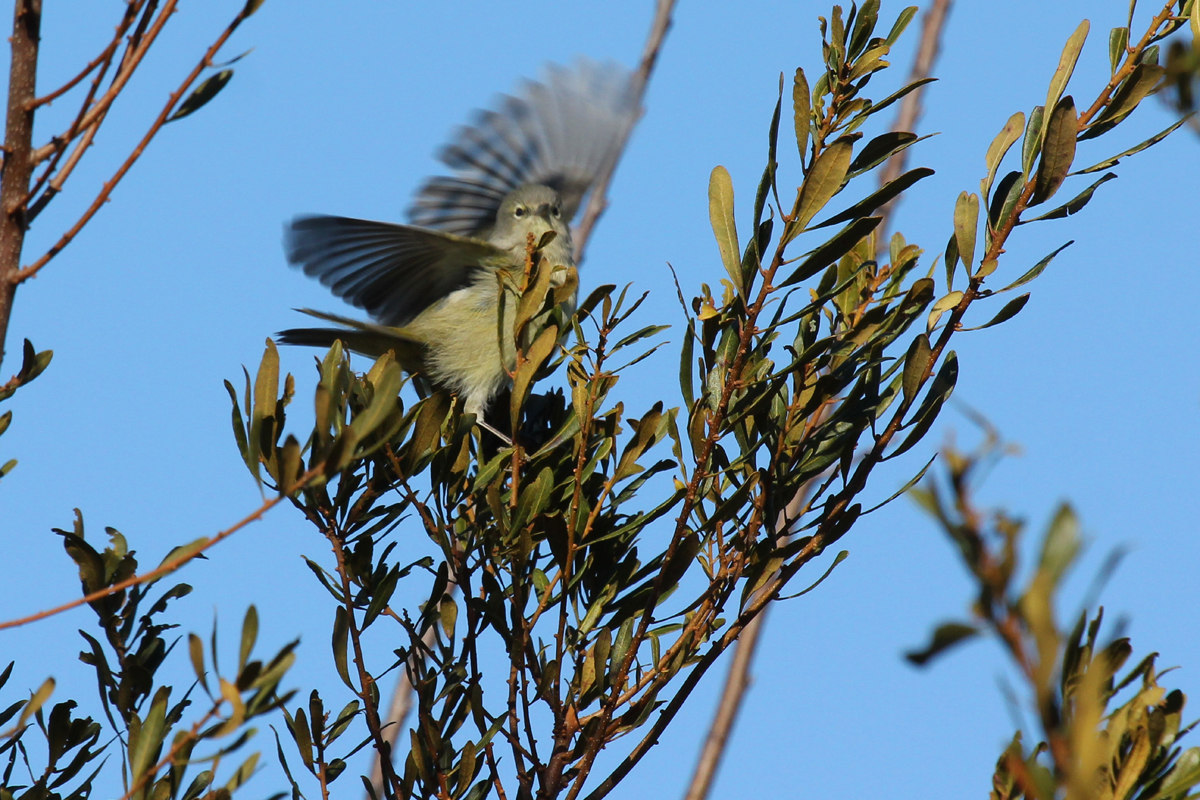 WEATHER: Average daily high temperatures plummeted an incredible 12.5° from 44.7° F in late December to 32.2° (-18.3° from prior 10-year average), with average daily low temperatures reaching a level of cold not felt here in many years… 15.0° from 30.4° to 15.4° F (-18.1° from prior 10-year average). Overall, temperatures ranged from a minimum of 9° F (our coldest days of the season thus far, on both 6 & 8 Jan) to a maximum of 50° (10 Jan). We haven't seen temperatures this cold during early January in at least 12 years (the extend of the data I have on hand), and likely much more than that! No measurable rainfall was recorded this period but 8-12" of snowfall did occur on 3-4 Jan. Maximum sustained winds at Oceana this period were 43 mph and gusts reached 55 mph during the height of the nor'easter on 4 Jan. Sunrise/sunsets varied from 7:16 AM/4:58 PM (21 Dec) to 7:17 AM/5:06 PM (20 Dec), which means over all we gained 7 minutes of daylight during this period! Preliminary tide levels (referenced to MLLW) at the Sewell's Point gauge (NOAA) in Norfolk varied from a minimum of -1.614 (7:30-7:36 PM, 6 Jan) to a maximum of 3.911 (10:24 AM, 4 Jan) as the tide was guided upward by the nor'easter. Most of the snowfall had begun to melt by the close of the period, but ice persisted on most waterways. With temperatures expected to stay above freezing, both should eventually disappear.
Due to the sheer volume of photographs being submitted to eBird in Virginia Beach nowadays, I've had to cut this section from my thrice-monthly reports in lieu of hopefully a better alternative. For those hoping to view everyone else's photographs, please see this complete listing for the month of January located on eBird's Media explorer by clicking here!
LOOKAHEAD: As we head further into 2018 remember that goose flocks around Sherwood Lakes, Firefall Drive and Princess Anne Lane need to be checked regularly, as do all the blackbird flocks that are happened upon. This winter season is shaping up to be an incredible time period for waterfowl reports in the area, given the already-low temperatures and icing up of freshwater bodies to our north. The Great Lakes are freezing rapidly, which is likely to send large numbers of ducks, geese and other waterbirds towards the East Coast. All open bodies of water will become goldmines for these birds, and rarities are likely to be found in tightly packed flocks moving forward. As always, make sure to report your finds to eBird!
For further information regarding this thrice-monthly, online publication, please visit the Journal Overview Page which provides an in-depth explanation of the format, layout and composition of the journal. As always, thank you for reading, and please leave me a comment below (you may use your Facebook, Gmail or other accounts to easily do so), or just click the Heart icon to the lower right of this post to let me know you stopped in!