Temperatures dropped considerably in late August from those in mid-August, and the region was treated to its first batch of severe weather in quite some time as "potential tropical cyclone ten" impacted the coastline on 29 Aug, dumping several inches of rain and providing strong onshore winds and gusts in excess of 50 mph. Top birds during the late August period in Virginia Beach included the first ROSEATE SPOONBILLS to be present in the city's boundaries since 1996! Another new rarity for the period was the occurrence of a single MARBLED GODWIT at Pleasure House Point that provided for several reports from 22-26 Aug. Mixed in with a swarm of migrating passerines, a BLUE-WINGED WARBLER was also found at First Landing SP on 31 Aug! As with mid-August, the WOOD STORK first noted 8 Aug continued to be observed at least through 26 Aug, and birders also enjoyed an early first-of-fall arrival for Gadwall, Merlin & Bay-breasted Warbler (25 Aug) as well as first-of-fall arrivals within expected dates for Blue-winged Teal & Bobolink (25 Aug), Black-and-white Warbler (29 Aug), Yellow-throated Warbler, Blackburnian Warbler, Black-throated Green Warbler & Baltimore Oriole (31 Aug).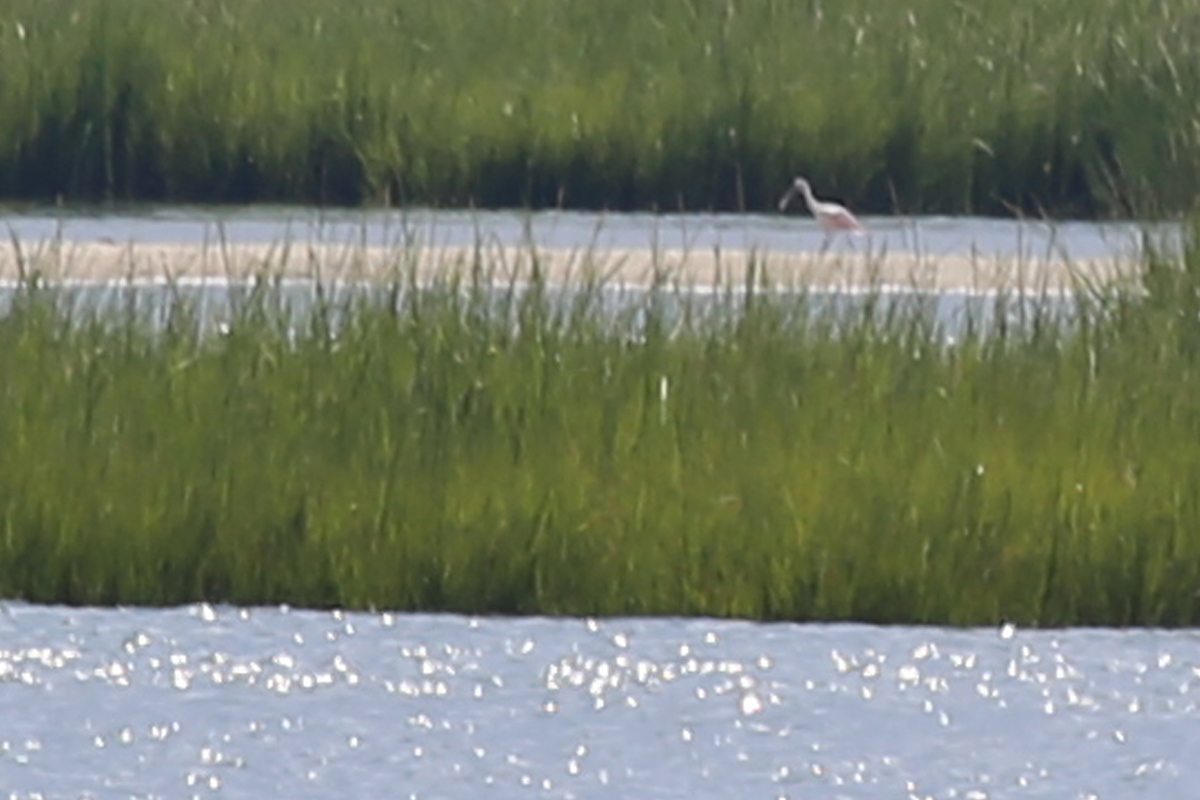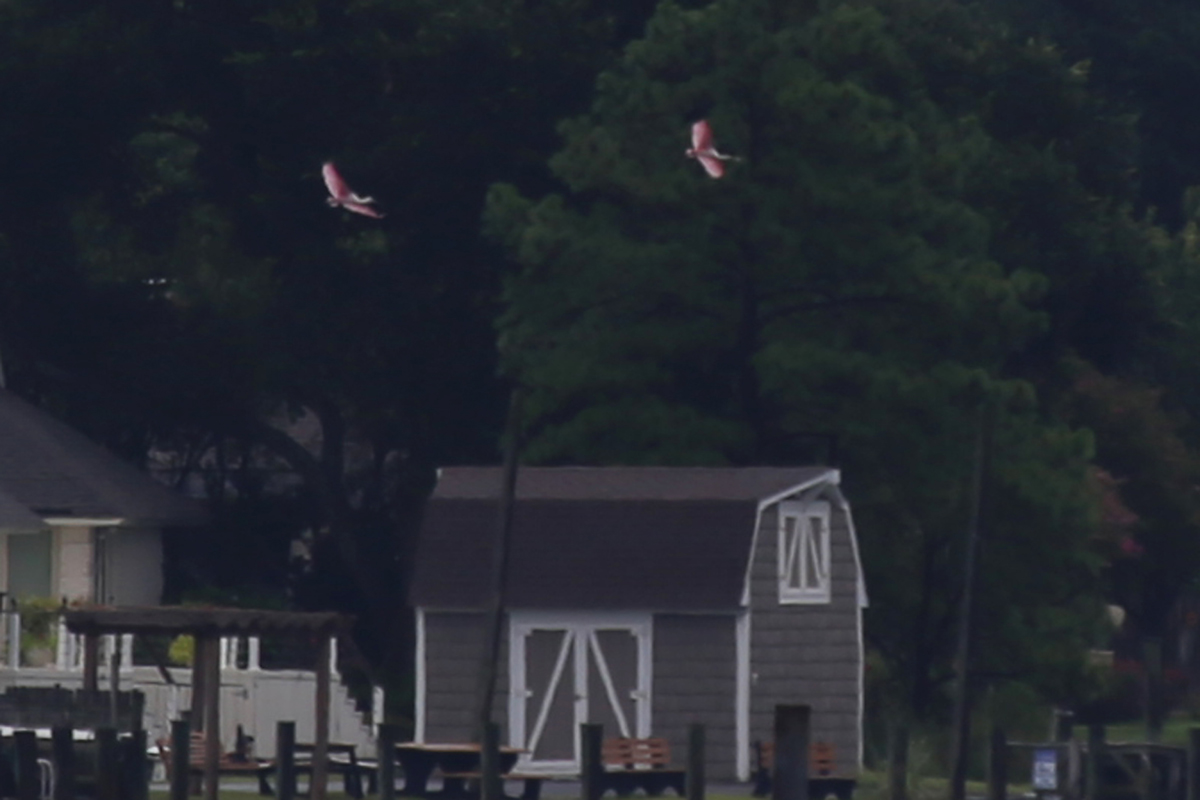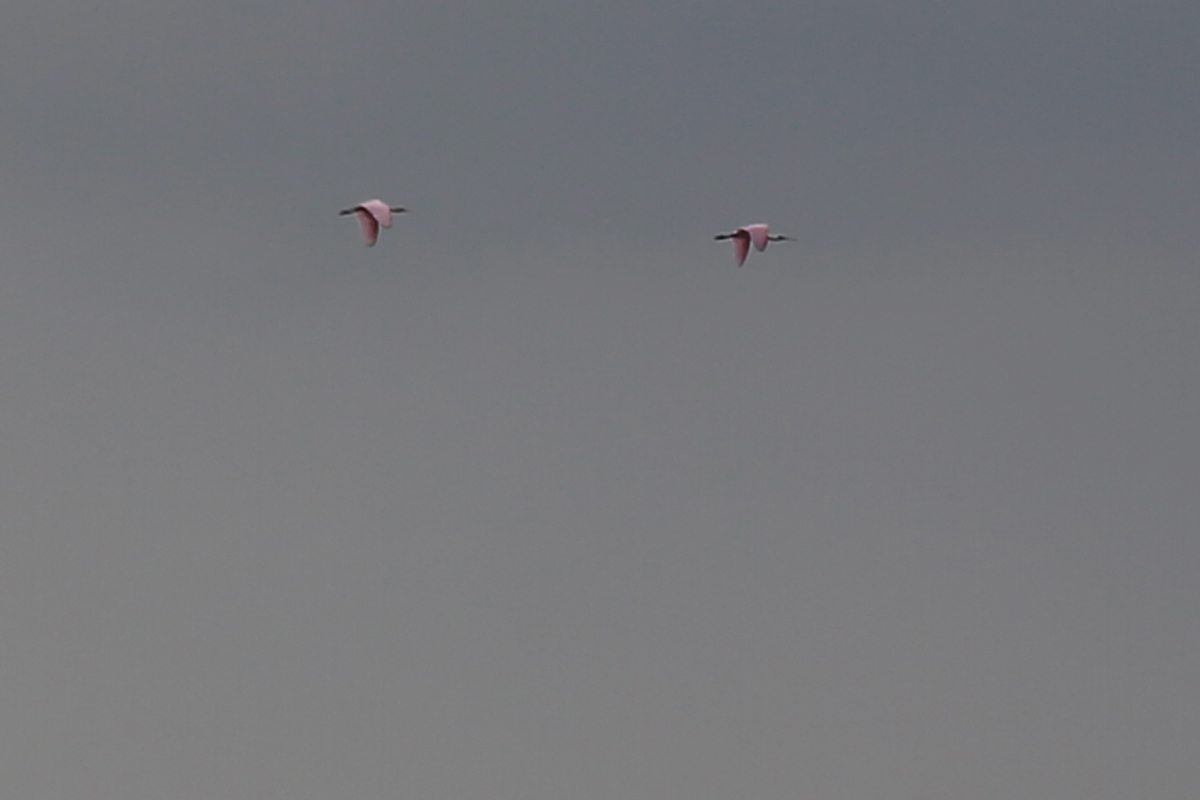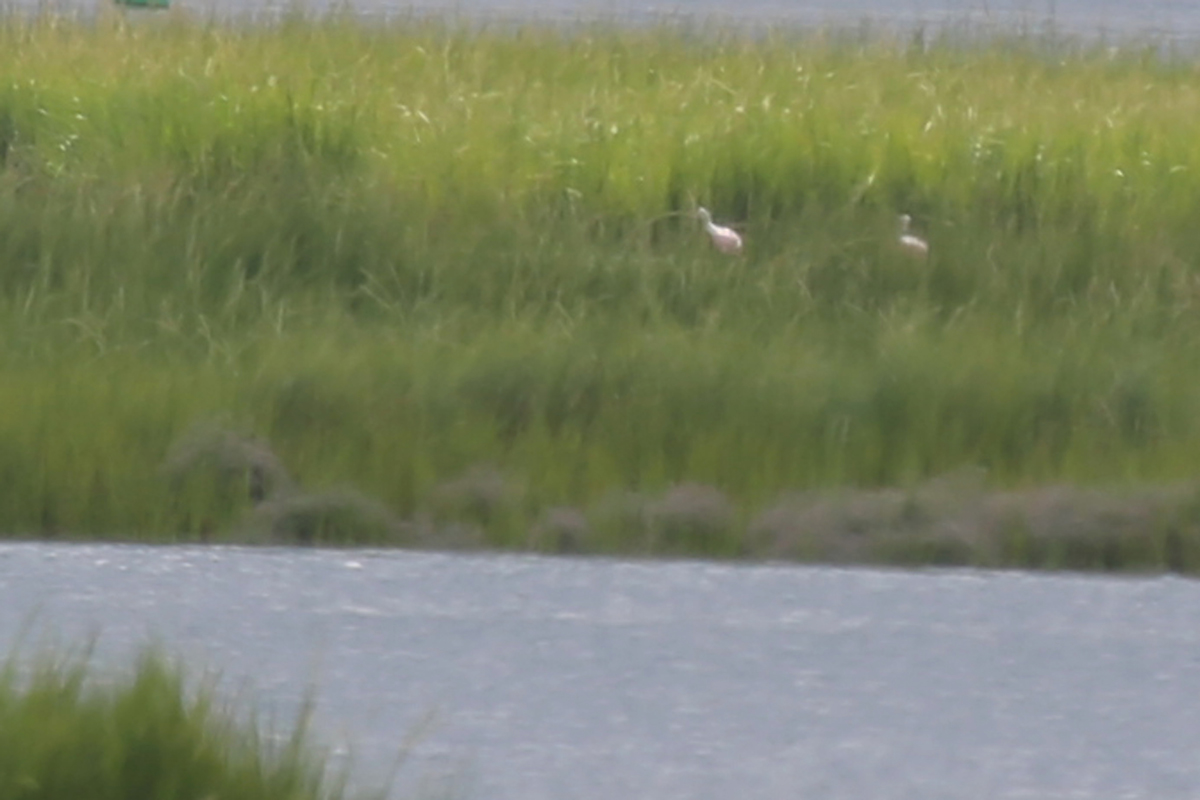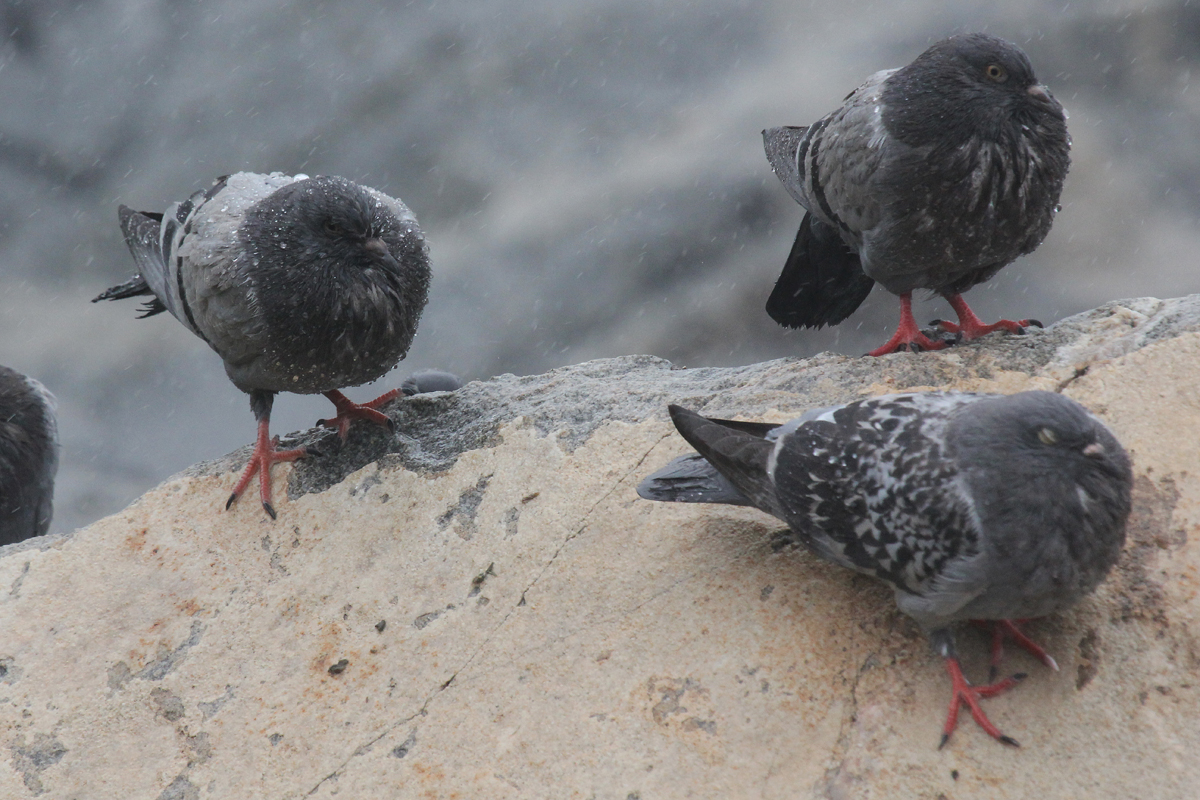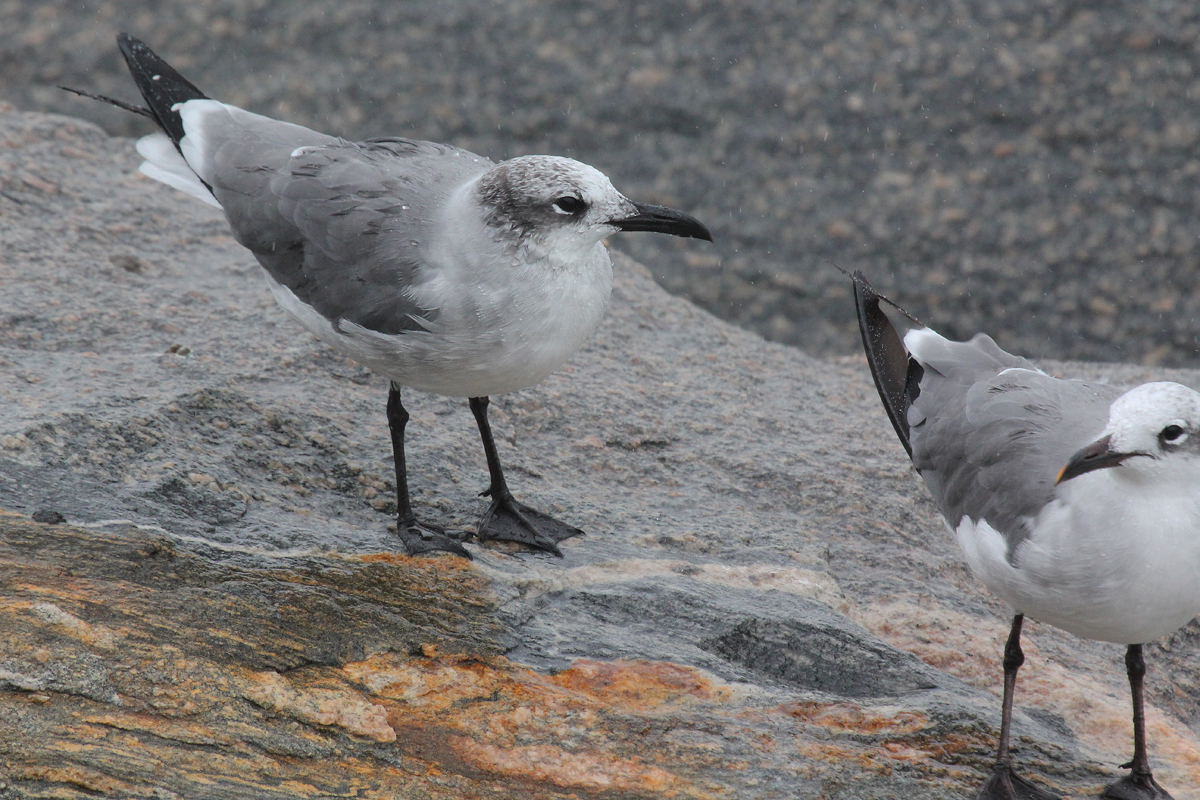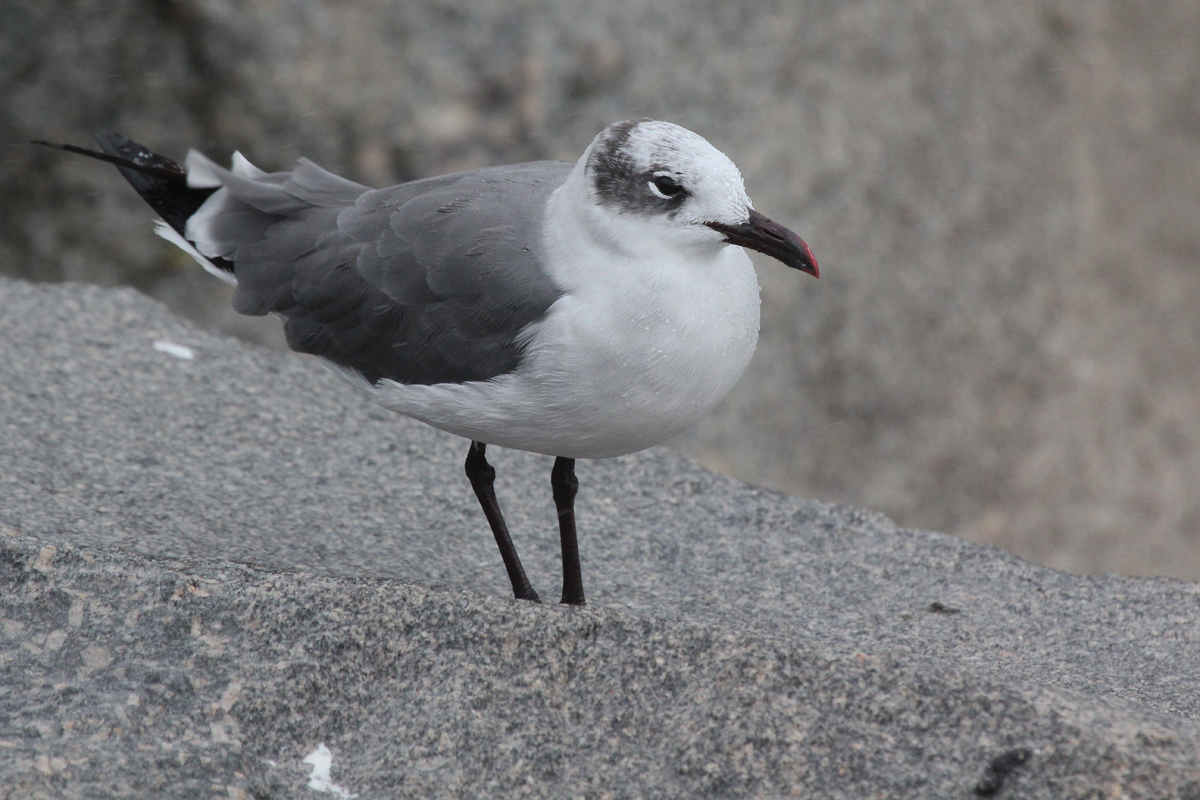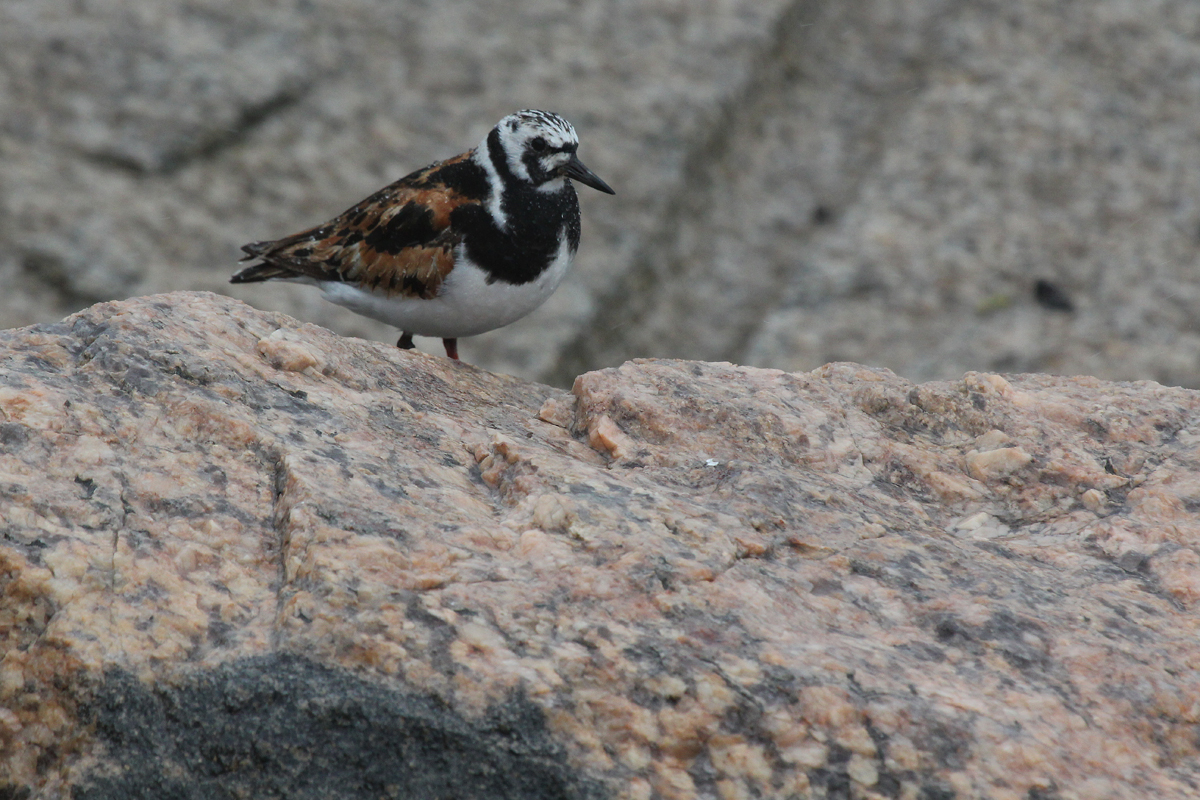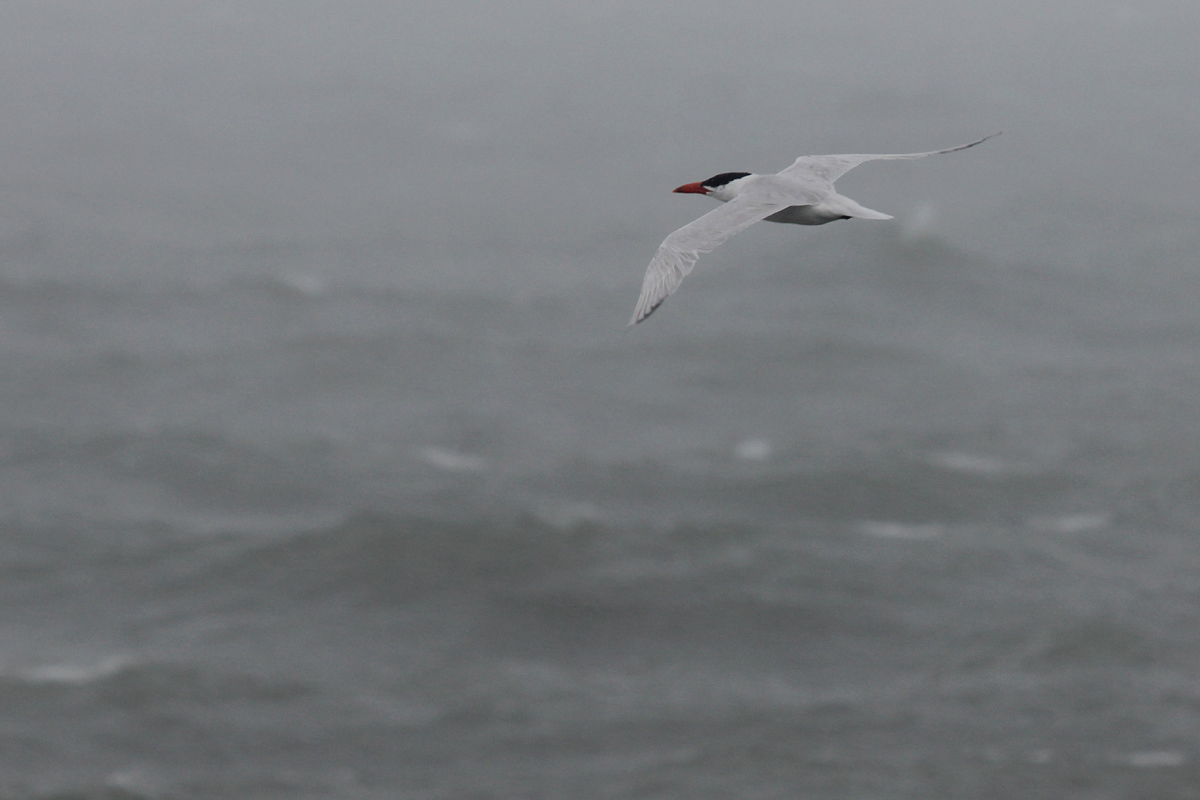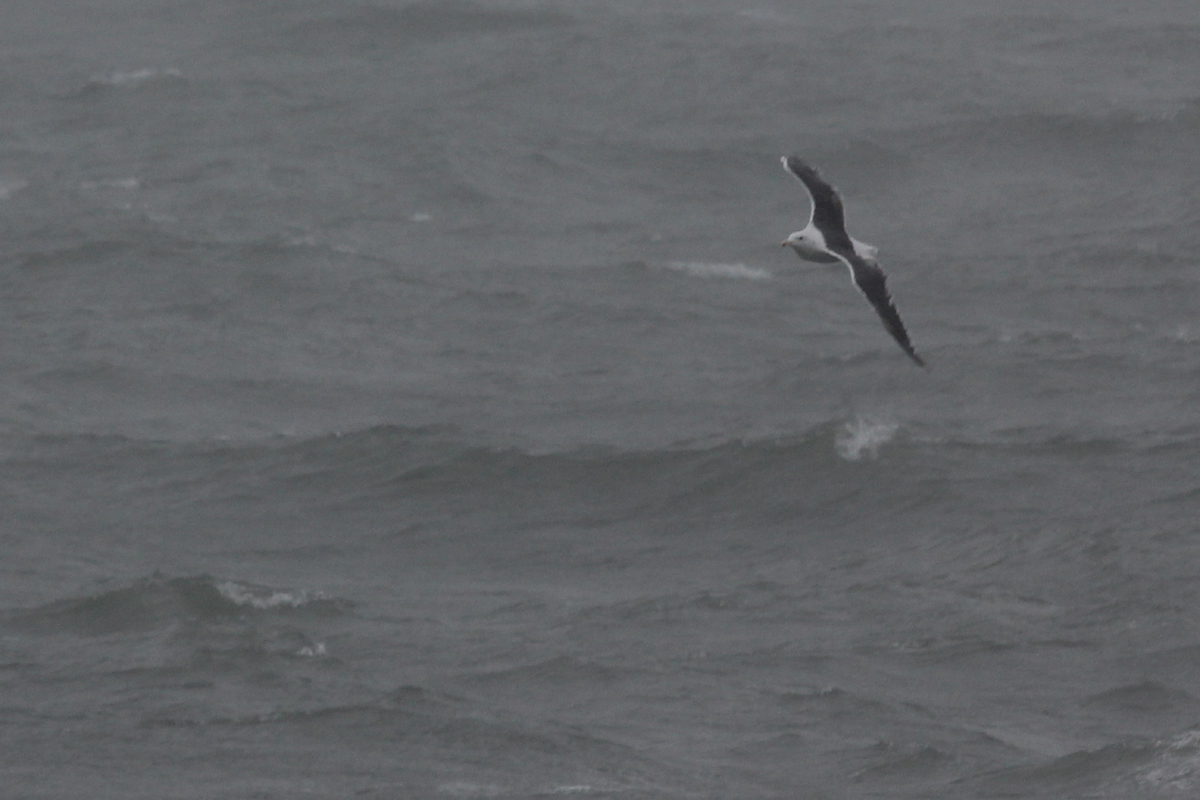 WEATHER: For starters, Virginia Beach was treated to a solar eclipse that reached 87% coverage around 2:47 PM on 21 Aug. Even with this level of coverage, we didn't experience much change in the lighting conditions, and certainly nothing comparable to what those in the actual totality range observed. Due to this, not much in the way of atypical birding activity was described here. Though elsewhere in the country, some interesting observations were noted during the eclipse, and Cornell University has provided an article dedicated to this! As to the typical statistics for late August, and after an extremely warm mid-August period, we thankfully saw a bit of a cooldown, with average daily high temperatures dropping to 82.9 degrees F (-2.4 degrees from mid-August); average daytime lows followed suit, dropping to 69.1 degrees F (-3.5 degrees). The previous 10-year average daily highs & lows for the late August period were 84.8 & 70.1 degrees F, respectively which puts this period in 2017 at -1.9 and -1.0 degrees when comparing to the previous 10-year average. During that time frame, the maximum average daily highs & lows were a scorching 89.7 & 73.7 degrees F (2017). We again had 6 days with measurable precipitation during the period, which amounted to a total of 3.32 inches, with most falling 29 Aug to the tune of 3.03 inches! This deluge was brought on by what the National Weather Service dubbed as "Potential Tropical Cyclone Ten" as this low-pressure system skirted the southeast US coastline, while ultimately heading northeasterly towards the Outer Banks of North Carolina. The counter-clockwise motion of the wind field put strong 25-30 mph sustained winds onto Virginia Beach's coastline, starting early in the morning and persisting throughout the day. However, no unusual weather-driven species were observed throughout the day as the center of circulation seemed to stay just too far away, and the wind field wasn't quite strong enough to kick birds into the bay like larger storms (TS Hermine / Hurricane Mathew) were able to do in 2016.
OBSERVATIONS: While all the attention during the last period was focused on the continuing WOOD STORK, late August 2017 will likely be remembered for a different species of southern wader that made a very brief, yet, very lasting appearance. On 25 Aug (a Friday), James Marcum & his son Eric (visiting from Ontario, Canada) were birding at Pleasure House Point NA with the hopes of observing the MARBLED GODWIT that had been spotted a couple of days prior (more on that bird later). Shortly after 10 AM, a strong rainstorm formed overhead and started to dump heavy rainfall across the park and the surrounding Lynnhaven River. While seeking shelter from the rains under the canopy of the Brock Environment Center's back porch, the pair of birders noted two large, pink, birds flying across the bay from west to east, which were swiftly forced down into the marshy islands by the heavy rains. Instantly, the Marcums identified the pair of birds as ROSEATE SPOONBILLS, and word was quickly spread to other local birders beginning at 10:22 AM. Now, for those unfamiliar, this is a species so scarce in our area, that there is only one other known occurrence within the boundaries of Virginia Beach, dating all the way back to 12 Jun 1996 (obs. Florence James) when a juvenile spoonbill was documented at Back Bay NWR. In fact, in the state of Virginia as a whole, there have been only a handful of records which seem to total 10 birds at most including these two at Pleasure House Point: (1, Craney Island, 2009; 1, Augusta, 2009; 2, Shirley Plantation, 16-22 Jul 2017; 2, Poquoson, 18 Jul 2017; 1, Chippokes Plantation SP, 24 Aug 2017). The majority of reports has occurred this year due to what the American Birding Association has presumed is due to a drought in the species' core range in Florida (this assumption also extends to similar species like the Wood Stork we've all enjoyed viewing since early August). Anyway, after the initial alert went out, many birders immediately changed whatever plans they may have had for the day and descended on Pleasure House Point. The birds were next noted around 10:50 AM (ph. Rob Bielawski) as they soared over the entrance to Long Creek roughly 0.5 to 0.75 miles east of Pleasure House Point behind Chick's Oyster Bar. Eventually, the birds caught the wind and soared back over to their original spot in the marshes, though often times obscured from view due to the height of the grasses surrounding the mud flats. Shortly after, the birds were also observed by Jason Strickland, who had made it all the way from northern Newport News in time to see the birds. Next on the scene were Karen & Tom Beatty who arrived just after the birds once again took to the air, but, once again put back down into the marshes a few minutes later. Lastly, the final viewer of the birds was Andrew Baldelli who arrived in time to view alongside Karen & Tom. Pleasure House Point is typically a very busy location during the nicer summer days, with loads of kayakers, clammers, oyster hunters, birders, fishermen and hikers frequenting the natural area. Given that, it was only a matter of time before the birds would be spooked, and it seems that the last reports of the birds were from around 1 PM, after which they weren't seen again. This find was certainly one for the books, and one that will stay with the author of this journal for a long time to come!
With the Spoonbill excitement of the 25th, it was easy to temporarily forget that there were other great things happening in Virginia Beach. As mentioned above, there was also another new rarity observed during late August, that being a MARBLED GODWIT also found 22 Aug at Pleasure House Point NA (ph. Nancy Barnhart, Jan Lockwood & Joyce Lowry). This is possibly only the second individual observed within Virginia Beach for 2017, with another having occurred on Back Bay NWR's C Storage Pool on 23 Jun (ph. Rob Bielawski) and likely the same individual observed on the beach the following day (obs. Arun Bose). The Pleasure House Point individual also may still be present, as it was observed again 23 Aug (obs. Andrew Baldelli) and again 26 Aug (ph. Michelle Payne). Interestingly, hundreds of Marbled Godwits winter annually on the Eastern Shore, with the largest flocks tending to occur around Willis Wharf over the last few years. However, away from the Eastern Shore, this is a difficult bird to find, with perhaps Craney Island in Portsmouth being the most likely location for occurrence in any given year. Recently, there has been one hanging around the upstream end of Kerr Reservoir which is very far inland for this species, though this location (Staunton River SP / Staunton View Park) has become a bit of a haven for shorebirds during August/September with expansive mudflats providing perfect habitat along the historic confluence of the Staunton & Dan Rivers. The only other counties in Virginia that have seen Marbled Godwit reports this year so far are Hampton (1) and York (3). In 2016, Virginia Beach birders found over 300 species and Marbled Godwit was not one of them, which should showcase the level of excitement that surrounds any report of this species locally. Lastly, it was mentioned above, but it was this bird that spurred the Marcums to visit Pleasure House Point on the 25th, which led to the Roseate Spoonbill find. This seems too often be the case when a rarity is discovered and loads of birders descend on the area. For a recent example, while the Fork-tailed Flycatcher was at Back Bay NWR, a Scissor-tailed Flycatcher was discovered. Earlier in the year when the Ancient Murrelet was found, Magnificent Frigatebird & Little Gull were soon added to the park tally! So, even if chasing (or "twitching") rarities is not something you're interested in, remember, there is always the potential for other unusual species to be found as a result!
Also a newly found rarity for the period, a BLUE-WINGED WARBLER was observed 31 Aug at First Landing SP's campground area (obs. Andrew Baldelli). The Gold Book lists this species as an "uncommon to rare transient" in the coastal plain of Virginia, though in past years it has leaned more towards the rare side of the description. 2017 has been a good year for this species, with this now being at least the third record, with two taking place this spring during their short window of 'expected' transience. Perhaps we'll continue to see a rise in reports for this species locally over the next couple of weeks. On this particular outing, a great many other warblers were observed as well and it was likely related to the northerly winds overnight due to a cold front moving through and dumping these passerines into stands of live oak along the south shore of the Chesapeake Bay. Any conditions that mirror this in the future would be a good time to get out and look for songbirds in similar habitat.
Lastly for the rarities observed this period, the WOOD STORK first reported 8 Aug (ph. Karen & Tom Beatty) continued through the period, being observed 22 Aug (obs. Janice Frye), 25 Aug (ph. Karen & Tom Beatty), & lastly on 26 Aug (obs. Shea Tiller) along the same roadside ditches it was found initially, almost three weeks prior! To date, 86 beautiful photographs of this wayward southerner have been submitted to eBird, and for those who don't wish to browse through every single report, please click here to view all of them on the same screen! Also, to see the individual reports for everyone who has submitted an eBird checklist containing this continuing Wood Stork (and all other unusual finds within Virginia Beach for that matter), remember to check the Noteworthy Observations page here on the website! For those who have not yet seen this bird, it has been fairly reliable though it does sometimes fly off to an unknown location to either roost or forage. Only one observation thus far has occurred away from Pleasant Ridge Road however, that being one along Muddy Creek Road about a half mile north of the junction with Pleasant Ridge. As this bird has been here for the bulk of August, there's really no telling how much longer it'll stay put, so get out to see it while you can, but please remember not to leave the roadway. All driveways and walkable lands outside the roadway are private property and trespassing is not allowed in any form!
Several first-of-fall arrivals were picked up in Virginia Beach through late August, with the Back Bay NWR impoundment survey of 25 Aug picking up Blue-winged Teal, Gadwall & Bobolink (obs. Robert Ake). The teal were exactly on time for their expected 25 Aug arrival, while the Bobolinks were a few days later than the 20 Aug expected date, though individuals have been observed on the Eastern Shore to our north going back a few days prior to the 20th. As to the Gadwall, we did have one other sighting back in early August, but it likely was an injured bird that over-summered somewhere in the vicinity, so I'd call this observation on the 25th as the true first-of-fall arrival for the species. Additionally, a Bay-breasted Warbler was found at Great Neck Park on the 25th as well (ph. June McDaniels). Surprisingly also on the 25th as well, was a first-of-fall Merlin discovered along Muddy Creek Road (ph. Karen & Tom Beatty). The latter pair of species were on the early side in terms of fall arrival dates, with Bay-breasted slightly ahead of its average 30 Aug arrival, and Merlin showing up well before the 5 Sep typical date! While a Black-and-white Warbler was observed in mid-July at Back Bay NWR, this unseasonal occurrence (like the Gadwall) really doesn't represent a first arrival, as it is possible this bird actually summered nearby, so an observation from Glenmore Hunt Tr. on 29 Aug (obs. Karen & Tom Beatty) likely represents the true first-of-fall arrival for the species. Lastly, on 31 Aug after a cold front passed through in the night, we added Yellow-throated Warbler & Baltimore Oriole (obs. Andrew Baldelli) and Blackburnian Warbler & Black-throated Green Warbler (ph. June McDaniels) to the list of arrivals for the period! Each period moving forward through September should yield more and more first of season arrivals, and we'll likely begin to see both breeding and transient species departing the area as well.
SPECIES DOCUMENTED BY MEDIA and submitted to eBird for Virginia Beach during this period included: 22 AUG – MARBLED GODWIT (Pleasure House Point NA / Nancy Barnhart). 23 AUG – Black-bellied Plover, Semipalmated Plover, Piping Plover, Least Sandpiper, Willet, Caspian Tern, Black Tern & Royal Tern (Back Bay NWR / Karen & Tom Beatty). 24 AUG – Brown Pelican, Black-bellied Plover, Caspian Tern, Black Tern & Royal Tern (Back Bay NWR / Karen & Tom Beatty); Great Egret, Osprey, Black-bellied Plover, Semipalmated Sandpiper, Laughing Gull, Lesser Black-backed Gull, Common Tern, Royal Tern & Sandwich Tern (False Cape SP / Karen & Tom Beatty). 25 AUG – Bay-breasted Warbler (Great Neck Park / June McDaniels); Cooper's Hawk & Red-tailed Hawk (West Neck Rd. / Karen & Tom Beatty); Purple Martin, Blue-gray Gnatcatcher & Eastern Meadowlark (West Landing Rd. / Karen & Tom Beatty); WOOD STORK (Pleasant Ridge Rd. / Karen & Tom Beatty); Cattle Egret & Merlin (Muddy Creek Rd. / Karen & Tom Beatty); ROSEATE SPOONBILL (Pleasure House Point NA / Rob Bielawski); ROSEATE SPOONBILL (Pleasure House Point NA / Karen & Tom Beatty); Forster's Tern (JEB Fort Story / Karen & Tom Beatty); Yellow-crowned Night-Heron (Pleasure House Point NA / Ron Furnish). 26 AUG – Osprey, Royal Tern, Song Sparrow & House Finch (Mt. Trashmore Park / Laura Mae); Boat-tailed Grackle (Pleasure House Point NA / David Gibson); Yellow-crowned Night-Heron, Clapper Rail & Blue Grosbeak (Pleasure House Point NA / Jonathan Snyder); MARBLED GODWIT (Lynnhaven Inlet Flats / Michelle Payne); Brown Pelican, Great Blue Heron, Osprey, Semipalmated Plover, Sanderling, Lesser Black-backed Gull, Royal Tern & Northern Mockingbird (Back Bay NWR / Ron Furnish); American Oystercatcher, Ruddy Turnstone, Sanderling & Least Sandpiper (South Thimble Island / Eric Alton). 27 AUG – Osprey & Semipalmated Plover (Back Bay NWR / David Clark). 28 AUG – Green Heron (Dam Neck NA / Karen & Tom Beatty). Merlin (Muddy Creek Rd. / Karen & Tom Beatty); Least Sandpiper (Pleasant Ridge Rd. / Karen & Tom Beatty); Ruddy Turnstone, Laughing Gull, Great Black-backed Gull, Caspian Tern & Rock Pigeon (South Thimble Island / Rob Bielawski). 30 AUG – Great Blue Heron, Great Egret & American Goldfinch (Stumpy Lake NA / Jonathan Snyder). 31 AUG – Great Blue Heron, King Rail, White-eyed Vireo, Gray Catbird, Blue Grosbeak & Red-winged Blackbird (Back Bay NWR / Karen & Tom Beatty).
LOOKAHEAD: Passerines started making big moves into the region at the tail end of August, and their movements should continue to become more and more expected as September continues onward. Following overnight cold fronts, or simply northerly (hopefully northwesterly) winds, and small parks or stands of thick vegetation could hold warblers during the early morning hours. Shorebirds will start taking more of a back seat for many birders now, but they should still be looked for in agriculture fields in southern Virginia Beach as well as along any tidal flats and beaches that are publicly accessible. We're in the prime time for some of the difficult to find species like Baird's Sandpiper, Buff-breasted Sandpiper & American Golden-Plover, will all three species having been found in the same field along Sand Hill Drive in Northampton County to our north. We just need to find the right field in Virginia Beach and all of these are possible. Water levels still seem too high at Back Bay NWR's E & H Pools, which were filled with shorebirds this time last year due to the much lower levels. Hurricane Irma formed east of the Leeward Islands prior to this writing, and appears to be a storm to watch as many tracks are bringing it up near the East Coast. Observers in our area should be watching this storm closely as it treks across the Atlantic. After viewing the aftermath of Hurricane Harvey covered heavily in the news this week, it is important to be prepared well ahead of the arrival of any tropical cyclone. Sunrise & sunsets during the upcoming early September period will range from 6:35 AM & 7:32 PM on the 11th to 6:42 AM & 7:18 PM on the 20th, which means our length of day will drop from 12 hours, 57 minutes down to 12 hours, 36 minutes (-21 minutes overall) during this upcoming period. Lastly, regularly occurring (used synonymous with annually-occurring here) species that are likely during late July and have not been observed yet this fall include Cliff Swallow (10 Jul expected arrival date), Hooded Warbler & Yellow-throated Vireo (5 Aug), Bank Swallow (10 Aug), Canada Warbler (15 Aug), Worm-eating Warbler, Chestnut-sided Warbler, Black-throated Blue Warbler & Sora (20 Aug), Willow Flycatcher, Veery, Wilson's Warbler, Magnolia Warbler & Green-winged Teal (25 Aug), Tennessee Warbler, Cape May Warbler (30 Aug), Nelson's Sparrow (1 Sep), Nashville Warbler, American Bittern & Red-breasted Nuthatch (5 Sep) and Rose-breasted Grosbeak, Broad-winged Hawk, American Wigeon, Northern Shoveler, Northern Pintail & Sharp-shinned Hawk (10 Sep). As always, make sure to report your finds to eBird so the data can be used to adjust the expected arrival dates and to view the full listing of each species' "average expected arrival dates"!
For further information regarding this thrice-monthly, online publication, please visit the Journal Overview Page which provides an in-depth explanation of the format, layout and composition of the journal. As always, thank you for reading, and please leave me a comment below (you may use your Facebook, Gmail or other accounts to easily do so), or just click the Heart icon to the lower right of this post to let me know you stopped in!