After record-setting heat during the late February reporting period, temperatures plummeted in early March, recalling a similar situation in 2017. A pair of nor'easters (dubbed Winter Storm 'Riley' and 'Quinn' by The Weather Channel and affiliates) impacted the region during this period, bringing impressive northwest and eventually north winds to our coastline. Fortunately, not much in the way of precipitation occurred here, though New England witnessed the more extreme side of the storm. Unfortunately, the wind field (which amazingly caused the Chesapeake Bay Bridge-Tunnel to close for an entire day) didn't seem to bring many birds inshore, rather, it appeared to push all the coastal birds further offshore and also forced all the land birds to seek refuge wherever possible. With this difficult weather, observations of unusual birds were tough to come by locally, that is, until the final two days of the period when spring arrival and rarity records suddenly blossomed! Top records for the period did include new rarity reports for DOVEKIE, WHITE-CROWNED SPARROW & RUSTY BLACKBIRD, continuing rarity reports for EURASIAN WIGEON, BLACK-HEADED GULL & ICELAND GULL and early first-of-season (FOS) reports for PIPING PLOVER, BLUE-GRAY GNATCATCHER & ROYAL TERN!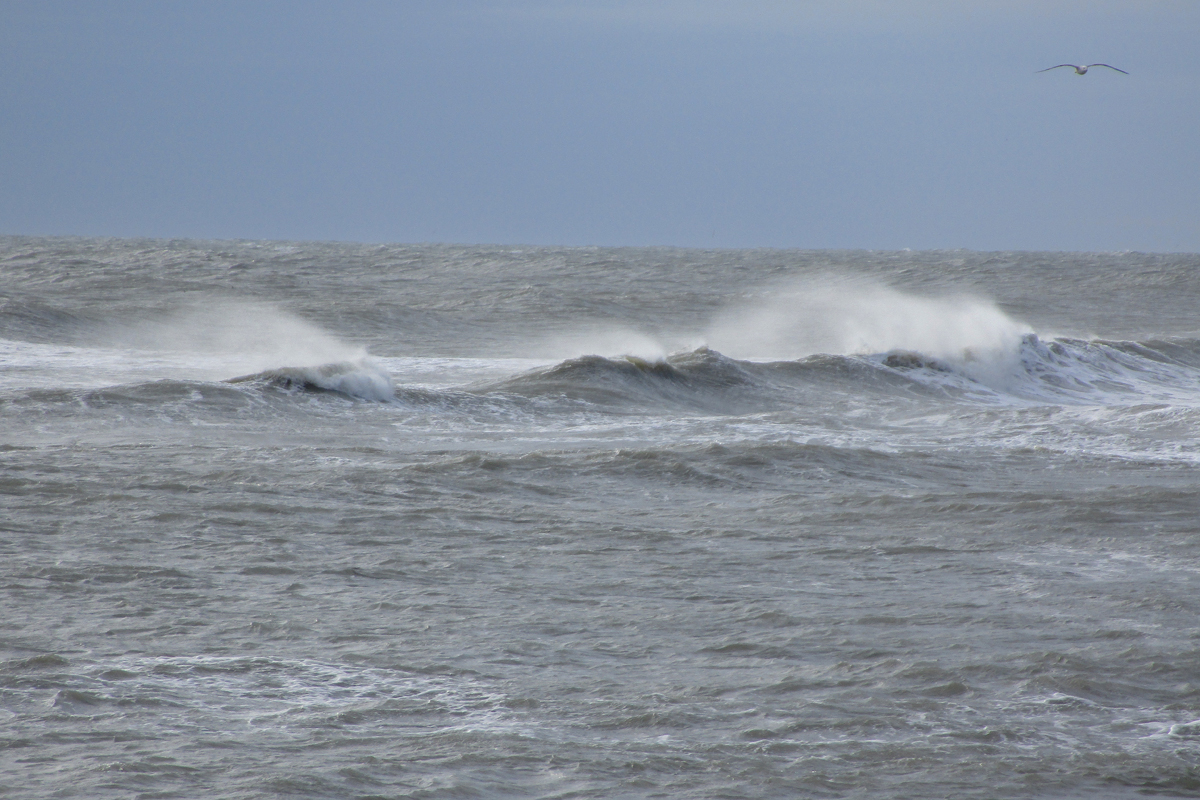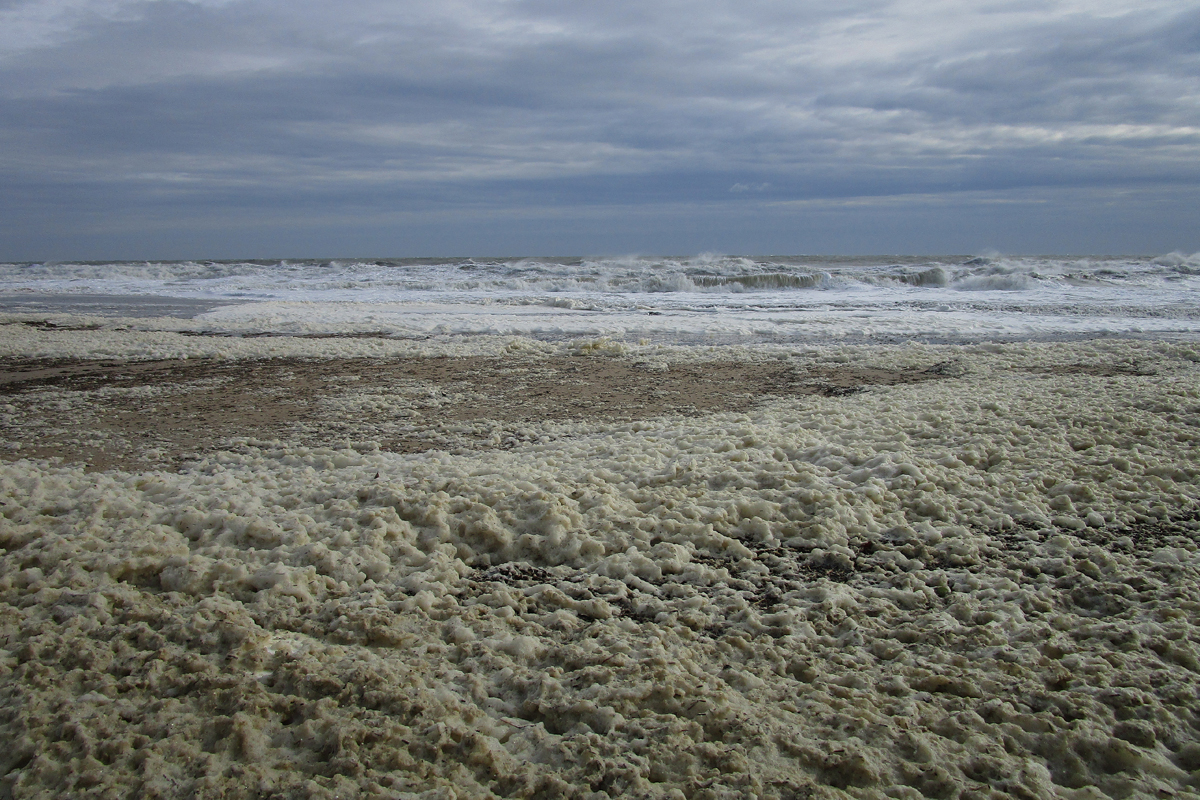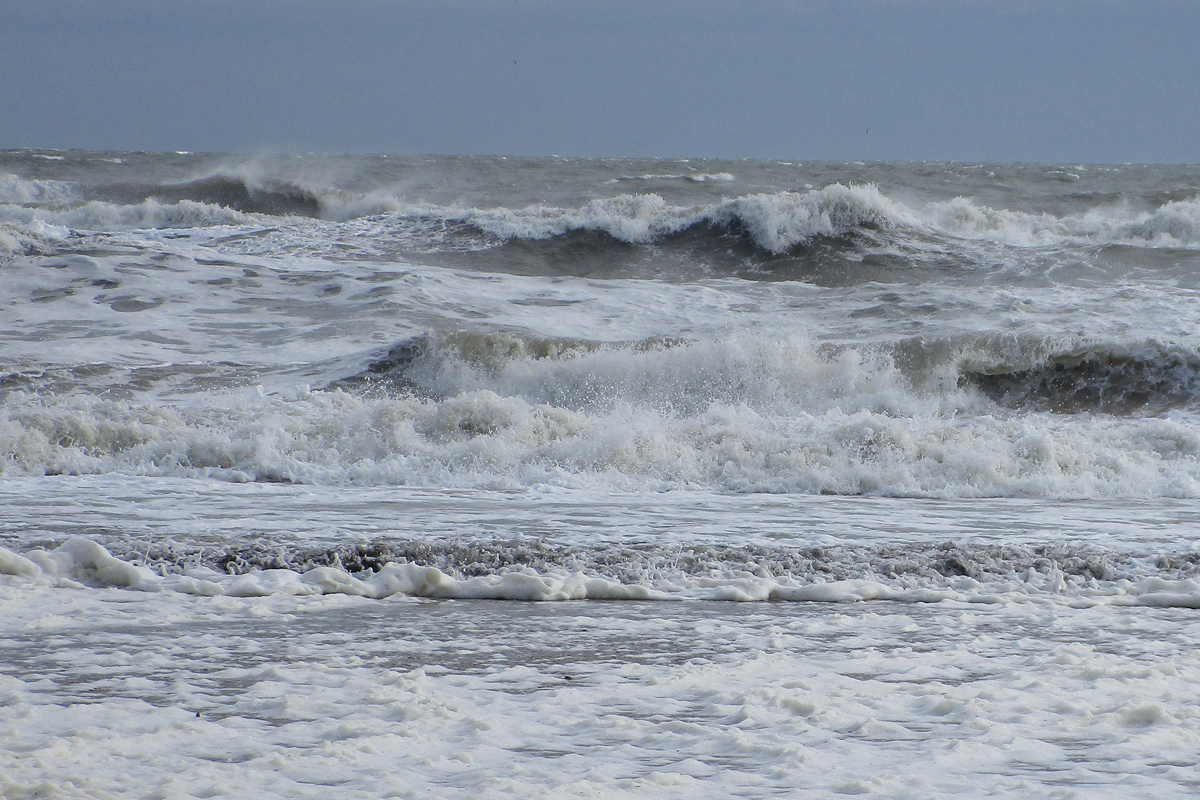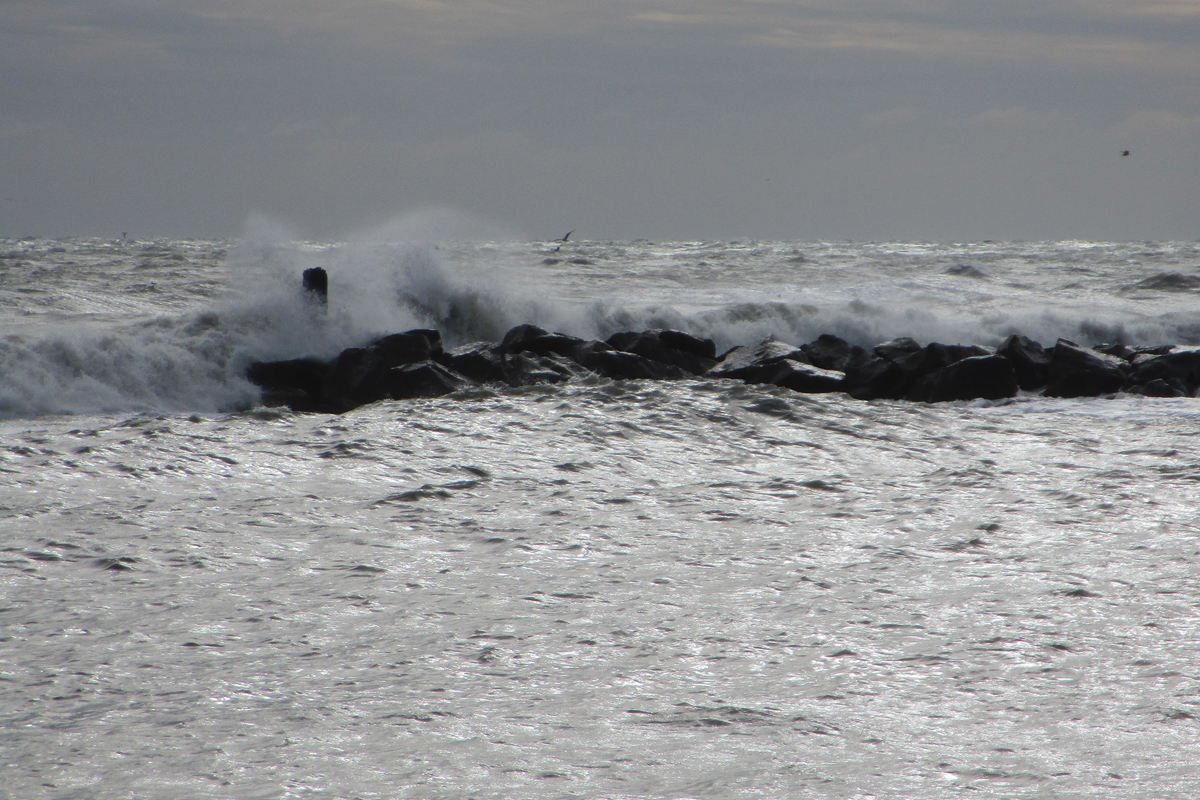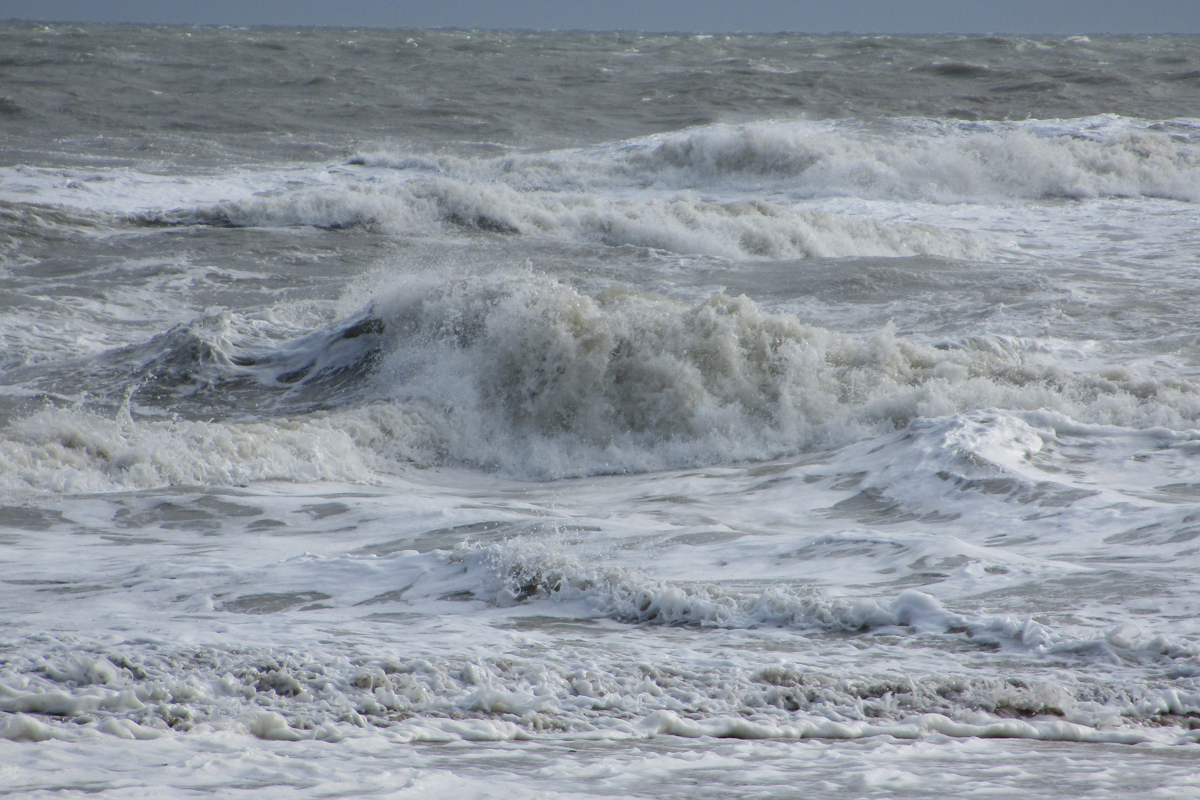 Photographs above were all taken 3 Mar at Rudee Inlet during the first of a pair of Nor'easters to impact the region during early March! Still waiting on my camera to be repaired & returned by Canon so sadly, all I have is some scenery photos off my wife's point & shoot for this entry. I hope to be back in business in mid-March.
Yet again, the top bird for the period was produced at Little Island Park, this time being a single flyby DOVEKIE (obs. Andrew Baldelli & Tracy Tate) on 9 Mar! Not seen in Virginia Beach since very early in the 'winter' season, when an individual was reported at this same location on 4 Nov, this newer report currently represents the only known occurrence in the state for 2018. Of course, there's probably quite a few of the birds hanging around offshore, but unfortunately there was no pelagic birding trips assembled to go look for this and other seafaring species. Last year, some 25+ Dovekies were tallied during the large-scale alcid movement that also brought us a state first Ancient Murrelet, but conditions this year didn't follow suit, with even Razorbills numbers just a tiny fraction of what was observed last year. That said, it's great to get this species up on the Virginia Beach list for 2018!
The first adult WHITE-CROWNED SPARROW to be observed in the city this year was found on 9 Mar at Dam Neck NA (obs. Karen & Tom Beatty). Typically, we see far more immature birds than the adults here, with most adults occurring during the species peak fall migration movements in mid to late October. Earlier this winter on 18 Jan an immature bird was seen in the same general area which could indicate either that the habitat is good for the species, and more than one could have been present all winter, or that the immature bird has gone through an early molt, and is now the adult plumaged bird that was observed.
As with last period, a single RUSTY BLACKBIRD occurrence was noted during early March, this time at Red Wing Park on 1 Mar (obs. Karen & Tom Beatty). This is now only the second individual reported in Virginia Beach since the spring of 2017, and like the one at Stumpy Lake NA reported before it, this one also occurred in a freshwater flooded forest habitat. With large numbers of the birds usually wintering in the Great Dismal Swamp not far to our west, it is always surprising that so few are reported within Virginia Beach, but they're likely present at First Landing SP as well since the habitat is another match. With the large flocks of mixed blackbirds roaming around southern Virginia Beach, one would think there'd be a few of these associated with the groups also, but the eBird data doesn't seem to support that thought for whatever reason.
As far as continuing rarities go, the drake EURASIAN WIGEON first found at Pleasure House Point NA on 11 Feb (obs. Jason Schatti), and then re-found roughly a mile to the west at Lake Joyce near Shore Drive on 19 Feb (ph. Timothy Barry) continued to be noted through the end of the period (last ph. Logan Anderson & George Burruss). It has continued to be most reliable on the tributary finger of Lake Joyce immediately north of Shore Drive, to the east of Dubay Properties / Law Offices, with all records during this period occurring at this location.
Thought to be long gone, the first cycle BLACK-HEADED GULL first identified 31 Jan (ph. Andrew Baldelli), and later found to have been present dating back to 28 Jan (ph. Marie & Ron Furnish) was again seen at Rudee Inlet on 2 Mar (ph. Andrew Baldelli) after having not been reported since 17 Feb! However, it was not seen again during early March, and it is possible that it has moved on (maybe).
At least two different ICELAND GULLS were observed at the tail end of the period, with an immature (first cycle) found at 76th Street Beach (obs. Jason Schatti, later ph. Jason Schatti on 10 Mar) on 9 Mar and an adult Kumlien's-race individual seen at 57th Street Beach (obs. Andrew Baldelli & Tracy Tate, later ph. Karen & Tom Beatty) on 10 Mar. The adult is likely the same bird that has been present along the north end of the Oceanfront since 20 Dec (ph. Andrew Baldelli), and the younger bird could be a new record, or one that has been reported anywhere from Rudee Inlet to Lynnhaven Beach to the Chesapeake Bay Bridge-Tunnel Islands throughout the winter; unfortunately no way to tell for sure. 57th Street is an ideal spot to continually check since there is available (free) public parking on the street. Gulls seemed to be concentrated around this location and up near 76th Street where a large amount of vegetation has washed ashore with the strong winds over the last few days.
Though you wouldn't be able to tell from the recent weather (or the upcoming couple of days for that matter), spring really has started to arrive. With it, comes some first of season arrivals this period! On Friday, 9 Mar, a pair of PIPING PLOVERS was observed at False Cape SP (obs. Abby Walter). Typical arrival date for this species is 15 Mar, so these are a few days on the early side (last year's first record was 17 Mar, and 2016's was 25 Mar for a quick comparison). Also, on Saturday, 10 Mar, two BLUE-GRAY GNATCATCHERS were reported at First Landing SP (obs. Eric Gehring), which means the species is likely already present in locations like Stumpy Lake NA and perhaps West Neck Creek NA. With an average expected arrival date of 20 Mar, these are certainly early, though given this species typically winters just to our south in North Carolina, it is usually the first of the passerines to return each year (last year's arrival date was 21 Mar, a bit later than 2016's date of 14 Mar). The last of the new arrivals was that of two ROYAL TERNS observed flying northbound past Rudee Inlet on 10 Mar (obs. Andrew Baldelli & Tracy Tate). Like the Piping Plovers above, this species has an average arrival date of 15 Mar, so we're a tad early on these too (last year's arrival was 17 Mar, and 2016's was 12 Mar). Moving forward, we'll see an ever-increasing number of arrivals through May, so we have a lot to be excited about now that the mid-Feb to early March doldrums have come and gone!
In addition to all the rarities and new arrivals, several species currently in migration were noted. Snow Geese were observed in southern Virginia Beach in large gatherings, with 4,300 reported along Morris Neck Road on 1 Mar (obs. Andrew Baldelli) with 2,000 observed at the same location on 3 Mar (ph. Karen & Tom Beatty). A pair of Common Eiders was observed flying with a group of scoters at Rudee Inlet on 4 Mar (obs. Tracy Tate), making this the first report of the species dating back to 27 Jan when one individual was viewed at Back Bay NWR (obs. Matt Anthony / Rob Bielawski / Todd Day). Perhaps as many as 4 or 5 Red-necked Grebes were reported during the period, with a pair off Little Island Park 6 Mar (obs. Andrew Baldelli), and 1-2 at Rudee Inlet (obs. Elaine Hendricks). A seawatch to kick off the period on 1 Mar showed American Oystercathers, Black-bellied Plovers and Razorbills in motion as well (obs. Andrew Baldelli). Lastly, Ospreys began popping up at locations around the city where they weren't observed through the winter, including one at Little Island Park on 1 Mar (obs. Andrew Baldelli), one at Camp Penleton SMR on 3 Mar (obs. Karen & Tom Beatty), and another at Stumpy Lake NA on 4 Mar (obs. Jonathan Snyder). A pair of first-of-year Saltmarsh Sparrows was also found at Pleasure House Point NA on 8 Mar (ph. Doug Graham)!
WEATHER: After enduring record setting heat in late February, the mercury plummeted in early March due to the passage of a pair of nor'easters. Average daily high temperatures dropped an incredible 18.2° from 67.3° F in late February to 49.1° (-6.9° from prior 10-year average), with average daily low temperatures also dropping 8.5° from 45.5° to 37.0° F (matching the prior 10-year average). Overall, temperatures ranged from a minimum of 28° F (on 9 Mar) to a maximum of 57° (on 1 Mar, riding on late February's heat). A total of 0.84" of rain fell during the period, spread across three days with measurement amounts, with a maximum of 0.54" falling on Tuesday, 6 Mar. Maximum sustained winds at Oceana this period were 39 mph and gusts reached an impressive 53 mph (2 Mar during a coastal nor'easter). A maximum tide level at Sewell's Point of 4.736 feet above mean-lower-low-water (MLLW) was achieved on 7 Mar at 1:06 AM as a nor'easter scraped up the coast. This is a new high mark for the year. Sunrise/sunsets varied from 6:34 AM/5:58 PM (1 Mar) to 6:22 AM/6:06 PM (10 Mar), which means we gained 20 minutes of daylight during this period!
For those hoping to view every photograph submitted for Virginia Beach during this period, please see the complete listing for the month of March located on eBird's Media explorer by clicking here! Please remember, anyone with an eBird account also has the ability to rate these photographs (1-5 stars), and based on the average rating, this is how eBird populates anything media-driven on the website, particularly the Illustrated Checklists! So, if you're one of the many folks who enjoy looking at photographs of birds, take some time to click them all and rate them, it helps make eBird better and better each day!
LOOKAHEAD: The biggest cause for excitement in mid-March has to be knowing that Daylight Savings Time starts in the early morning hours of 11 Mar (has already happened by the time this is being posted!), so post-workday birding will once again become a reality for many of us very soon! Also, a 3rd March Nor'easter is expected to hit the area on the 12th/13th, and the onshore winds could bring in something interesting! As to the birds, somehow, we've yet to log a single Black Skimmer in the city so far in 2018! Usually there is a small population of these birds hanging around Lynnhaven Inlet through the winter, though sometimes departing for up to a month in the coldest parts of the winter. That said, it seems a bit crazy that heading into mid-March, the species has yet to be observed here, and in the state as a whole! Perhaps we'll finally see their return in the coming days. Arrivals were already logged for Piping Plover, Blue-gray Gnatcatcher & Royal Terns so it would be good to check the proper habitat for these as soon as possible! Mid-March is the first period where we have expected spring departures, with Snow Goose considered late beyond 20 Mar, so if you haven't been out to Pungo recently, your time is running out to see these birds before the flocks move north. Fortunately, mid-March also kicks off the time of expected spring arrivals for annually occurring species (only those not yet logged are provided here) which include Purple Martin (15 Mar) as well as Lesser Yellowlegs, Yellow-throated Warbler, Glossy Ibis, Northern Rough-winged Swallow & Yellow-crowned Night-Heron (all 20 Mar). If you observe one of these species before the date listed, please try to document the sightings as best as you can, since it'll flag as 'rare' in eBird. As always, make sure to report your finds to eBird so the data can be used to adjust the expected arrival dates and to view the full listing of each species' average expected spring arrival dates, as well as the average expected spring departure dates!
For further information regarding this thrice-monthly, online publication, please visit the Journal Overview Page which provides an in-depth explanation of the format, layout and composition of the journal. As always, thank you for reading, and please leave me a comment below (you may use your Facebook, Gmail or other accounts to easily do so), or just click the Heart icon to the lower right of this post to let me know you stopped in!