The first few days of May were well-defined by the large-scale movement of thrushes into Virginia Beach, with the expected Veery, Swainson's and Gray-cheeked Thrushes all accounted for at numerous locations that boast proper habitat. Higher counts of warblers, and stronger diversity also rose during early May, and in general, passerine numbers soared above prior reporting periods! Bolstered by southerly winds, strong movements of northbound migrants occurred overnight on 2-3, 3-4, & 4-5 May (the nights of a Wednesday, Thursday and Friday). With this burst of warm weather & arriving migrants, coupled with eBird's "Global Big Day" event occurring on 5 May (a Saturday), Virginia Beach saw incredible numbers of checklists from local birders. Overall, top records for early May in Virginia Beach included new rarity reports for TENNESSEE WARBLER, WARBLING VIREO, NASHVILLE WARBLER, CAPE MAY WARBLER, YELLOW-THROATED VIREO, PAINTED BUNTING, AMERICAN WHITE PELICAN & WHITE-CROWNED SPARROW, along with continuing rarity reports for COMMON GALLINULE & ANHINGA! At this point in the season, the volume of new species arrivals has waned considerably, with early first-of-season (FOS) records for only RED KNOT and with arrivals on or after average expected dates for GRAY-CHEEKED THRUSH, MAGNOLIA WARBLER, WHITE-RUMPED SANDPIPER & BOBOLINK. This is due to most species' spring arrival dates occurring by the end of Apr, so by the time we reach the month of May (in an average year), late spring departures are likely to produce more reports than new spring arrivals, and as such, this reporting period we saw records in this vein for RING-NECKED DUCK, AMERICAN WOODCOCK, AMERICAN PIPIT, PALM WARBLER (WESTERN) & MERLIN!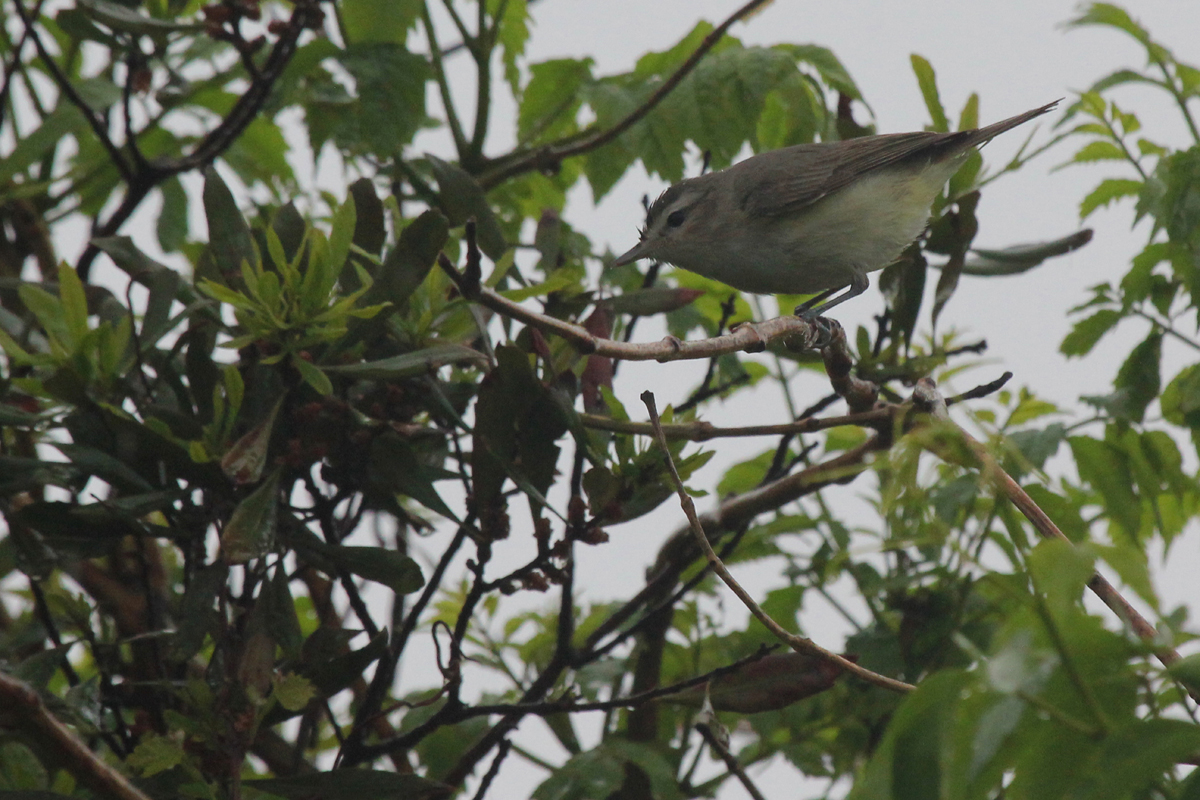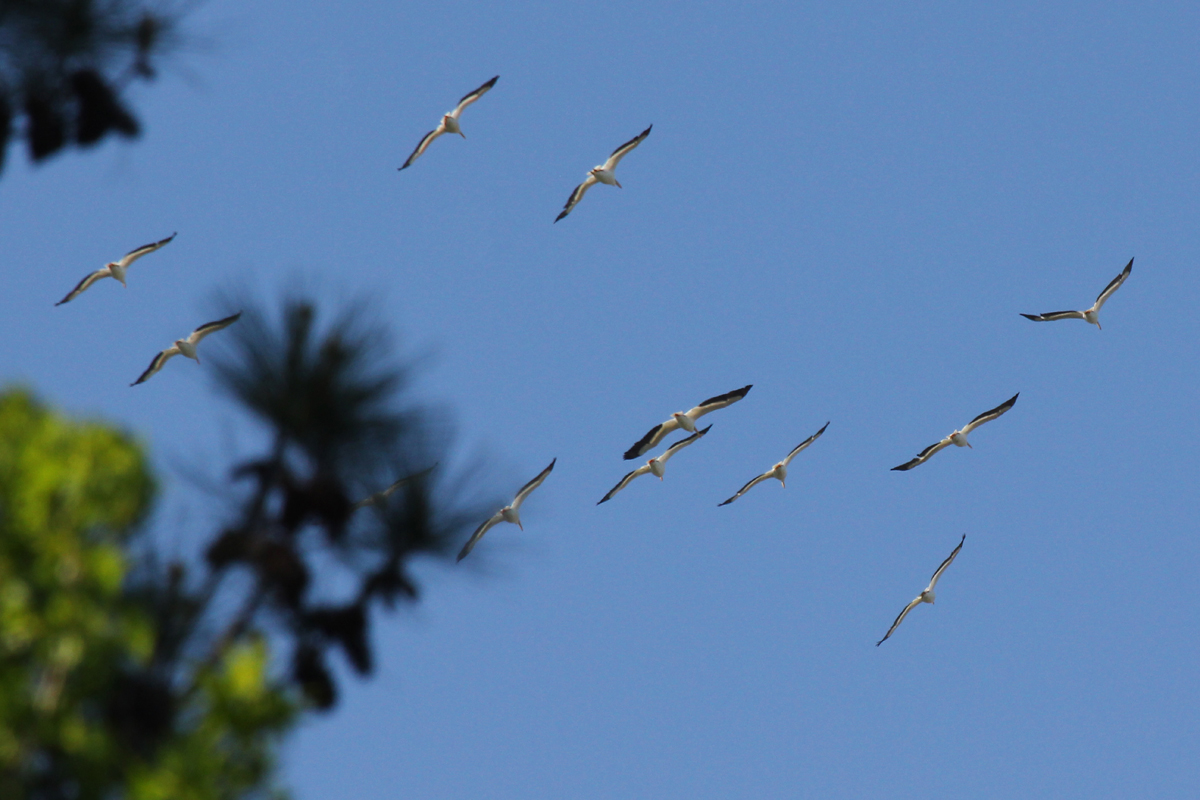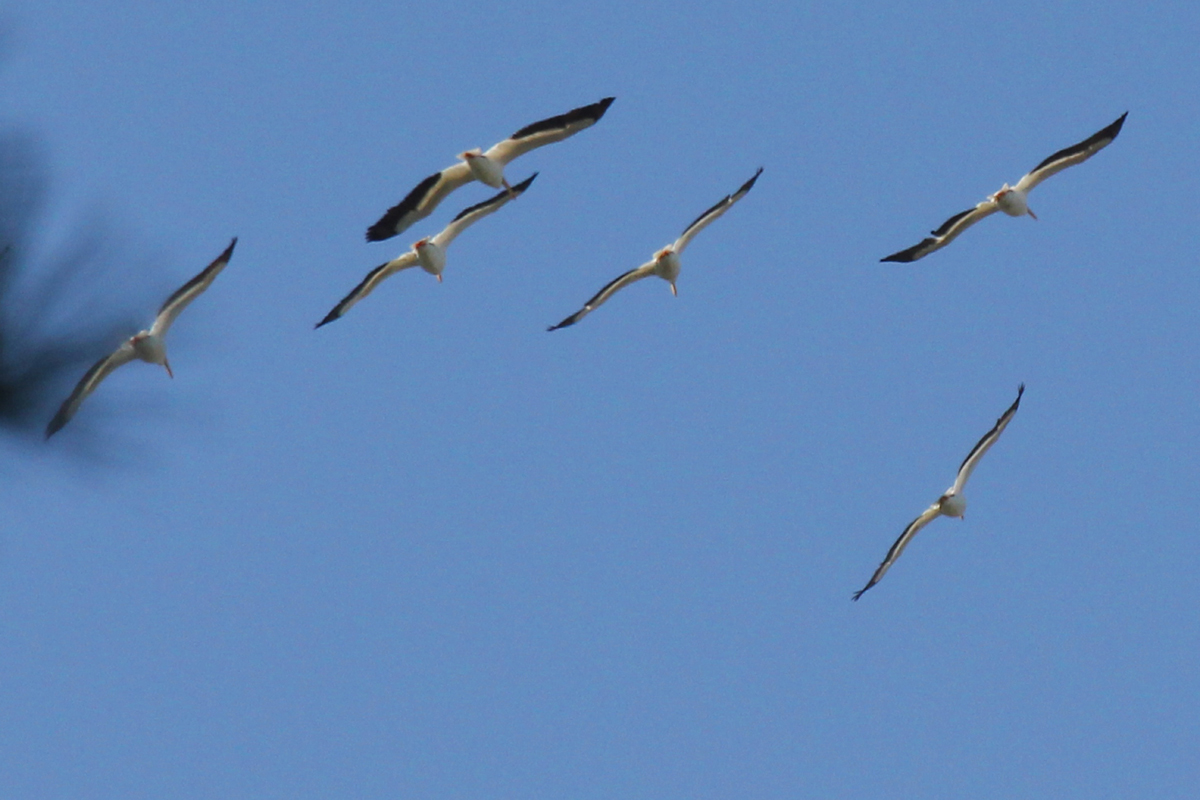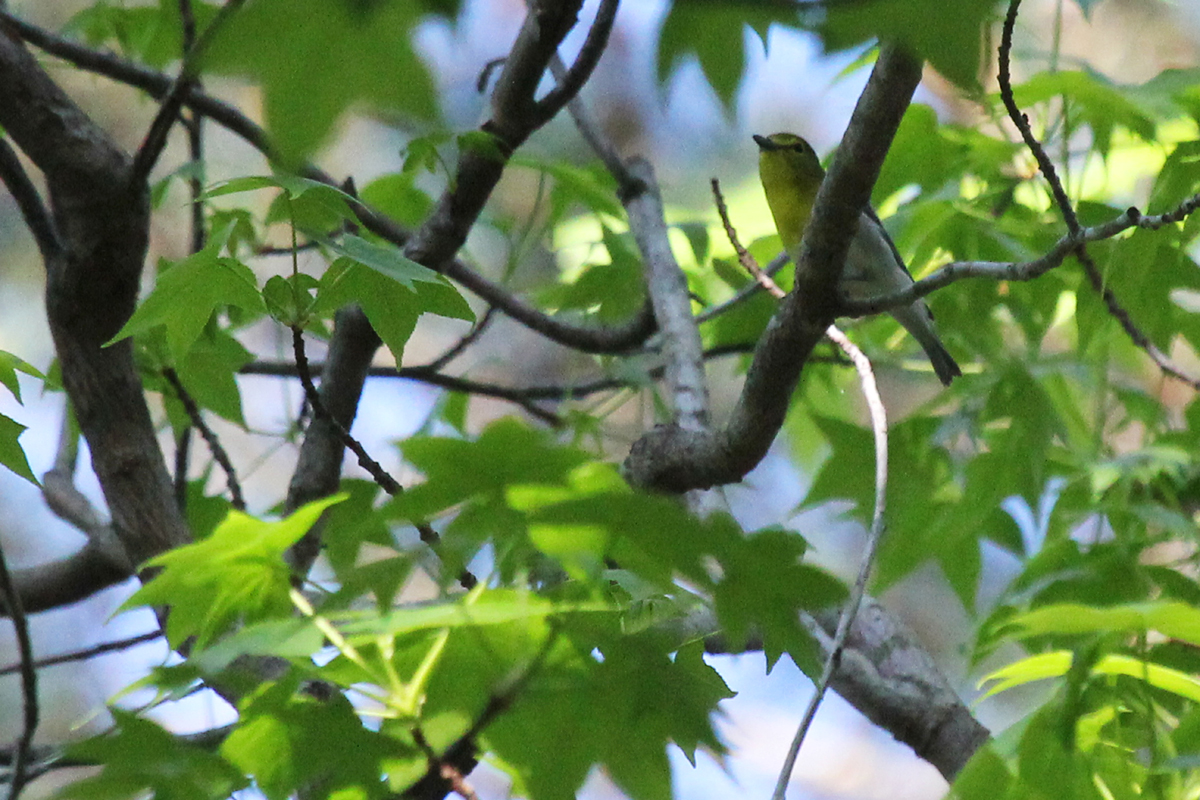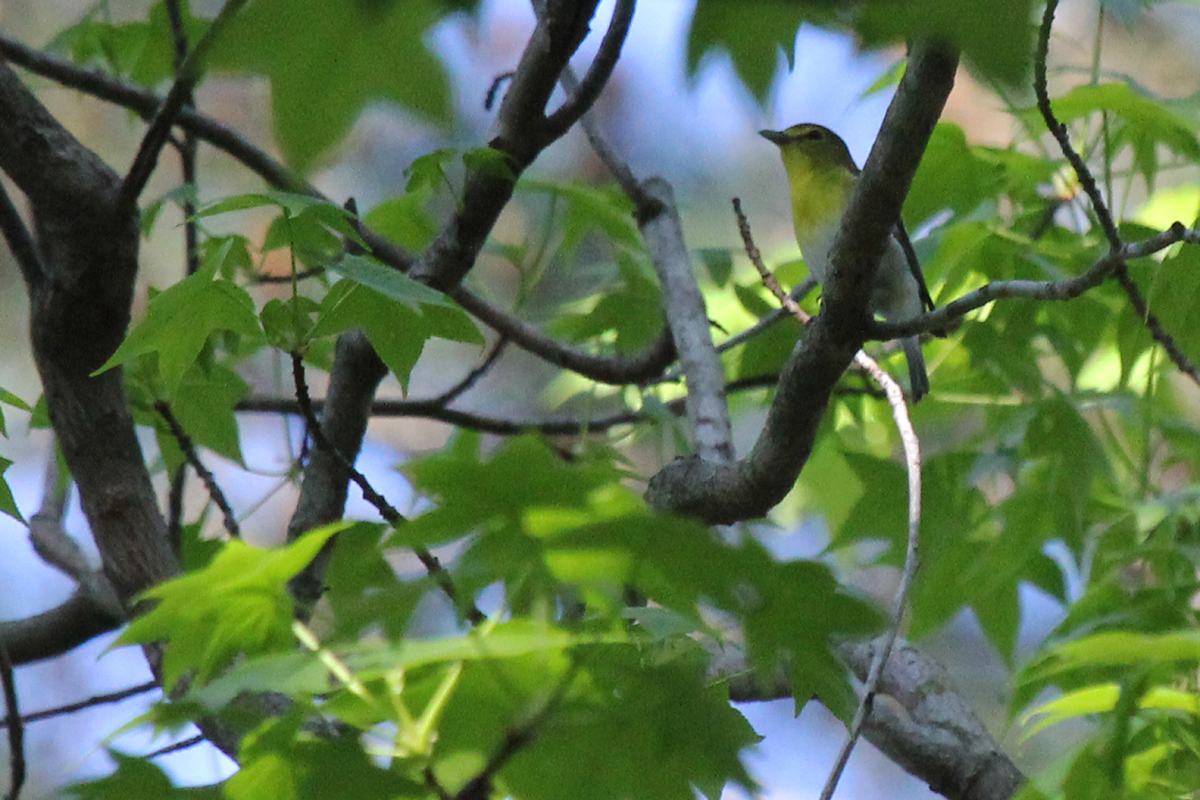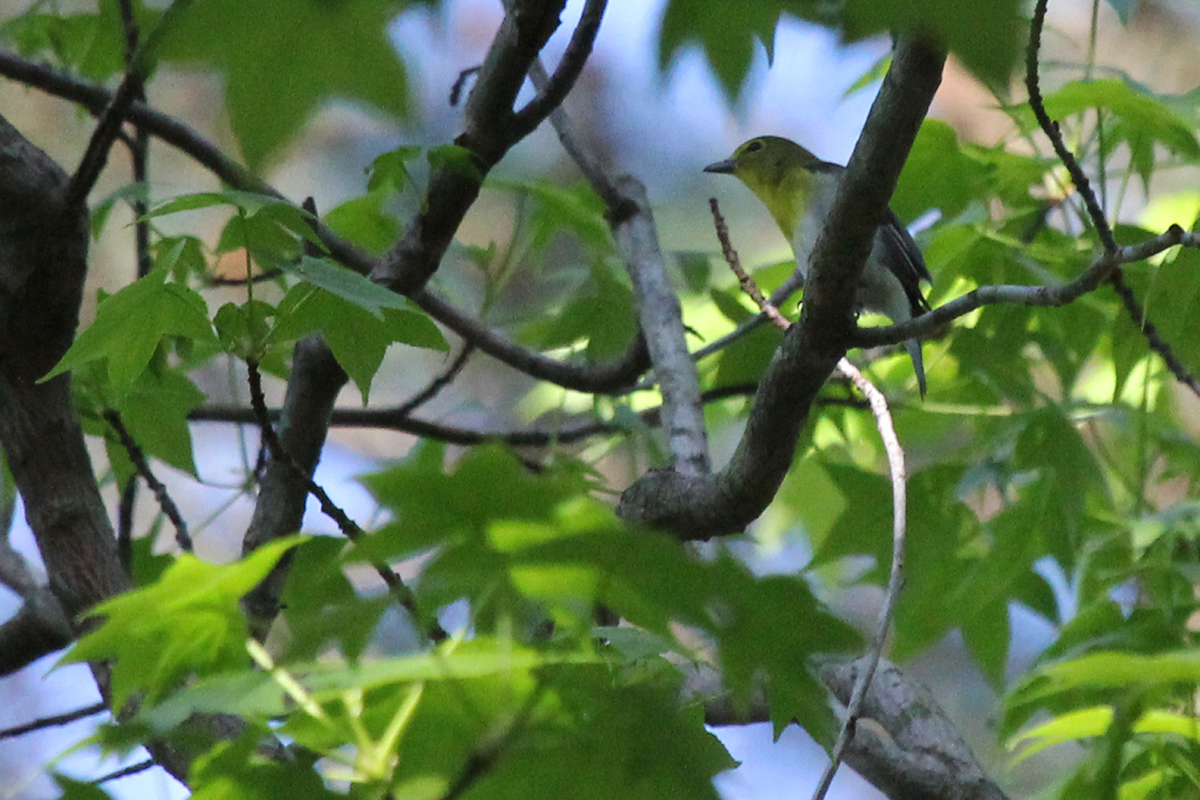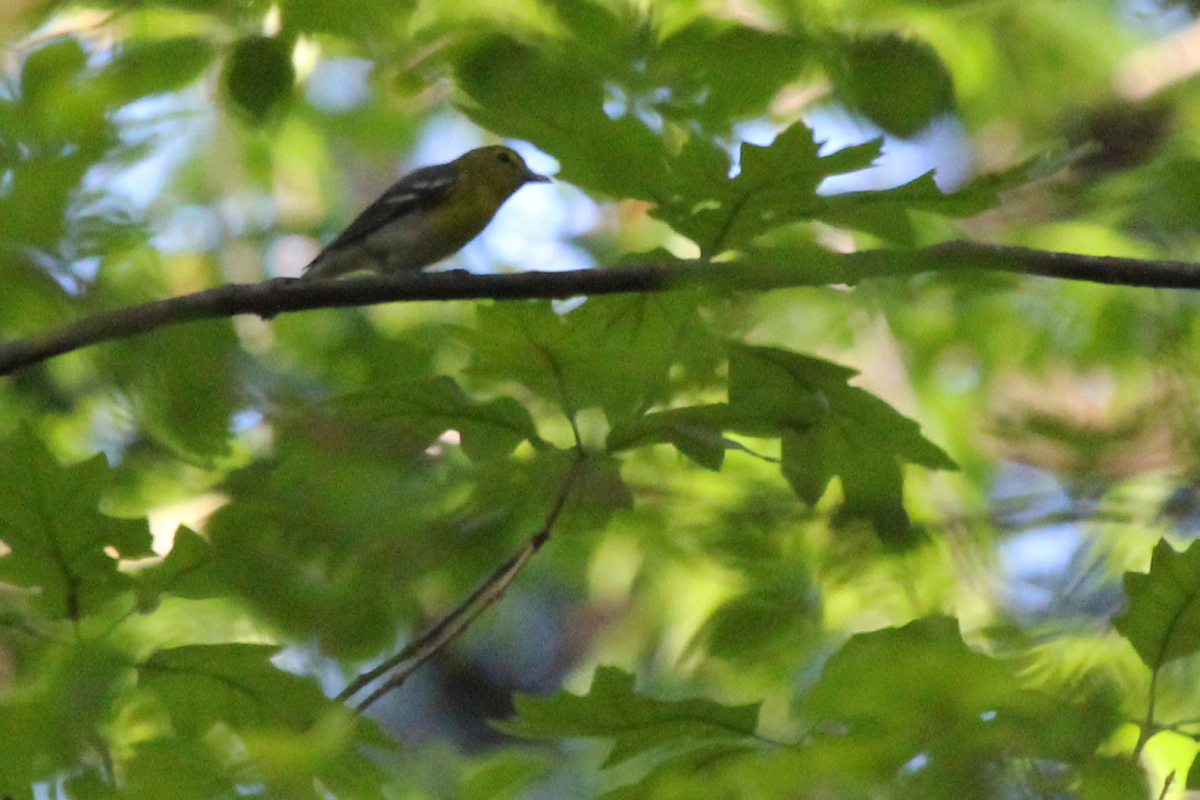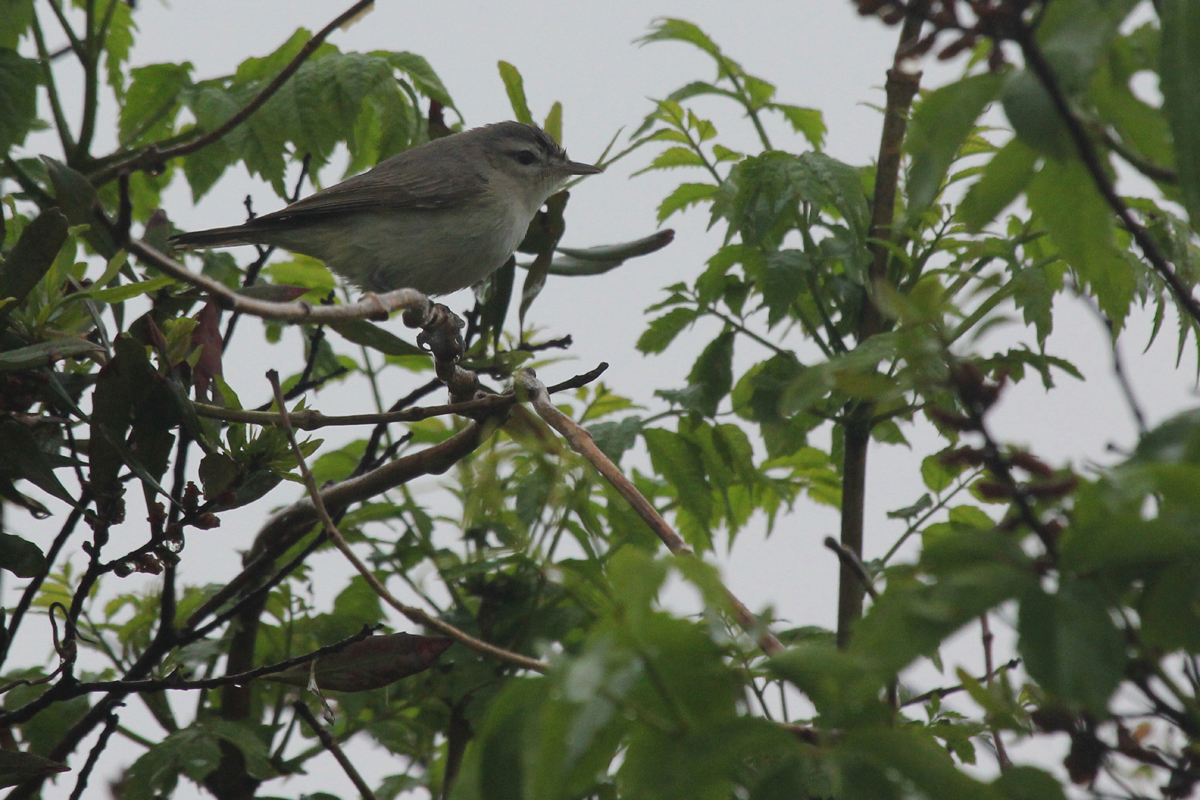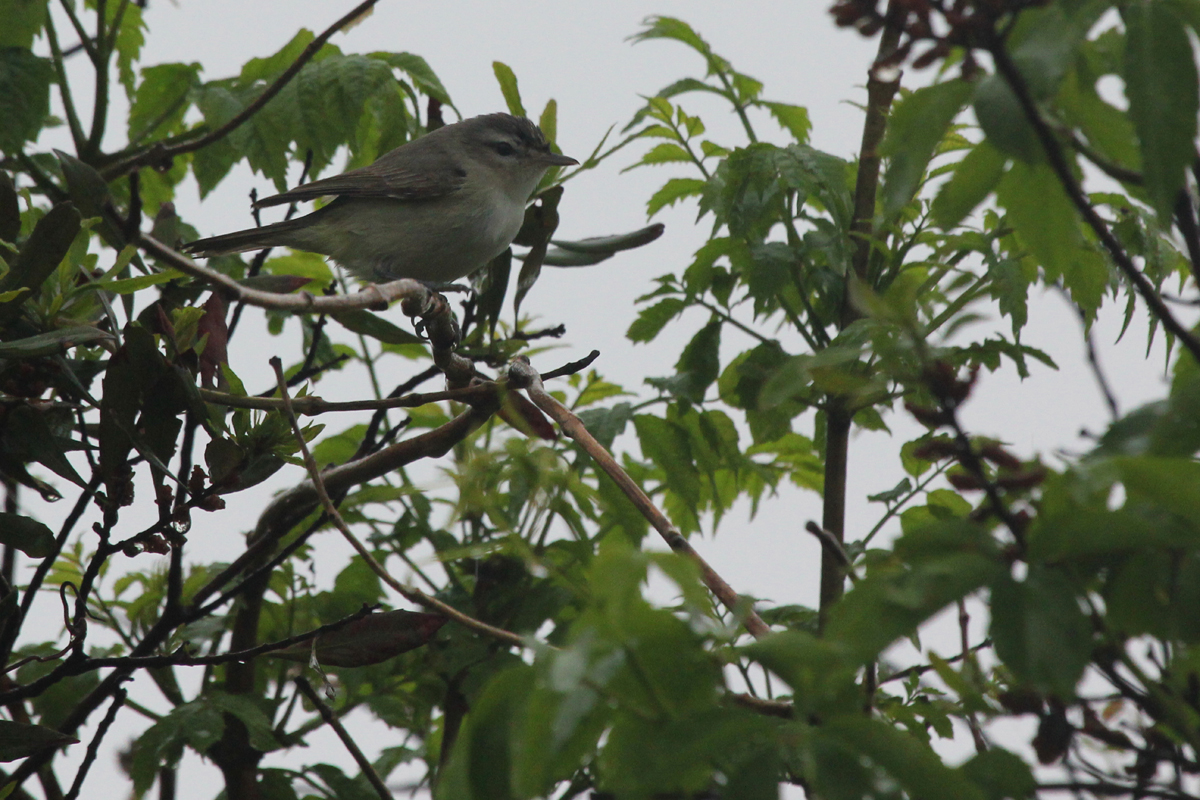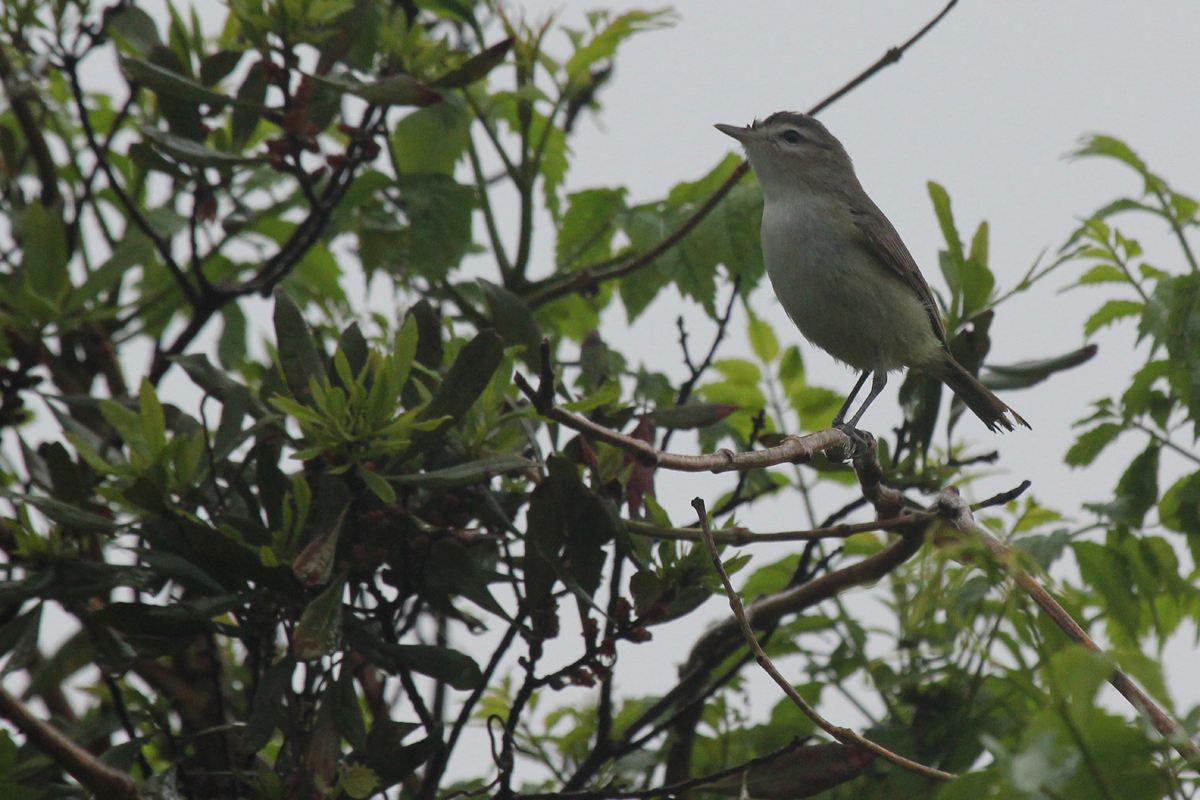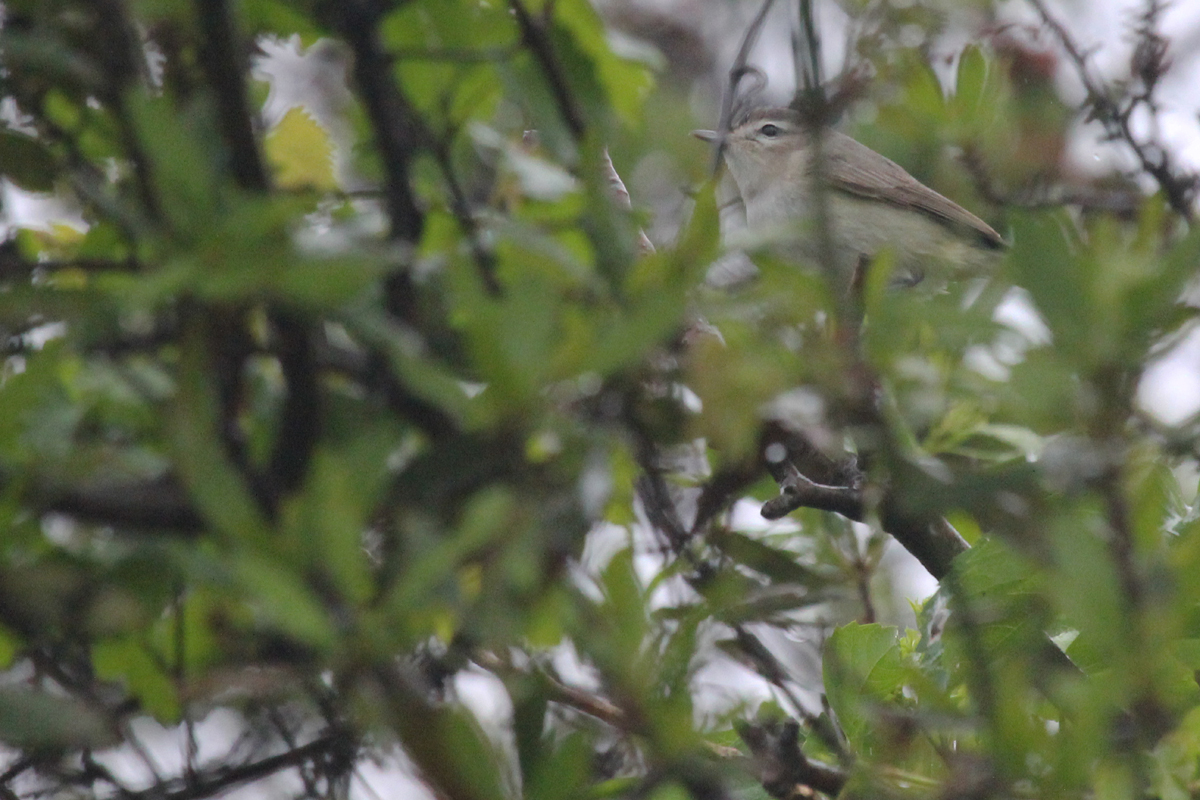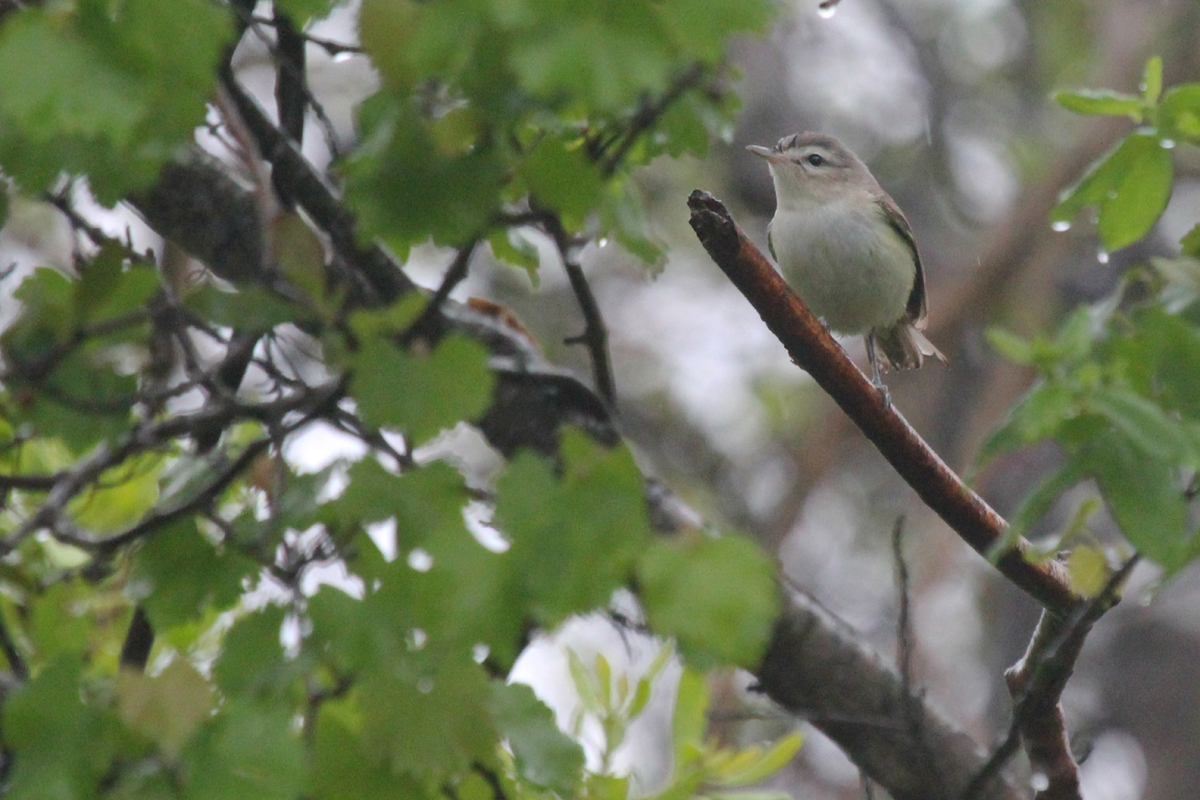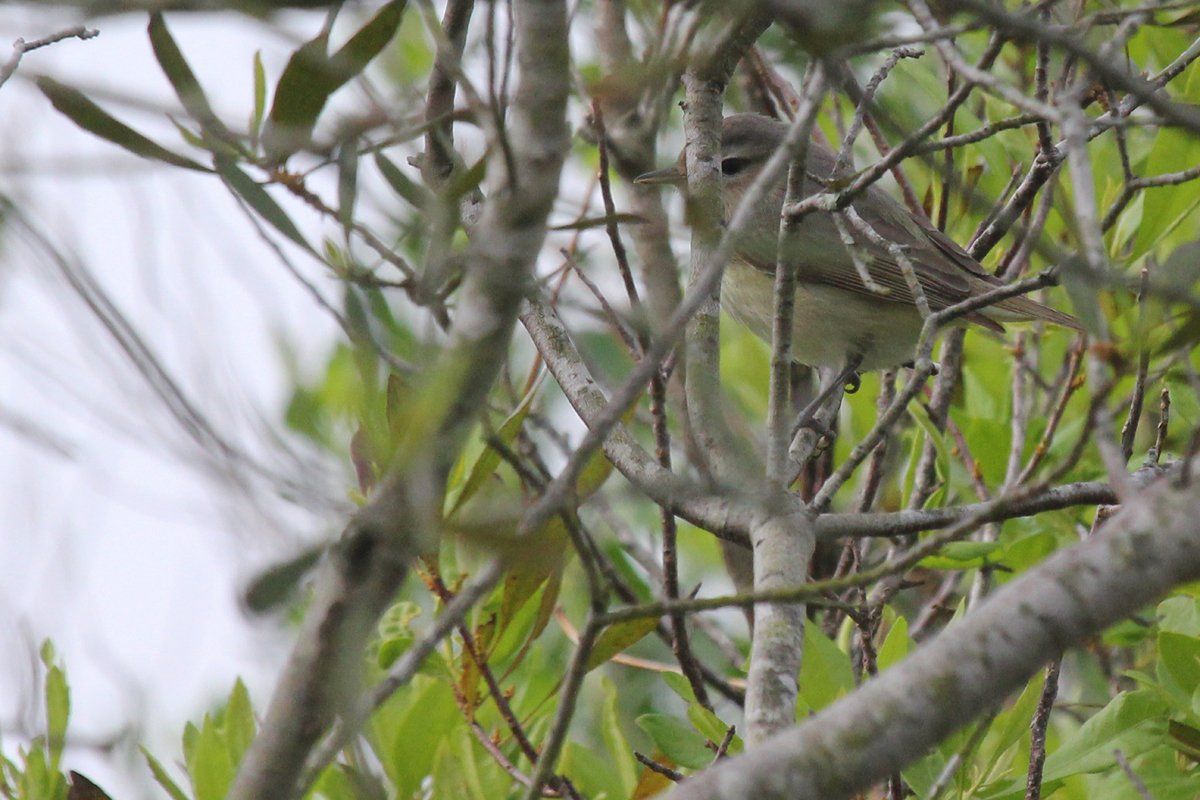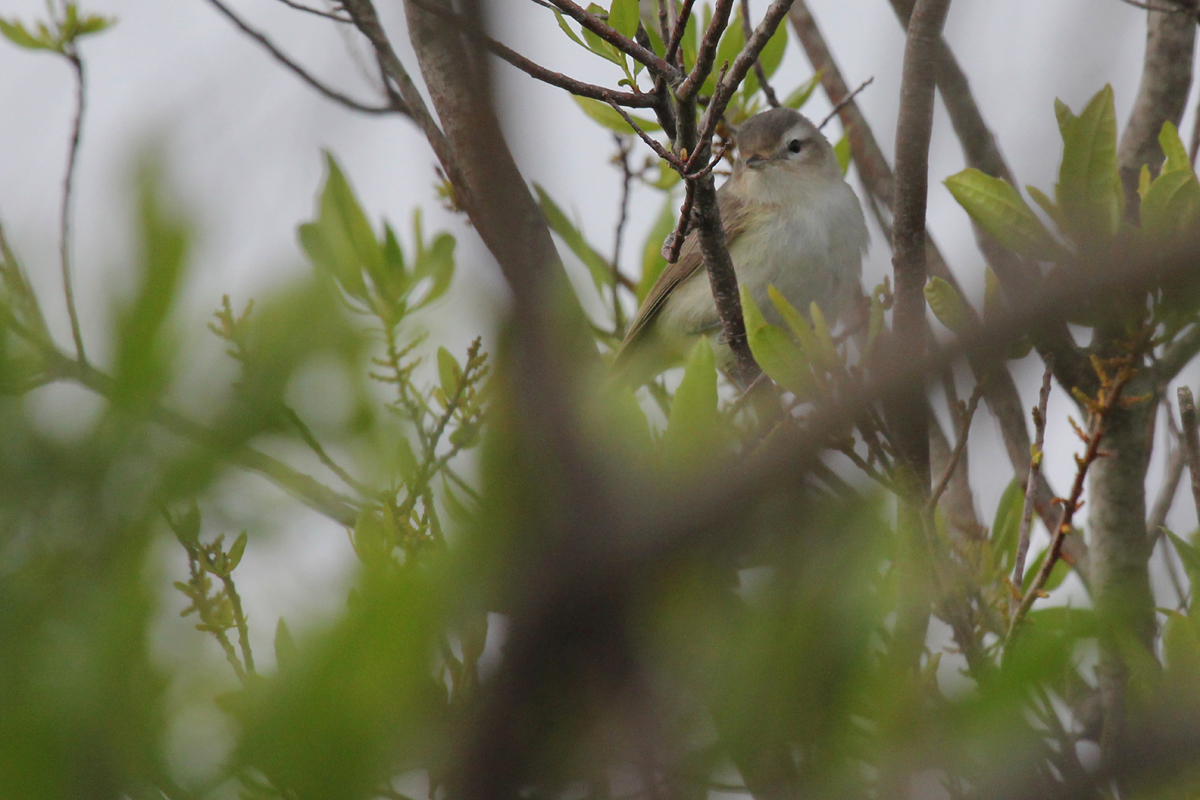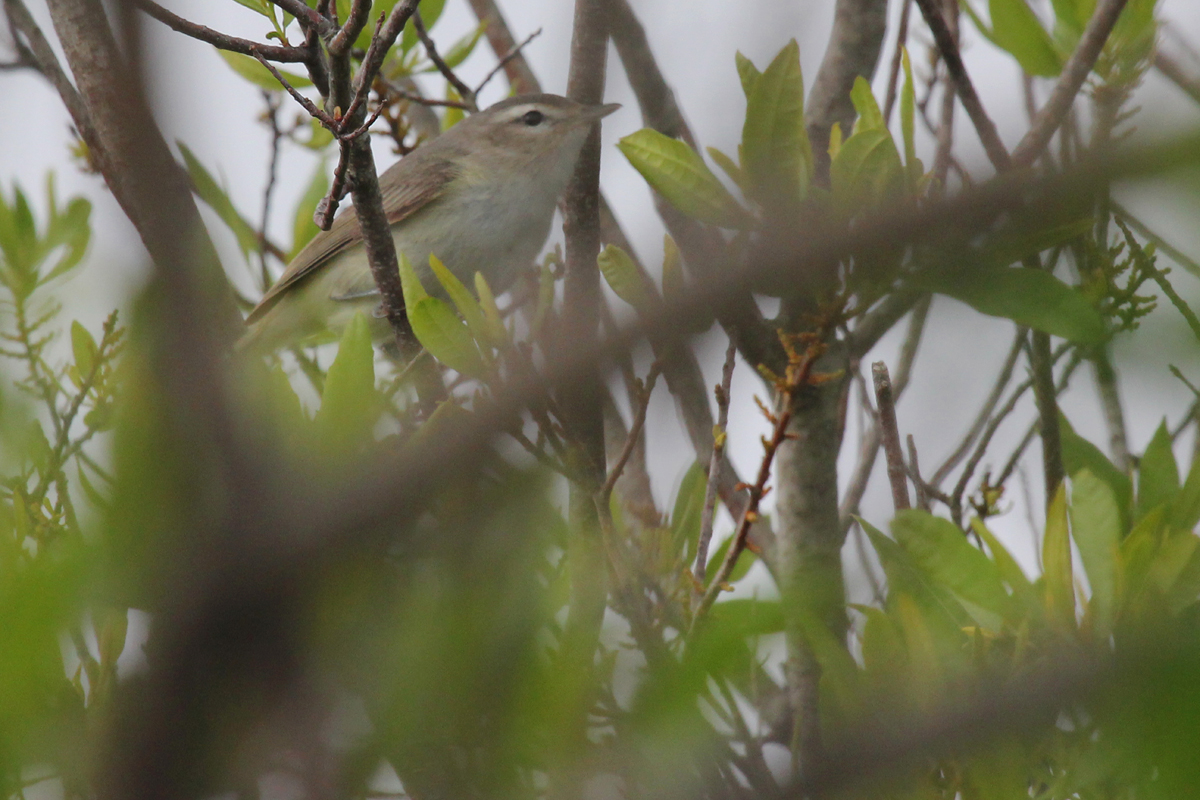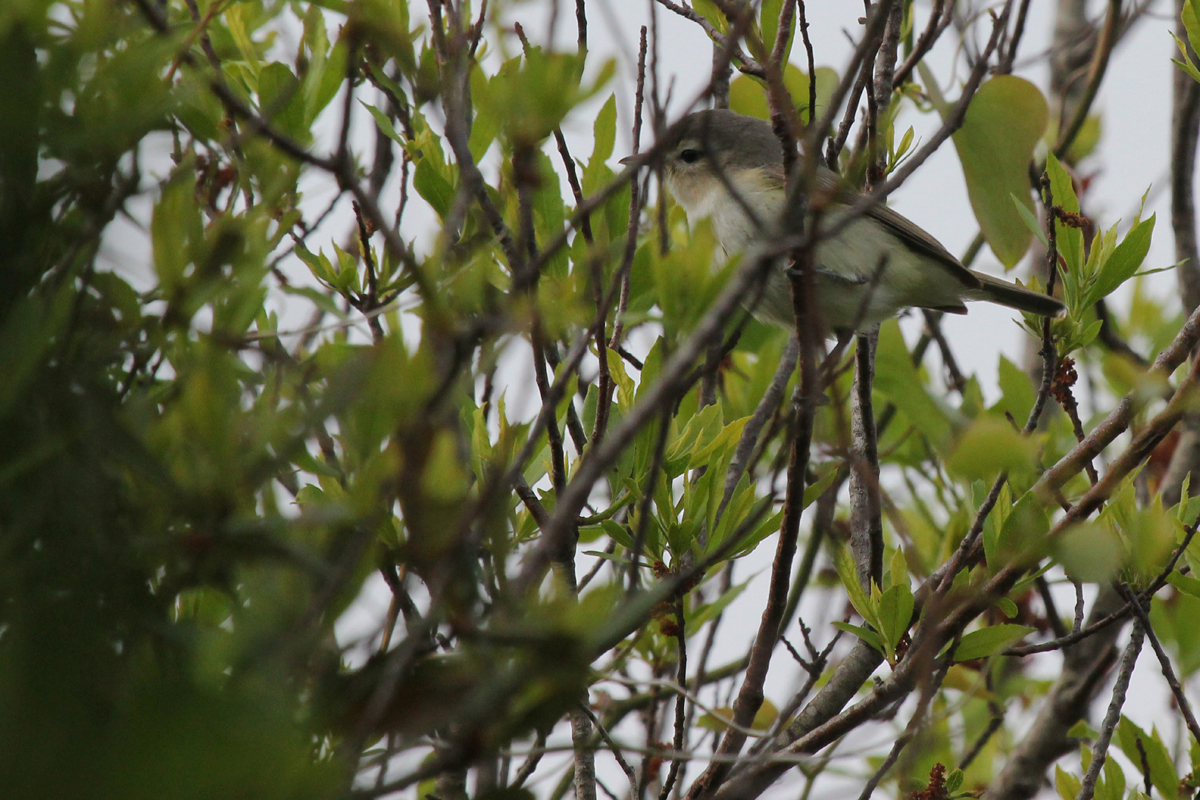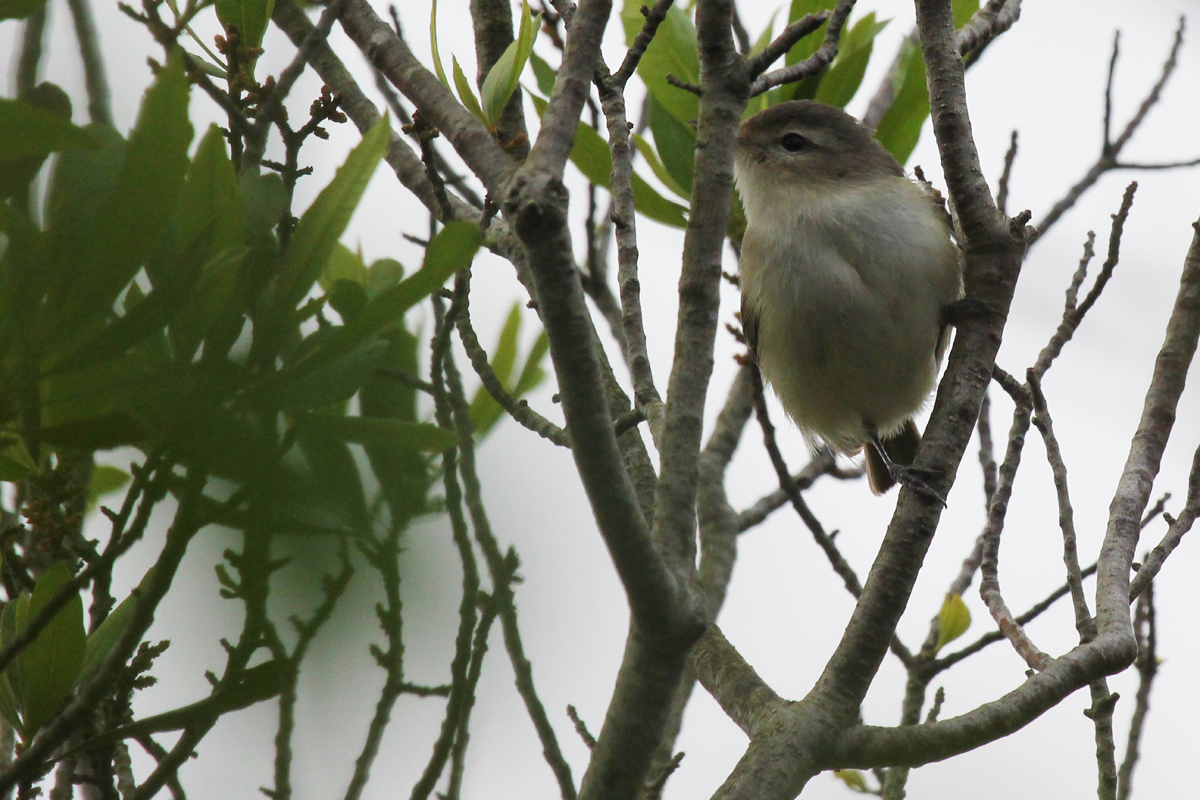 Among the large movement of warblers and various other passerines on the morning of 5 May (a Saturday), a miraculous TENNESSEE WARBLER found in the vegetation lining the "sparrow field" north of Back Bay NWR's visitor contact station (ph. June McDaniels) provided our rarest observation for the early May reporting period! A very rare transient here in southeast Virginia during the spring season, this report represents the first individual to be photographically documented in Virginia Beach and submitted to eBird, outside of the fall season (when the species is also rare, but slightly less so). In fact, this is only the third spring record listed for the city, with one record on the Chesapeake Bay Bridge-Tunnel (perhaps during a fallout of migrants?) on 8 May 2016, and the only other record being an individual noted on 17 May 1997 at First Landing SP. What was likely this same individual was observed at the park, though along the Bay Trail (now officially noted as the Reese F. Lukei, Jr. Raptor Trail by a sign posted at the trailhead) this time, on 9 May (obs. Karen & Tom Beatty). Another individual was reported at Lake Lawson & Lake Smith Natural Area on 6 May (obs. Timothy Barry).
With only 4 prior records in eBird (all in spring) for the City of Virginia Beach, a WARBLING VIREO at Back Bay NWR on 6 May (ph. Andrew Baldelli & Rob Bielawski) made for an exciting spring coastal record! Known as a rare transient throughout the coastal plain, and even more scarce here in the extreme southeast due to its typical migration following the Blue Ridge en route to the northeast, this record is the first and (currently) the only Atlantic-coastal record south of Cape Henlopen, Delaware thus far for 2018! Additionally, this is the first photographically documented record for Virginia Beach in eBird. As far as recent records go, a well-described individual was noted 11 Apr 2017 at Carolanne Farms Park in western Virginia Beach (obs. Brandon Holland) and a vocalizing individual was found at Back Bay NWR on 12 May 2016 (obs. Karen & Tom Beatty) and remained at the same location through 14 May. Prior to this, eBird records are very scarce, with only one noted at First Landing SP's former songbird banding station on 5 May 2012 (obs. Calvin Brennan), and lastly, a single bird at Back Bay NWR on 17 May 1996 (obs. Edward Brinkley). The 2018 individual was noted again later in the day on 6 May (obs. Mike Collins), and was viewed the following day, 7 May, in the same general area (obs. Jason Schatti), as well as on 9 May (ph. Mike Collins, obs. Karen & Tom Beatty, ph. Rob Bielawski & Jason Schatti). All observations of the bird occurred in the dense vegetation along the western half of the Bay Trail (now known as the Reese F. Lukei, Jr. Raptor Trail).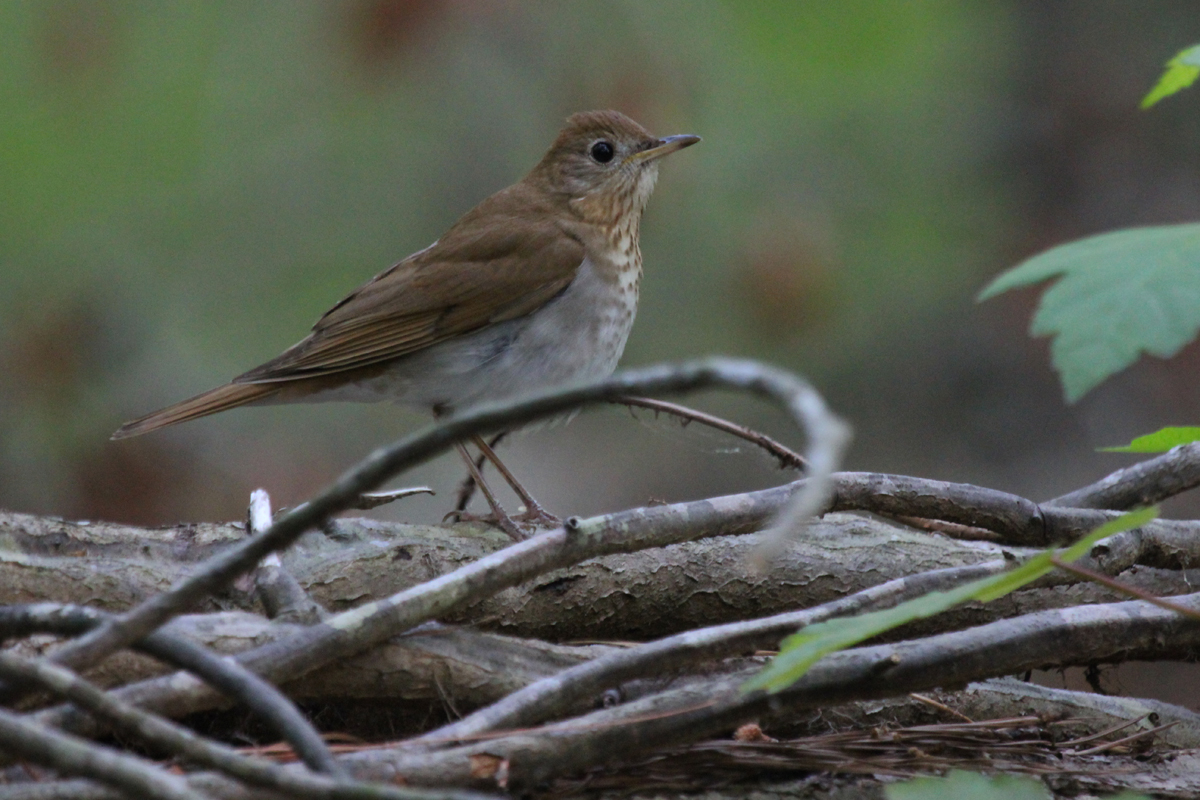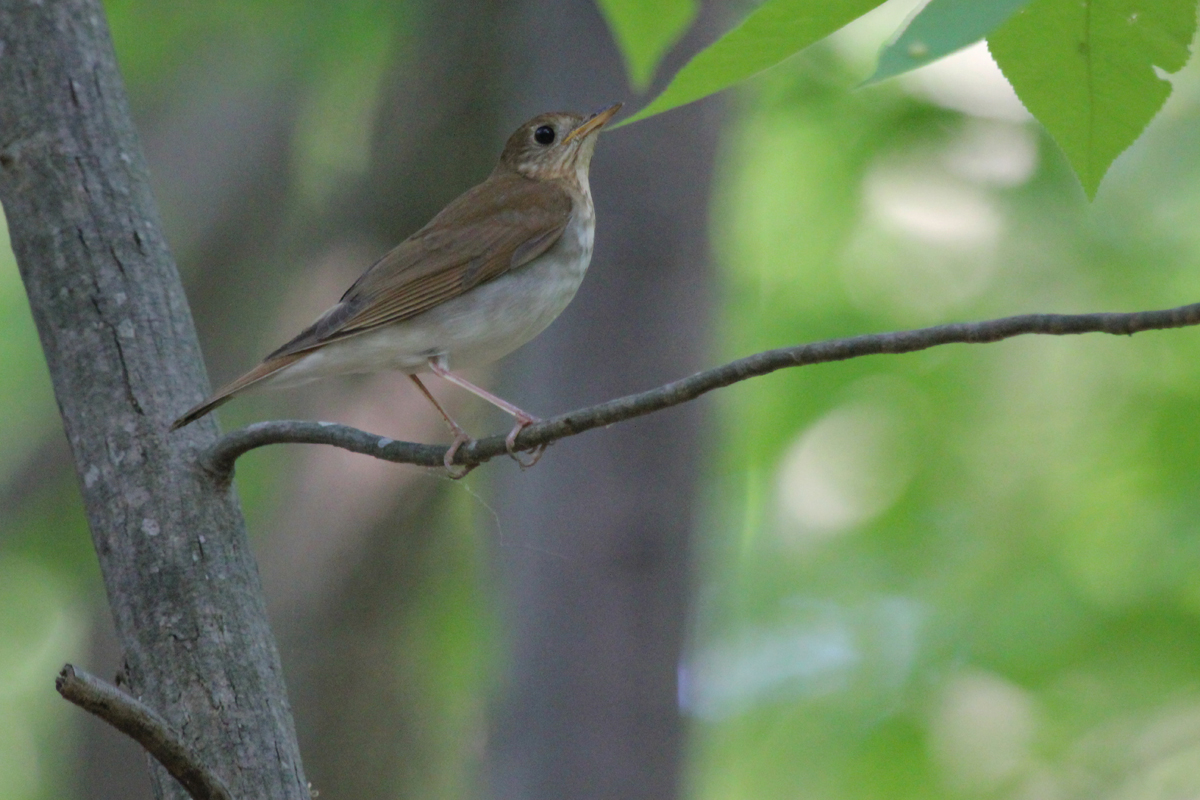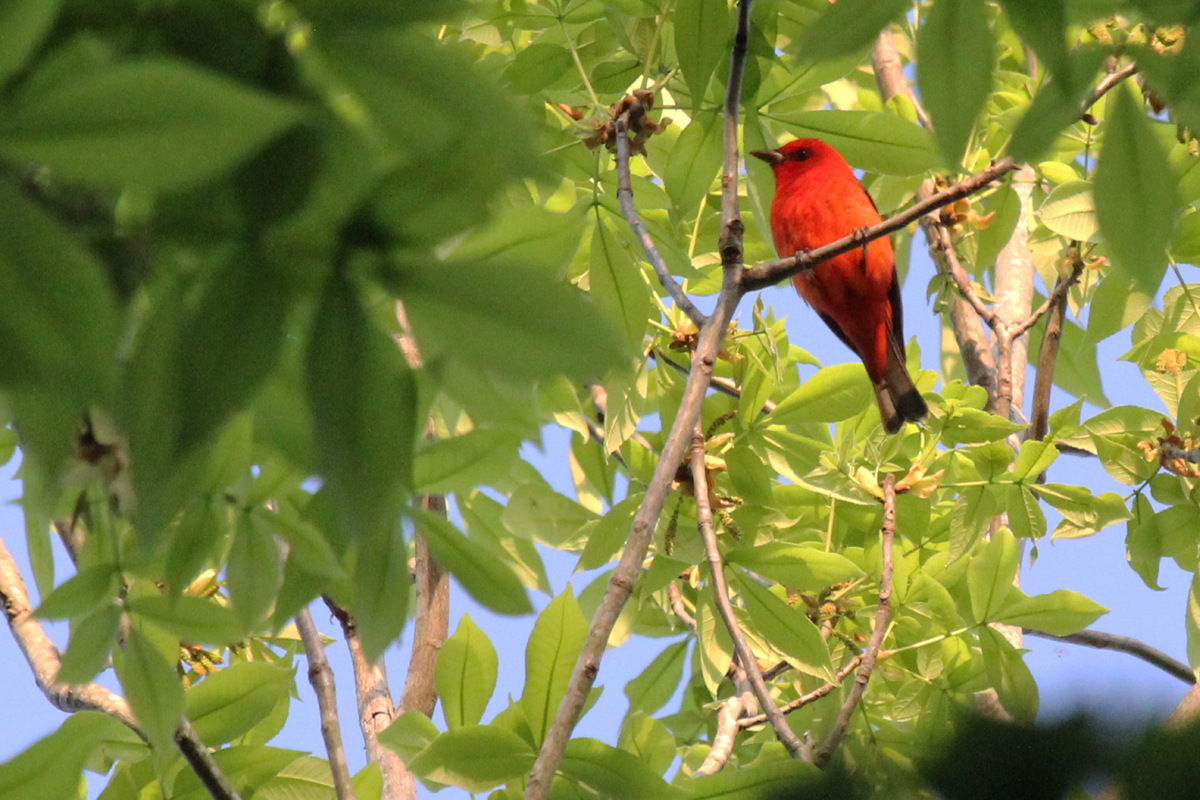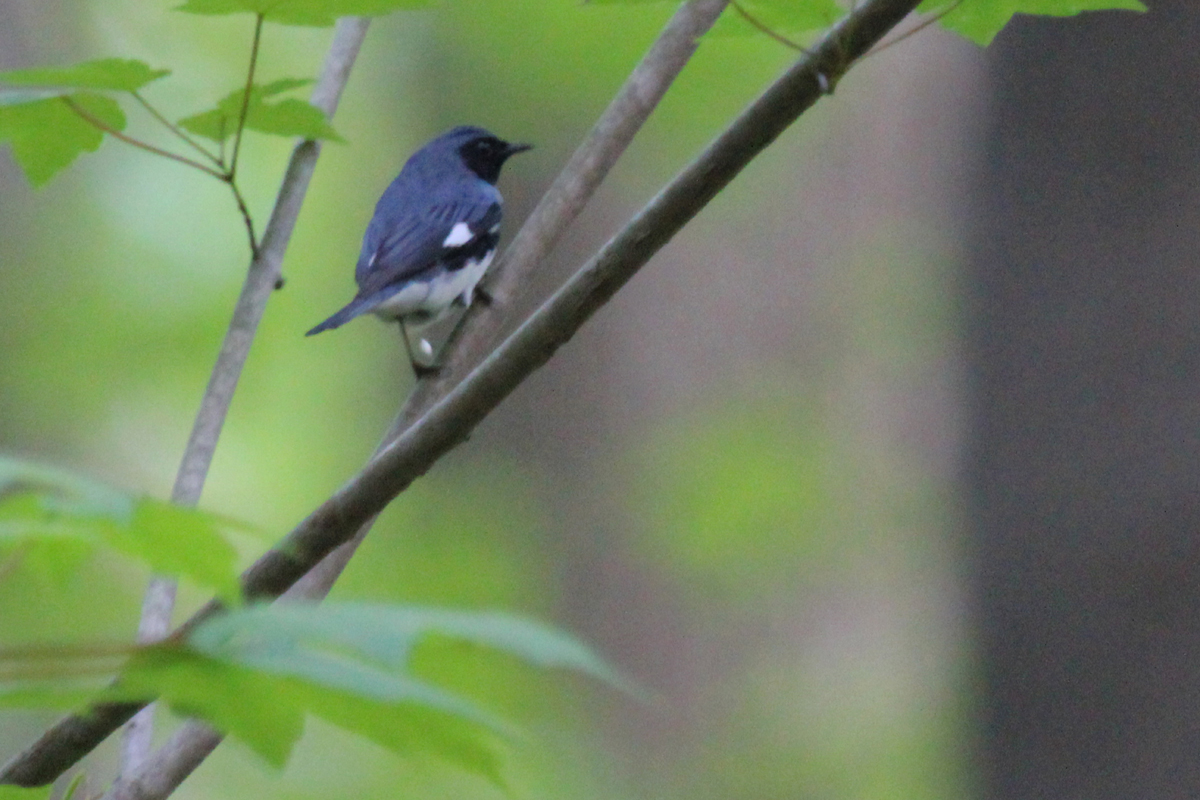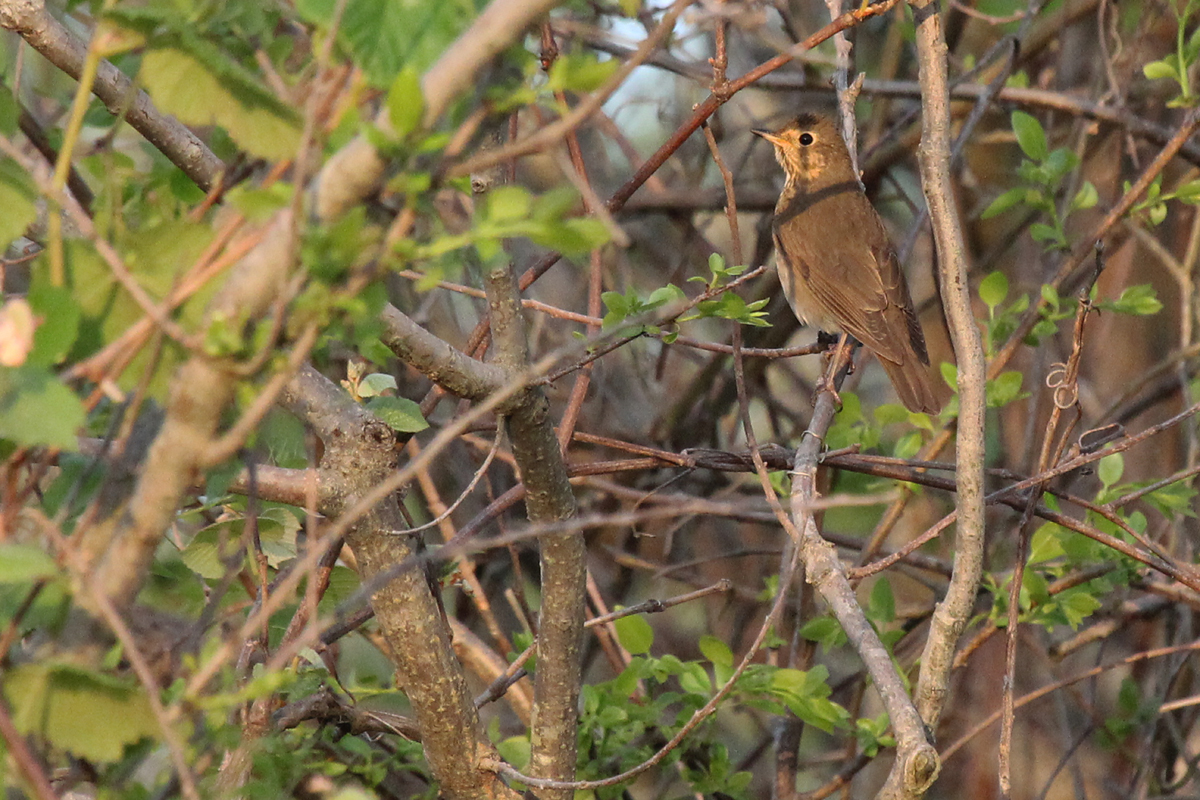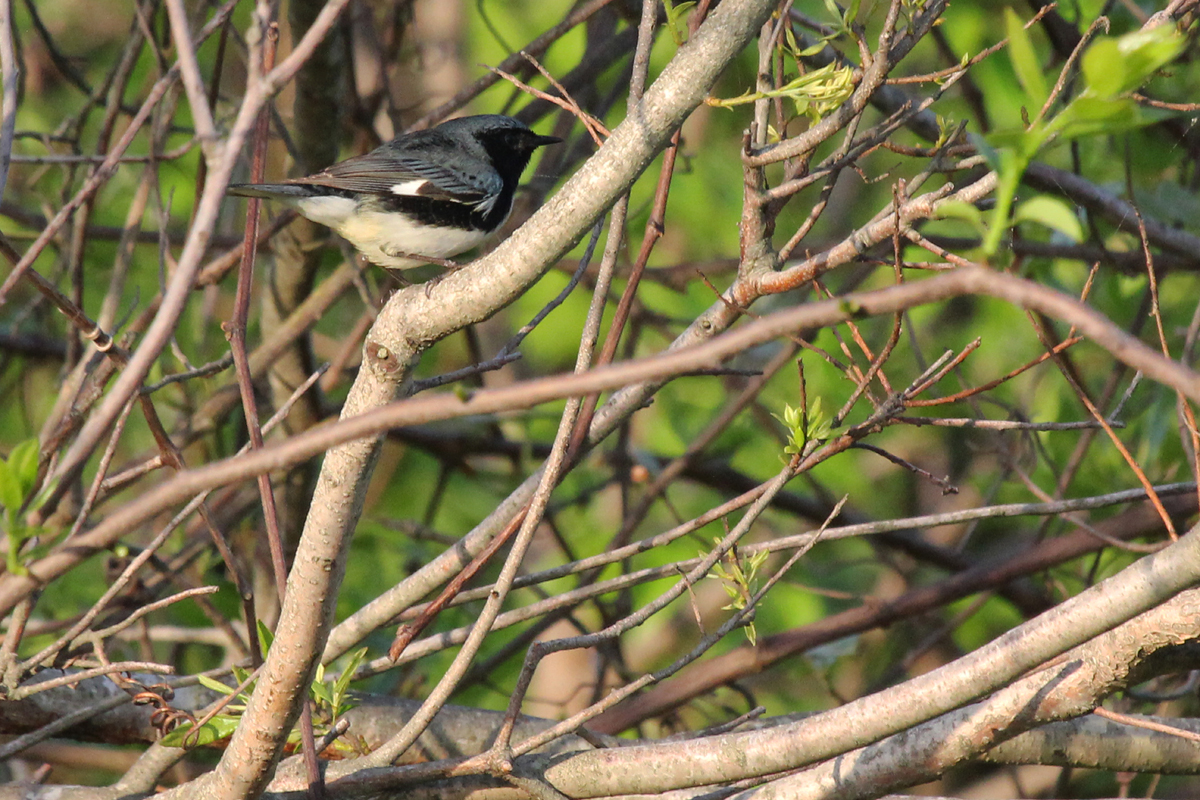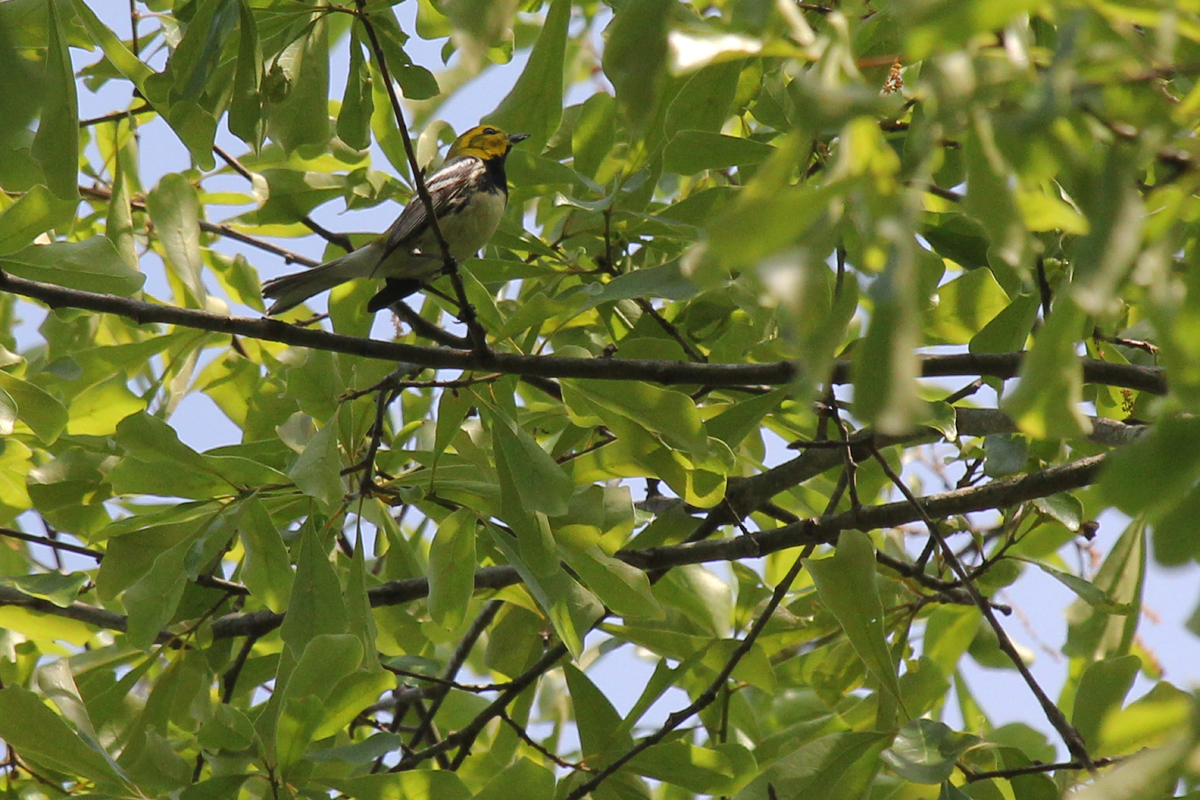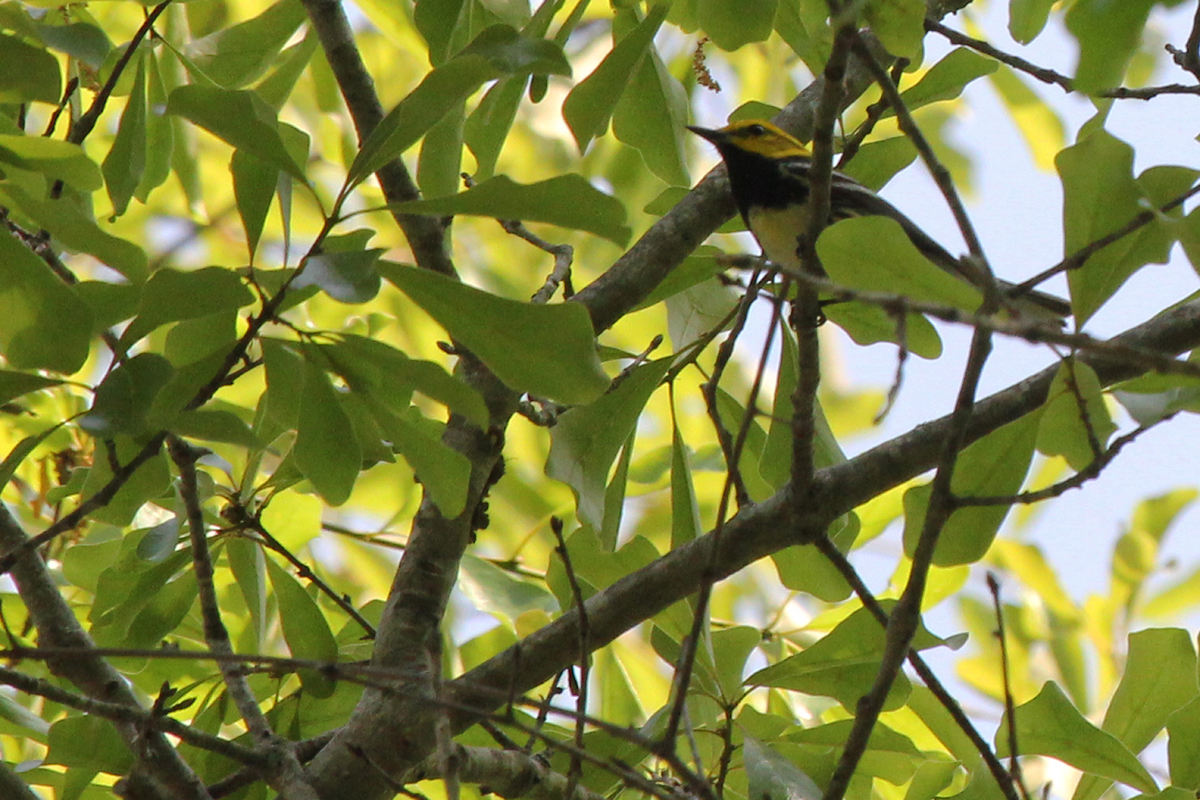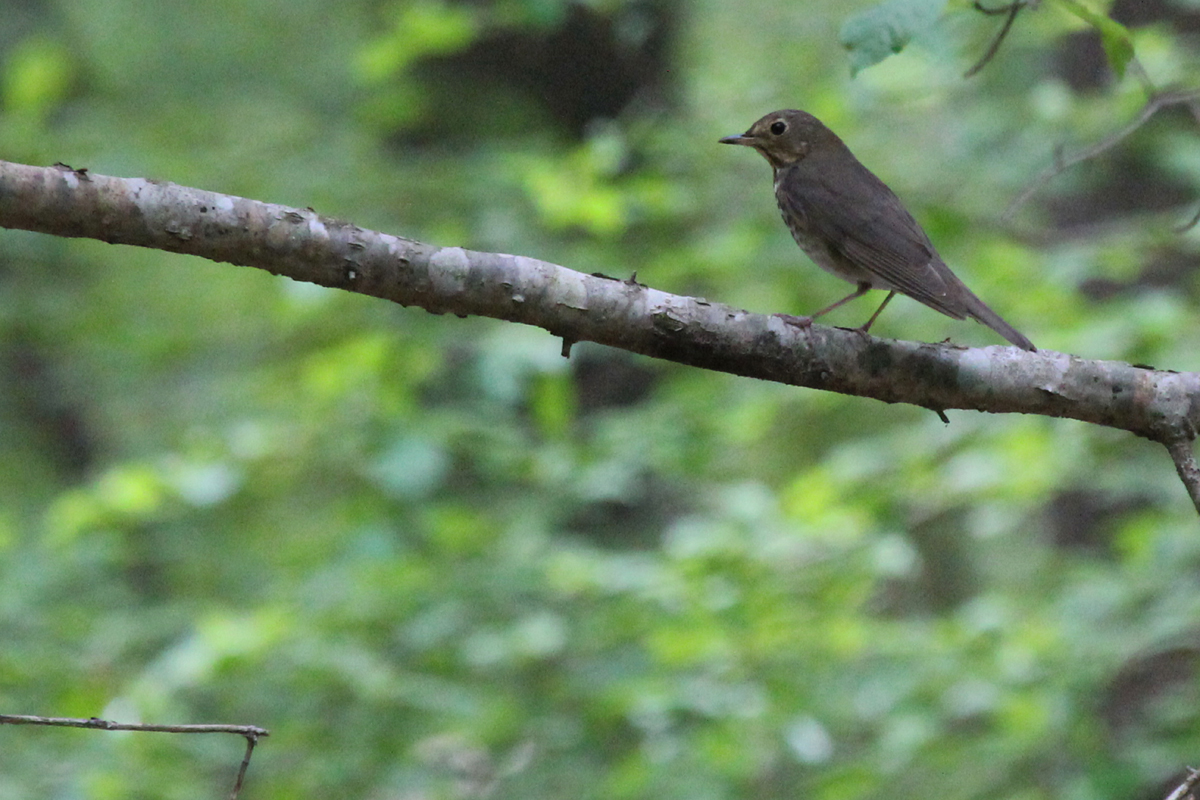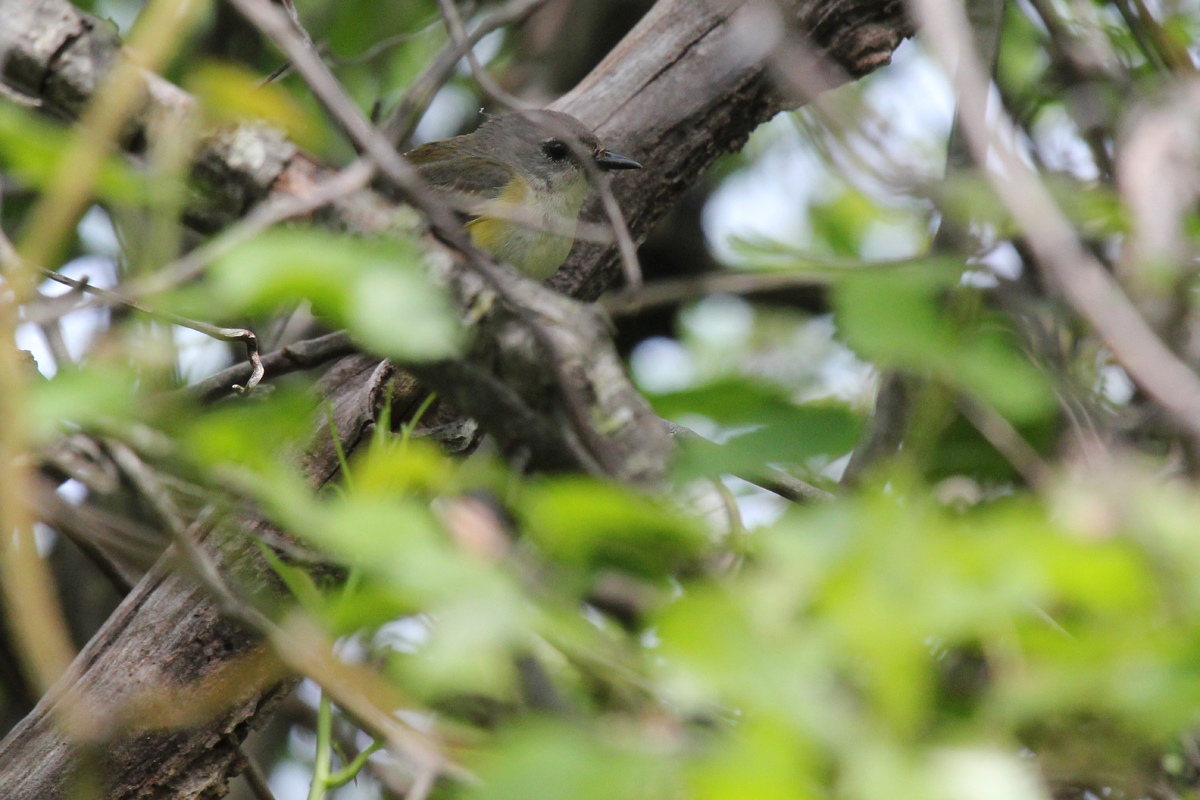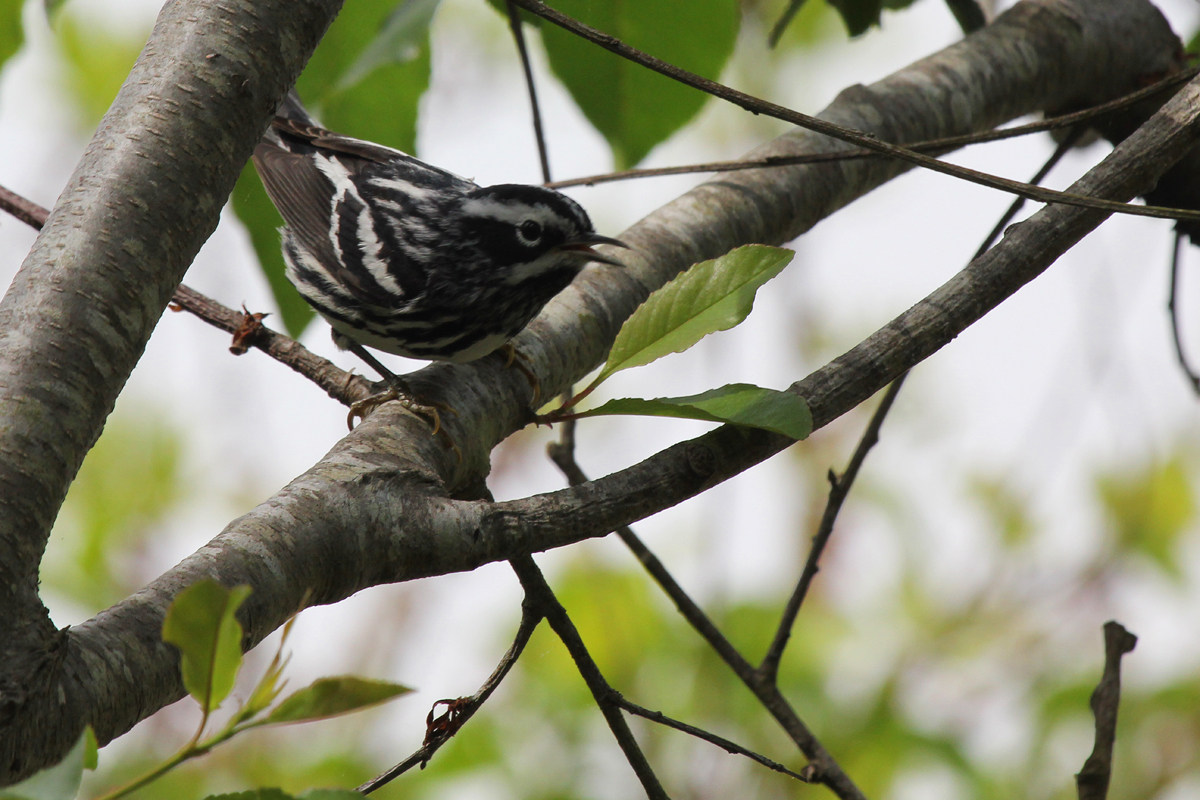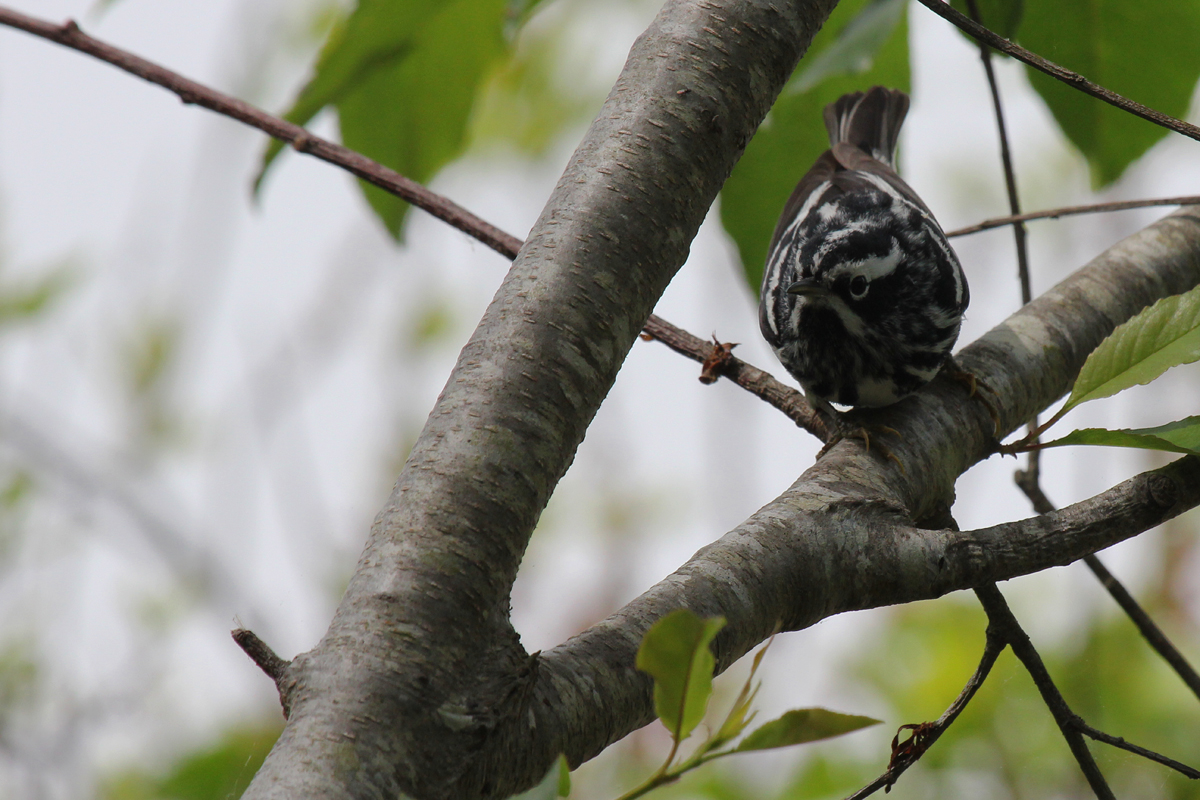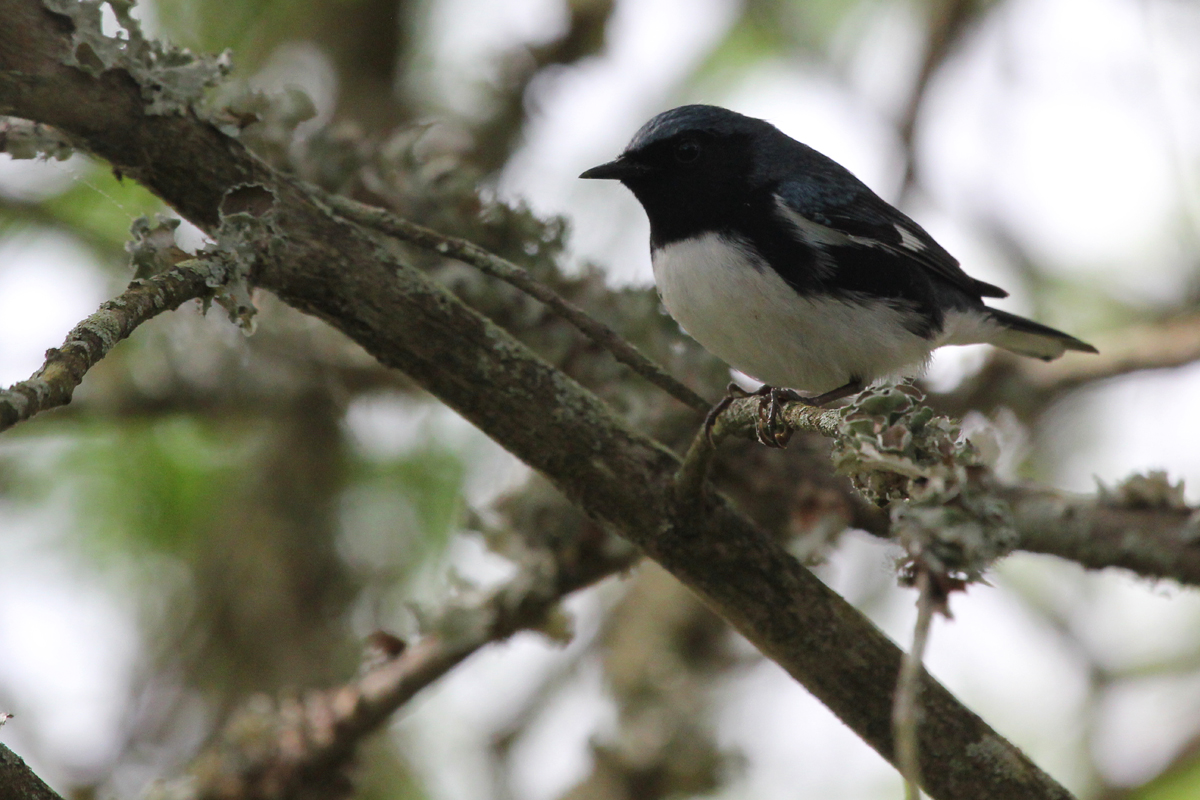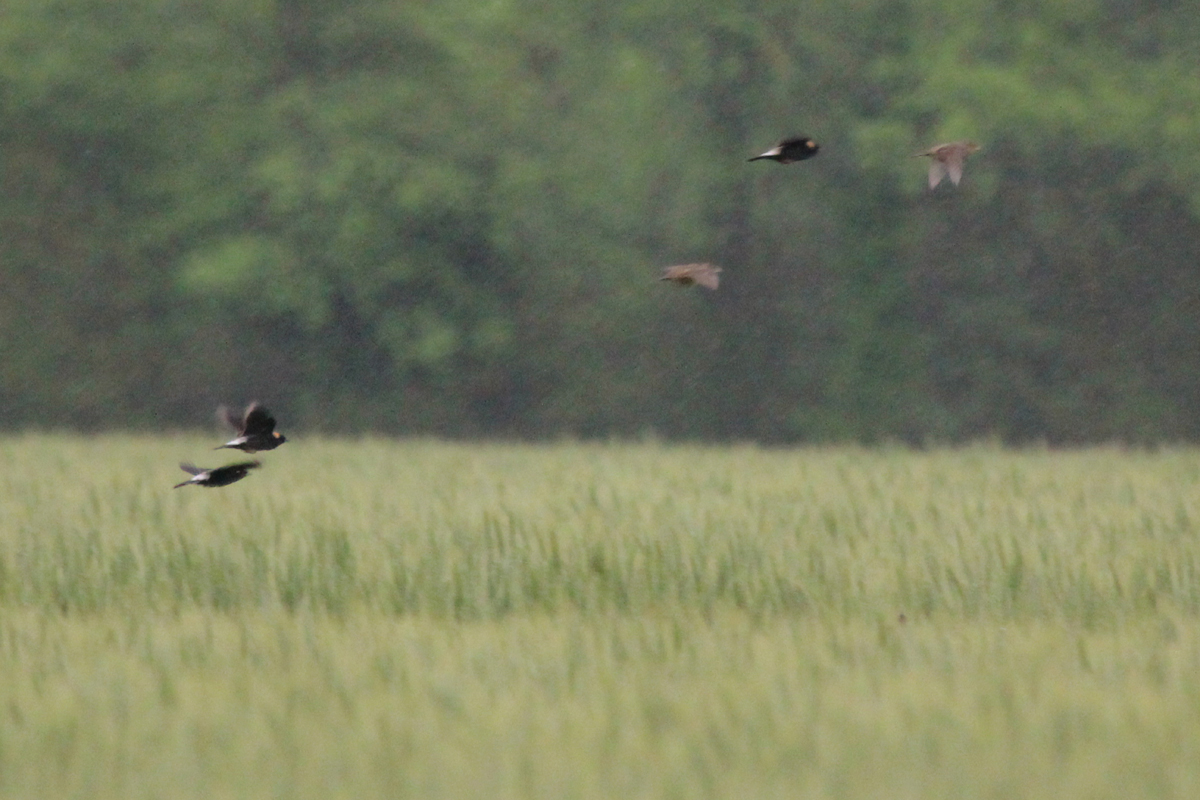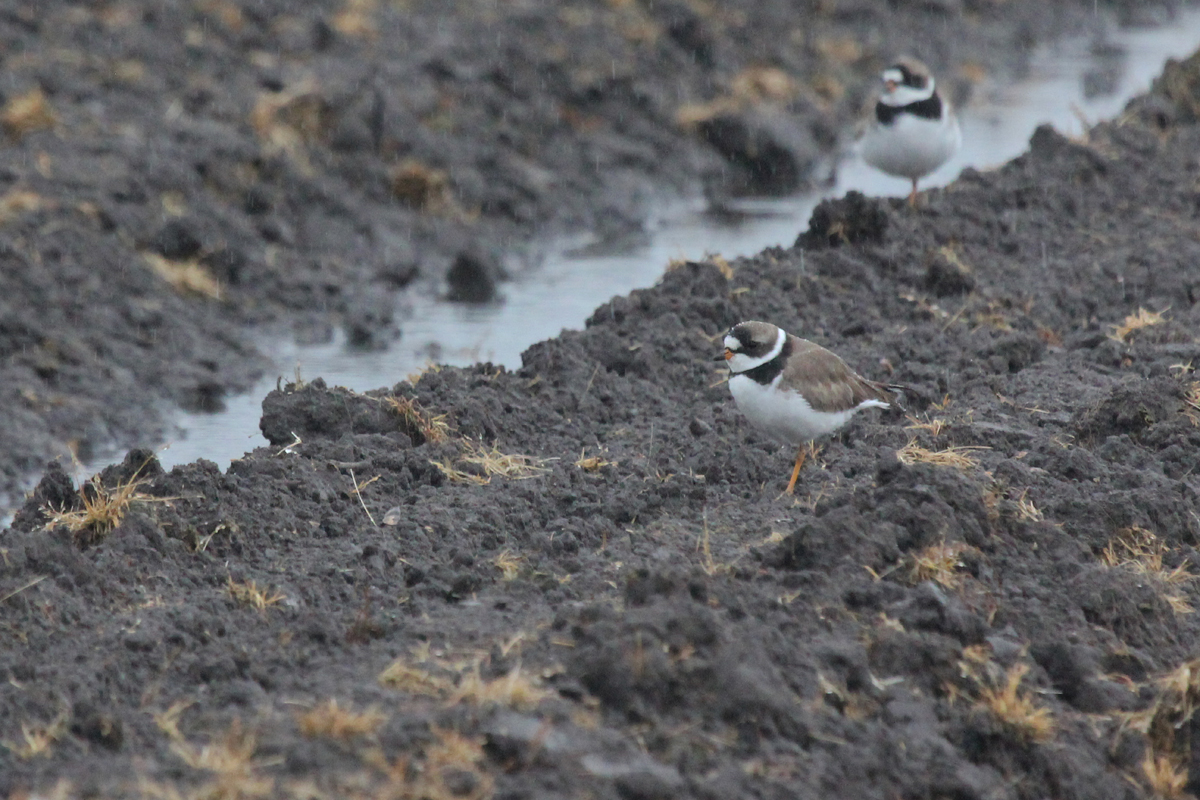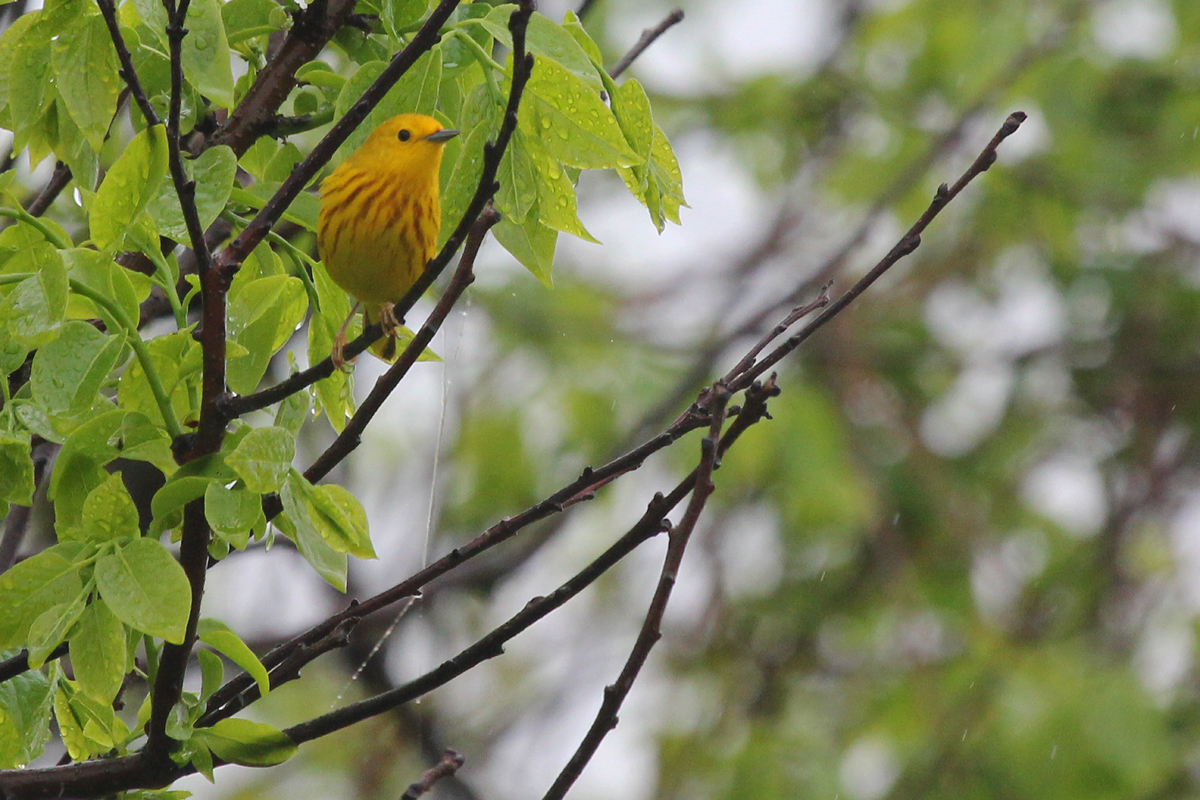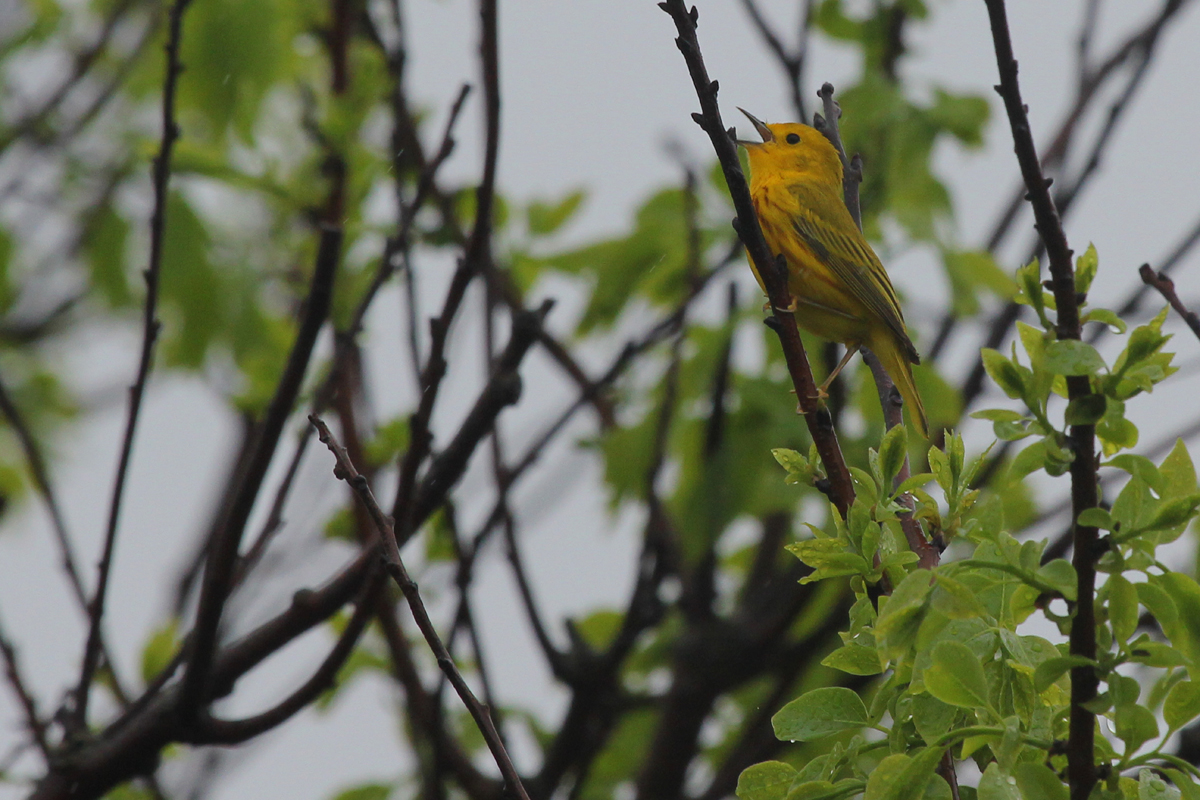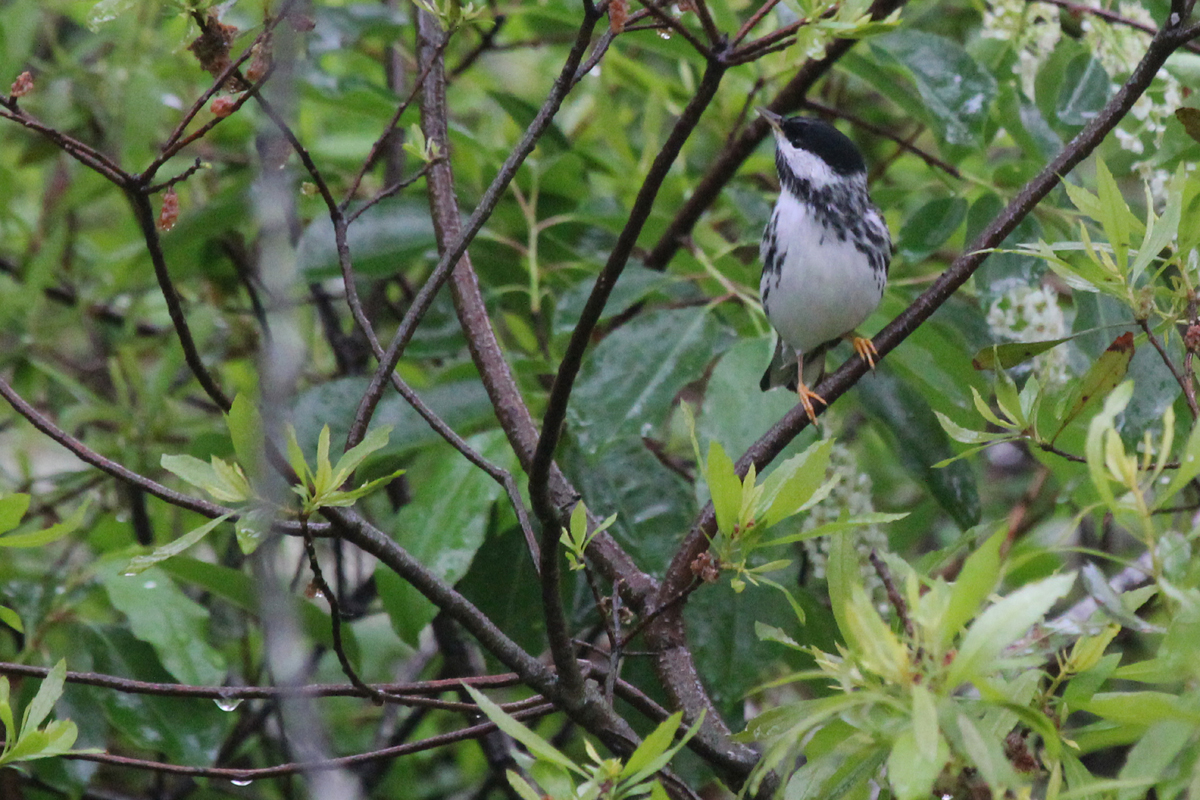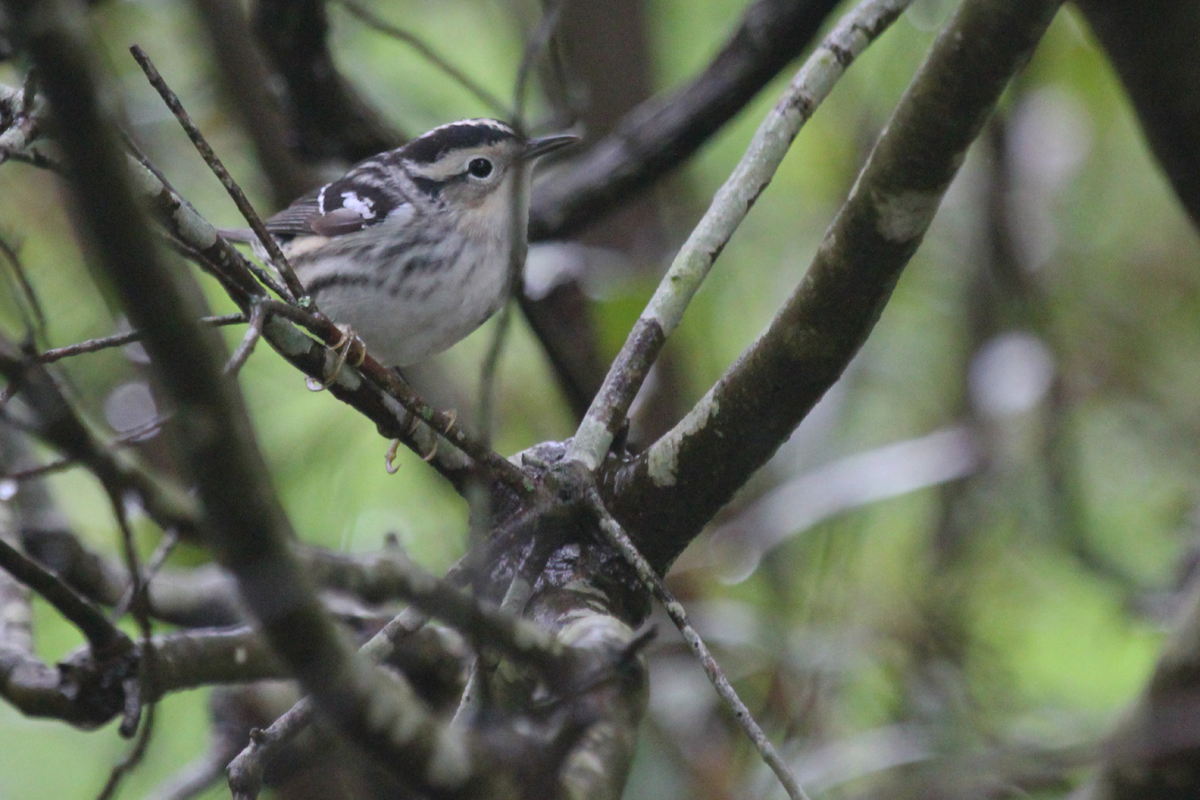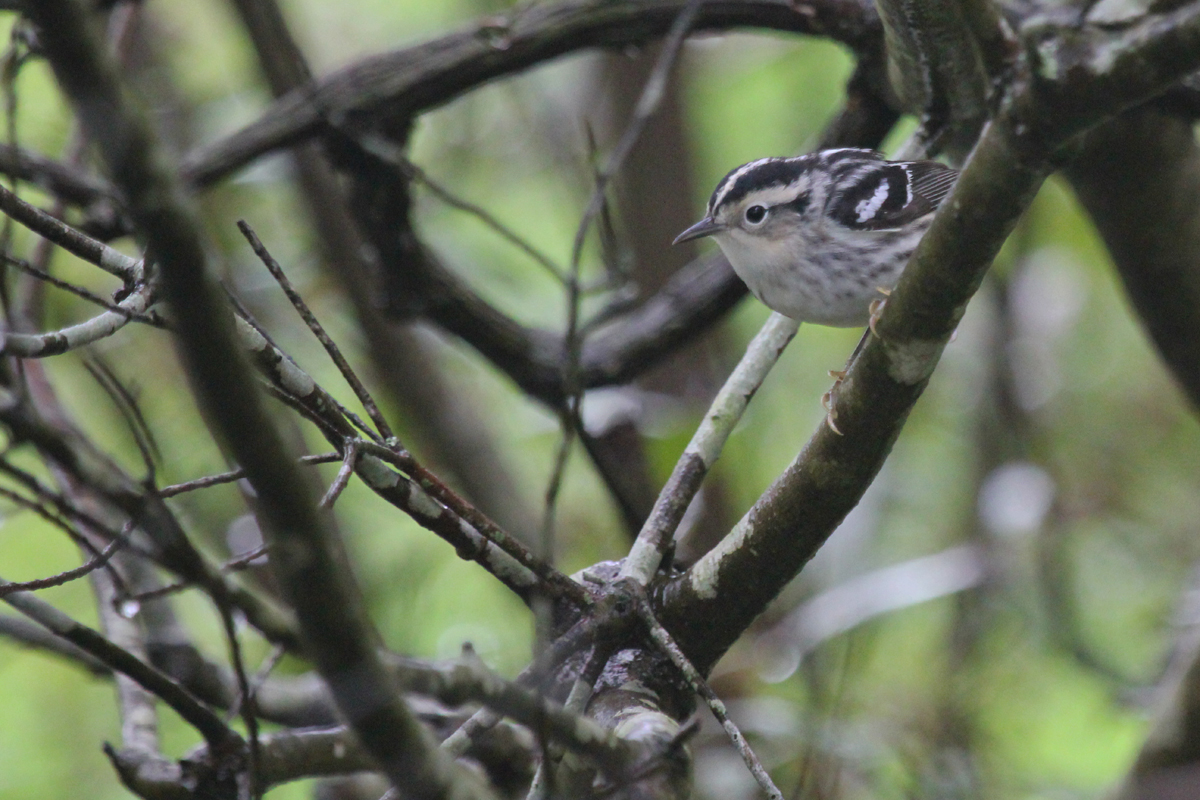 With a miraculous two records occurring this period, we increased our total number of spring records for NASHVILLE WARBLER (in eBird) from one to three! An individual was noted at a private residence in Hunt Club Forest on 7 May (obs. Karen & Tom Beatty), and then two days later on 9 May, another individual was observed on private property near Lake Smith (obs. Tracy Tate). The only prior spring record for the species here in Virginia Beach occurred way back on 3 May 2010 at Red Wing Lake Golf Course (obs. Karen & Tom Beatty). Typically, this species is more expected here on the coast during fall migration where counts of 2, 3 or even 4 have been observed on good mornings; this is clearly a rare spring transient worth familiarizing yourself with and looking for right now!
A second (though at the time of submission it was the first) report for CAPE MAY WARBLER occurred on 1 May at Back Bay NWR (ph. Mike Collins), and marked the very first photographically documented spring record for the species in the city for eBird! Observed along what was then-still-called the "Bay Trail" (see above note about the new name), what is likely to have been this same individual was observed again on 4 May (ph. Karen & Tom Beatty), and in the early morning hours of 5 May (obs. Brandon Holland). Like the prior species mentioned above, Cape May Warbler's occurrence in Virginia Beach during the spring months has been very scarce. The only prior records listed in eBird are for an individual observed on 17 Apr 2017 (obs. Karen & Tom Beatty), one at Back Bay NWR on 11 May 2013 (obs. David Clark) and another at the same location on 11 May 1997 (obs. Edward Brinkley). After this 2018 bird was reported, an earlier report of one popped up at Lake Smith for 28 Apr (obs. Tracy Tate), and since the Late April report was written prior to this, I felt it best to mention it here.
Next up on the list of rarities was another second record for the spring season, and the first to be photographically recorded. A non-vocalizing YELLOW-THROATED VIREO was observed working through the deciduous canopy along the marshy side of the woodland trail at Stumpy Lake NA on 1 May (ph. Rob Bielawski), interestingly staying in close company with a Blue-headed Vireo. The only prior report for 2018 pertains to a sight record of an individual at West Neck Creek NA on 21 Apr (Karen & Tom Beatty). Quoting from last reporting period, "this is a species that we may see one or two records for each spring in Virginia Beach, and coupled with the difficulty for many birders to properly differentiate between it and the superficially similar Pine Warbler, it flags as rare in eBird even in the somewhat expected months of April & May. In 2017, we didn't have any records in the latter half of the year, and only two individuals were noted overall. The first, found at Stumpy Lake NA on 1 May (obs. David Clark), continued the following day, but then our only other record was an audio-recorded-individual on Muddy Creek Road on 3 Jun (aud. Karen & Tom Beatty), which was quite a surprise since it was the first Jun record in the city since 1992 in eBird."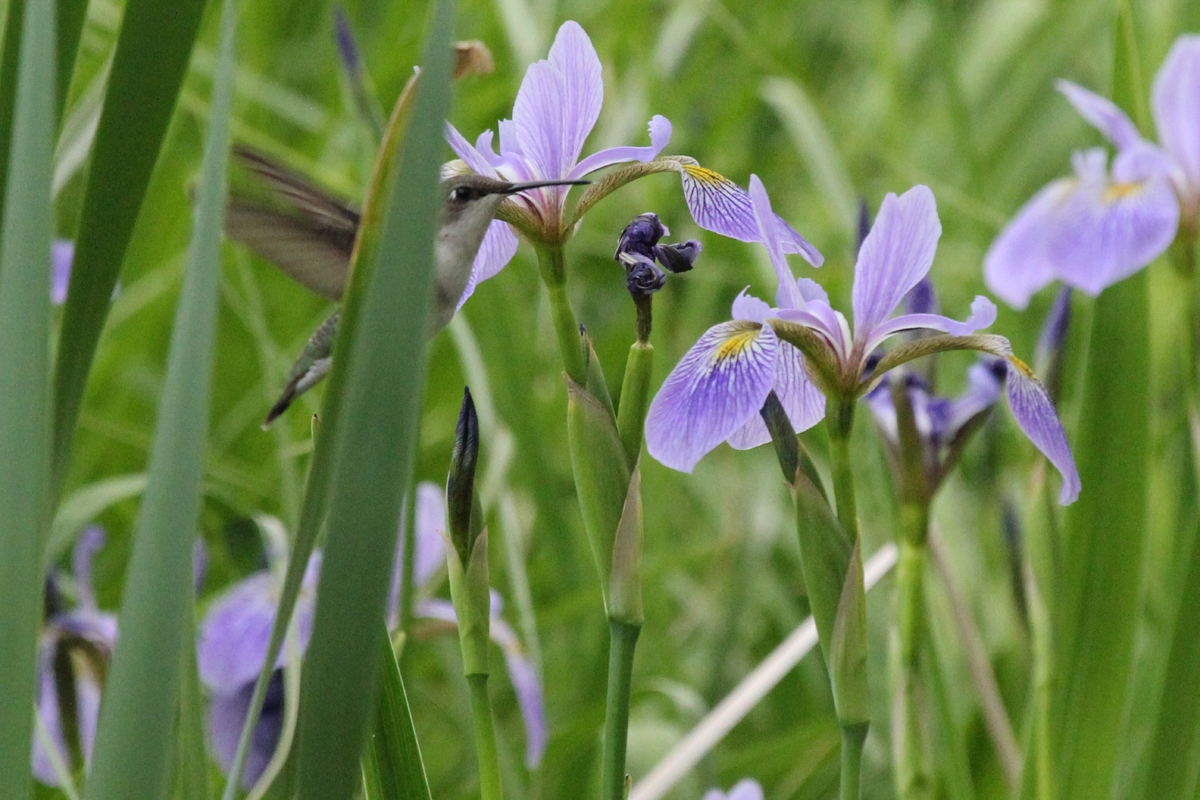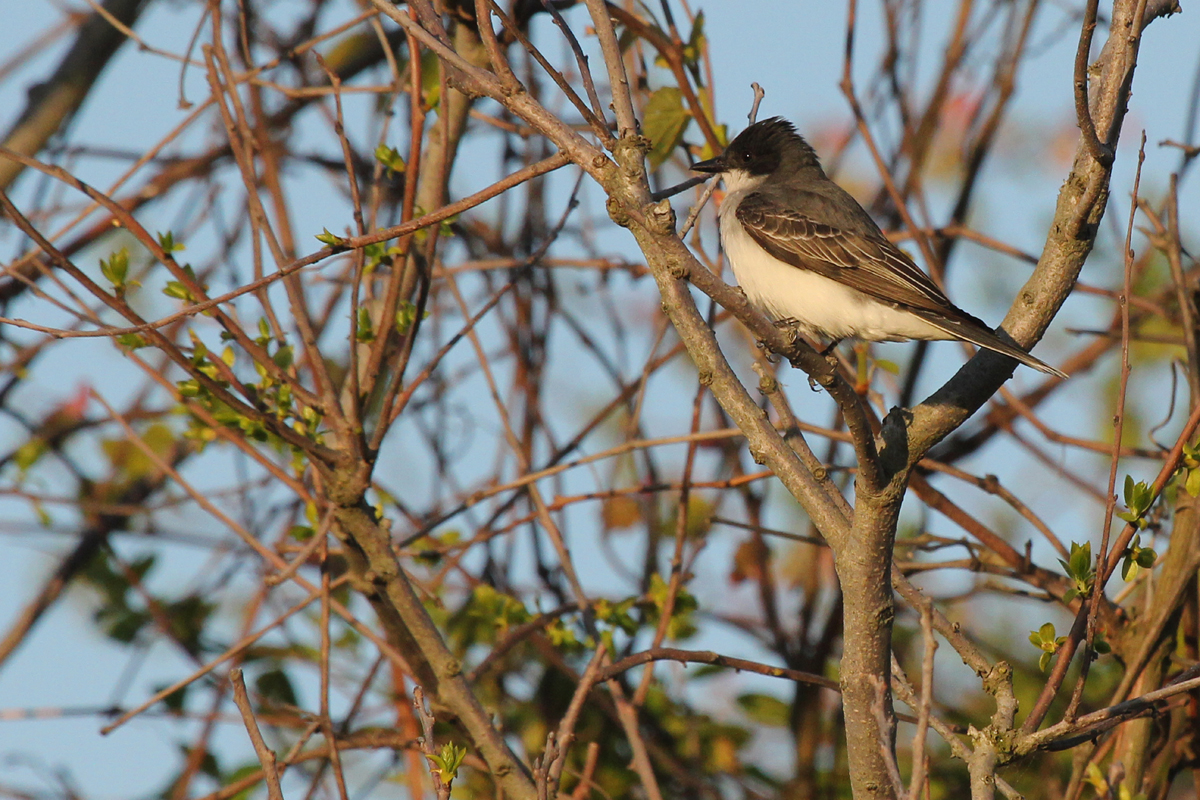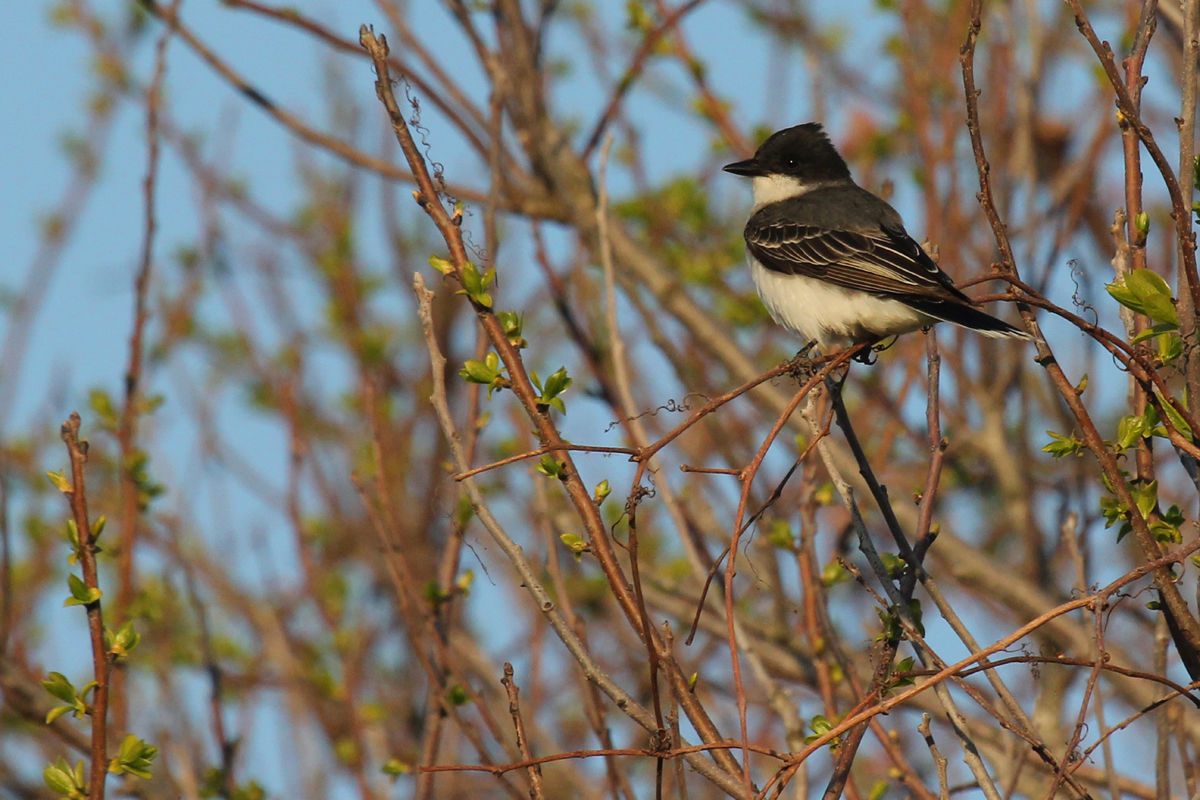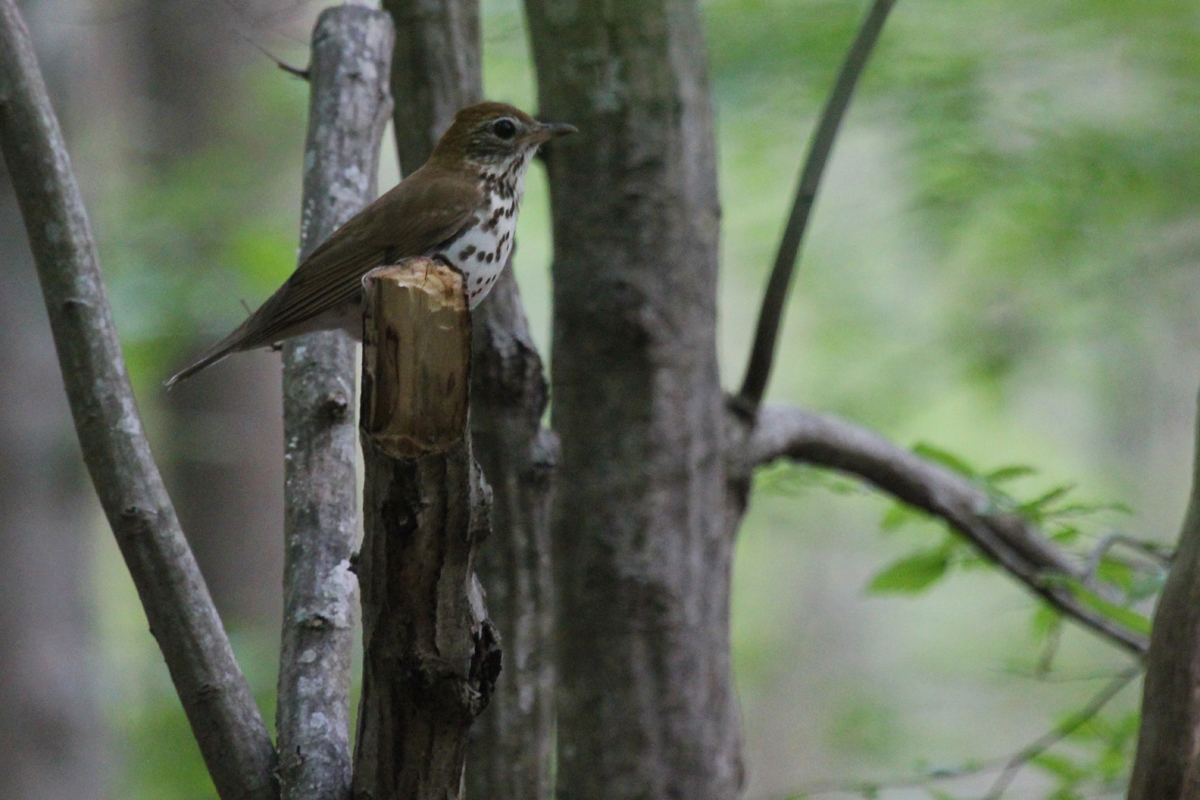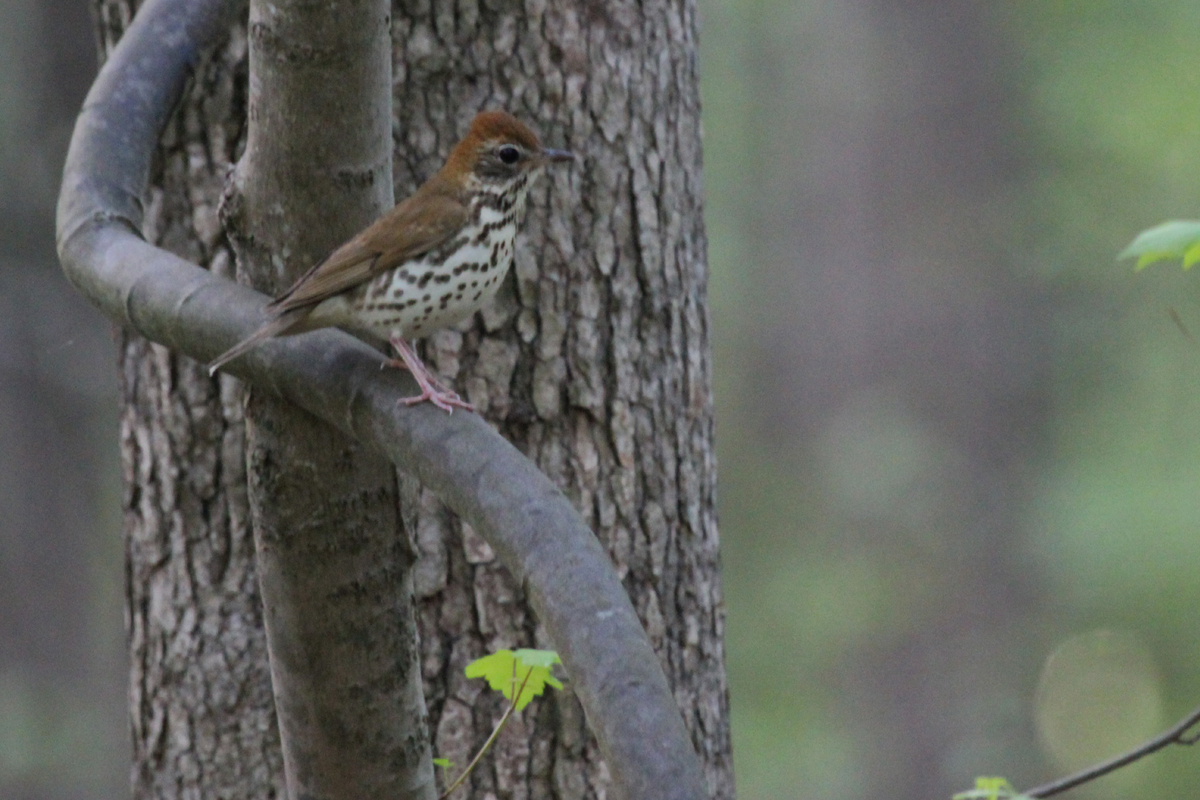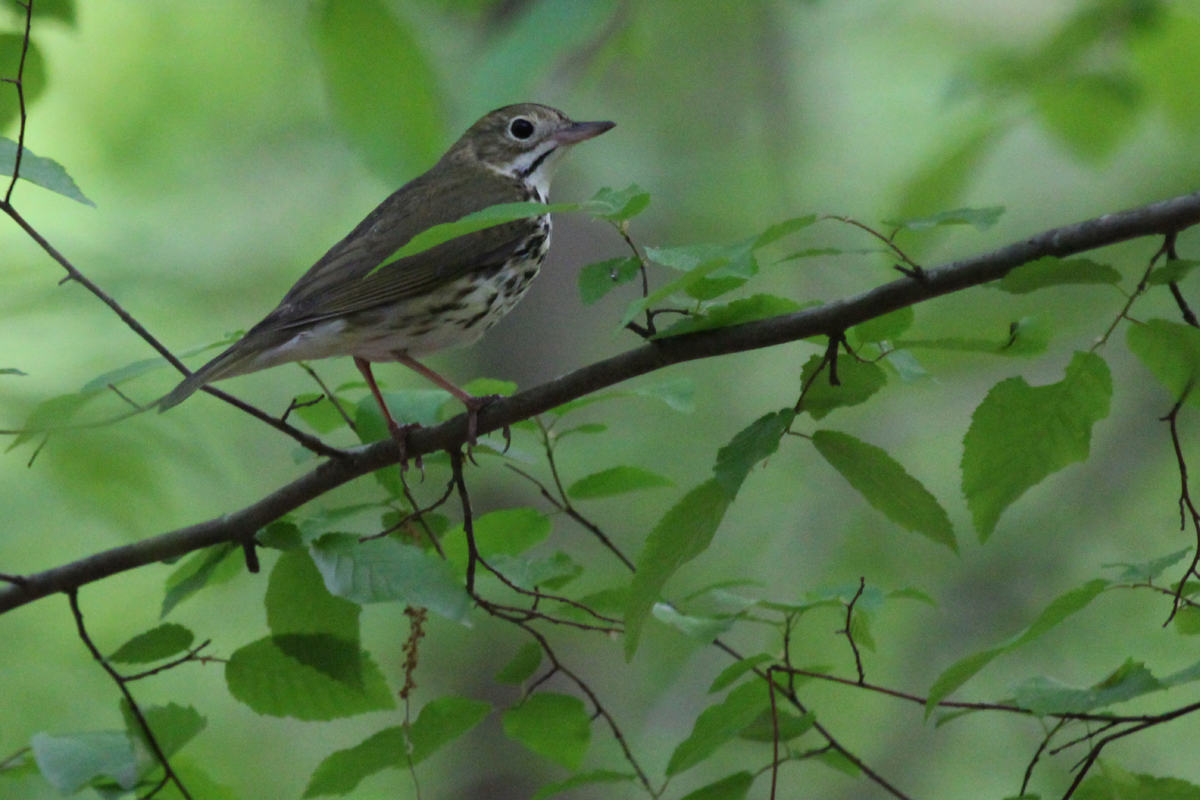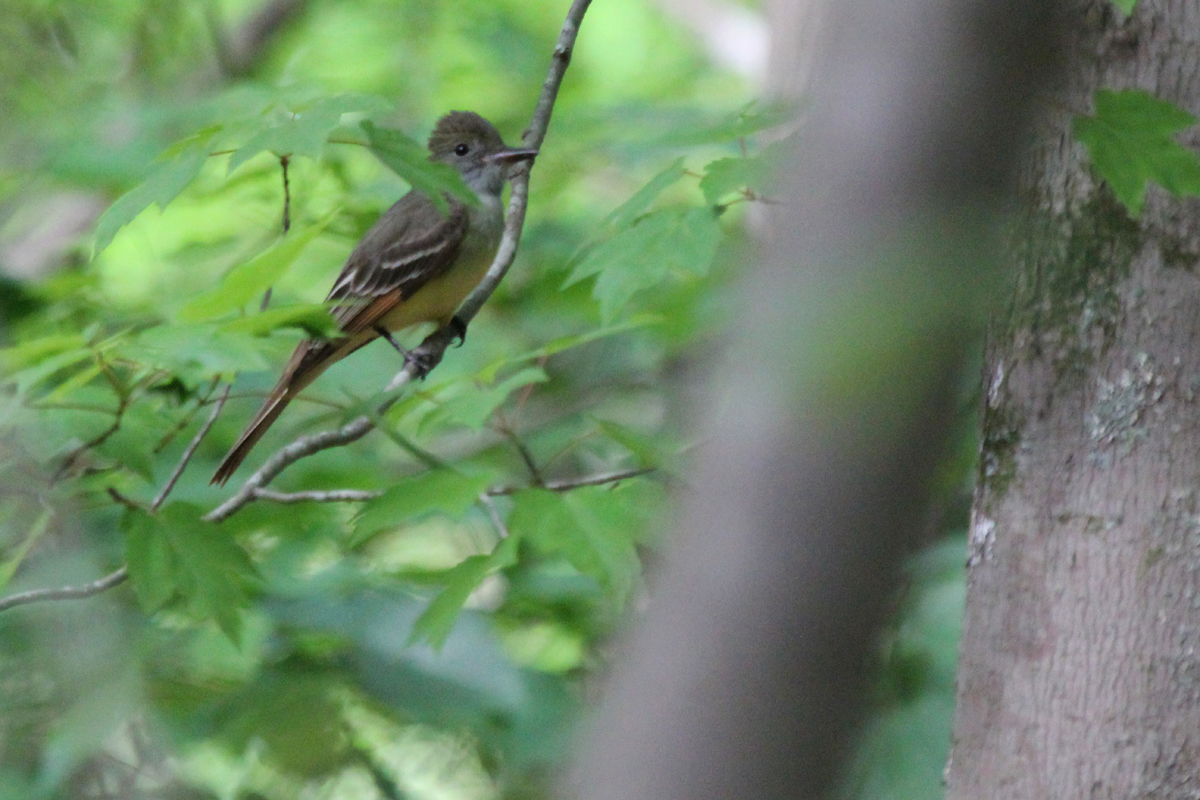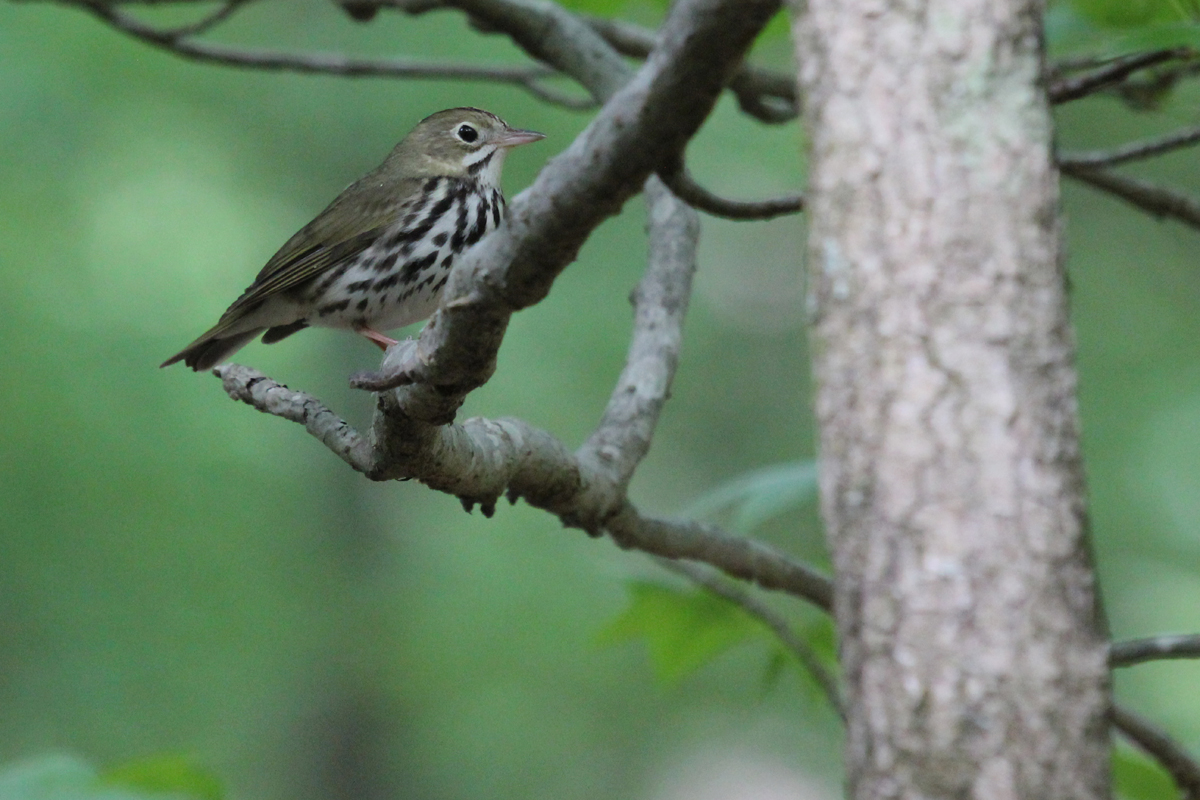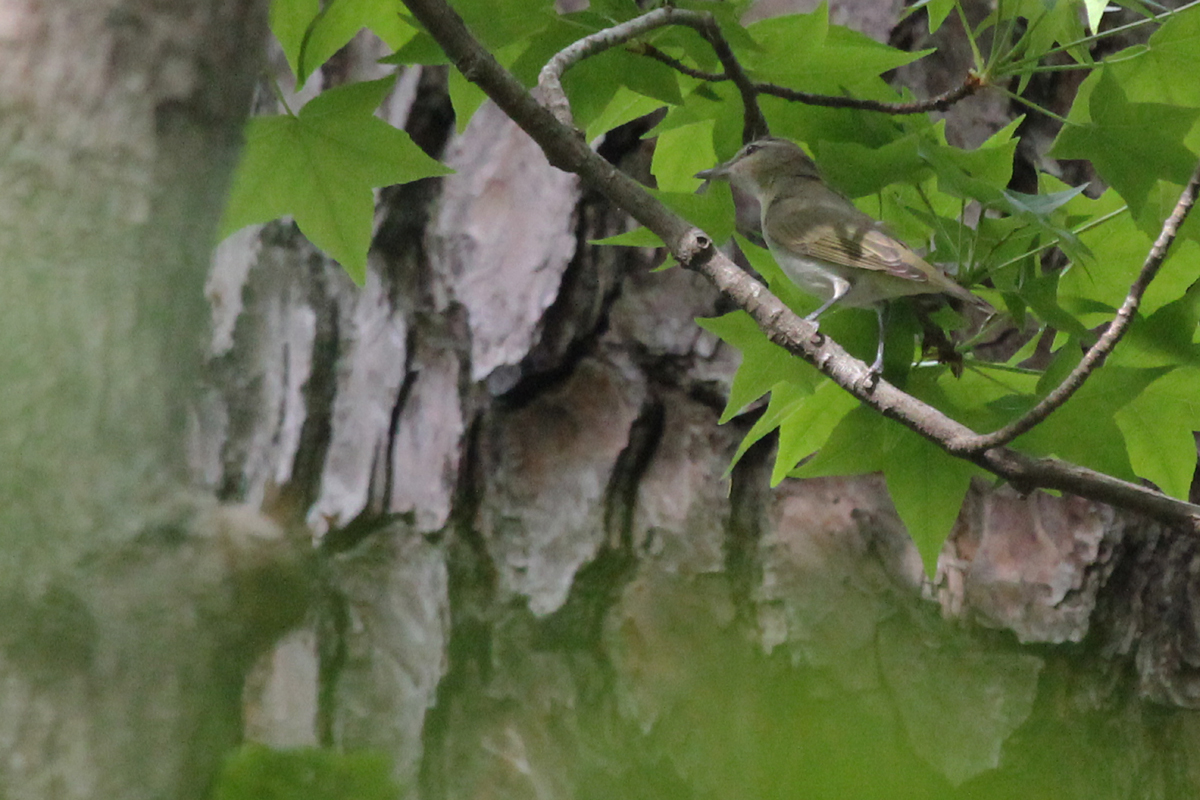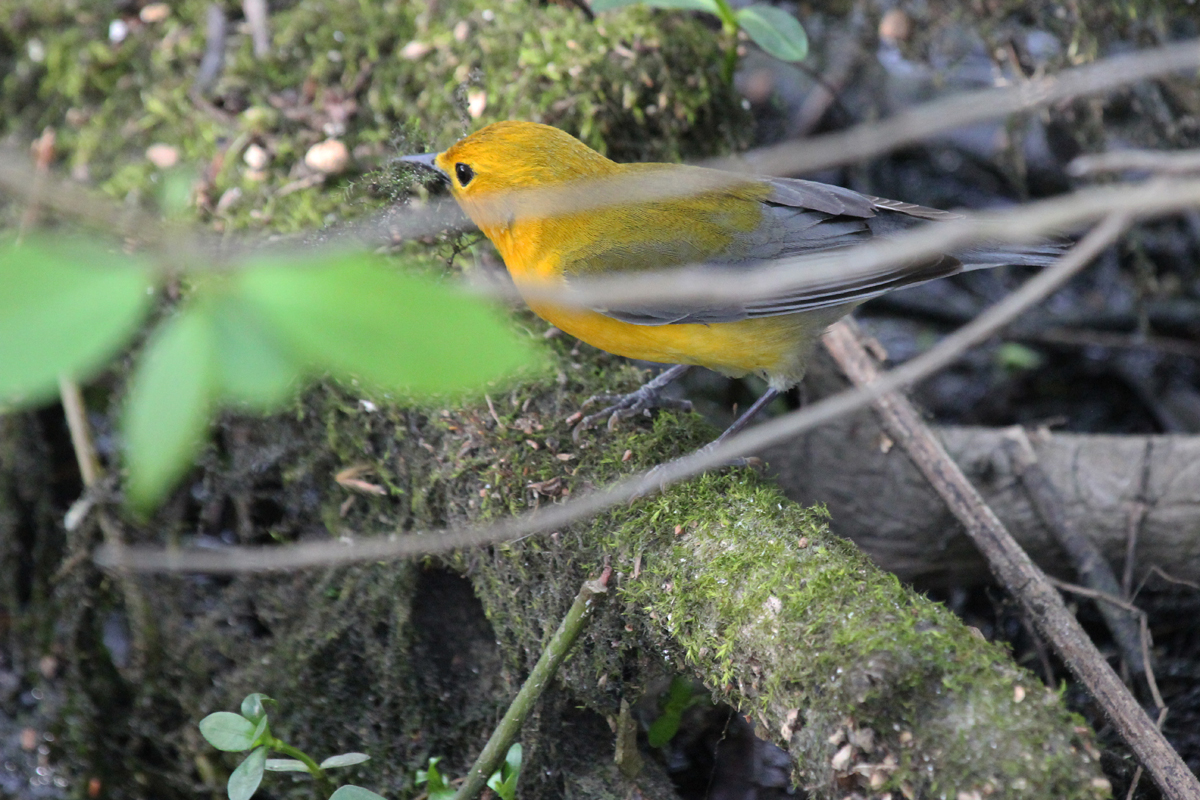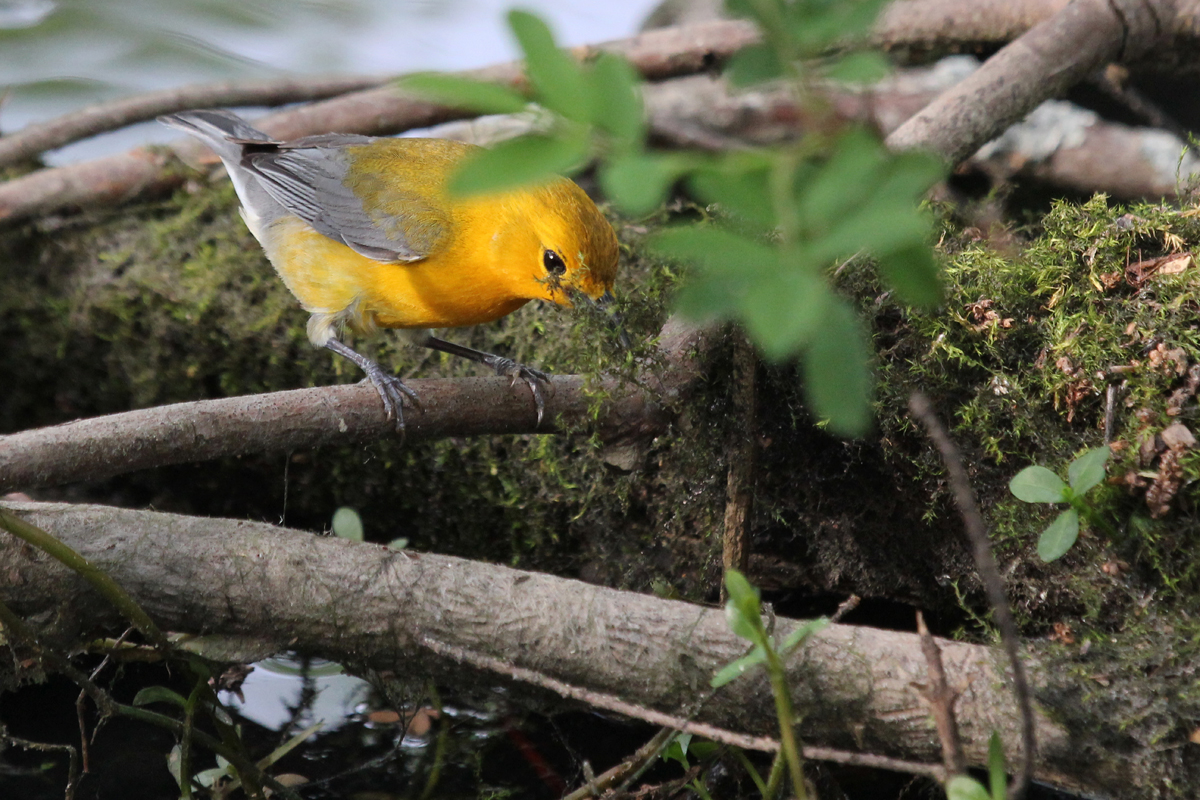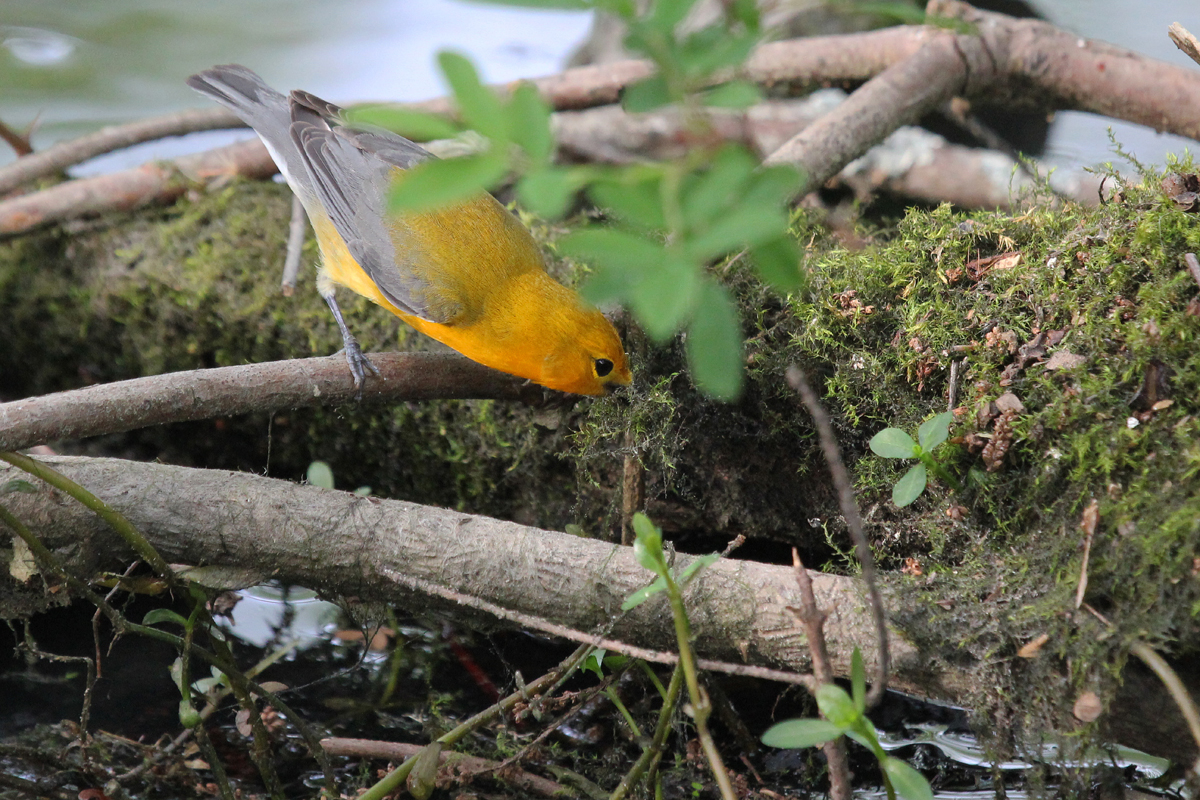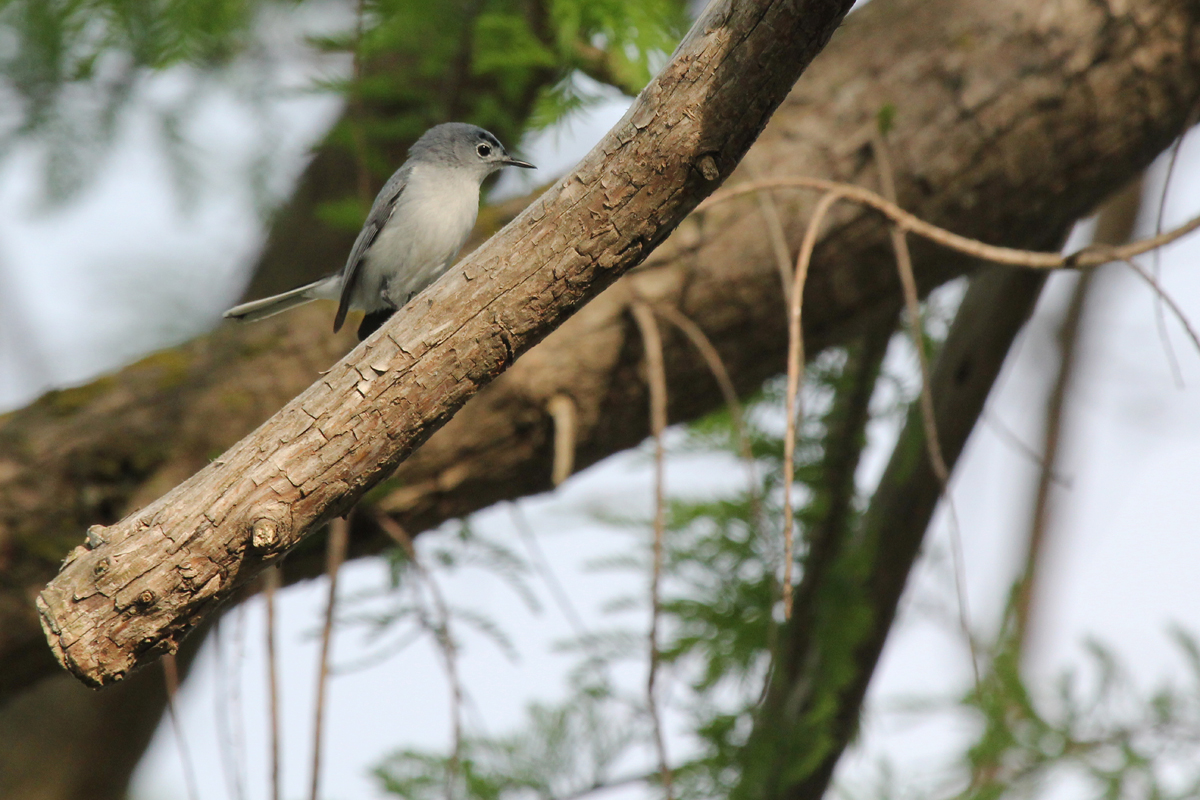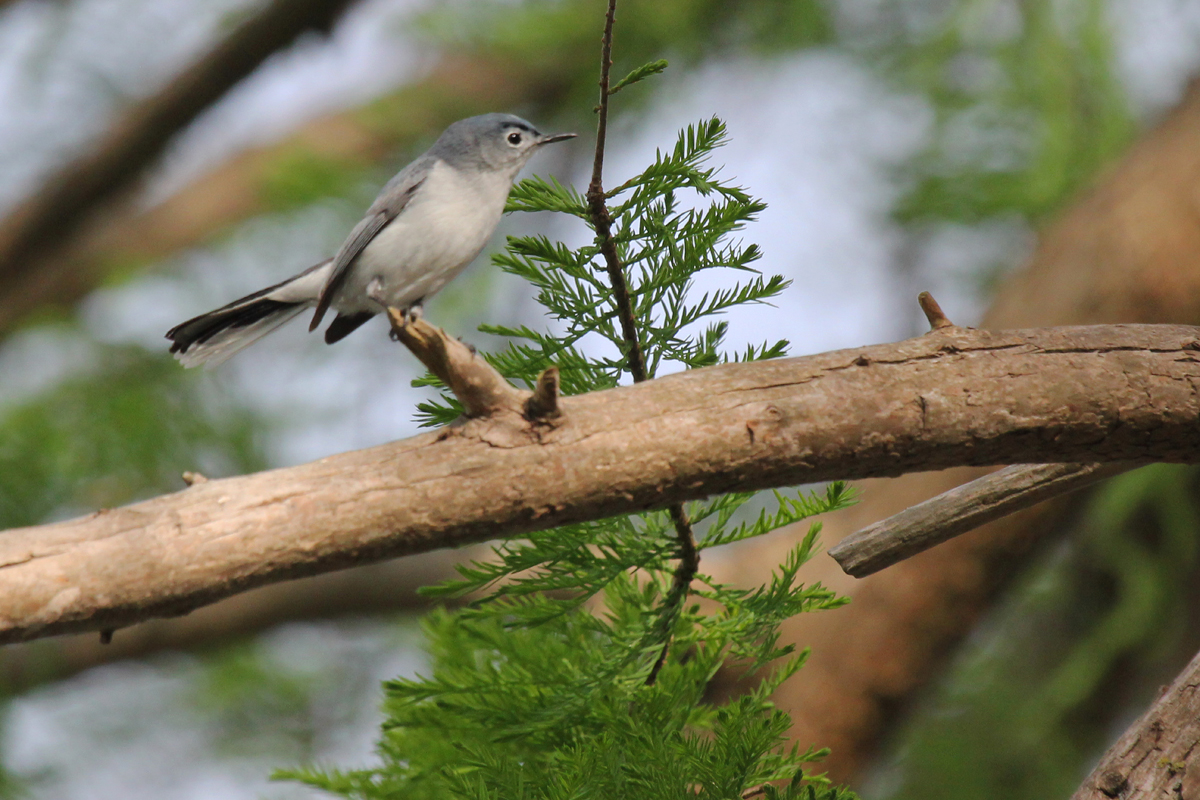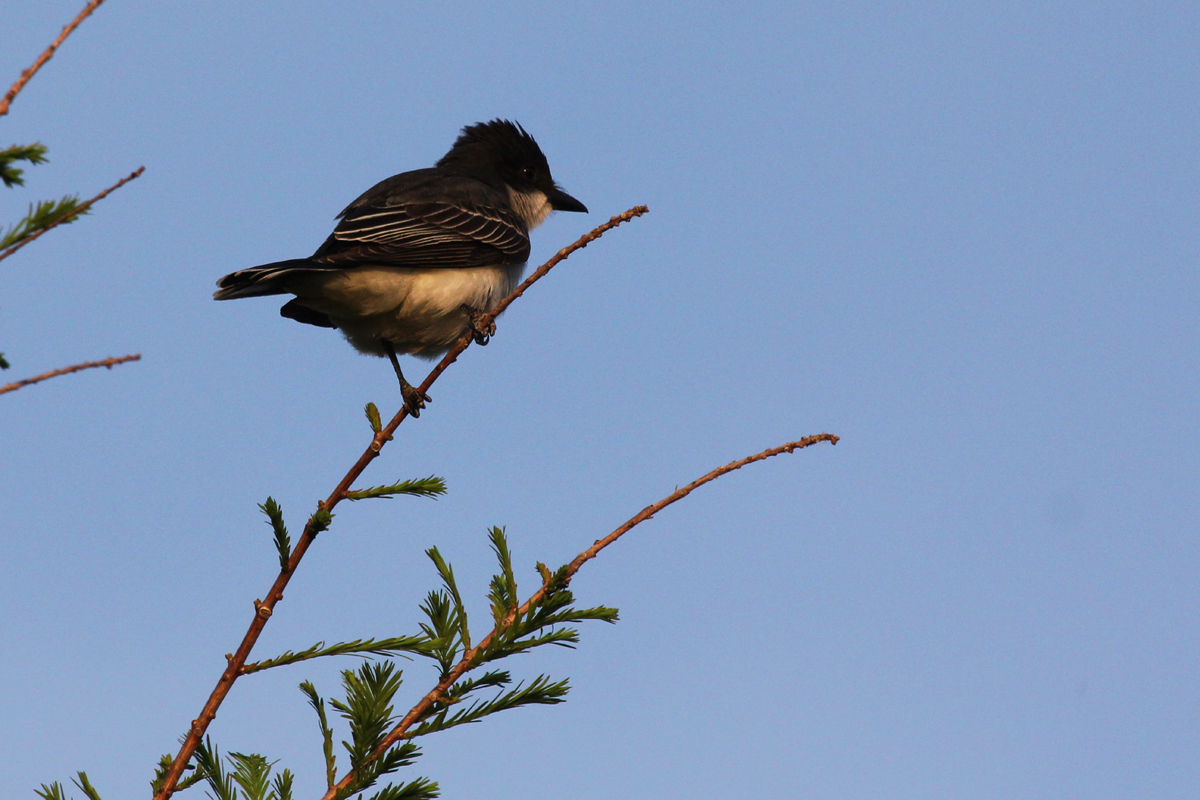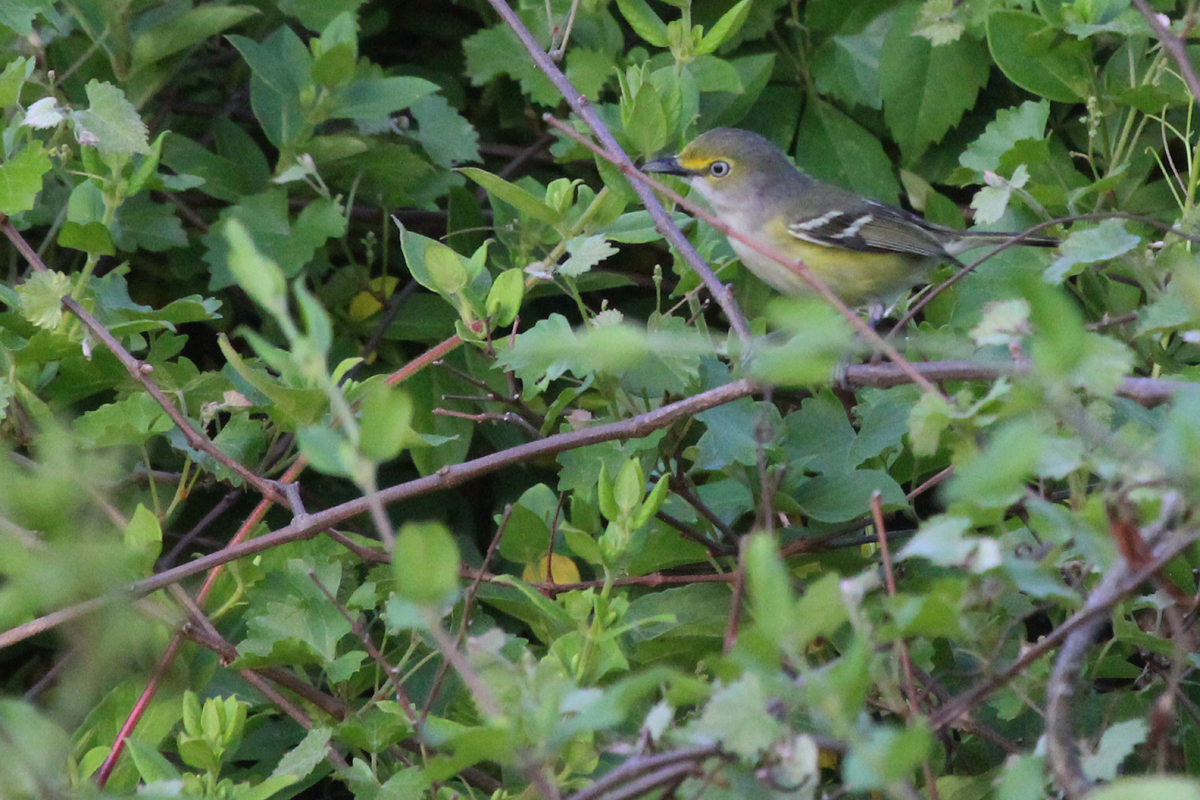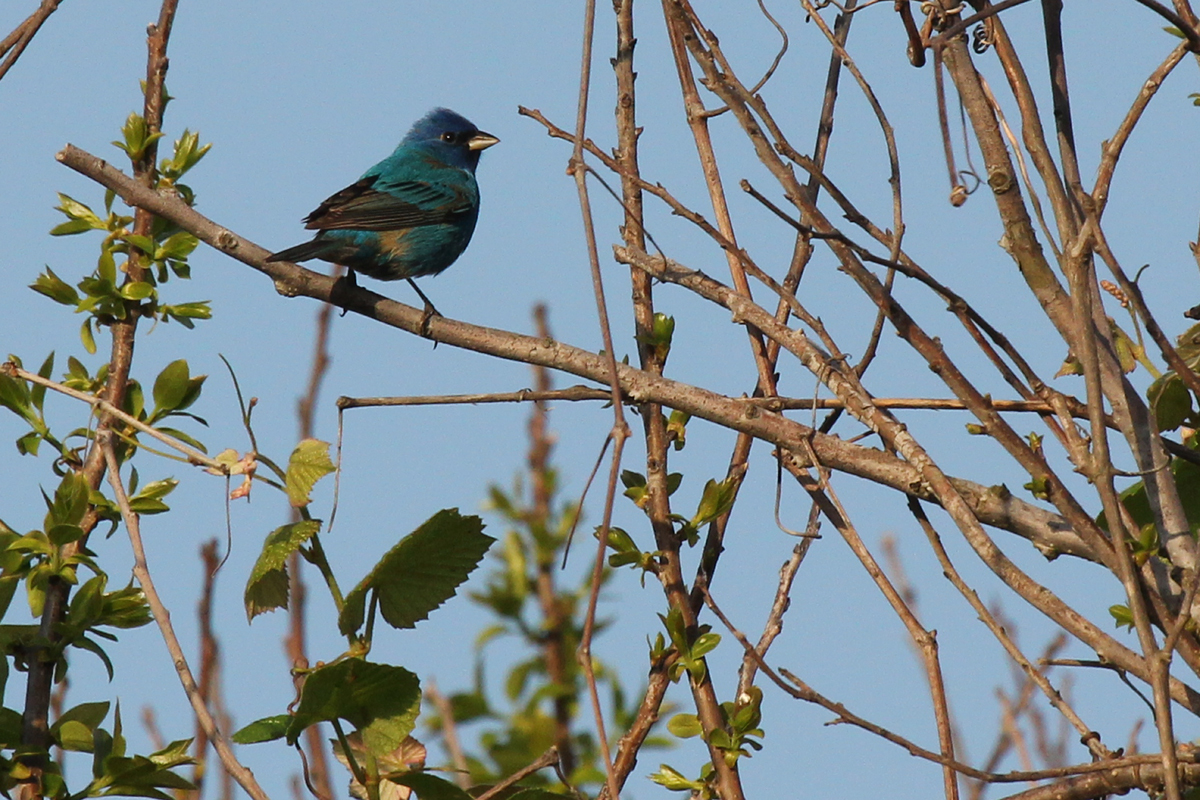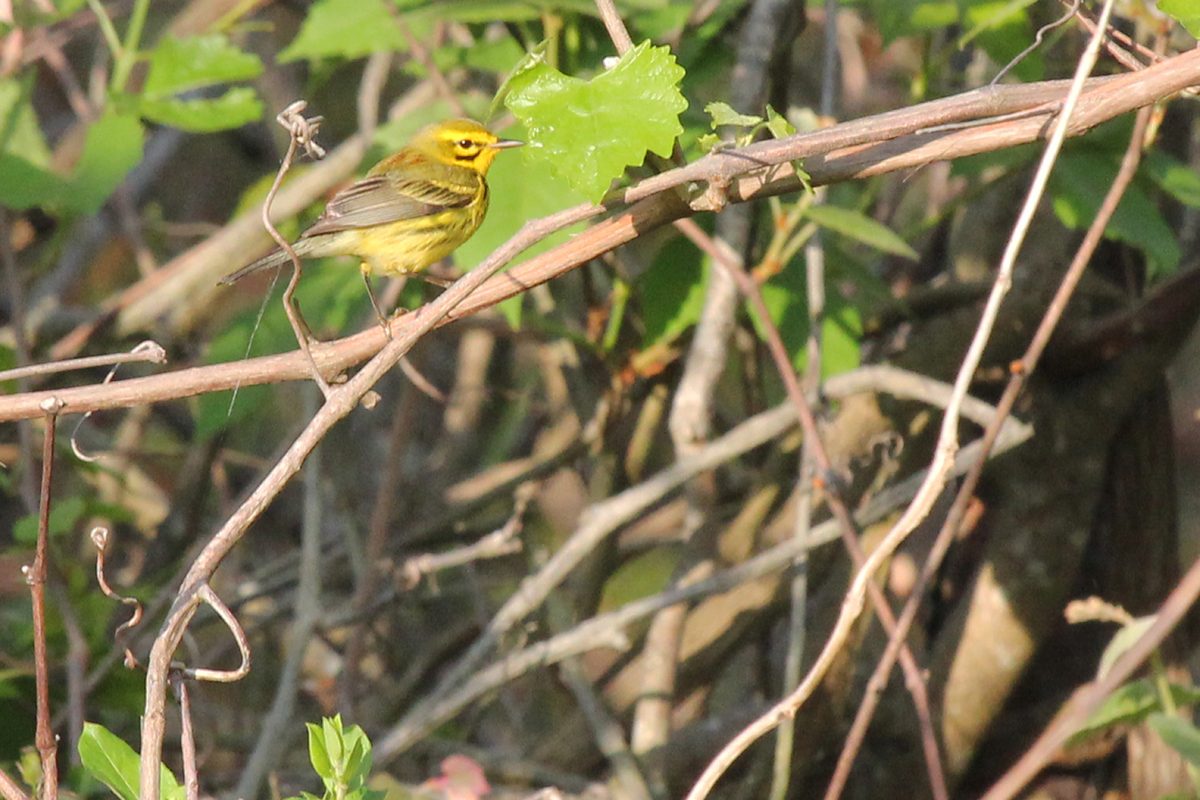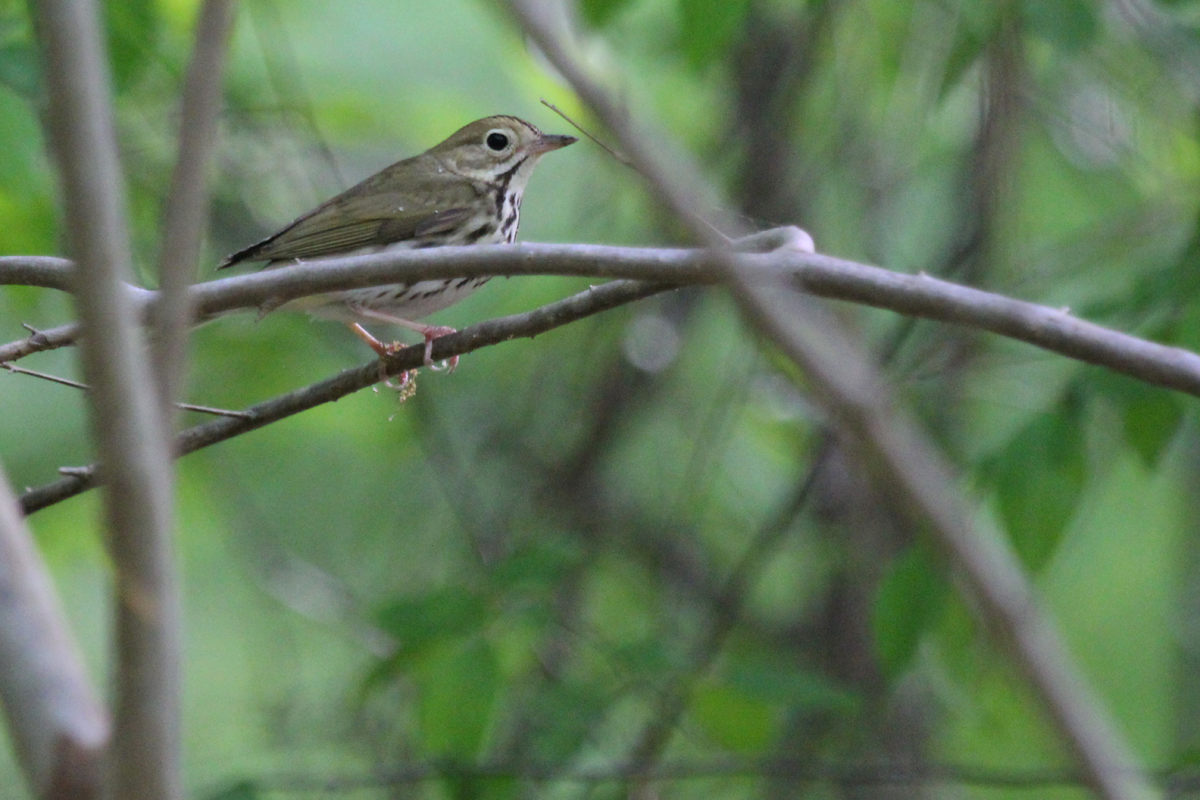 A highly unexpected find here during the month of May, a female or immature-type PAINTED BUNTING was discovered at Back Bay NWR right near the stop sign that marks the southern terminus of the visitor center's eastern parking lot on 2 May (ph. Steve Myers). While Painted Buntings have become an annual winter resident in Virginia Beach, frequenting feeders in several neighborhoods, their occurrence in public spaces has remained scarce and therefore opportunities for most birders to observe them has followed suit. Back Bay NWR has been the most reliable public location though, and during migration, one or two individuals do tend to show up each year. Recent examples of this include an individual photographed near the final bend in the entry road before the parking lot on 23 Sep 2017 (ph. Michael Mayer), and an individual noted in the 'sparrow field' north of the visitor center on 13 Oct 2016 (ph. Andrew Baldelli) that remained nearby through at least 5 Nov 2016. Each of these records also pertain to female/immature-plumaged birds. The only recent report of an adult male (the more colorful plumage type) observed in a publicly viewable space was an individual observed during the Back Bay Christmas Bird Count on 29 Dec 2017 along Muddy Creek Road (ph. Karen & Tom Beatty).
A very unexpected May record occurred when a flock of twelve AMERICAN WHITE PELICANS was observed in northbound flight above the entrance causeway to Stumpy Lake NA on 1 May (ph. Rob Bielawski). A first eBird record for the park, this also represents the farthest inland report for Virginia Beach, with almost all prior reports being purely coastal occurrences. Notable exceptions to this include a single individual resting on the smaller, southern pond of Sherwood Lakes from 12-13 Jan (obs. Mike Collins), a group of three birds flying over Interstate 264 on 27 Jan 2016 (obs. David Clark), and a flock of thirteen soaring over the Lesser Goldfinch stakeout site on 28 Nov 2016 (ph. Jeffrey Blalock / Adam D'Onofrio / Mike Stinson / Clyde Wilson). Also notable, the only other May record for this species in the city (according to eBird at least) occurred way back on 9 May 1982 (obs. Barry Kinzie) up at JEB Fort Story. Records tend to slide into May each year at Hog Island WMA in Surry County, and it is possible, perhaps even likely, that this is where this flock of twelve was heading for.
Last for the list of "new" rarities this period, a single immature WHITE-CROWNED SPARROW was reported at Back Bay NWR on 7 May (obs. James Marcum). With only a few scattered records of individual birds so far in 2018, and the fact that White-throated Sparrows outnumber this species about 1,000 to 1 in the city, any observation is worth noting. Typically during the fall, this species is reliably reported (Sep/Oct) during larger scale sparrow movements, but it's report frequency in the winter and in the spring are both quite low. The vast majority of individuals observed are immature-plumaged birds, and full adults have been very rarely recorded, which is unfortunate because they are quite striking to see!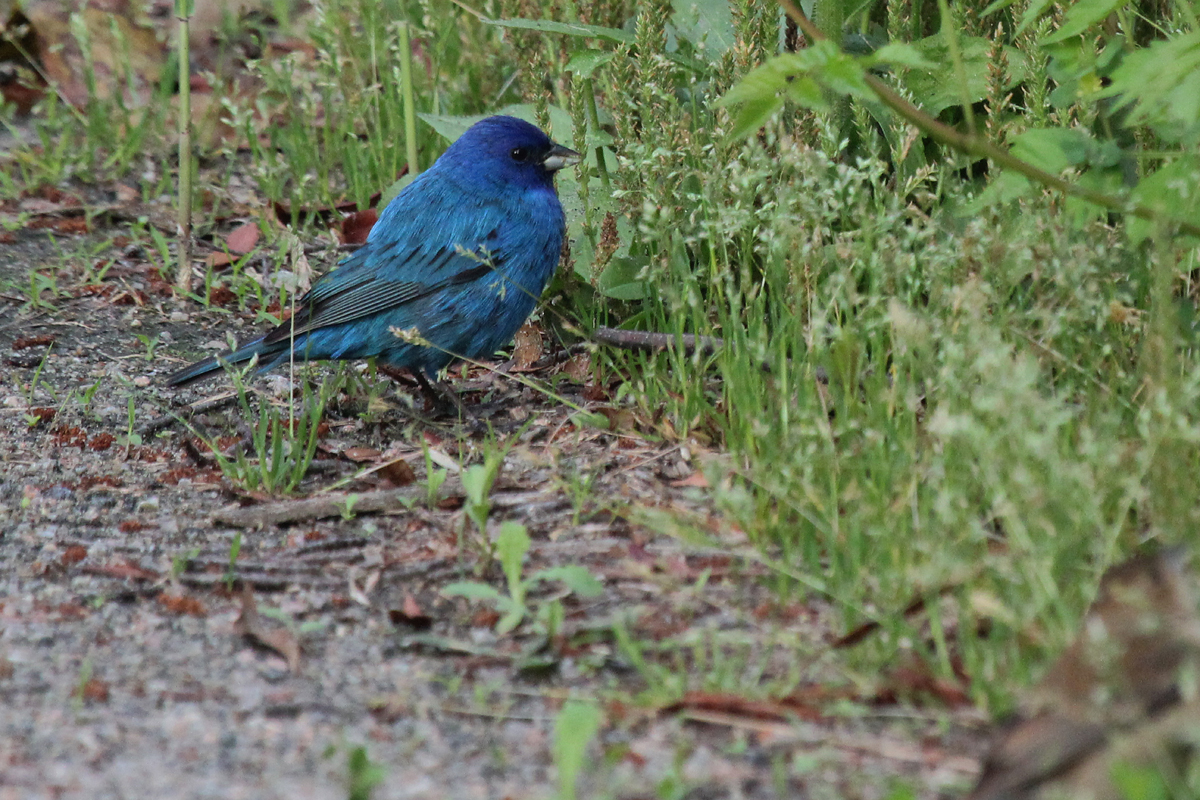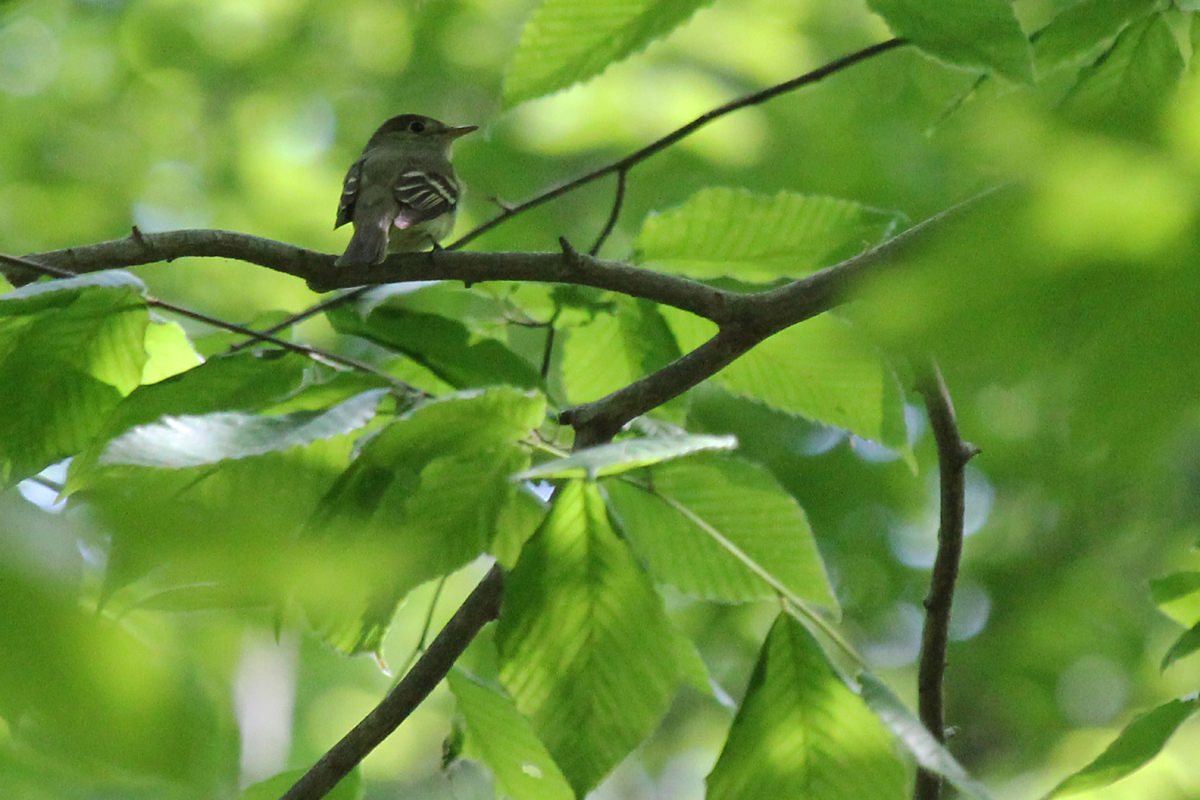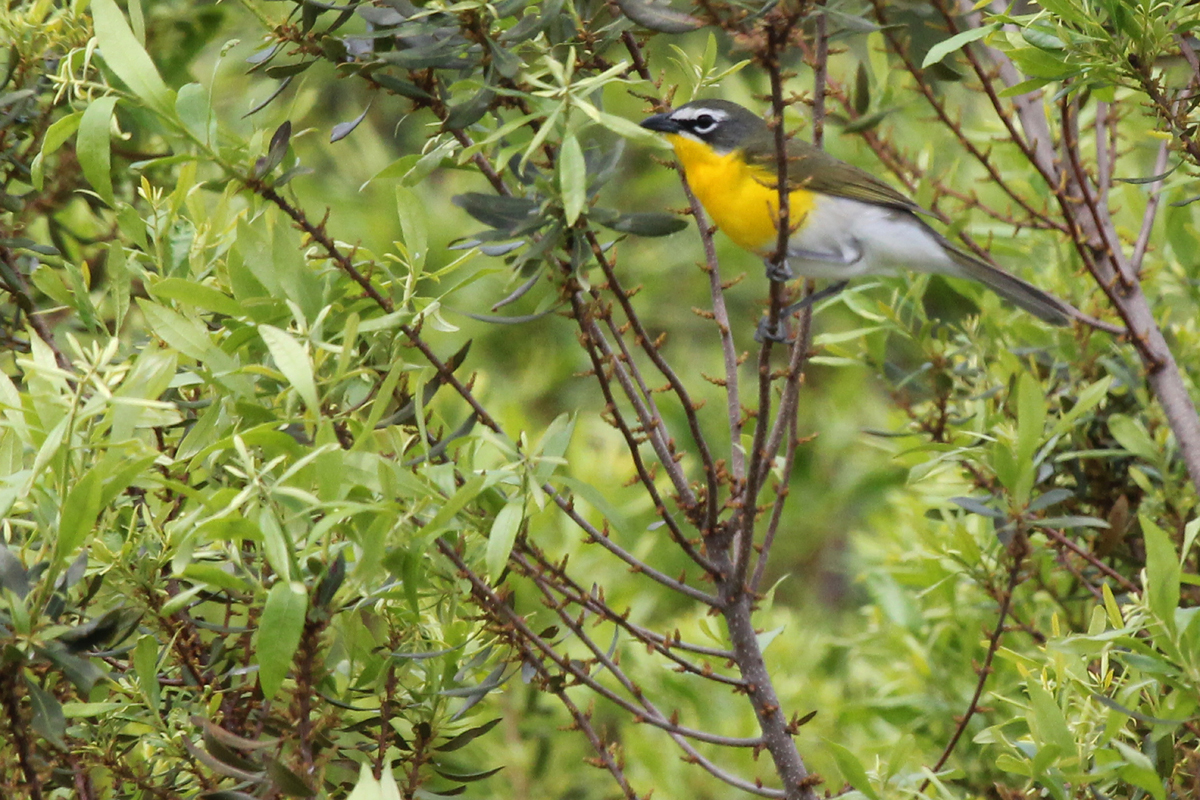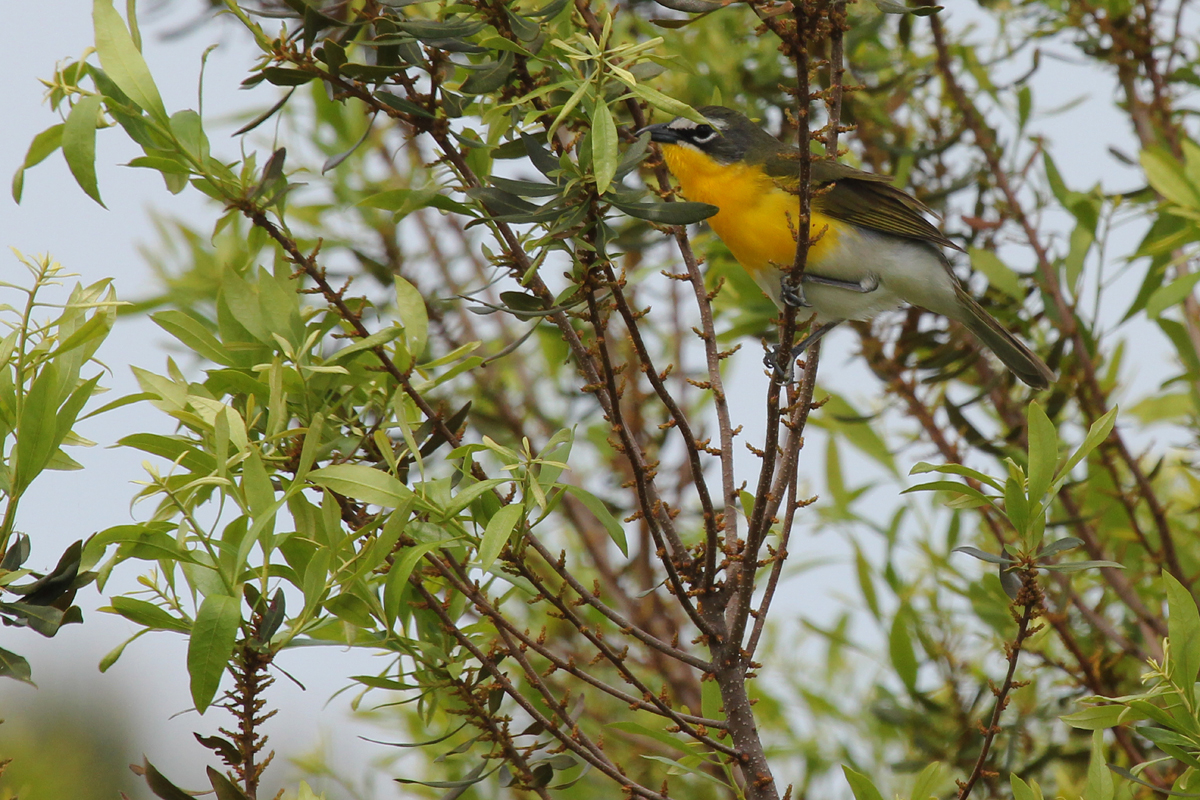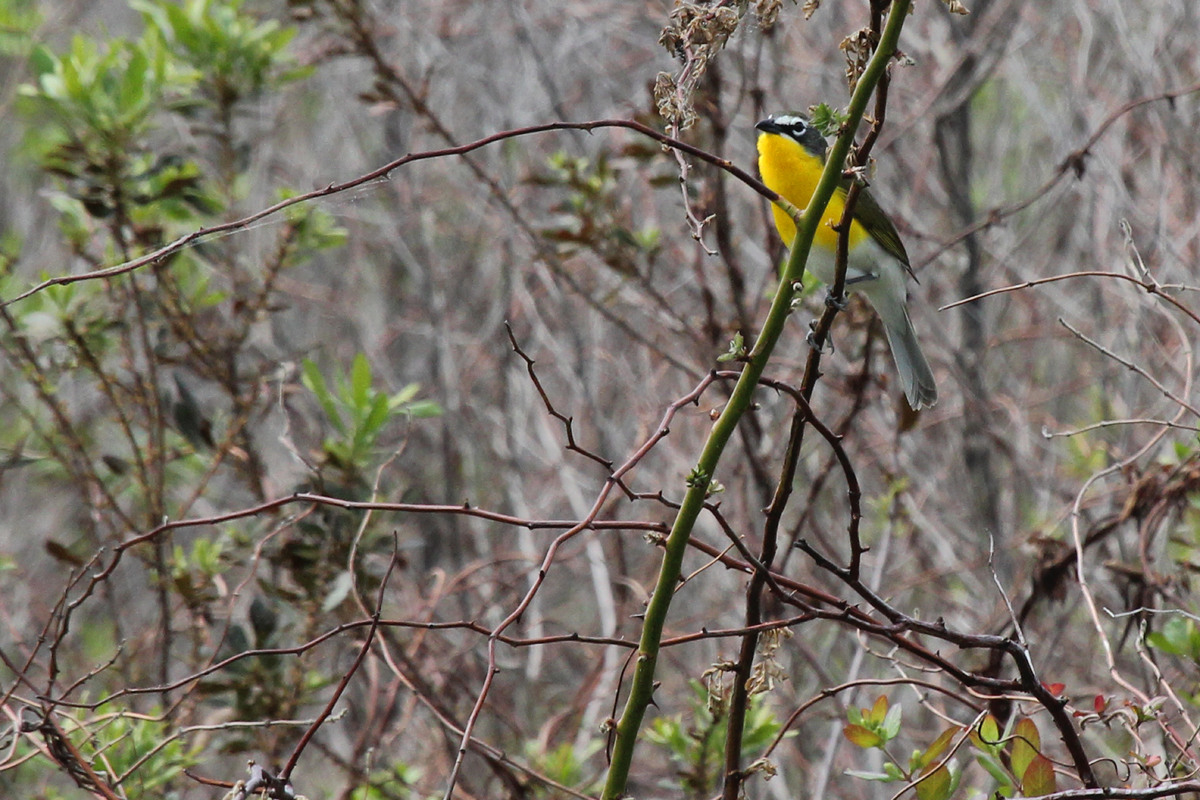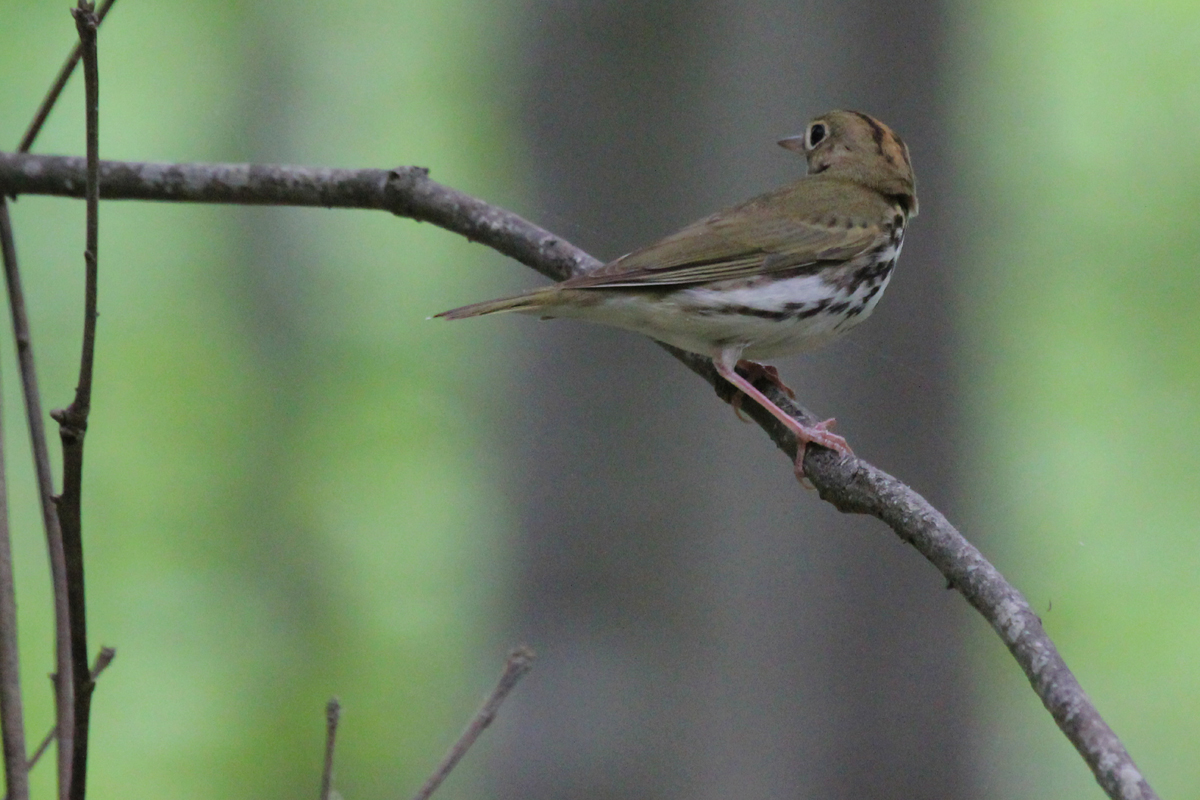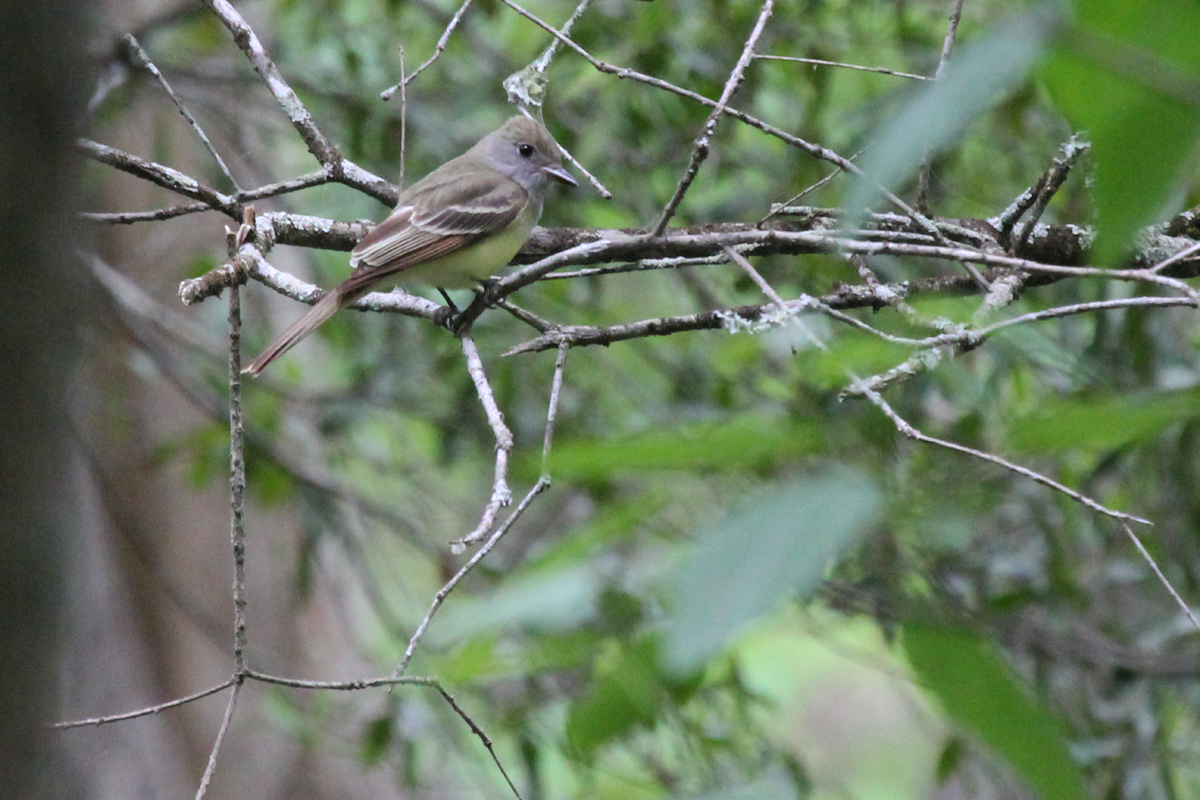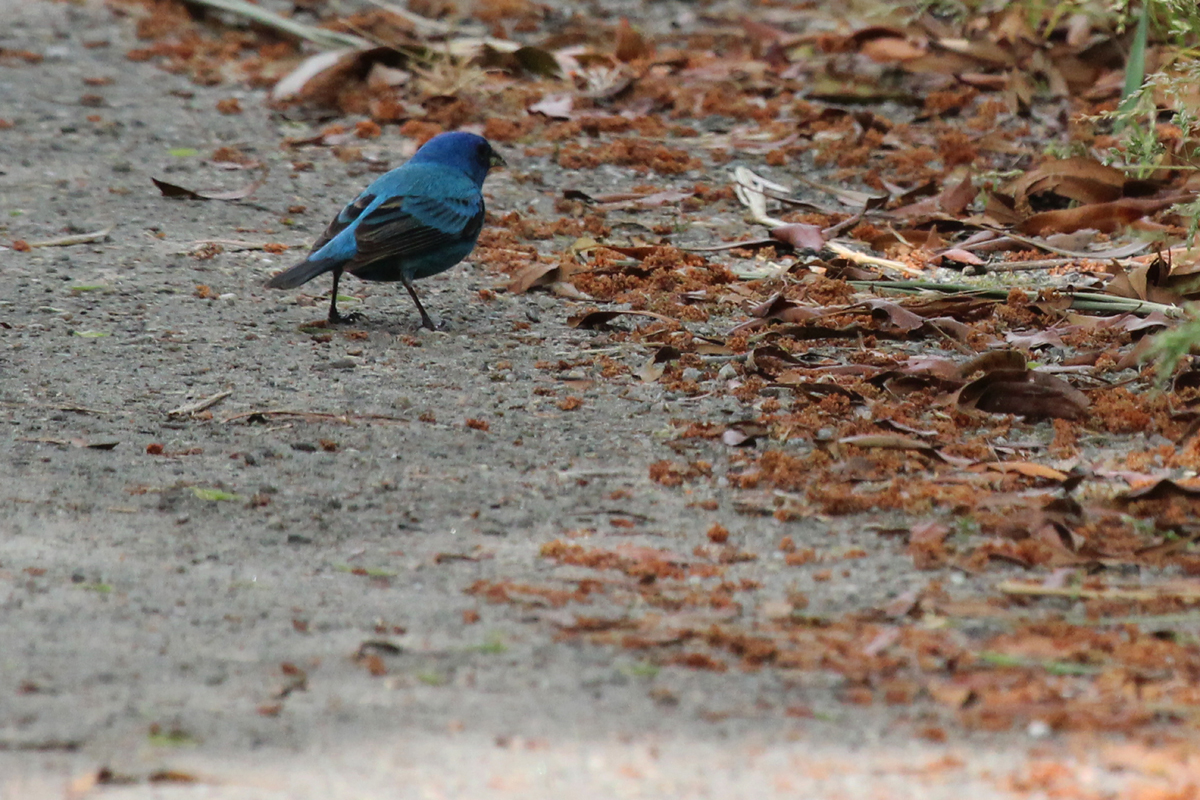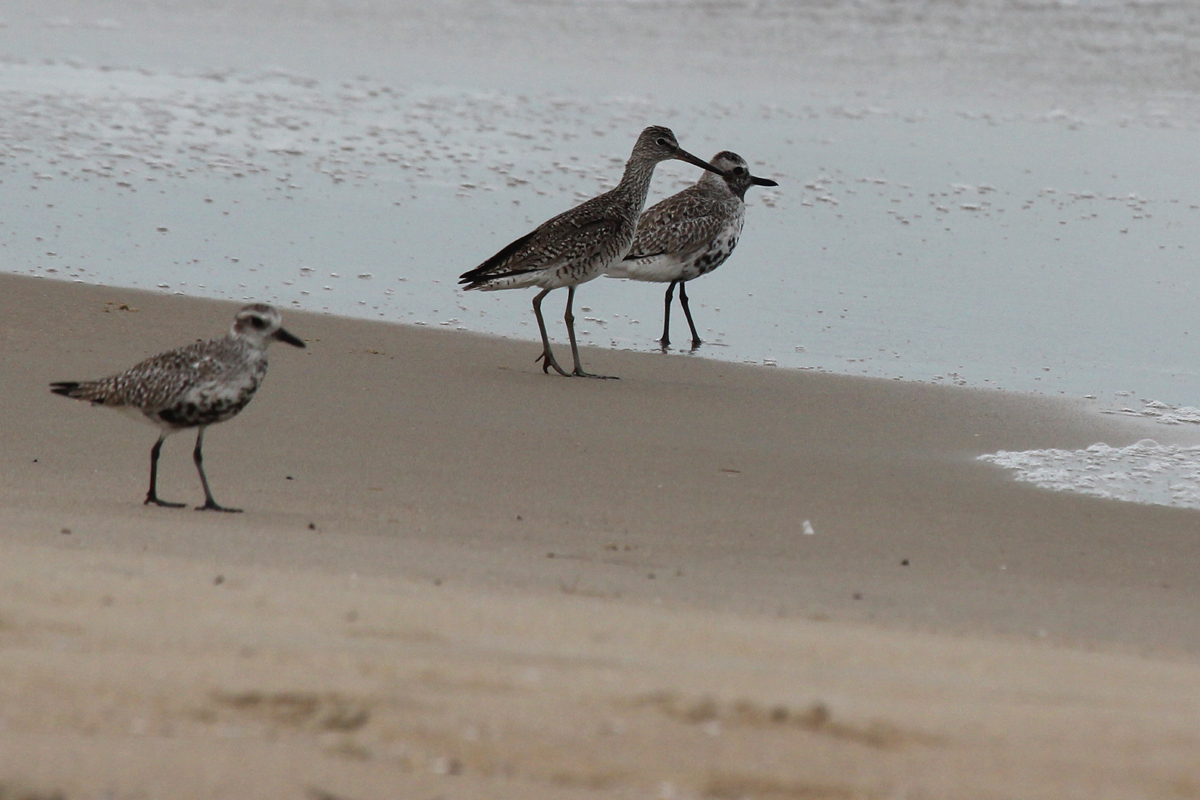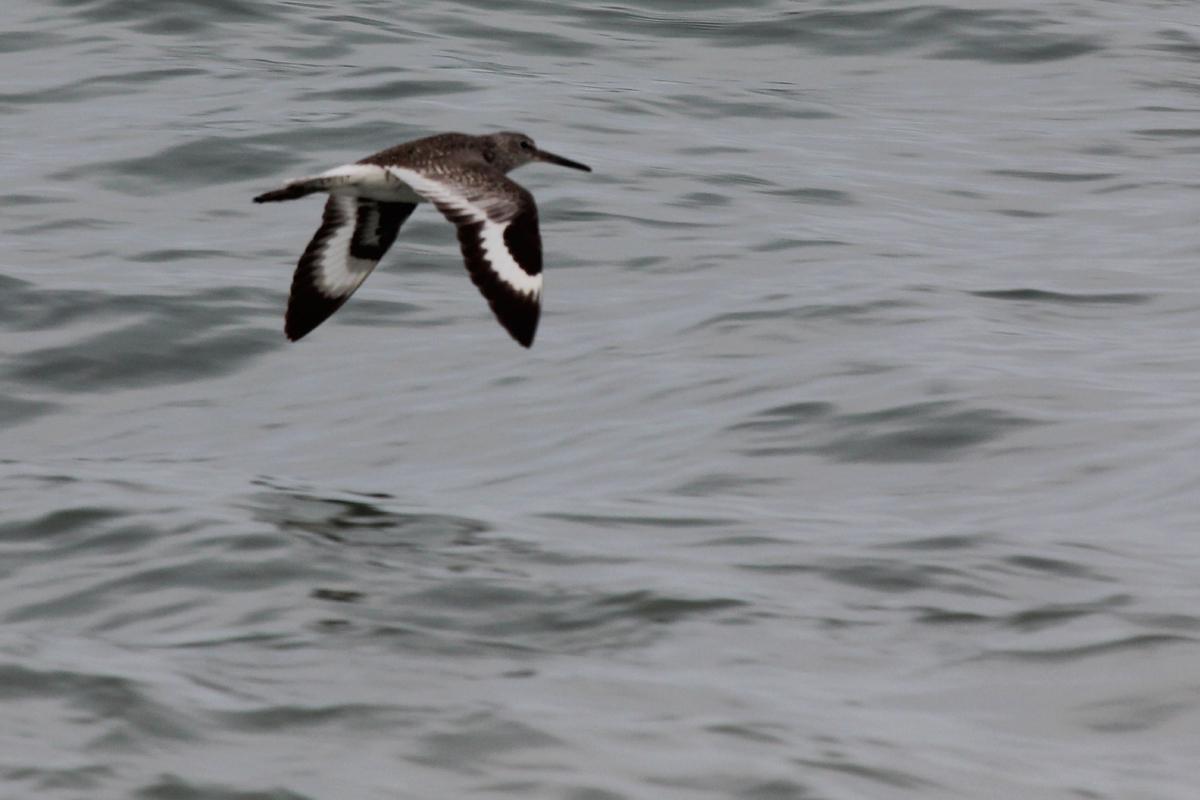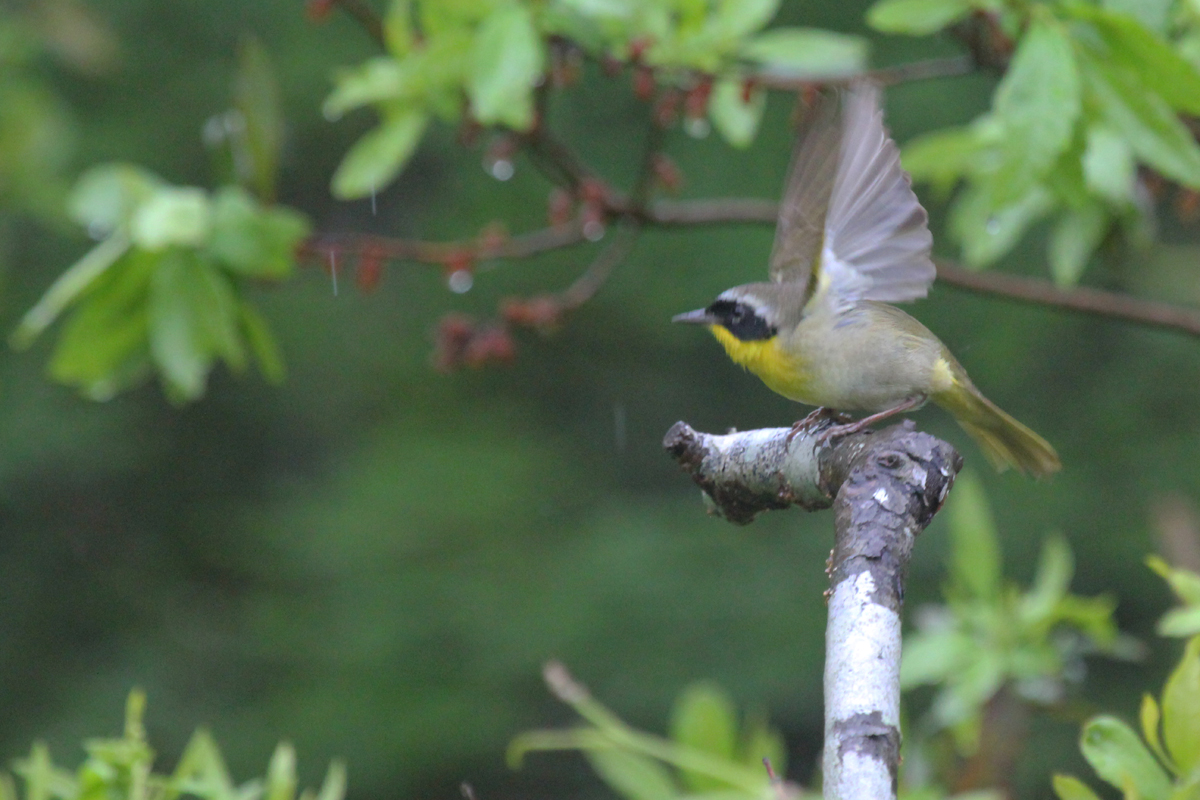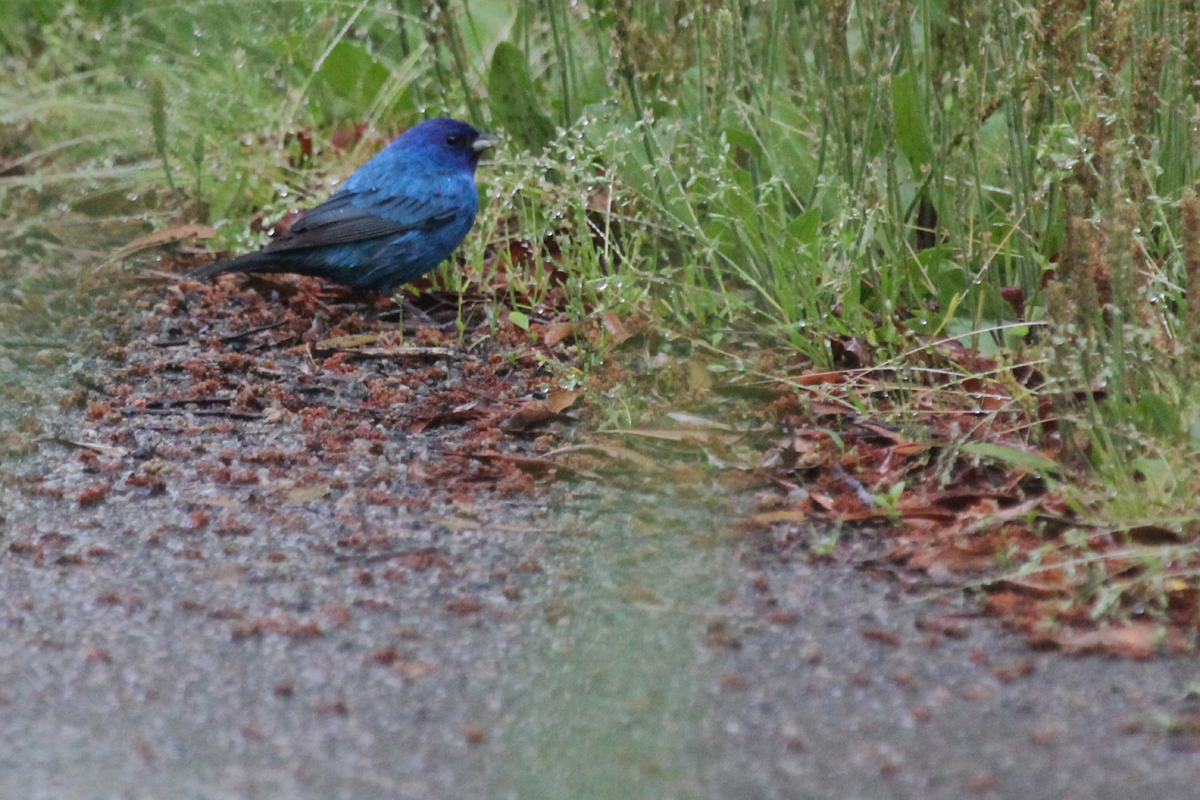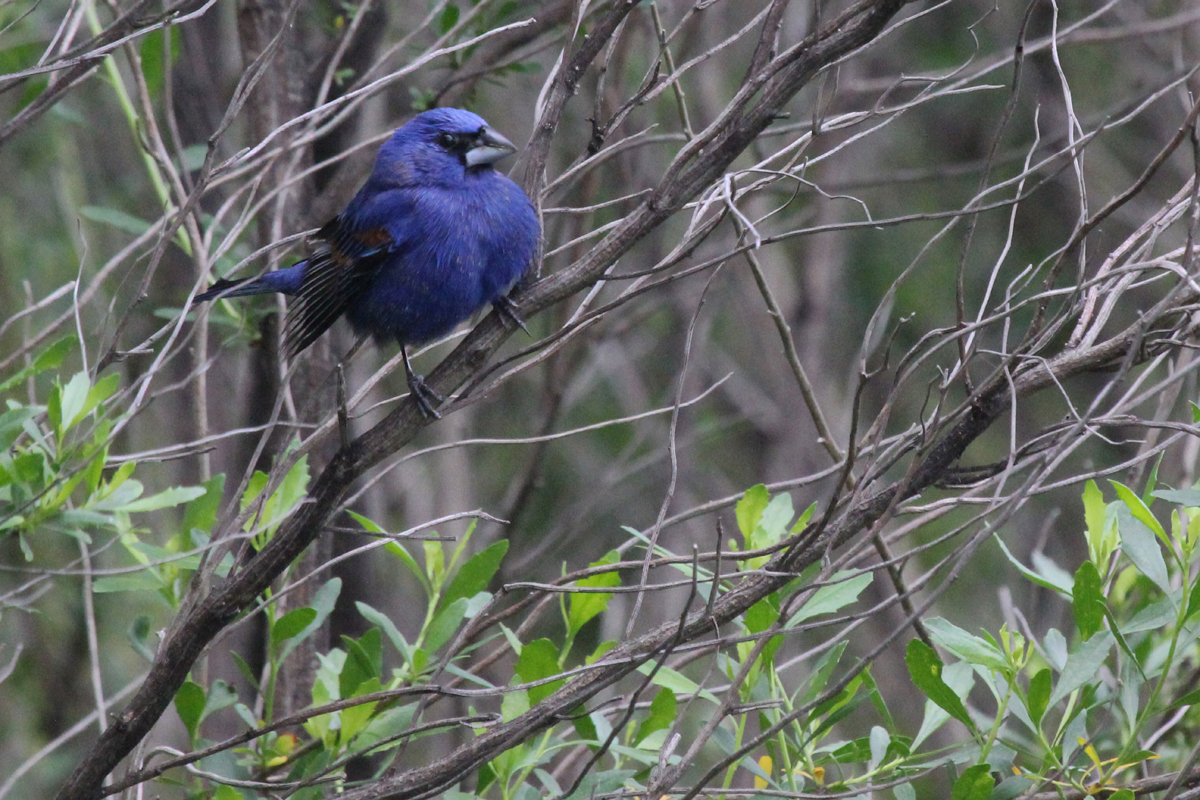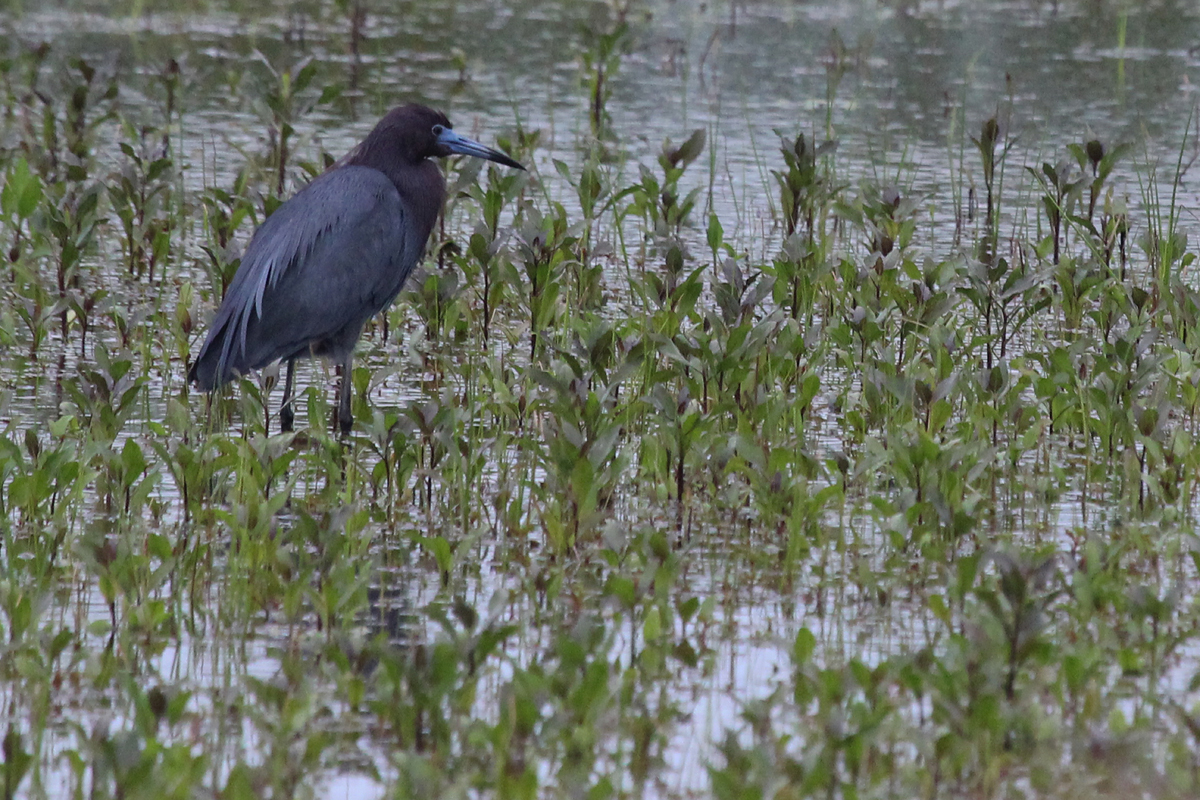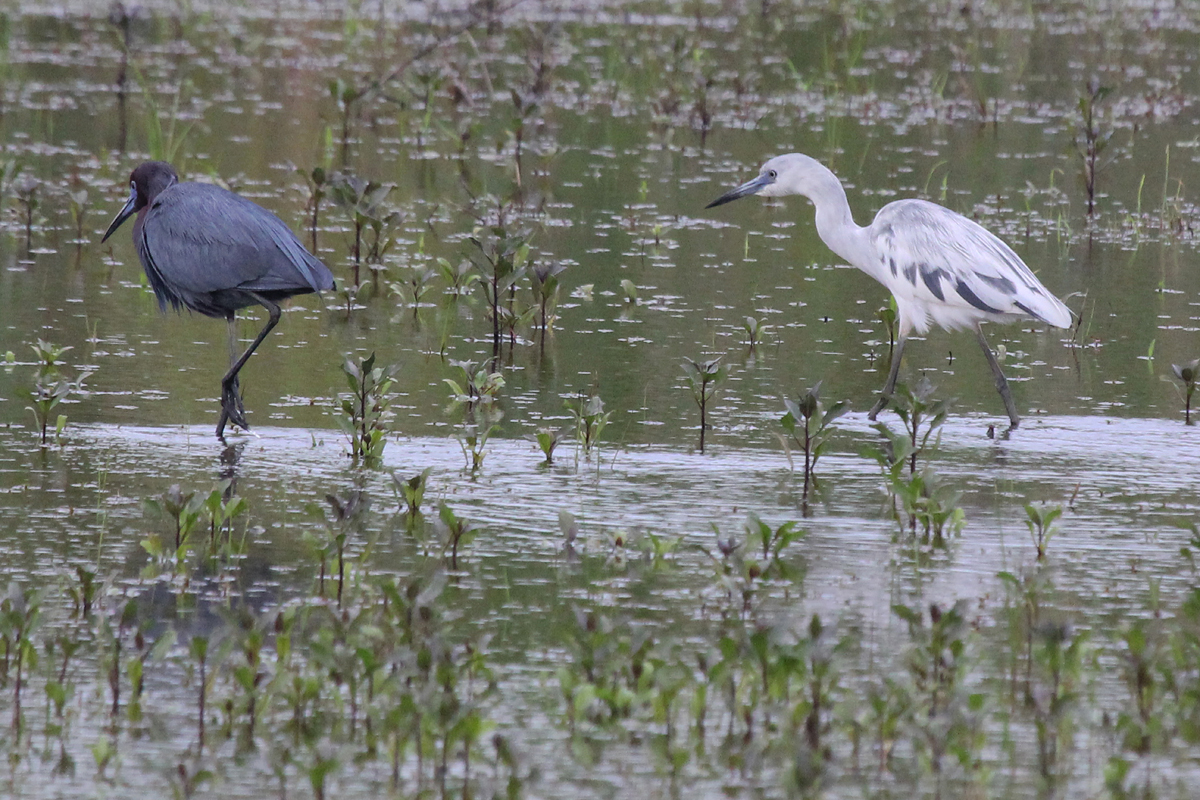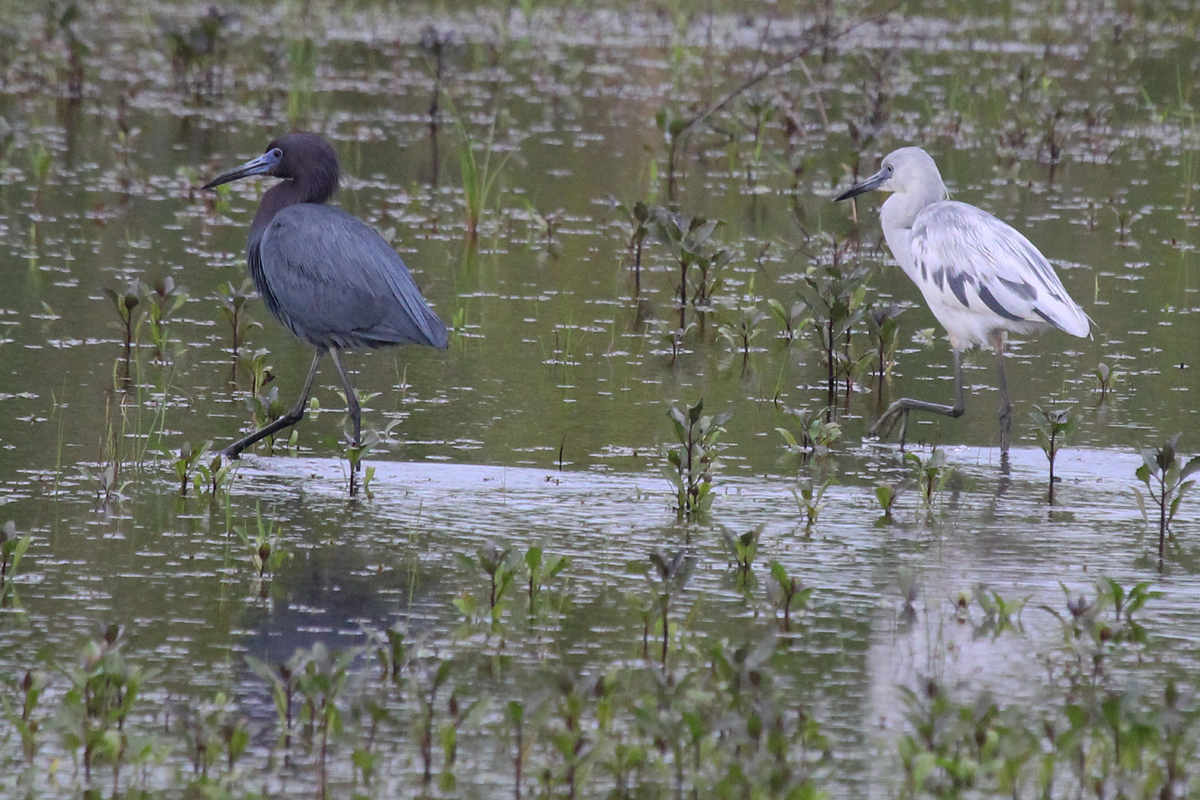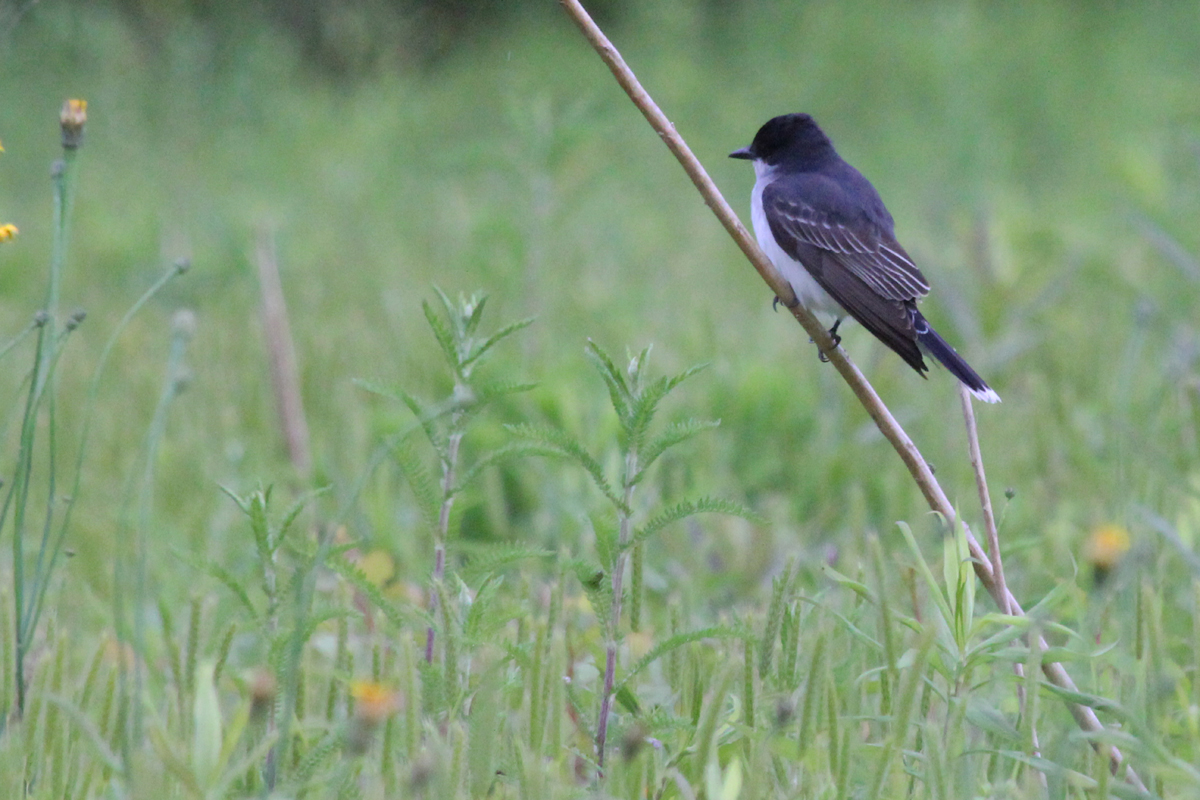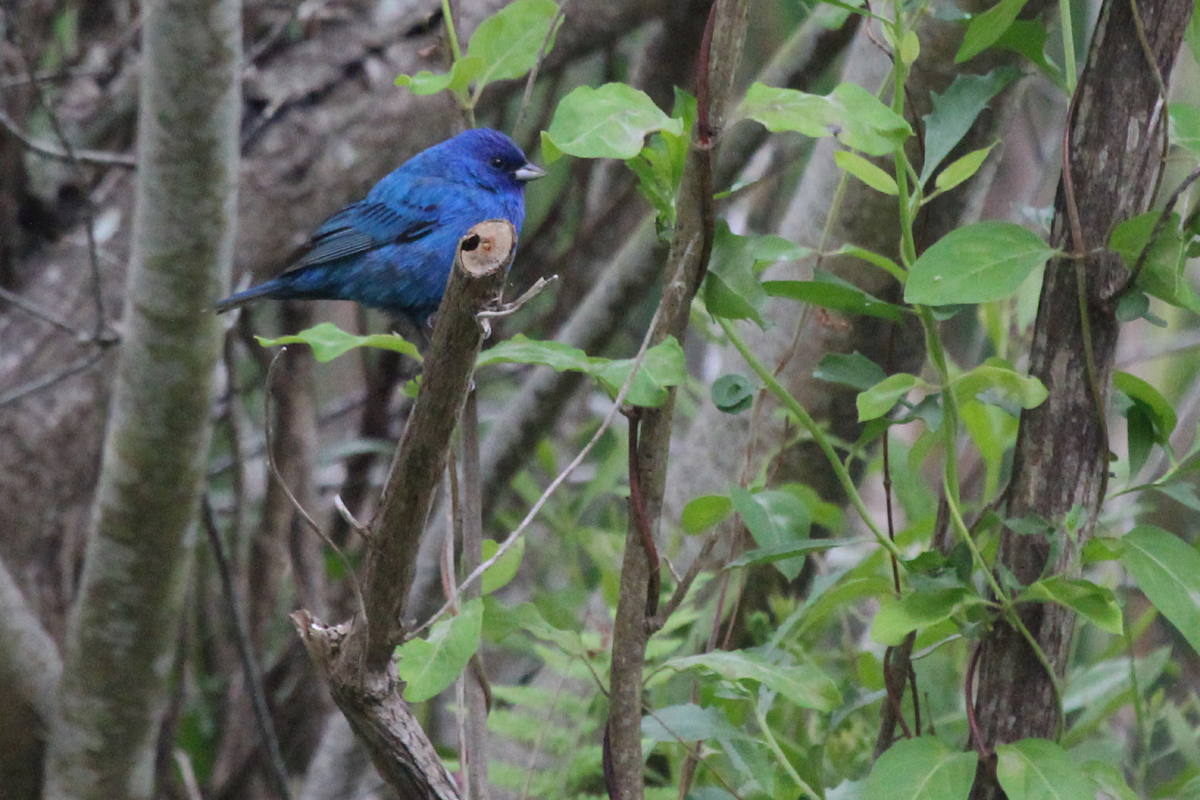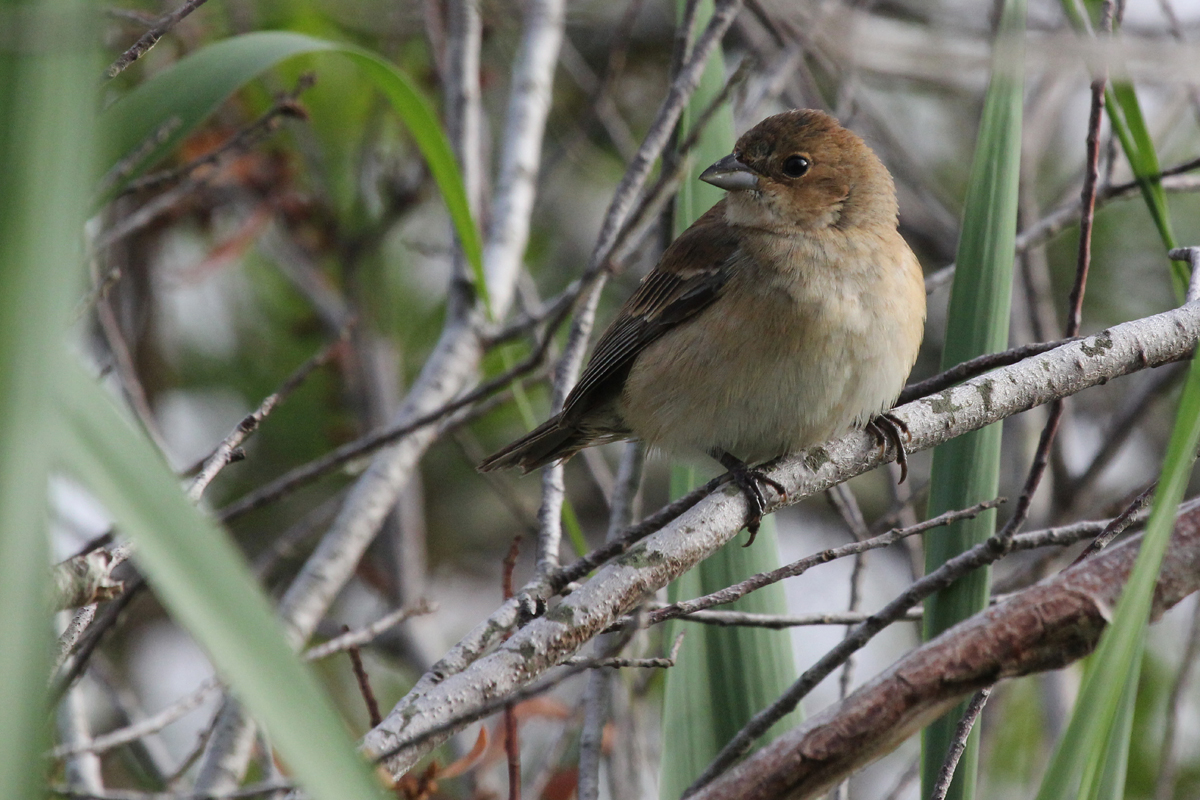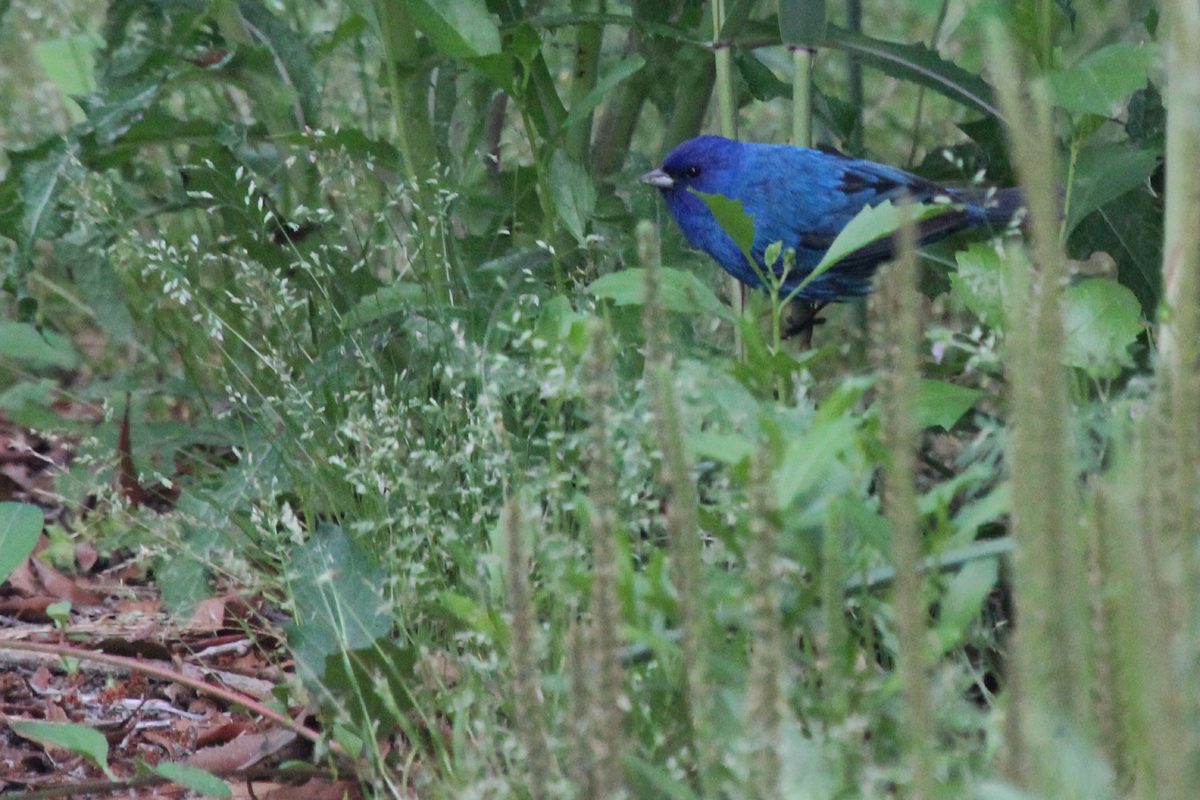 In terms of continuing rarities, the two COMMON GALLINULES first observed at Princess Anne WMA's Whitehurst Tract on 15 Apr (ph. Rob Bielawski) were again reported during early May. Thanks in part to the eBird "Global Big Day" event, this pair of potentially breeding birds were detected in the early morning (well before dawn) hours of the day on 5 Apr (obs. Andrew Baldelli & Tracy Tate). For the first time, the pair was heard vocalizing to one another (likely due to the time of day for the observation, while other reports have been during daylight hours). Their occurrence in the park's heavily vegetated impoundments, which provide an extreme amount of hiding space and seems to be a perfect habitat for a pair to successfully breed. Perhaps a confirmation for the 2nd Virginia Breeding Bird Atlas will come out of Whitehurst Tract this season? As always, please remember that this is a Virginia Department of Game & Inland Fisheries site, and as such, it requires all individuals present to have either a fishing license or a WMA access permit, either of which can be purchased online.
Last for the rarities this period, what is likely to have been one of the continuing AHINGA was reported at Stumpy Lake NA on 5 May (obs. Andrew Baldelli & Tracy Tate). First observed over a month prior at this location, on 2 Apr (obs. Andrew Baldelli), up to three individuals have been noted this spring (peak count occurred 13 Apr). With counts reaching as high as 18 individuals recently outside of Richmond, VA and a report of 19 in Fauquier County, it seems likely that many more have passed by us in Virginia Beach. Stumpy Lake NA has been the most reliable location for the species in year's past, and so far in 2018 only one other report has occurred in the city away from this location, that being an individual at West Neck Creek NA on 19 Apr (ph. Charlie Bruggemann). Like Mississippi Kites, this species seems to be reported more often as the years go on, and is becoming more expected during Apr & May as a whole throughout Virginia's coastal plain.
Springtime arrivals have now reached the point in the season where their diversity has waned considerably. Moving forward, we'll be seeing far more in the way of departures than arrivals. That said, we did have four new "expected" species with arrival dates in early May! These included an early arrival for RED KNOT when one was observed on 5 May (five days earlier than average) at Back Bay NWR (obs. Brandon Holland). On-time, or later than average arrivals also occurred for GRAY-CHEEKED THRUSH on 1 May (one day later than average) at West Neck Creek NA (obs. Karen & Tom Beatty), MAGNOLIA WARBLER on 7 May (seven days late) at Back Bay NWR (obs. James Marcum) and for WHITE-RUMPED SANDPIPER on 7 May (seven days late) found near Marina Shores (ph. Andrew Baldelli). A final first-of-season species was BOBOLINK, with a flock of 50+ individuals being found on 5 May (ten days late) along Back Bay Landing Rd. (ph. Eric Alton & Tamara Conklin). This flock was present the following day between the two 90° bends in the road before the boat ramp, and two additional flocks were also found. The first, another group of 50+ individuals was noted on 6 May in the fields west of Charity Neck Rd. between Pleasant Ridge Rd. and Robinson Rd. (ph. Andrew Baldelli & Rob Bielawski), and the third group was found in the field housing a grain elevator near the intersection of Indian River Rd. and West Neck Rd. (ph. Rob Bielawski). All three locations featured the exact same habitat, tall fields of wheat with plentiful seeds at the top of the roughly 5' tall vegetation. The initial flock at Back Bay Landing Rd. was extensively documented, with many other observers from 5-9 May, and with photographs provided to eBird on 8 May (ph. Lynn Aamodt and Mary Catherine Miguez), and on 9 May (ph. Andrew Baldelli).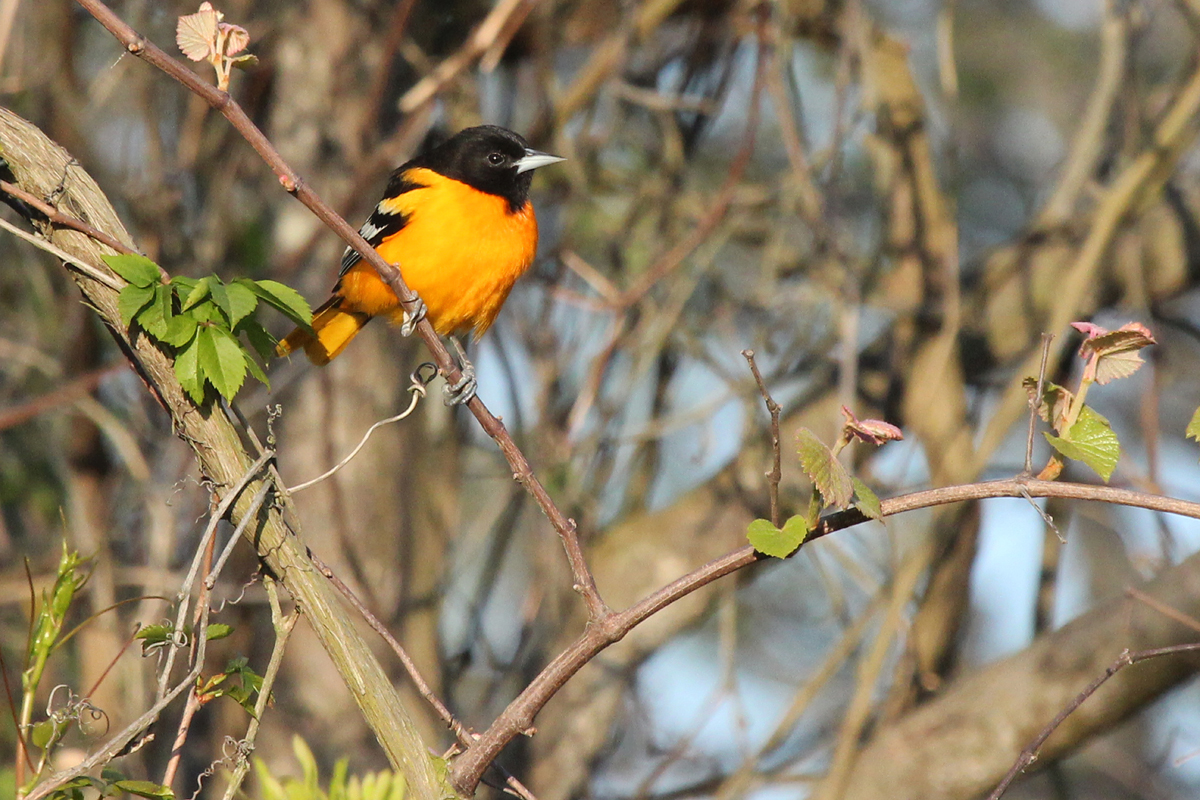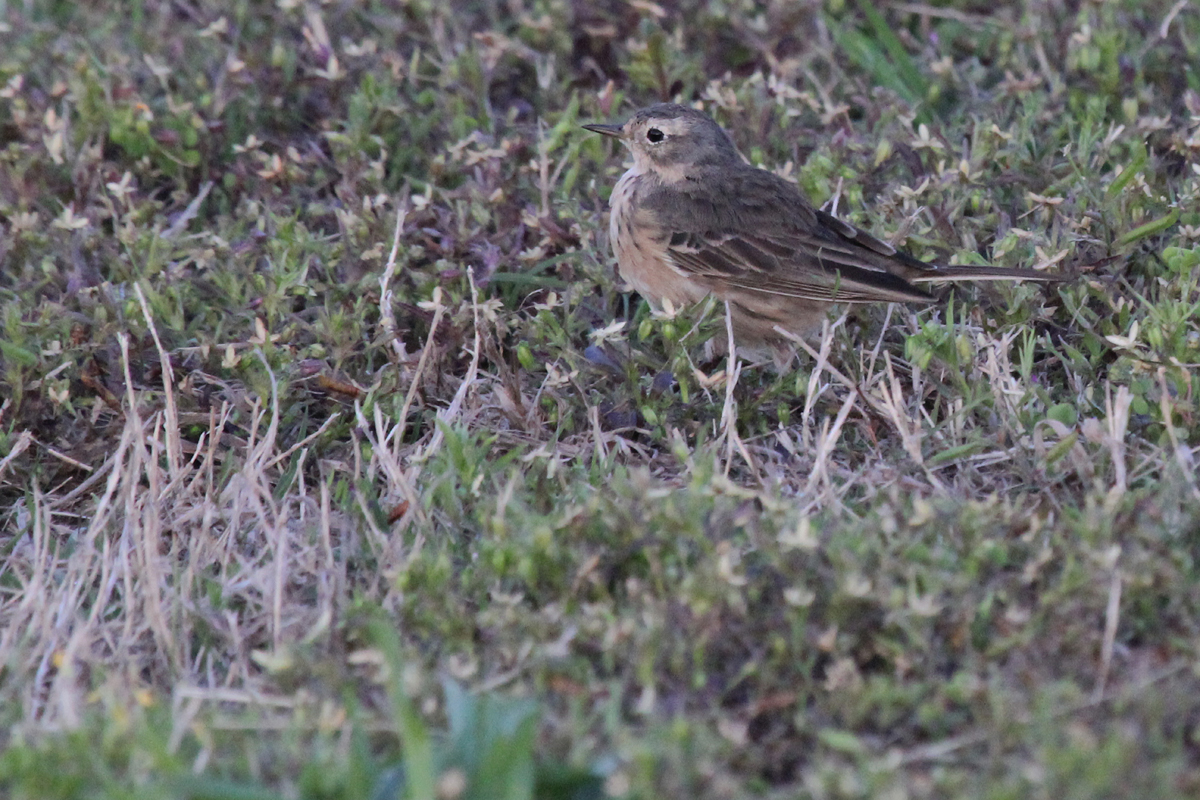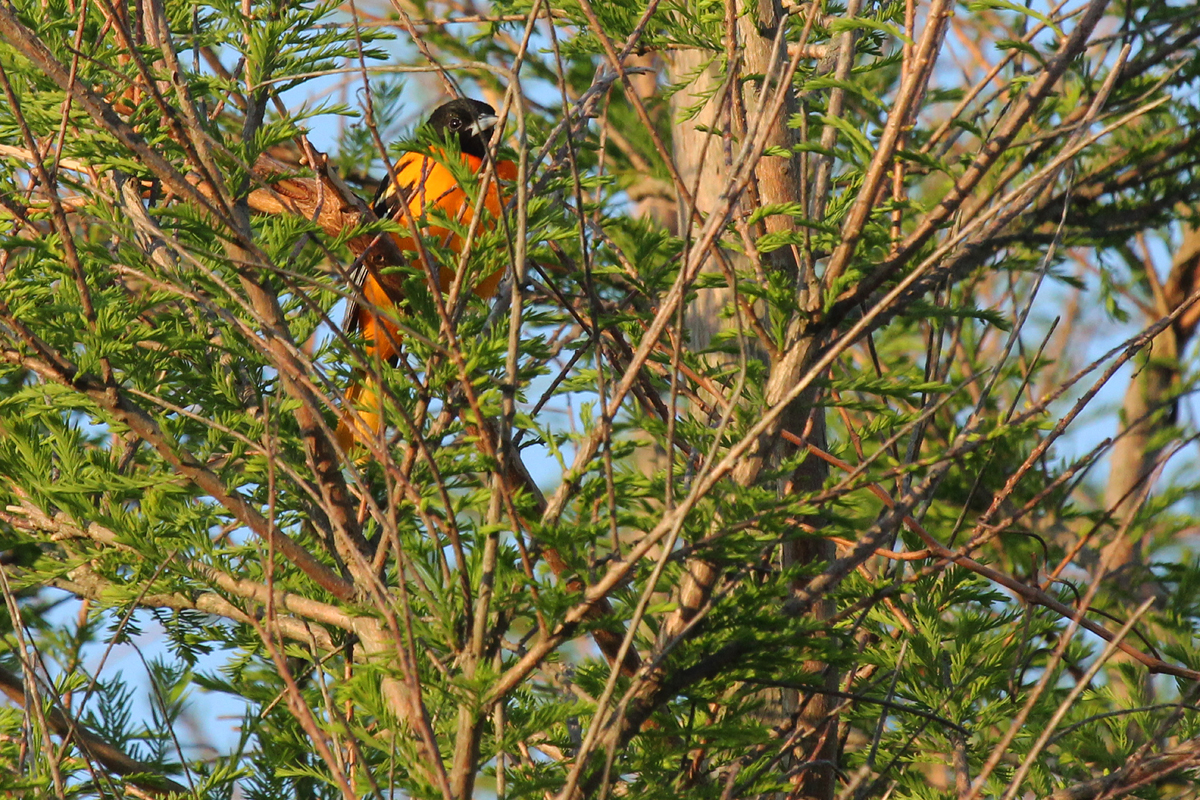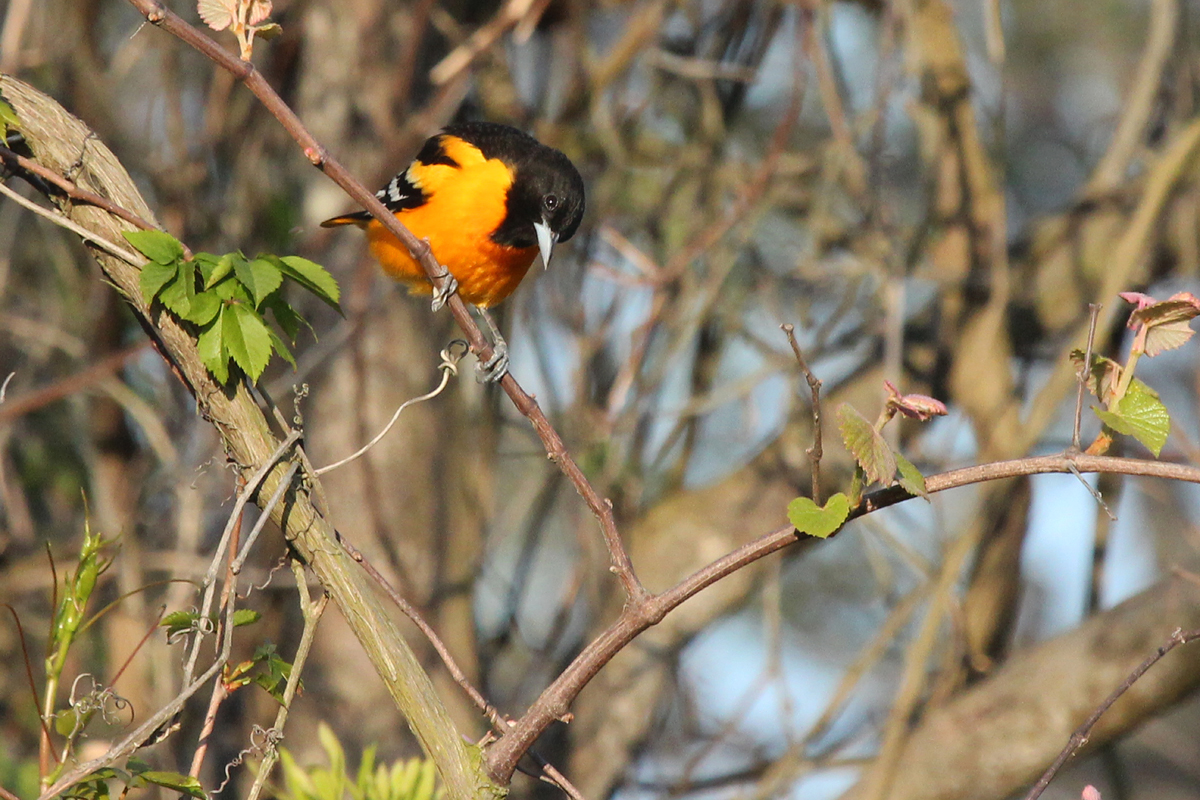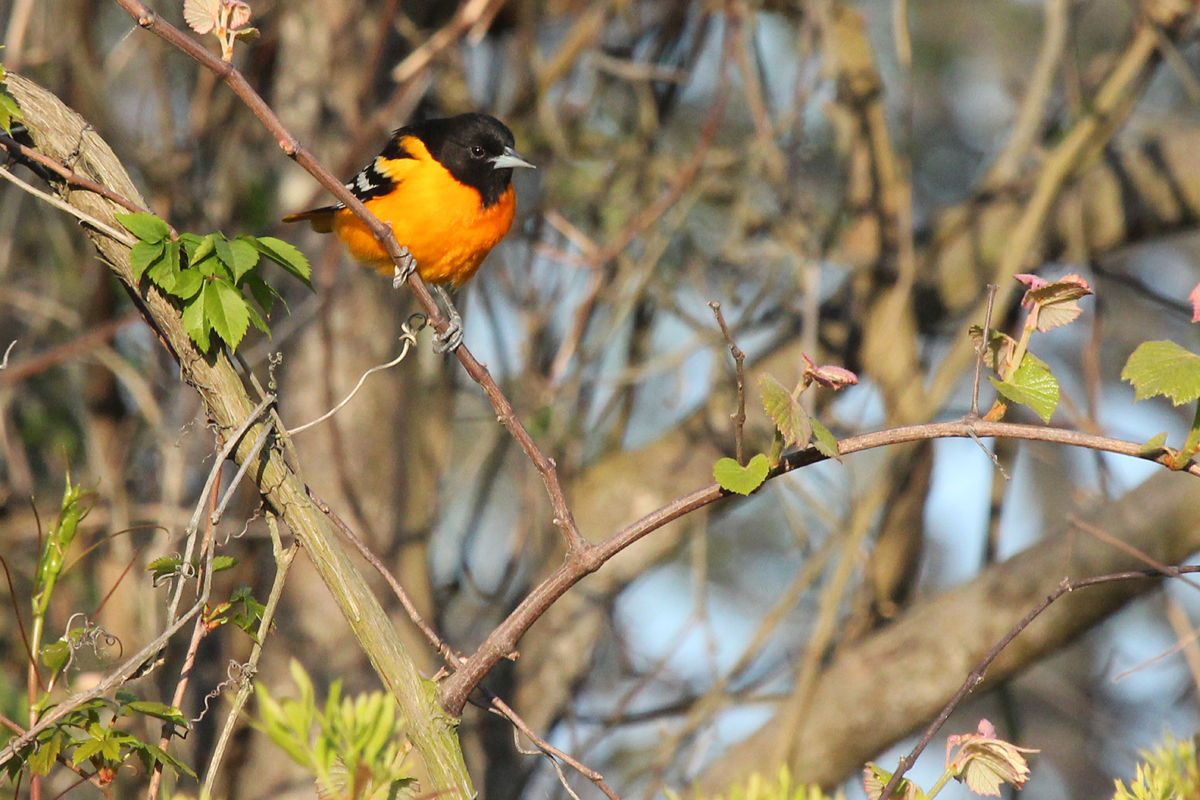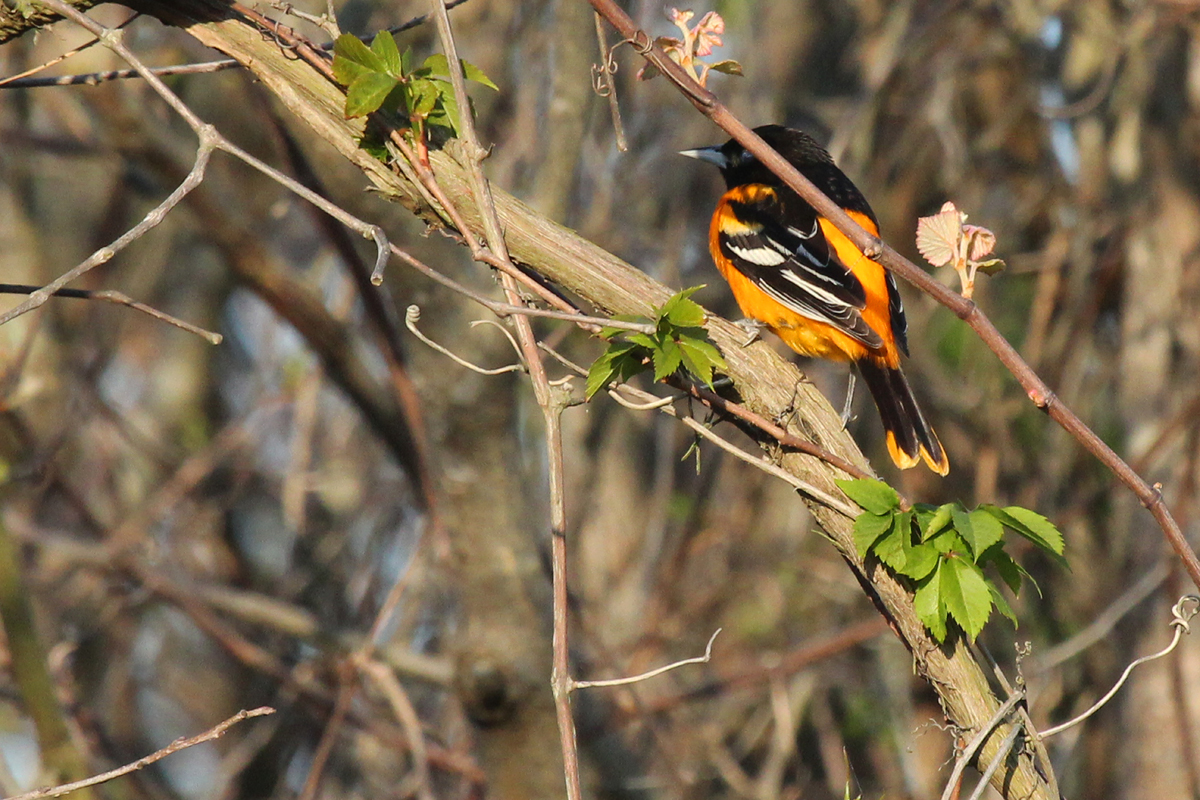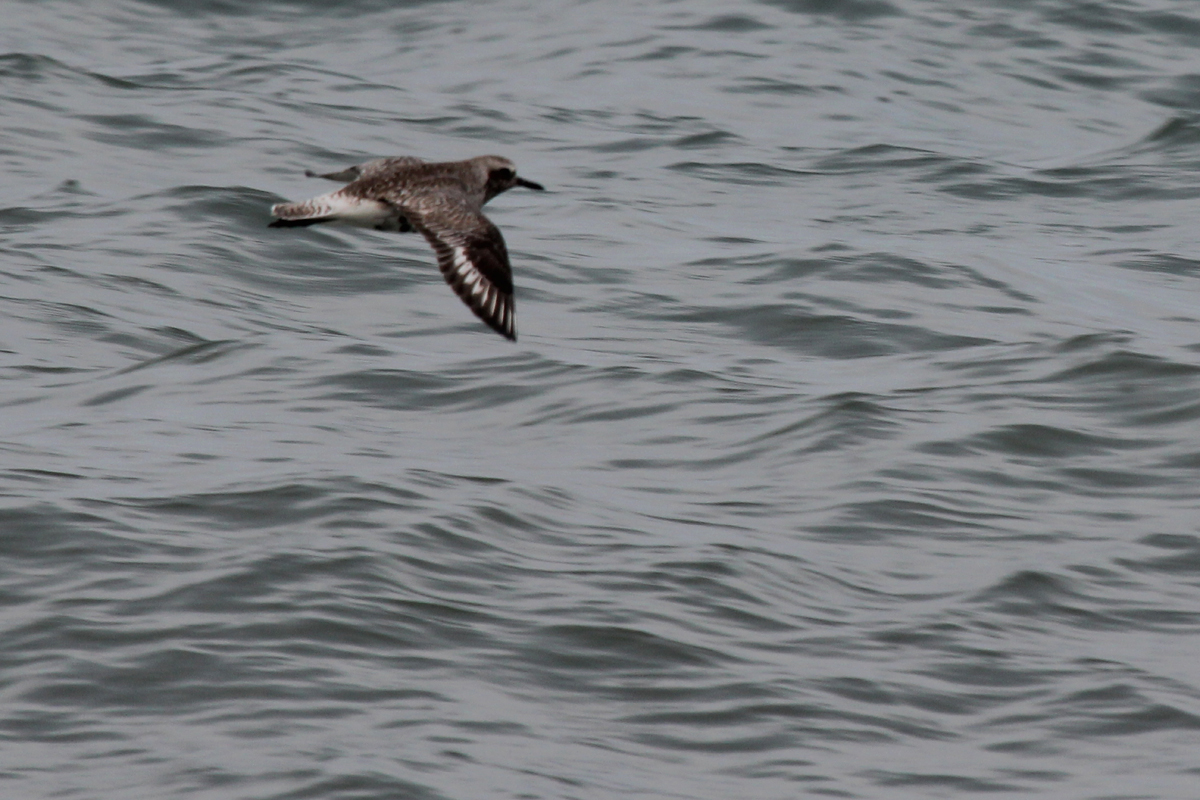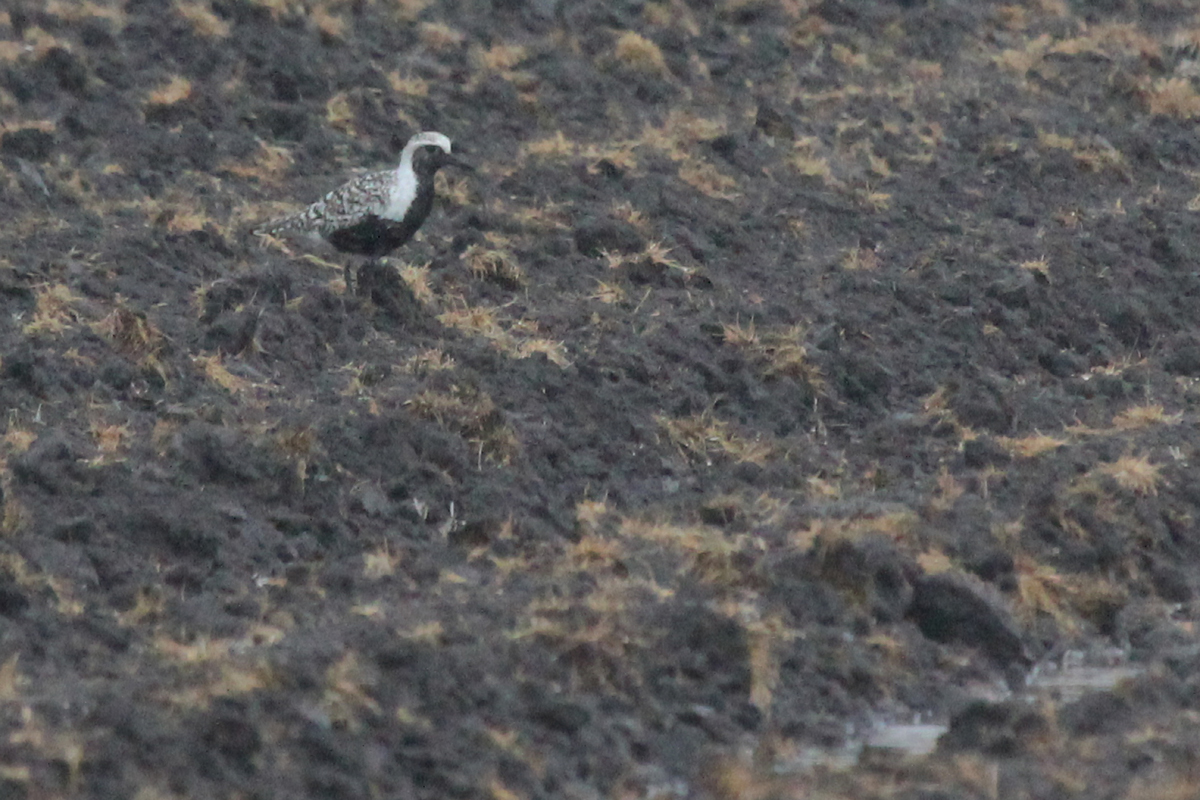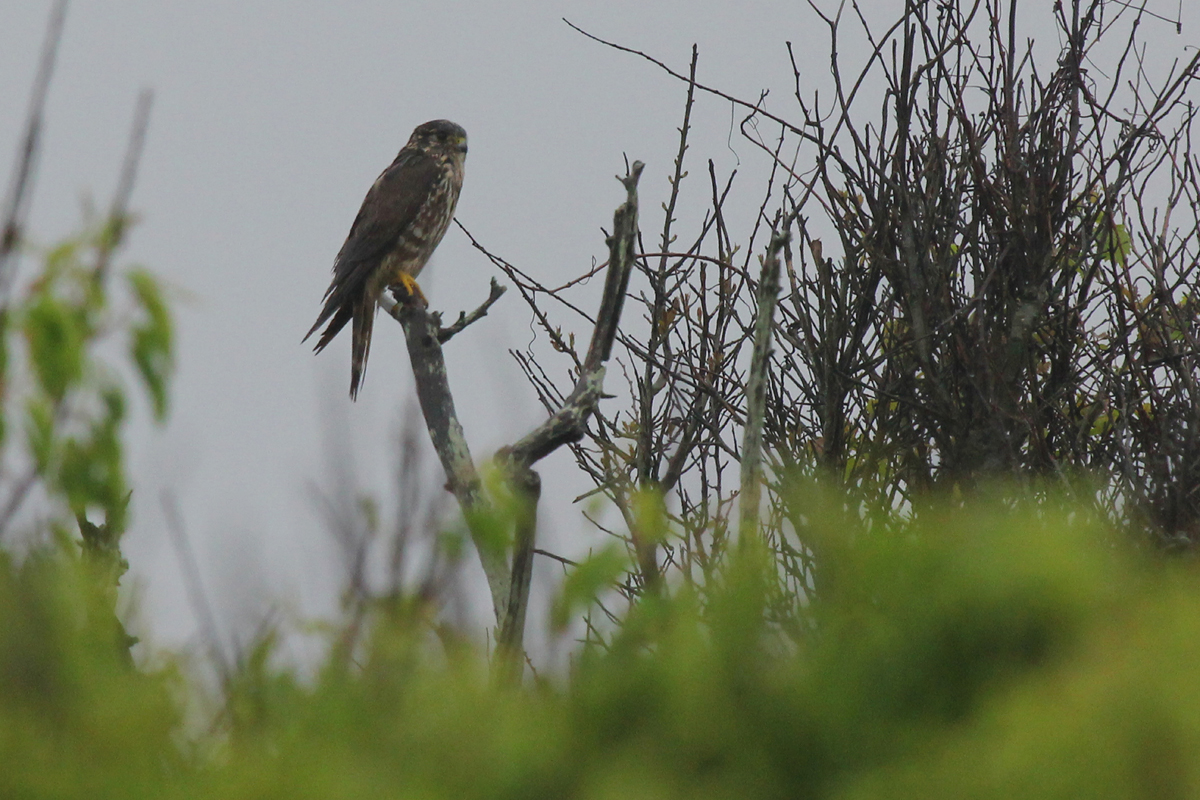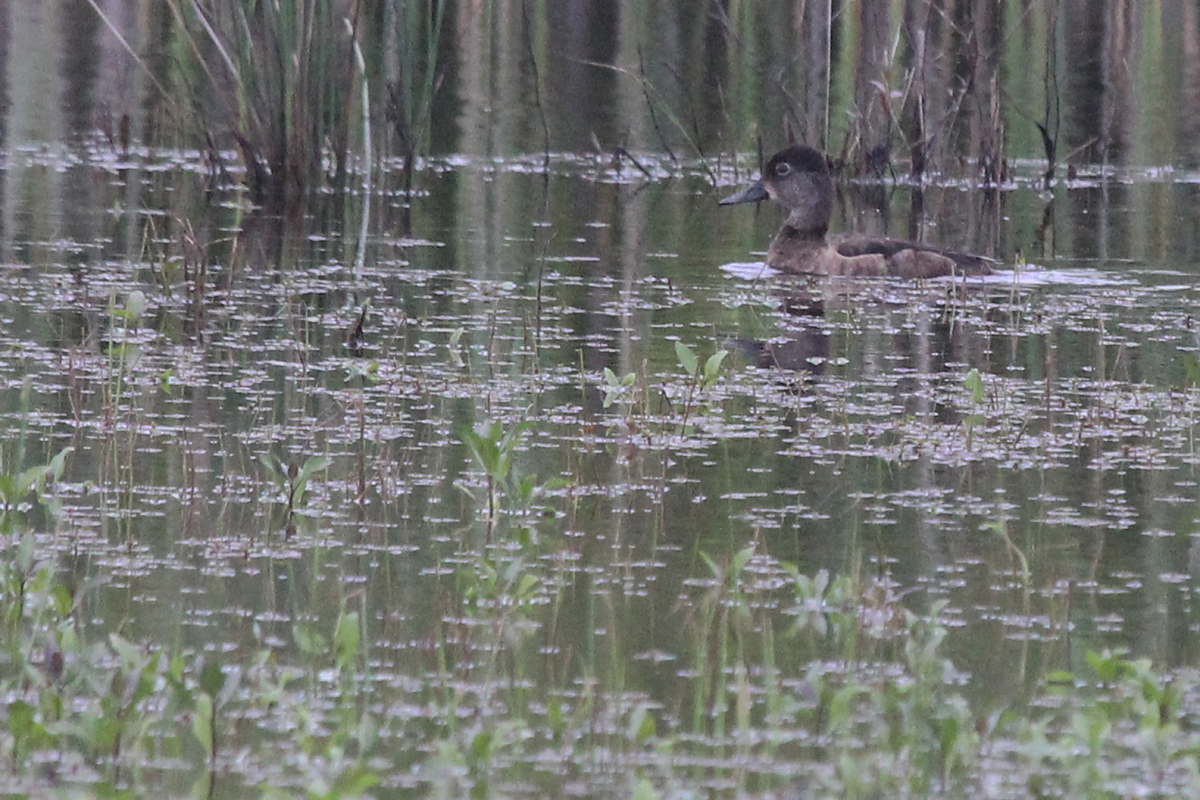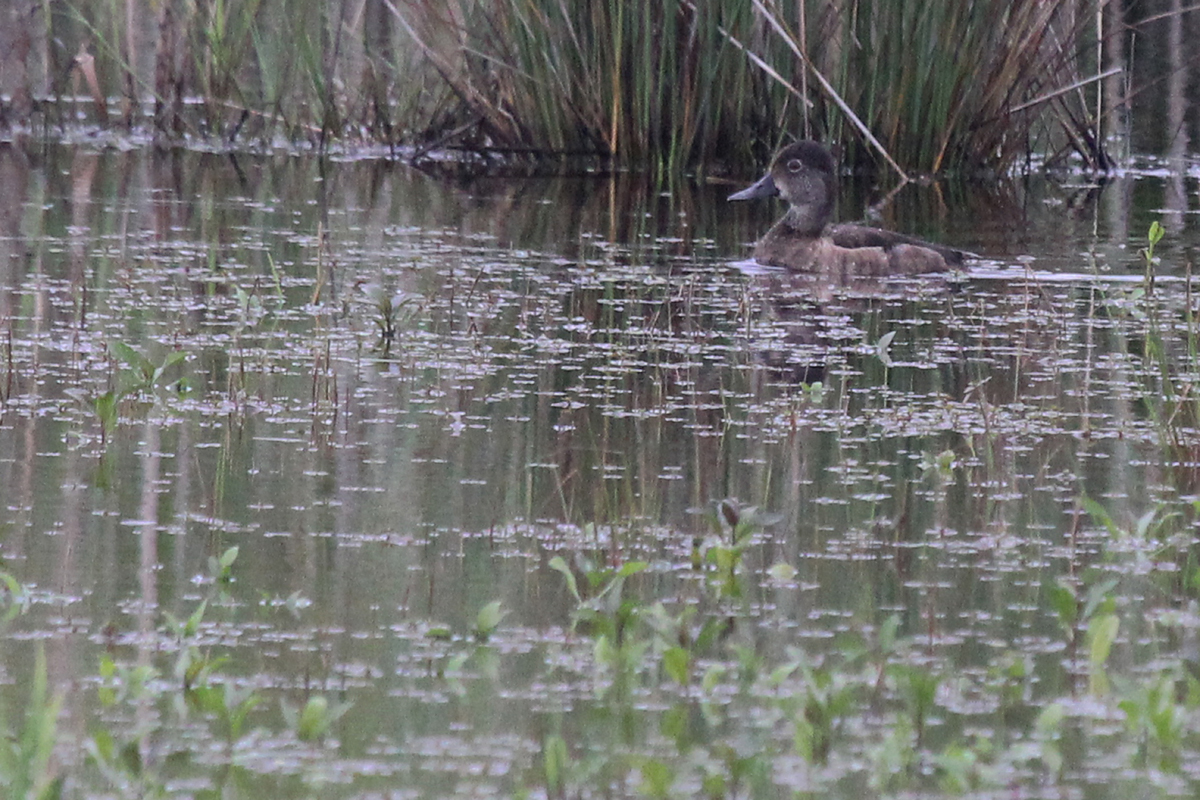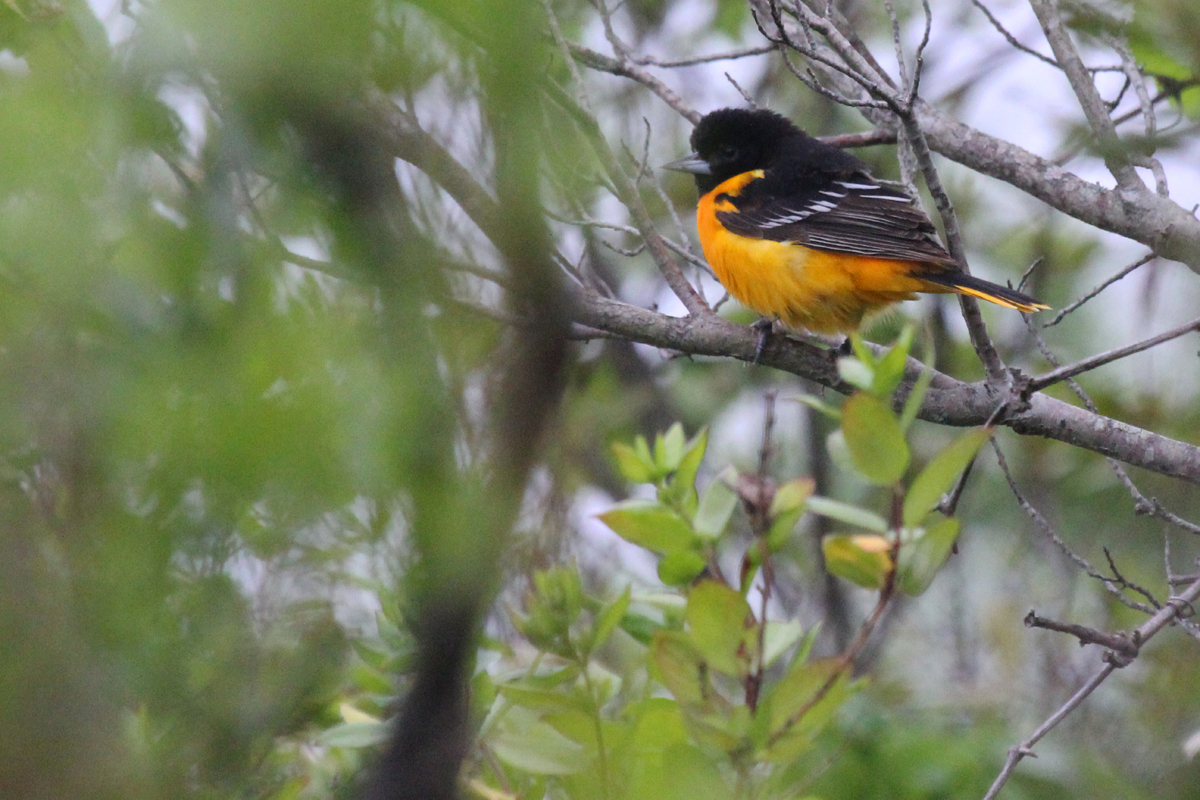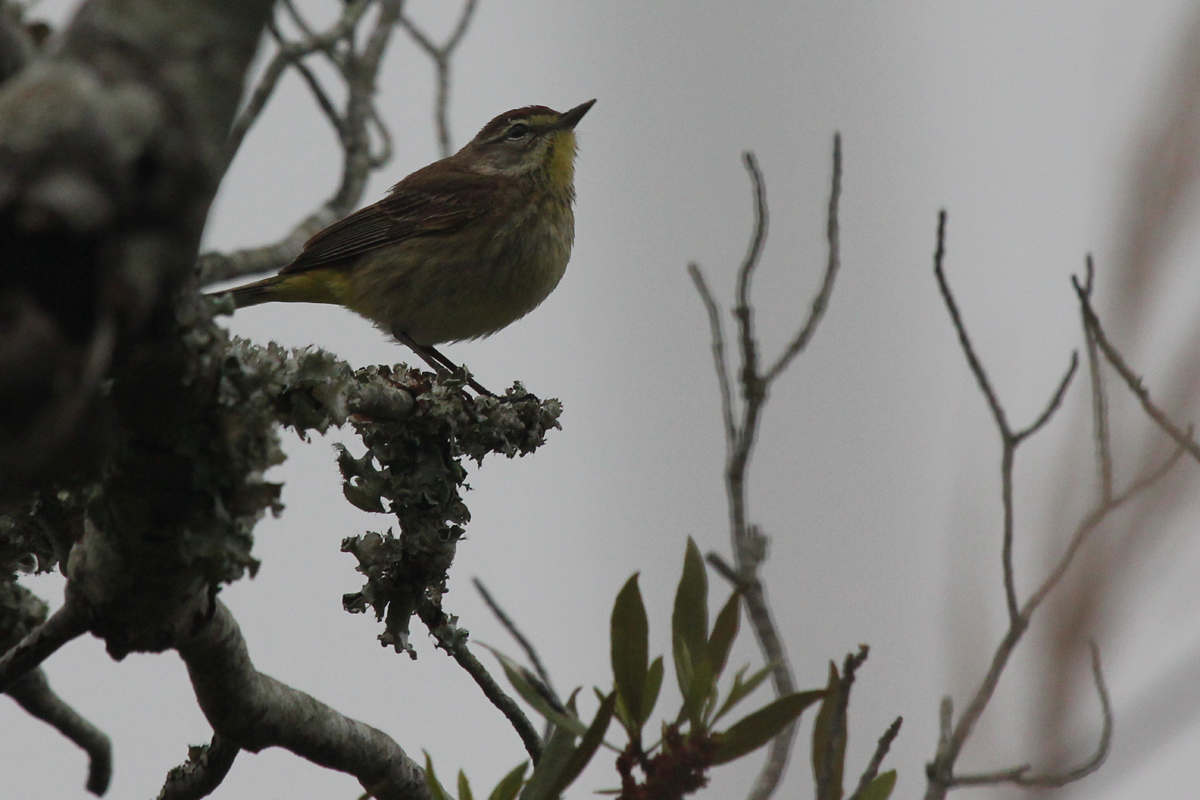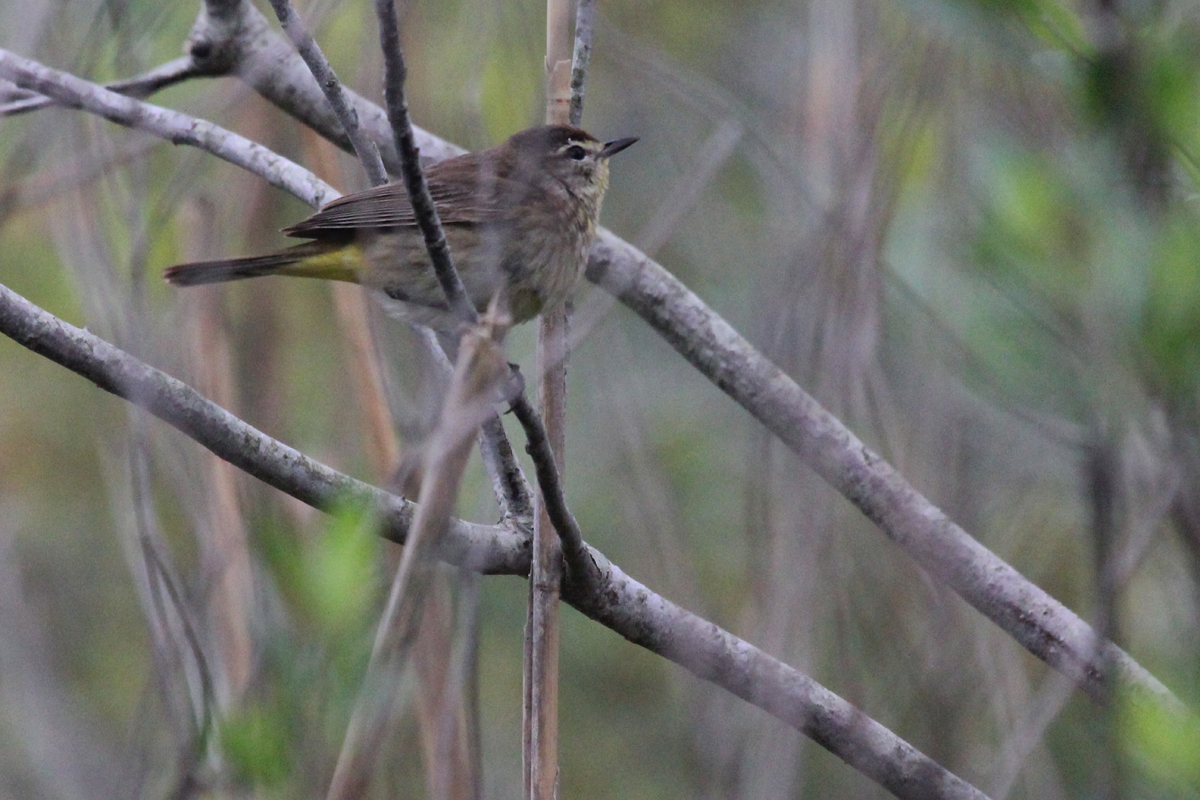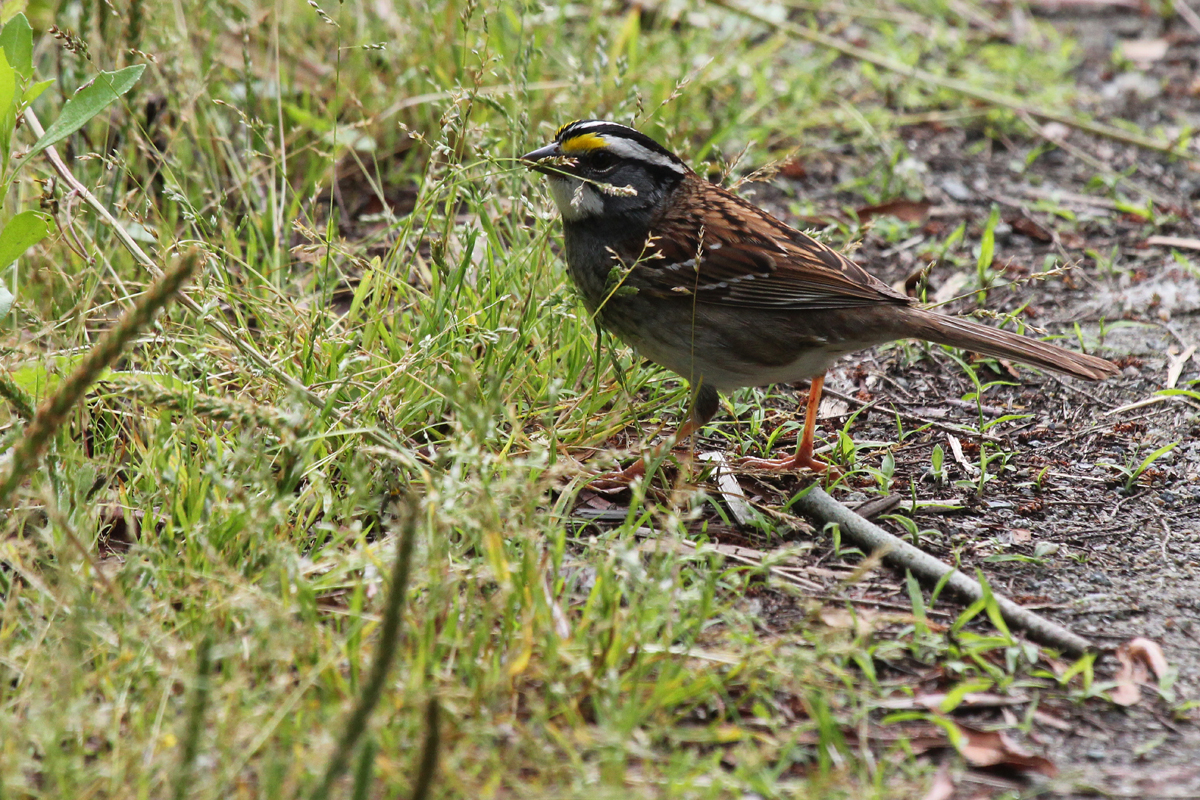 Quite a variety of lingering birds were reported during early May, with a female RING-NECKED DUCK observed at Princess Anne WMA Whitehurst Tract from 5-7 May (ph. Andrew Baldelli & Tracy Tate, later ph. Rob Bielawski) leading the way. With an expected departure date of 15 Apr, and the last prior record occurring 12 Apr, this species stayed 22 days beyond that of an average season. Next up, in terms of sheer 'lateness', was a report for AMERICAN WOODCOCK in the pre-dawn hours of 5 May, also at Princess Anne WMA's Whitehurst Tract (obs. Andrew Baldelli & Tracy Tate). With an expected departure of 20 Apr, this is certainly a late record, though, this species is one that often goes undetected due to its nocturnal nature. If more birders were out seeking this species in the nighttime hours, we'd likely see more records later in the season, and its even possible that American Woodcocks might summer here in the city. But, for now, 20 Apr is the set departure date for eBird purposes. Next up, a continuing lingerer from the prior reporting period (actually, the last two periods), the AMERICAN PIPIT first observed at Back Bay NWR on 17 Apr (ph. Karen & Tom Beatty) remained in the small grassy area east of the visitor center through 3 May (last ph. Eric Alton & Tamara Conklin, last obs. Michelle Payne). With 25 Apr being their expected departure date, this individual was here 8 days beyond that, though it is unknown whether the bird finally flew northward, or was picked off by a predator of some type at the park given it hadn't left the same patch of grass for over a week. Also at Back Bay NWR, reports of a single MERLIN continued right up to period's end of 10 May (obs. Tracy Tate, obs. Tommy Maloney & Jason Schatti). Only slightly late at this point, with an average departure date of 5 may, we'll see just how long this individual gets picked up. Last of the late lingerers, 1-2 WESTERN PALM WARBLERS were observed at Back Bay NWR up to the period's end (obs. Mary Catherine Miguez, obs. Tracy Tate). The Gold Book notes that the Western race of this species tends to linger beyond the more common Eastern (or "Yellow") race, so perhaps this isn't so unusual, but under current eBird setup, the species is at least 5 days late as of reporting period close.
In addition to all the great rarities, arrivals, lingerers, etc. we also had some not-necessarily noteworthy, but still interesting reports pop up this period in Virginia Beach. HORNED LARKS were reported in good numbers on West Neck Road on 5 May (obs. Andrew Baldelli & Tracy Tate), with the count of 8 tripping the eBird filter for the city. This species is likely present in many fields throughout the city, and a breeding confirmation actually occurred last year at Ashville Park, but it is a difficult species to track down with most occurring on private property / agricultural plots. A SEASIDE SPARROW was photographed at Back Bay NWR on 5 May, making for an exciting find at the park (ph. June McDaniels). Amazingly, this is the first photographically documented report of the species at the park! With Back Bay NWR being one of the heaviest birded locations in the state, any chance to add a new photo to eBird for this hotspot is remarkable. Also at the park, a BLACK-CROWNED NIGHT-HERON was observed on 4 May (obs. Karen & Tom Beatty), marking one of very few records here (and a first for this year). Lastly, an interesting-plumaged PROTHONOTARY WARBLER was photographed at West Neck Creek on 5 May (ph. Charlie Bruggemann). The individual showed a black forehead, but it isn't discernible whether this is just mud (it doesn't appear to be), or if it is an actual genetic variation in plumage, which would be very interesting!
WEATHER: Kicking off the period with a few days of heat following southwesterly flow was a nice change from late April, though the latter half of the period was defined by strong northeast winds and lower than normal temperatures (until the final day), which made finding new species difficult. Overall, average daily high temperatures rose considerably, 8.9° from 66.7° F to 75.6° (+0.4° from prior 10-year average), with average daily low temperatures following suit, 7.6° from 48.6° to 56.2° F (also, -1.3° from prior 10-year average). Overall, temperatures ranged from a minimum of 46° F (1 May) to a maximum of 88° (2 May). A total of 1.85" of rain fell during the period, spread across two days with measurement amounts, with a maximum of 1.45" falling on Sunday, 6 May. Maximum sustained winds at Oceana this period were 23 mph (on 4 May) and gusts reached 31 mph (10 May). No noteworthy tidal surge events affected the Sewell's Point tide gauge this period. Sunrise/sunsets varied from 6:10 AM/7:52 PM (1 May) to 6:00 AM/8:00 PM (10 May), which means we gained 18 minutes of daylight during this period with a total of 14 hours of 'Length of Day' to close the period!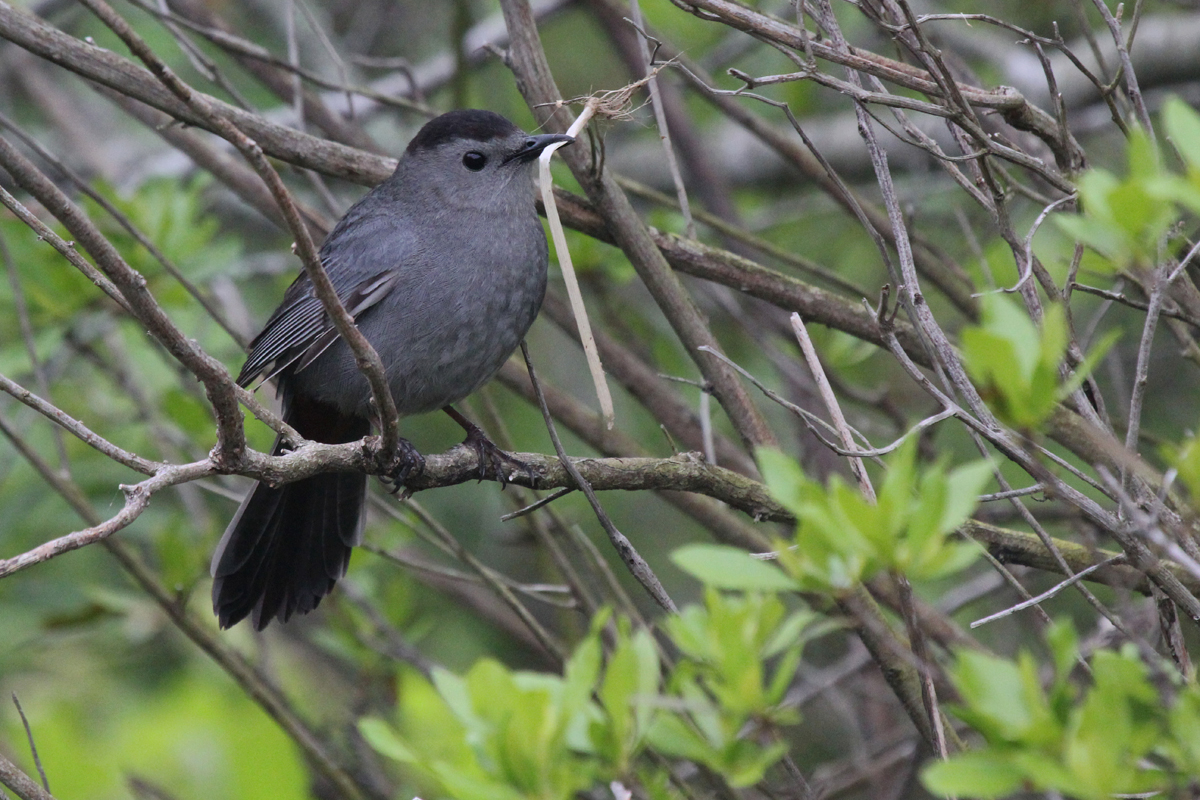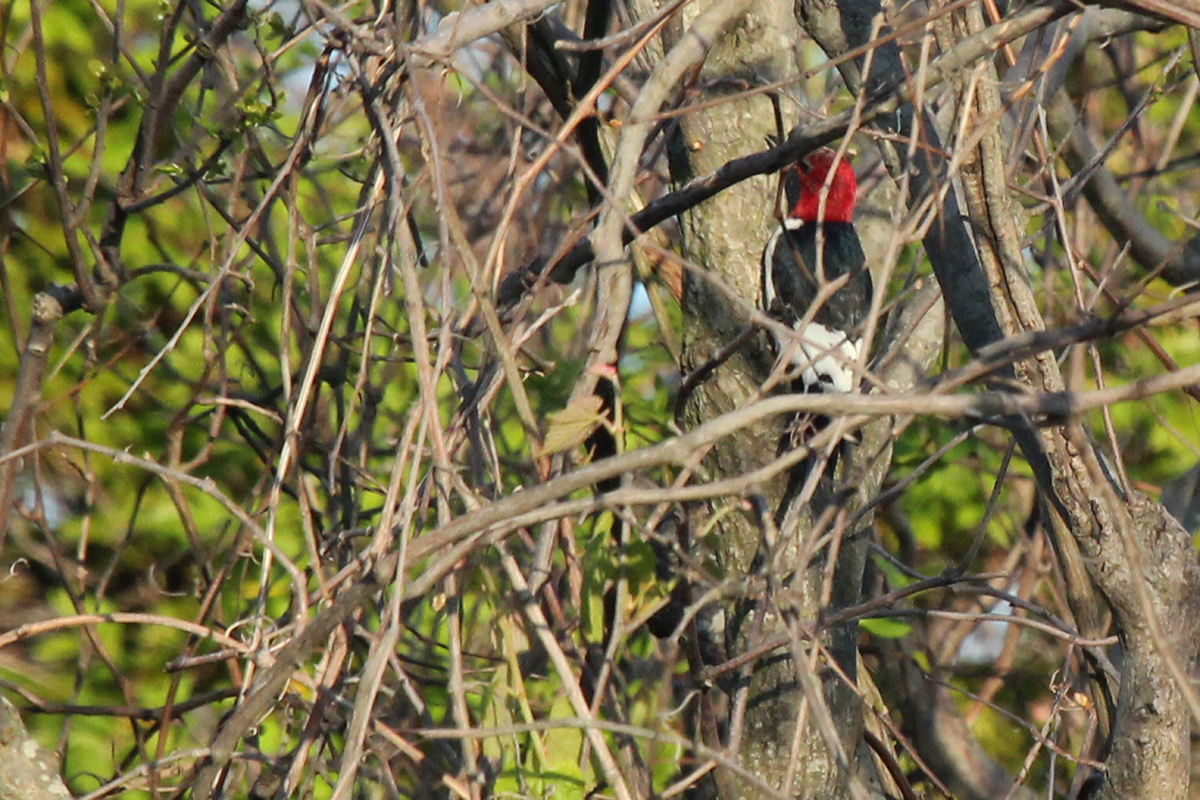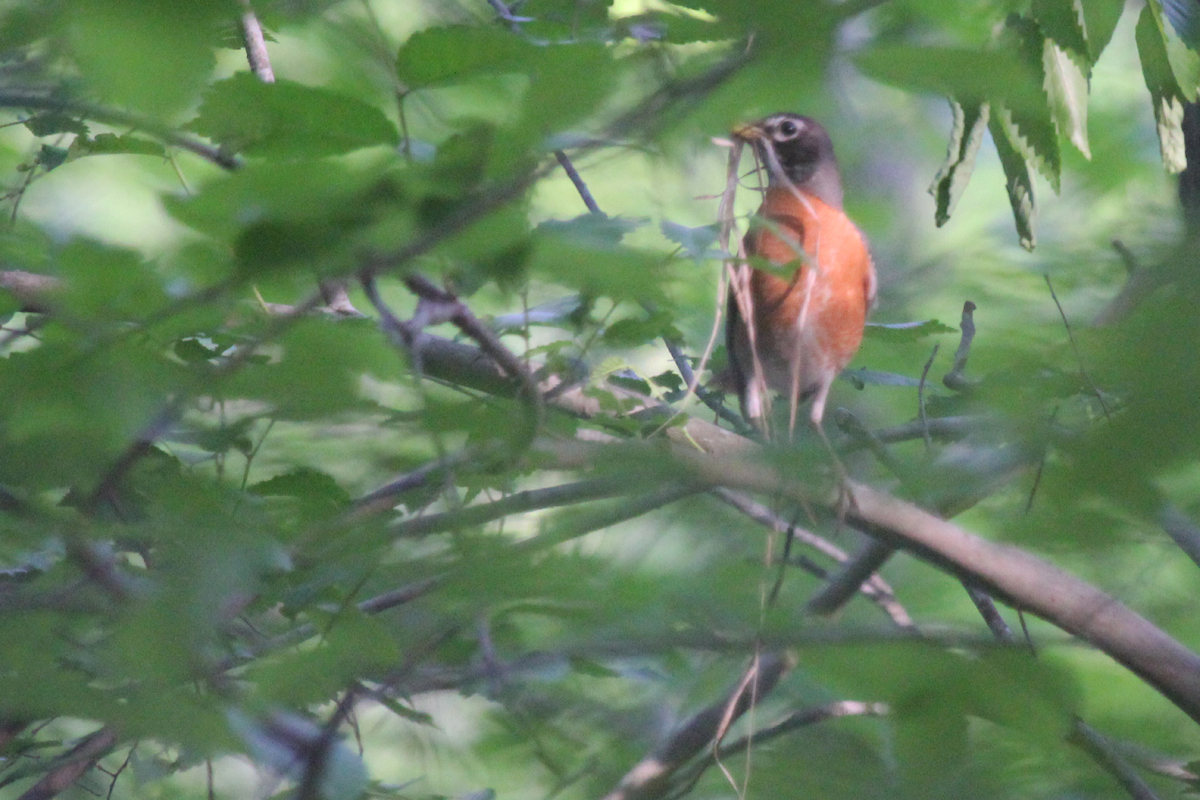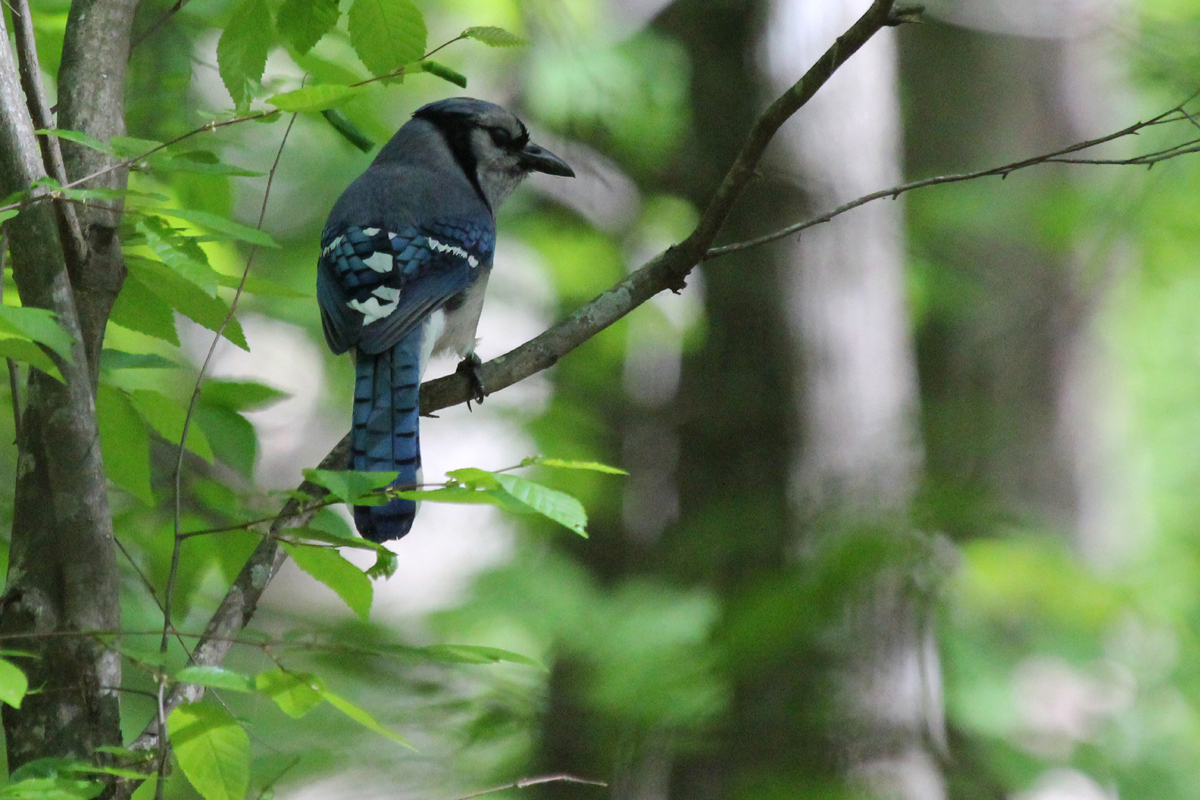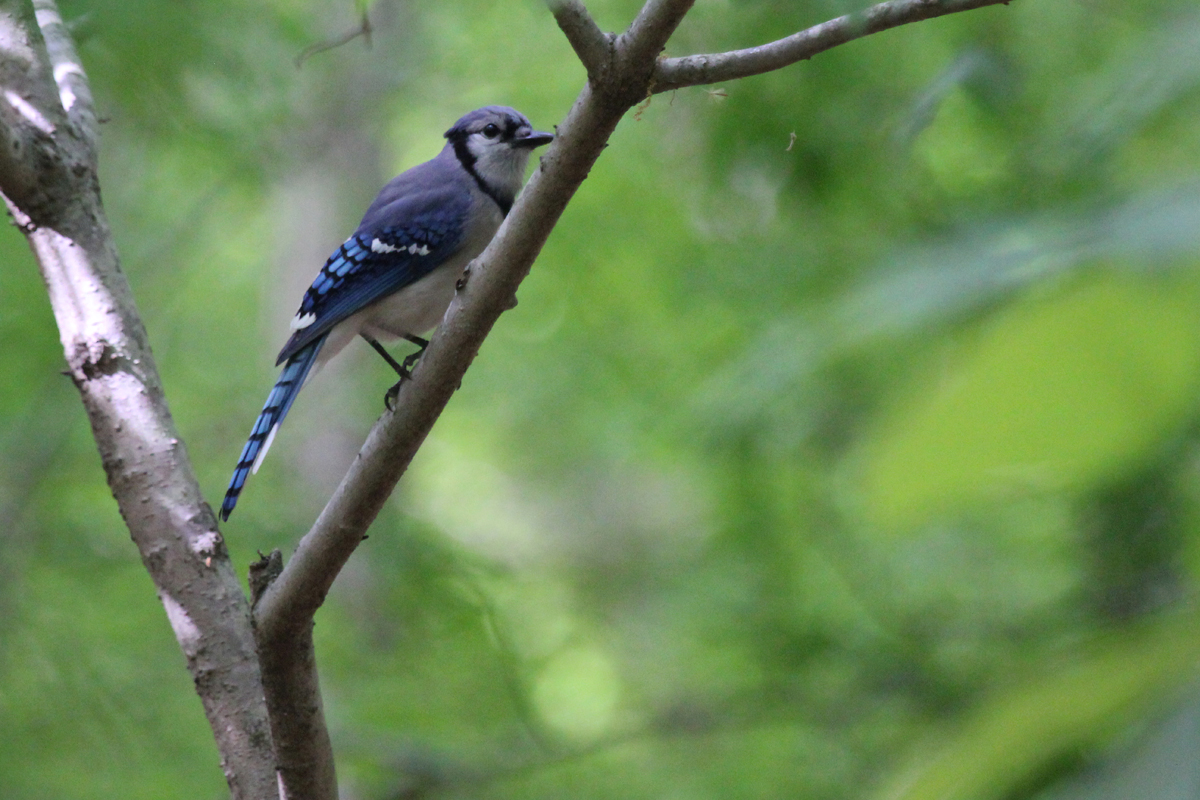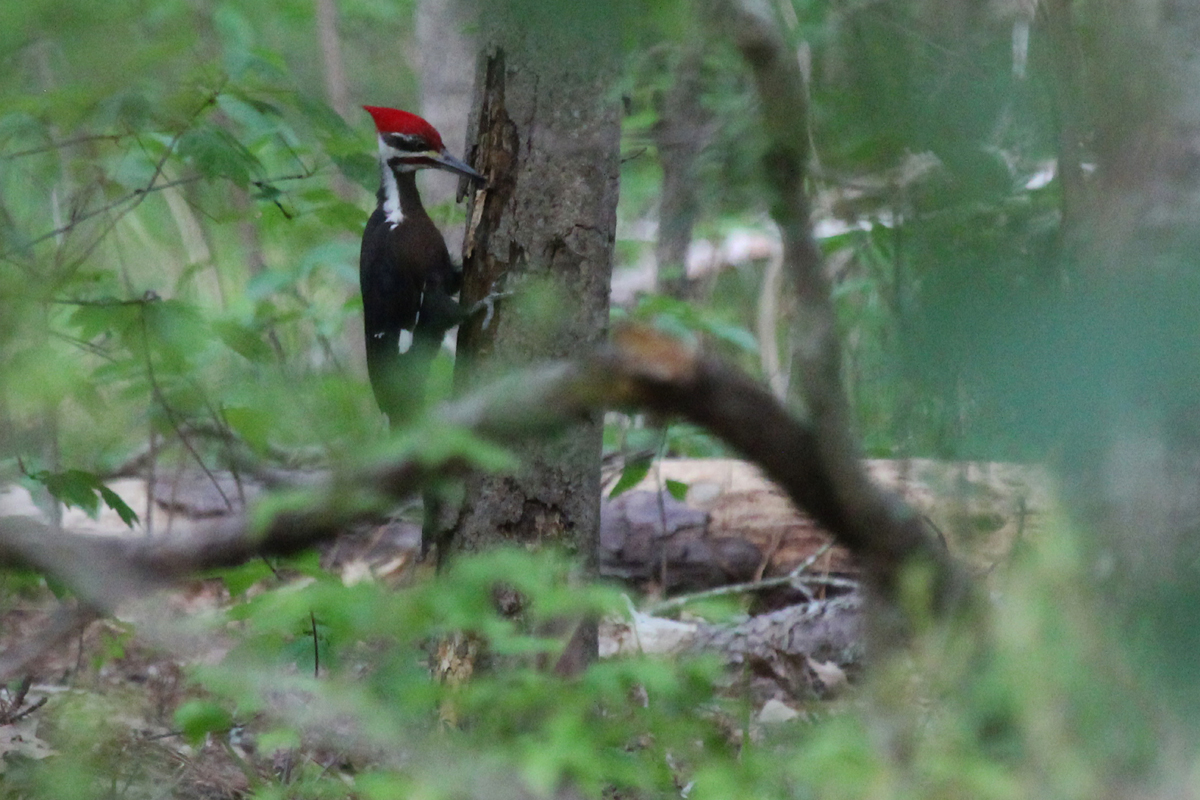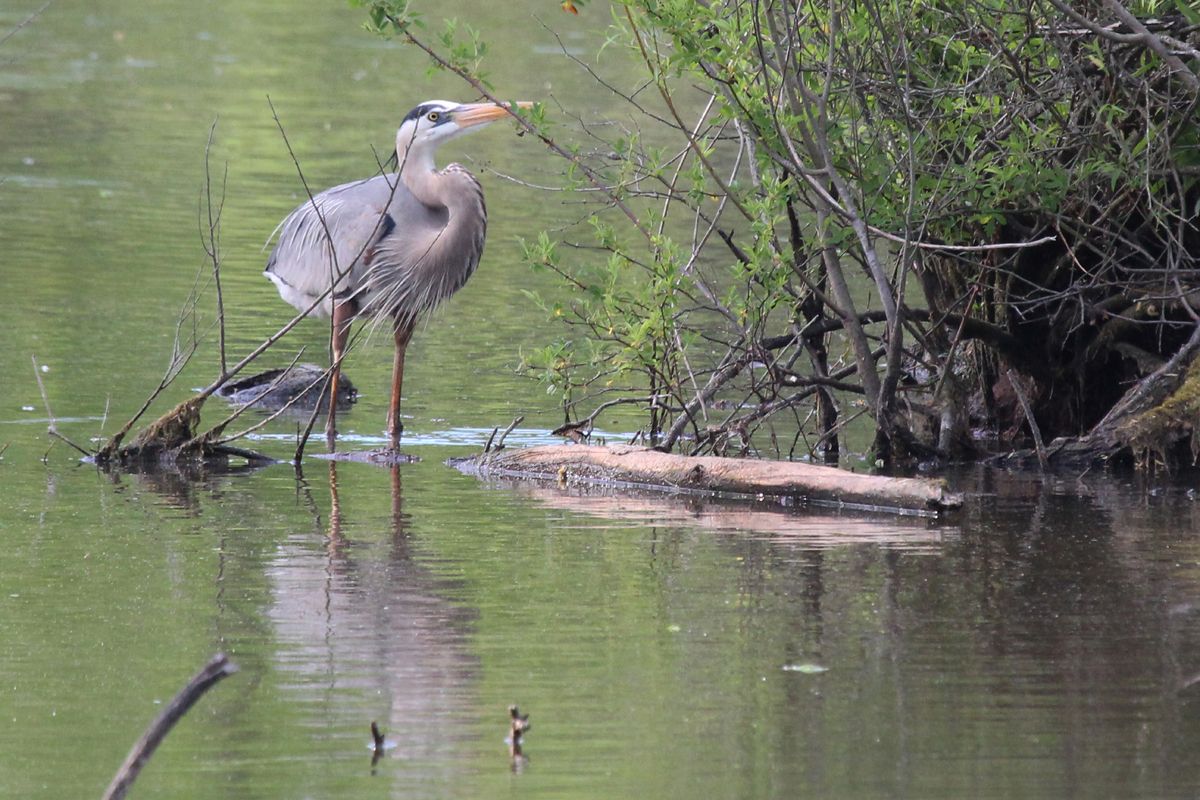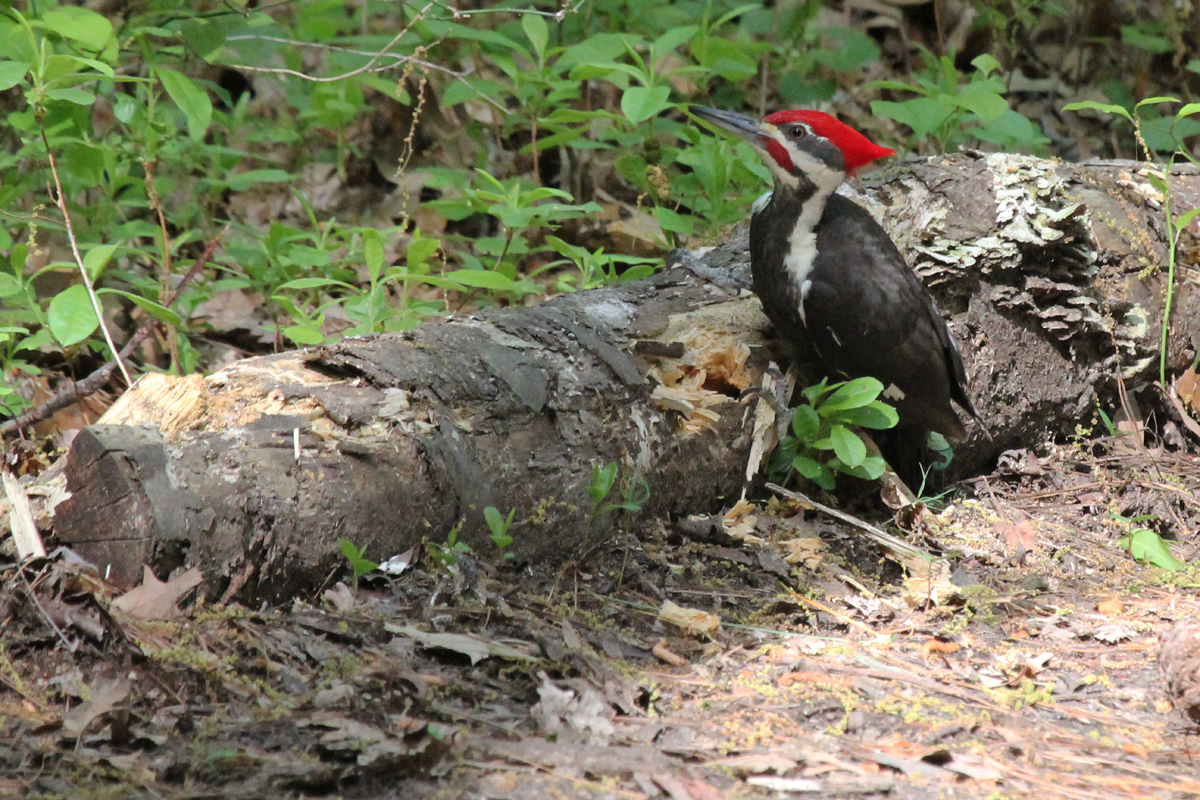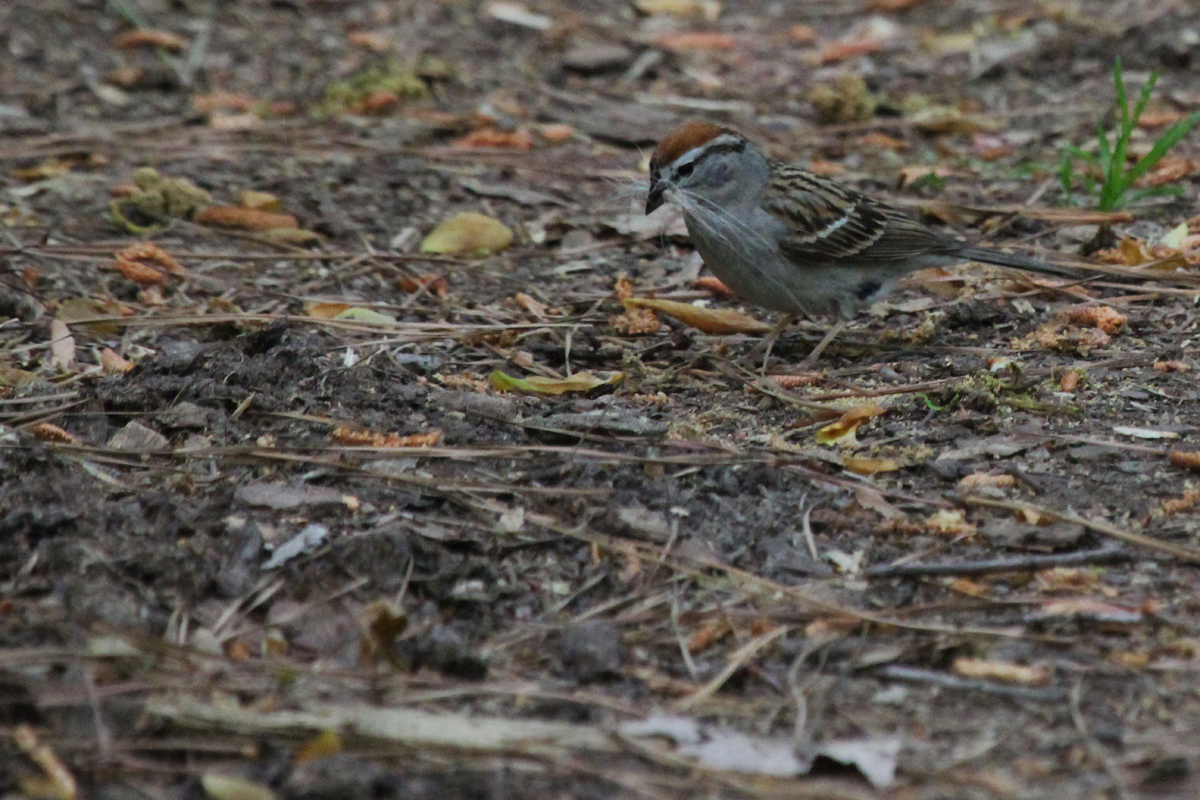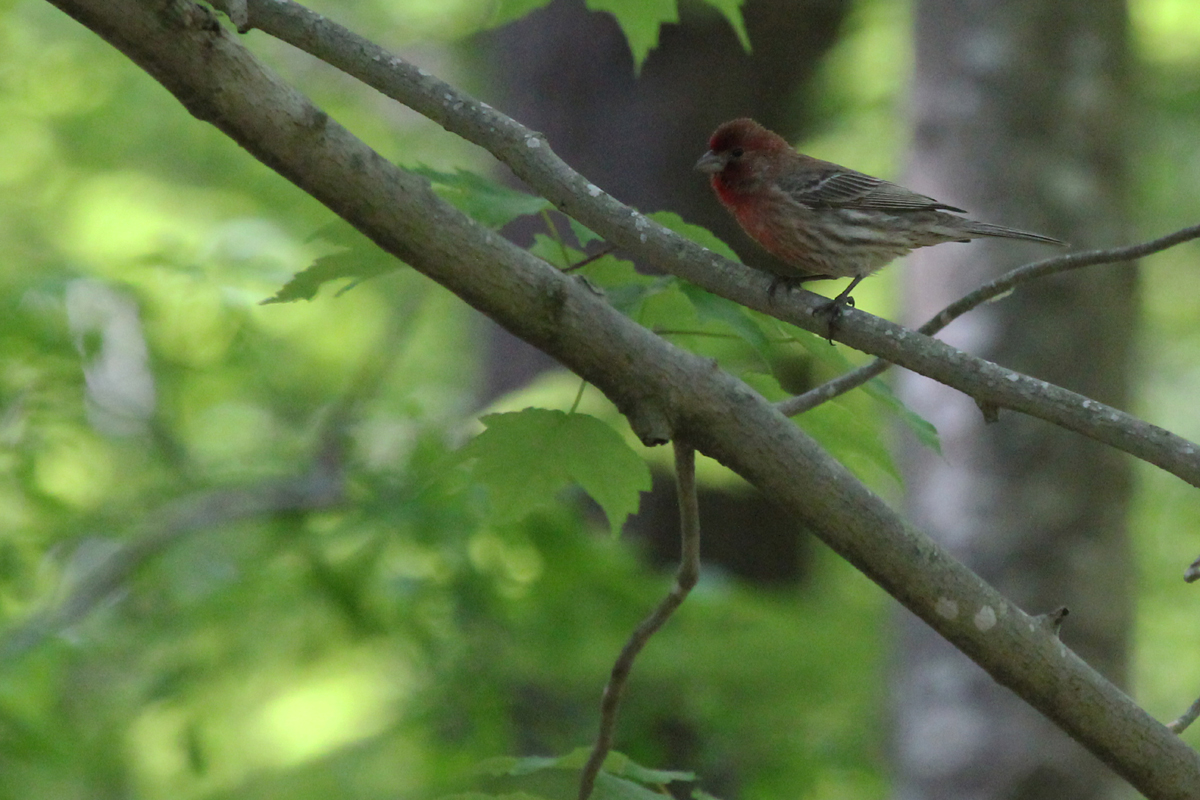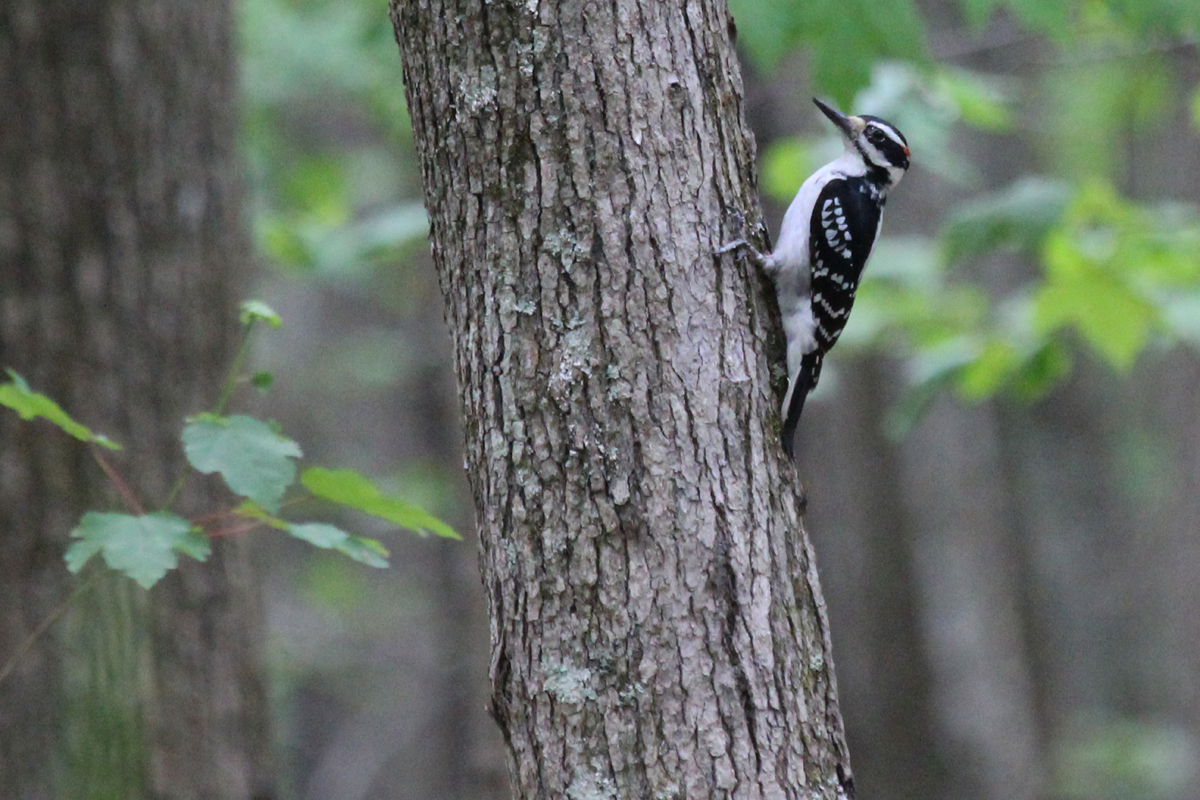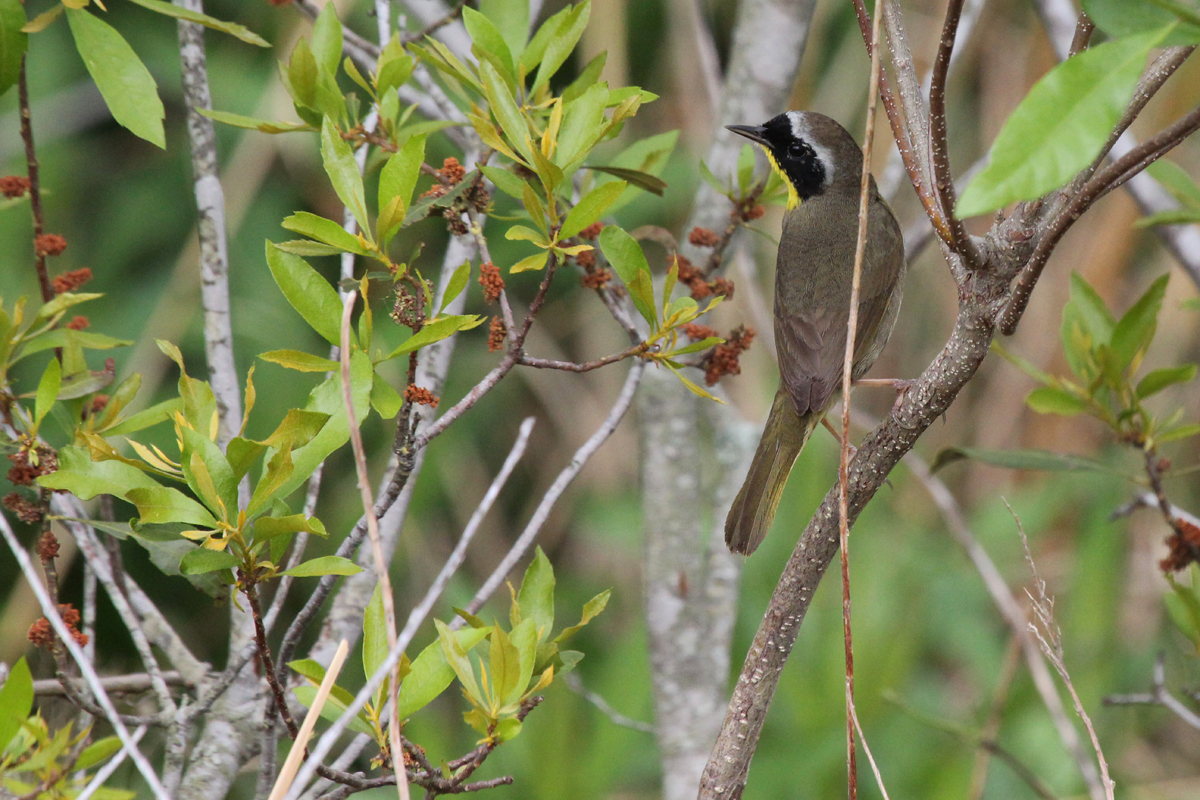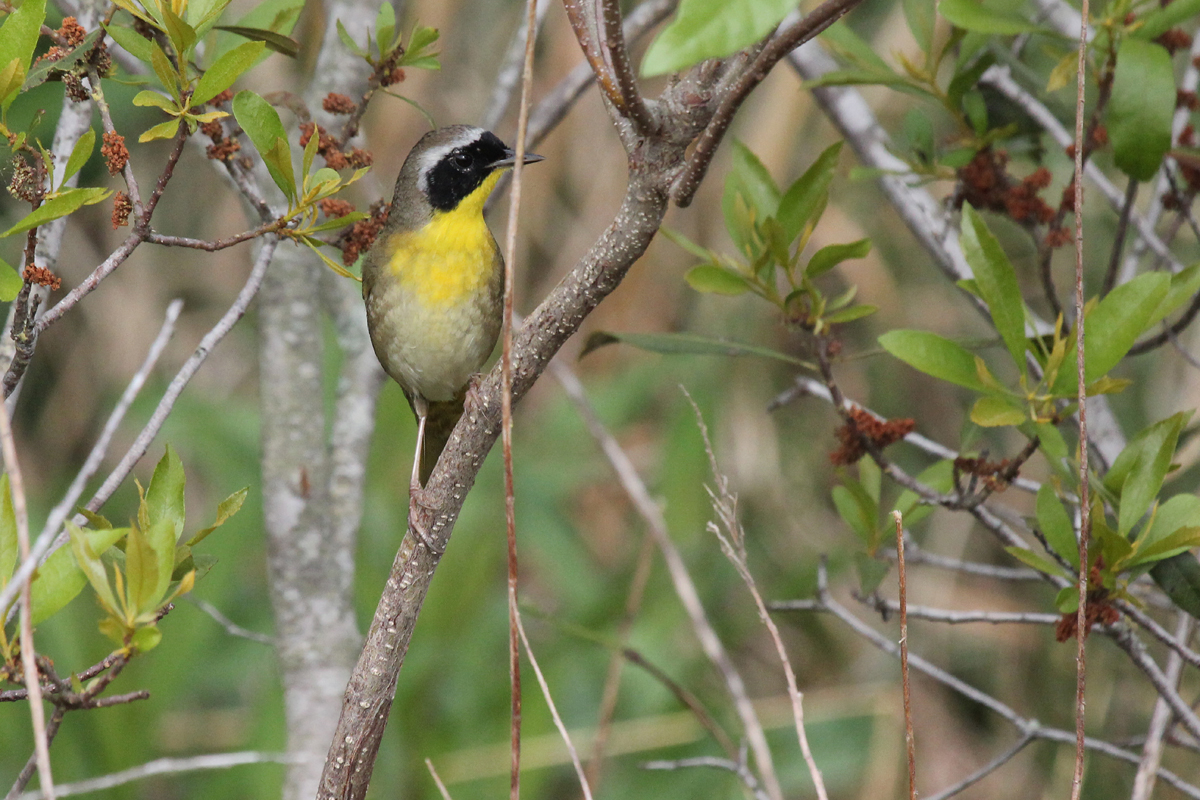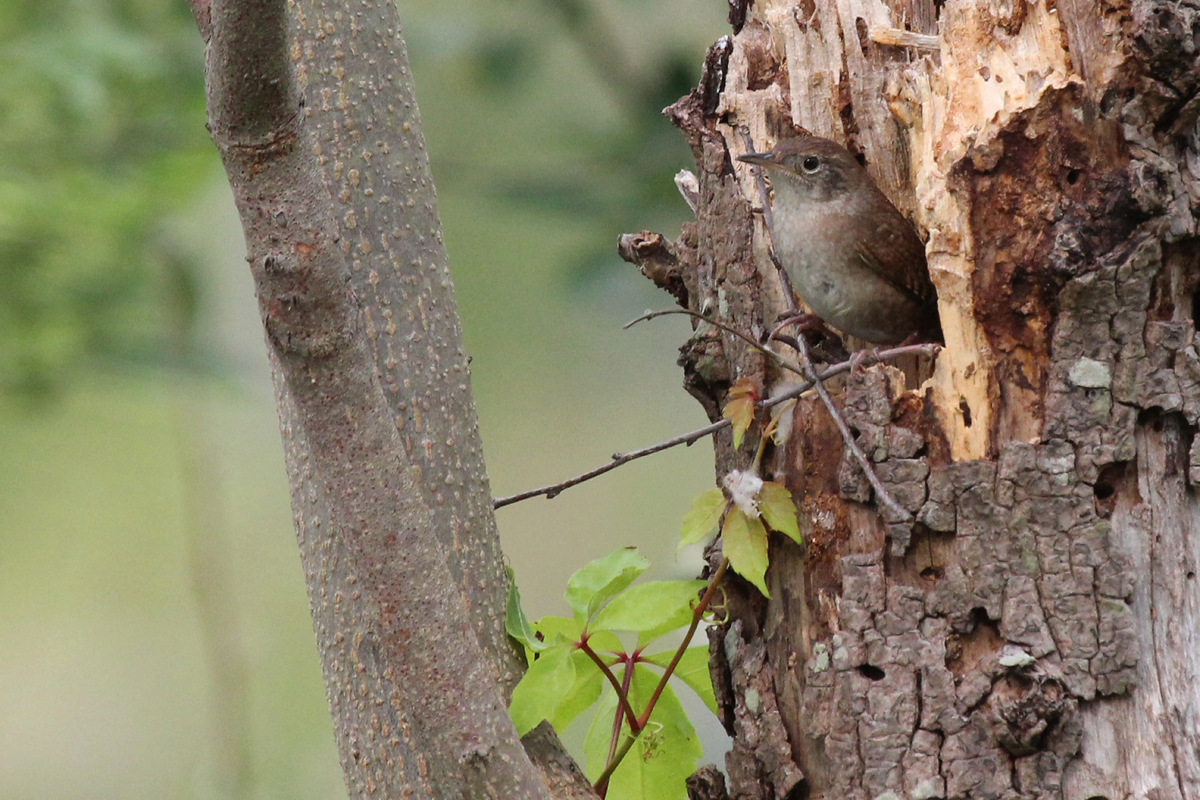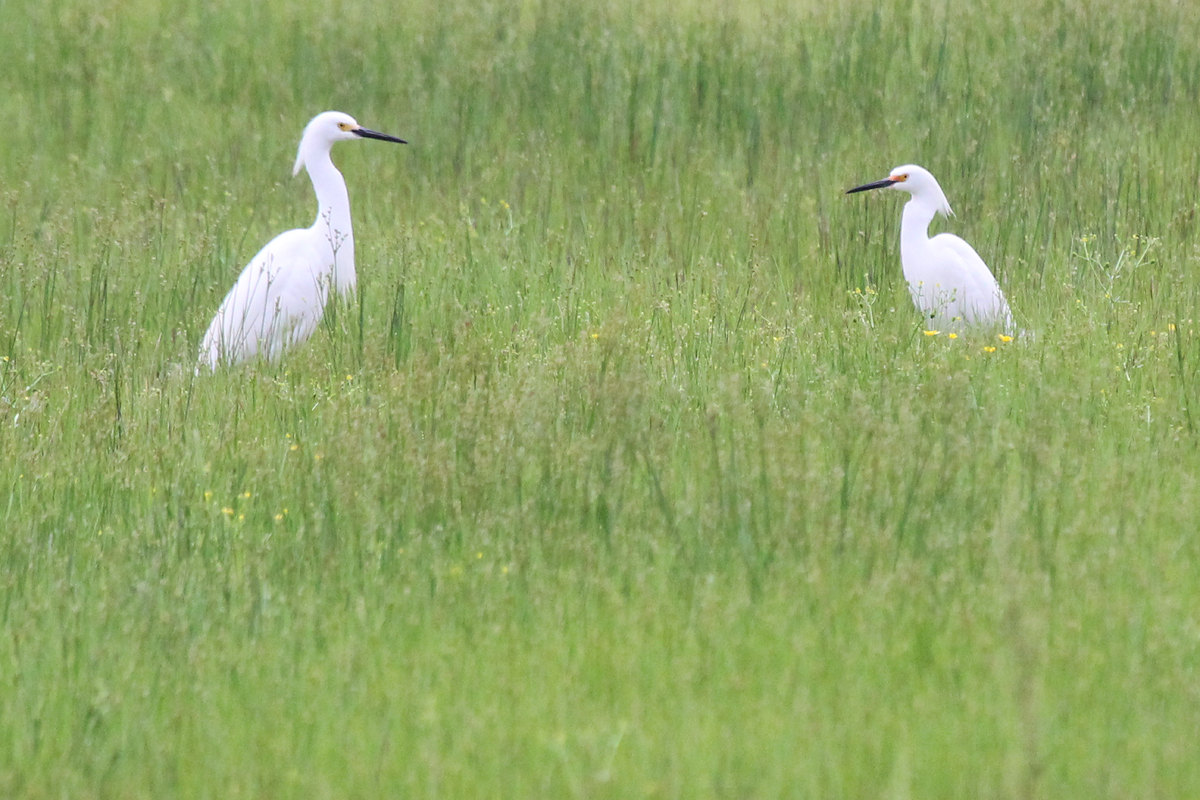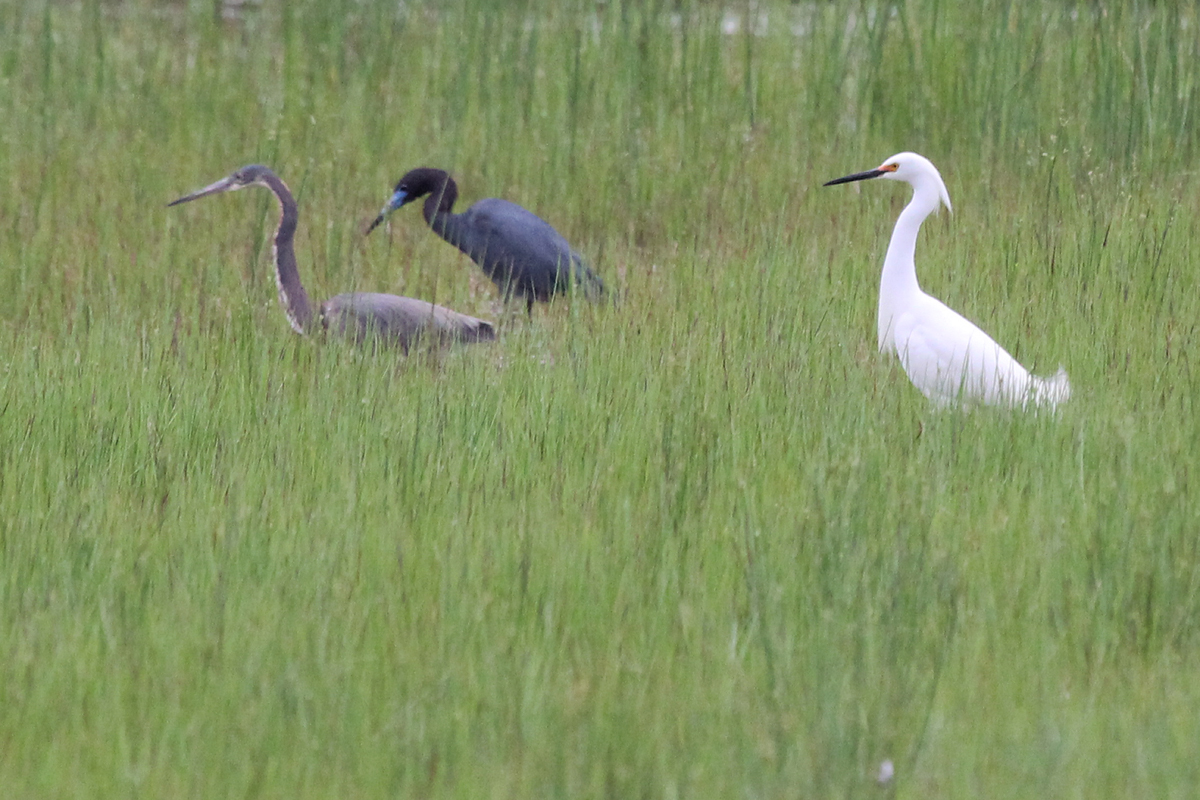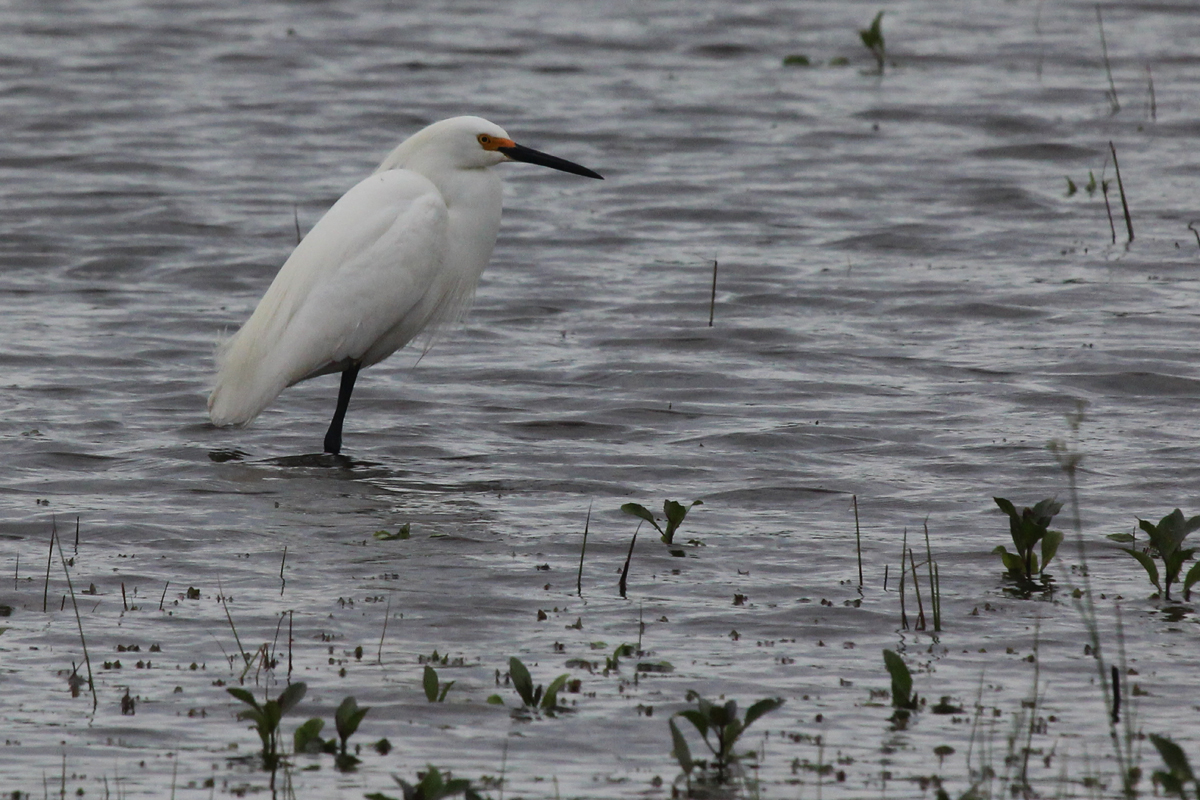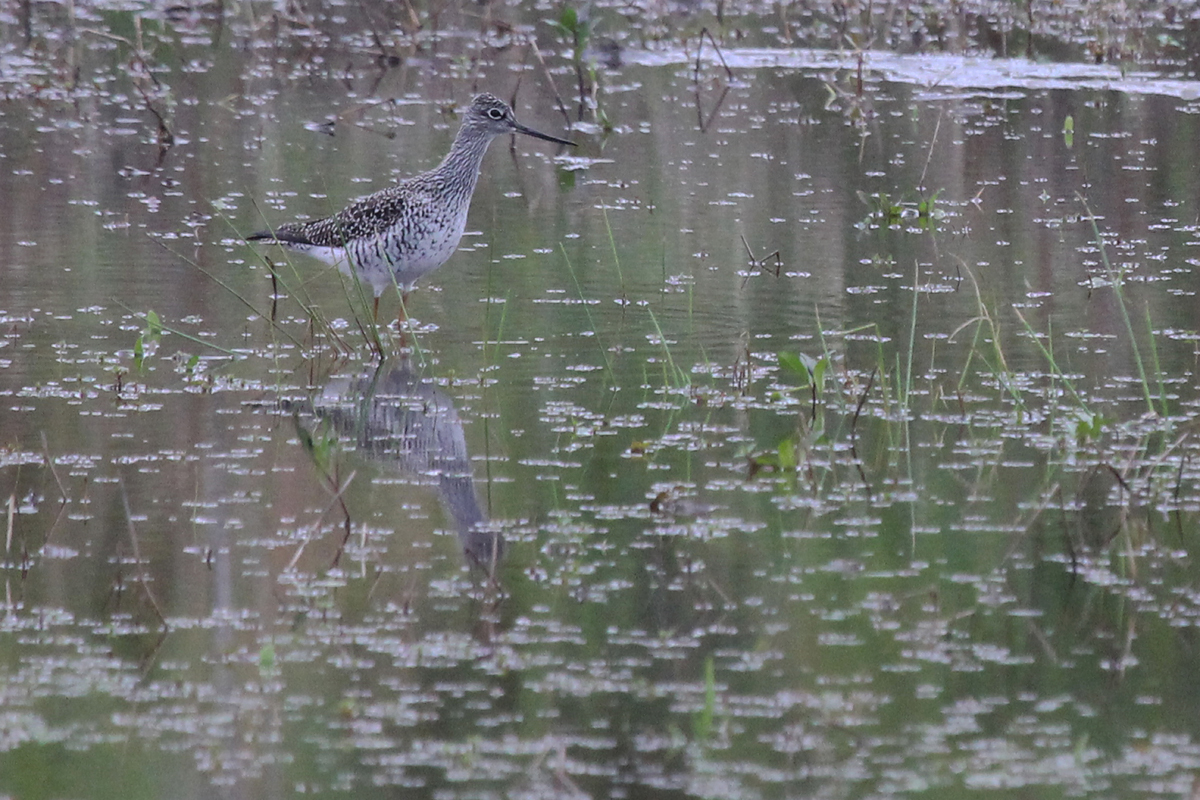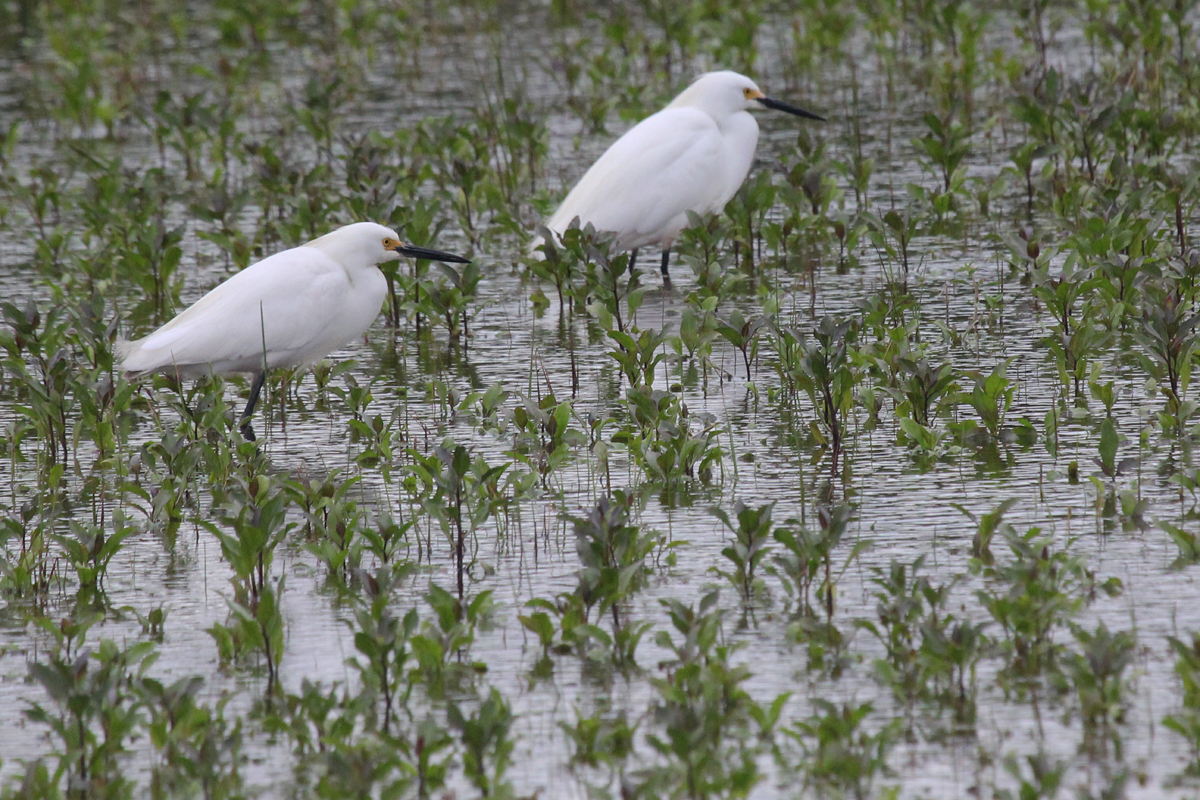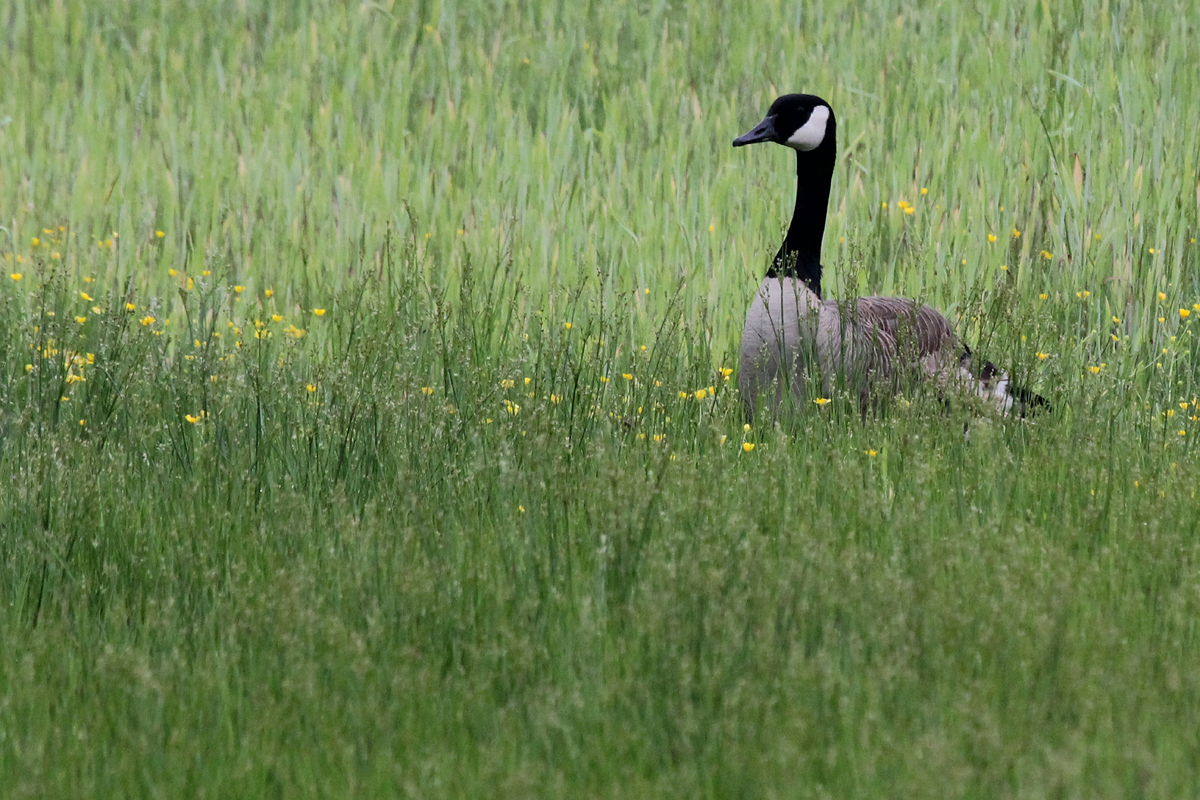 For those hoping to view every photograph submitted for Virginia Beach during this period, please see the complete listing for the month of May located on eBird's Media explorer by clicking here! Please remember, anyone with an eBird account also has the ability to rate these photographs (1-5 stars), and based on the average rating, this is how eBird populates anything media-driven on the website, particularly the Illustrated Checklists! So, if you're one of the many folks who enjoy looking at photographs of birds, take some time to click them all and rate them, it helps make eBird better and better each day!
LOOKAHEAD: In early May, we bid farewell to Gadwall, Merlin, Ruby-crowned Kinglet, Hermit Thrush, Palm Warbler, Nelson's Sparrow & Pine Siskin (5 May expected departures) as wells as Blue-winged Warbler, Broad-winged Hawk, Blue-winged Teal, American Wigeon, Sharp-shinned Hawk, Wilson's Snipe, Bonaparte's Gull, Blue-headed Vireo, Sedge Wren, White-throated Sparrow & Savannah Sparrow (10 Apr). Any records for these species moving forward will flag in eBird as 'rare', but really they are flagging for being found past their usual date of departure. In early May, we have typical departure dates for Chestnut-sided Warbler, Black-throated Green Warbler, Piping Plover, Peregrine Falcon & Yellow-rumped Warbler (15 May) and Wilson's Warbler, Magnolia Warbler, Black-throated Blue Warbler, Rose-breasted Grosbeak, Whimbrel, Bank Swallow, Solitary Sandpiper, Black-and-white Warbler, Red-throated Loon, American Bittern, Northern Harrier, Sora, Swamp Sparrow & Baltimore Oriole (20 May). So, make sure to try for your last sightings of the season on these species while you can! If you observe any of these species near or after those dates, please try to document their occurrence to the best of your ability; it helps make eBird data & filters more accurate! For annually expected spring arrivals, as of the reporting period close date, we have not yet logged arrivals for Bank Swallow (15 Apr expected arrivals), Gull-billed Tern (25 Apr) and Common Nighthawk (30 Apr). Moving forward, we have now concluded the expected spring arrivals season, and no new species are expected (aside from those listed above that we just haven't logged yet). As always, make sure to report your finds to eBird so the data can be used to adjust the average expected spring departure dates! LASTLY, for those devoted birders who do follow this journal, please know that a Facebook Group that complements all these sightings has been created (and contains close to 100 members at this point), titled the Virginia Beach Bird Sightings & Discussion group. For anyone with a sincere interest in our city's rich tapestry of bird species, please feel free to check it out, by requesting to join at the link above (and by answering the three questions required for approval).
For further information regarding this thrice-monthly, online publication, please visit the Journal Overview Page which provides an in-depth explanation of the format, layout and composition of the journal. As always, thank you for reading, and please leave me a comment below (you may use your Facebook, Gmail or other accounts to easily do so), or just click the Heart icon to the lower right of this post to let me know you stopped in!