The early July period typically marks the beginning of fall migration for shorebirds into Virginia Beach, and while birding overall can still be a bit slow since passerines and waterfowl are still a ways off, the incoming shorebird are cause for excitement even in the typical hot & humid weather of July. In contrast to June, where diversity tends to drop steadily as late spring lingerers disappear, leaving behind only the true breeders, July is a month to truly celebrate as these shorebirds begin to trickle in and overall diversity of species therefore increases throughout the month! In total, 123 species were logged to eBird during the early July period, topping the 120 species logged during the same period last year. Highlights included continuing rarity records for WARBLING VIREO & ANHINGA, new unseasonal records for AMERICAN BLACK DUCK & SURF SCOTER, continuing unseasonal records for HOODED WARBLER, early first-of-season records for SPOTTED SANDPIPER & WHIMBREL, first-of-season records within expected dates for LEAST SANDPIPER & SHORT-BILLED DOWITCHER, and interesting records for CHUCK-WILL'S-WIDOW, WILD TURKEY & OVENBIRD!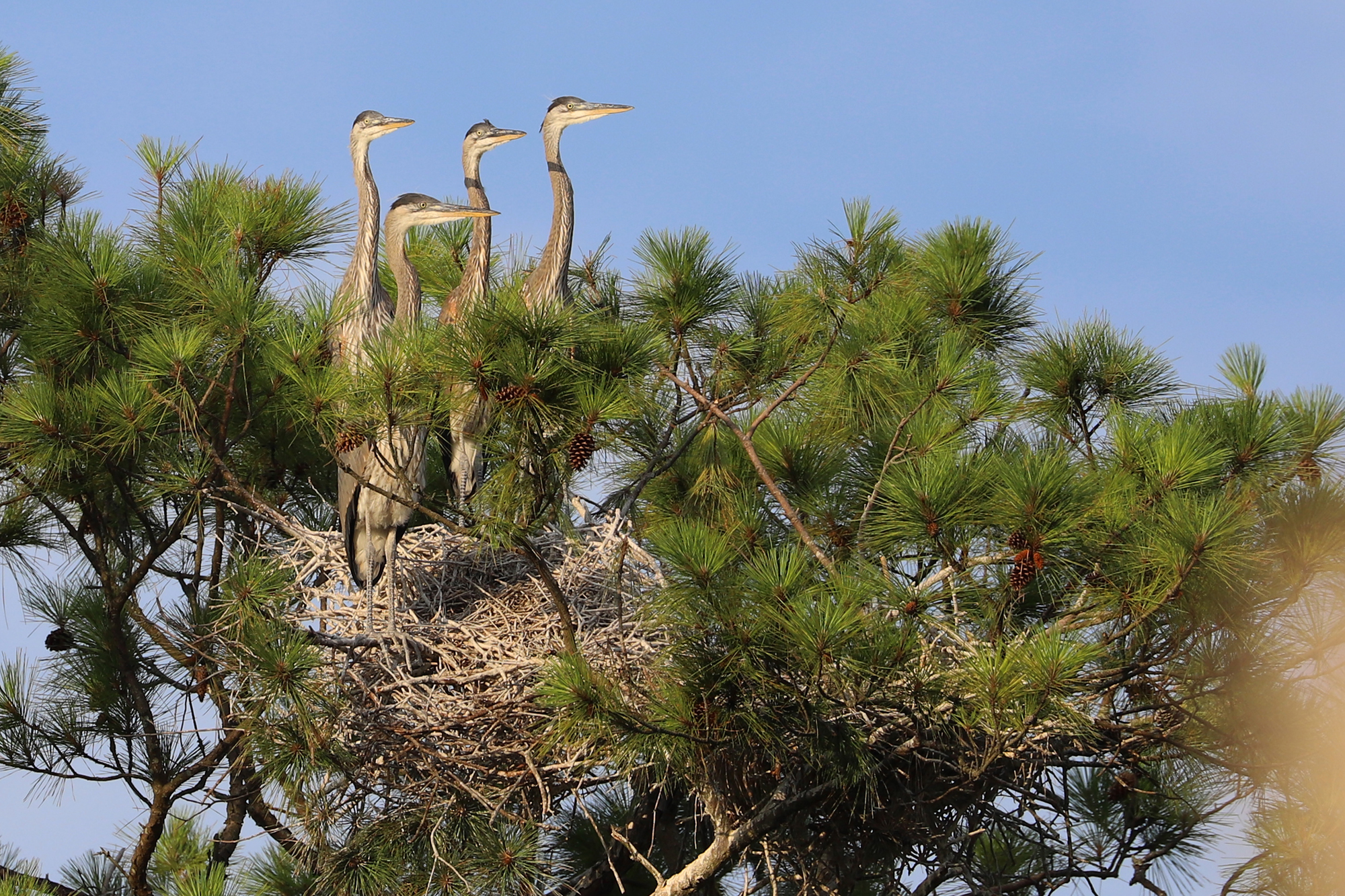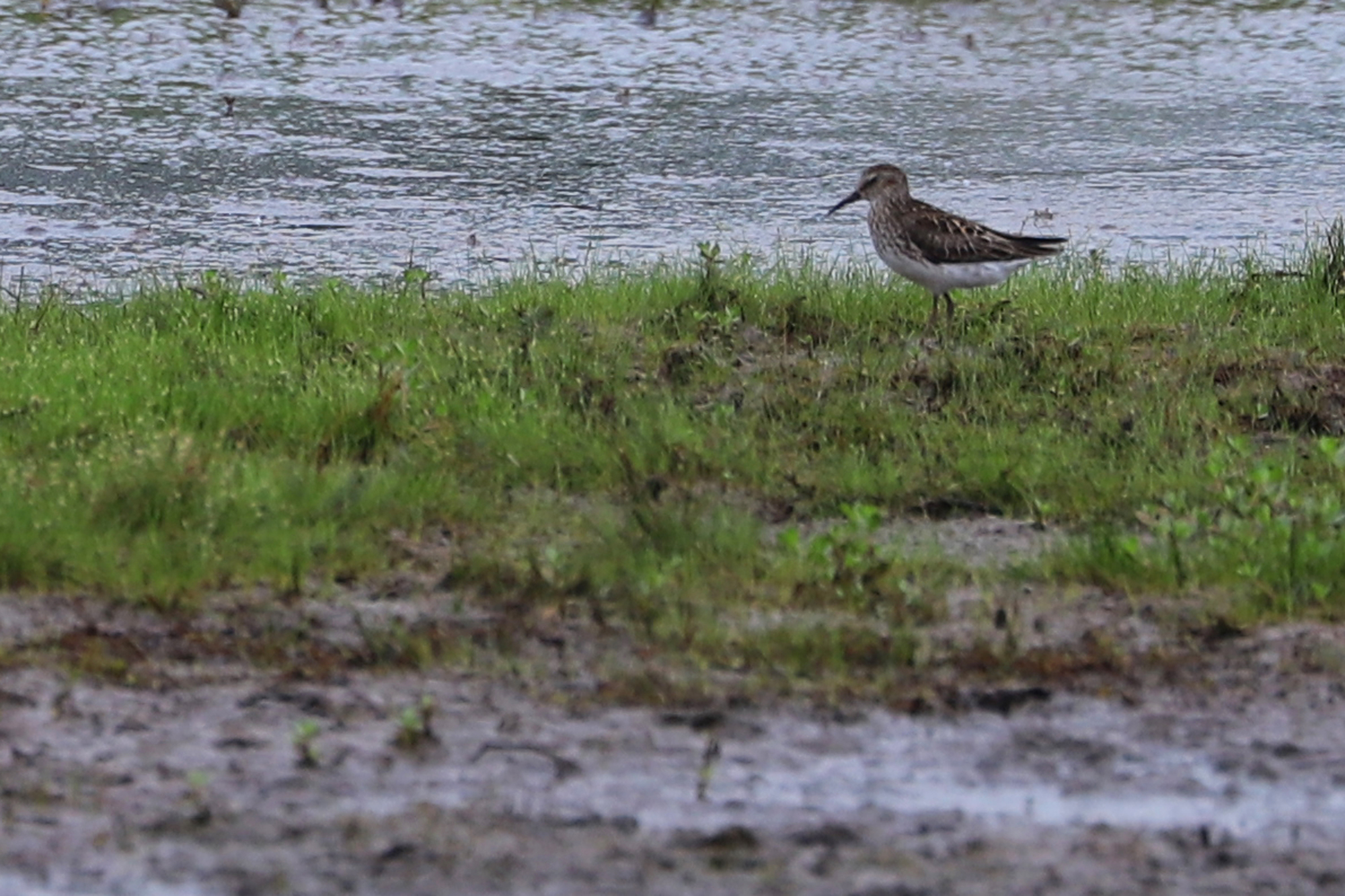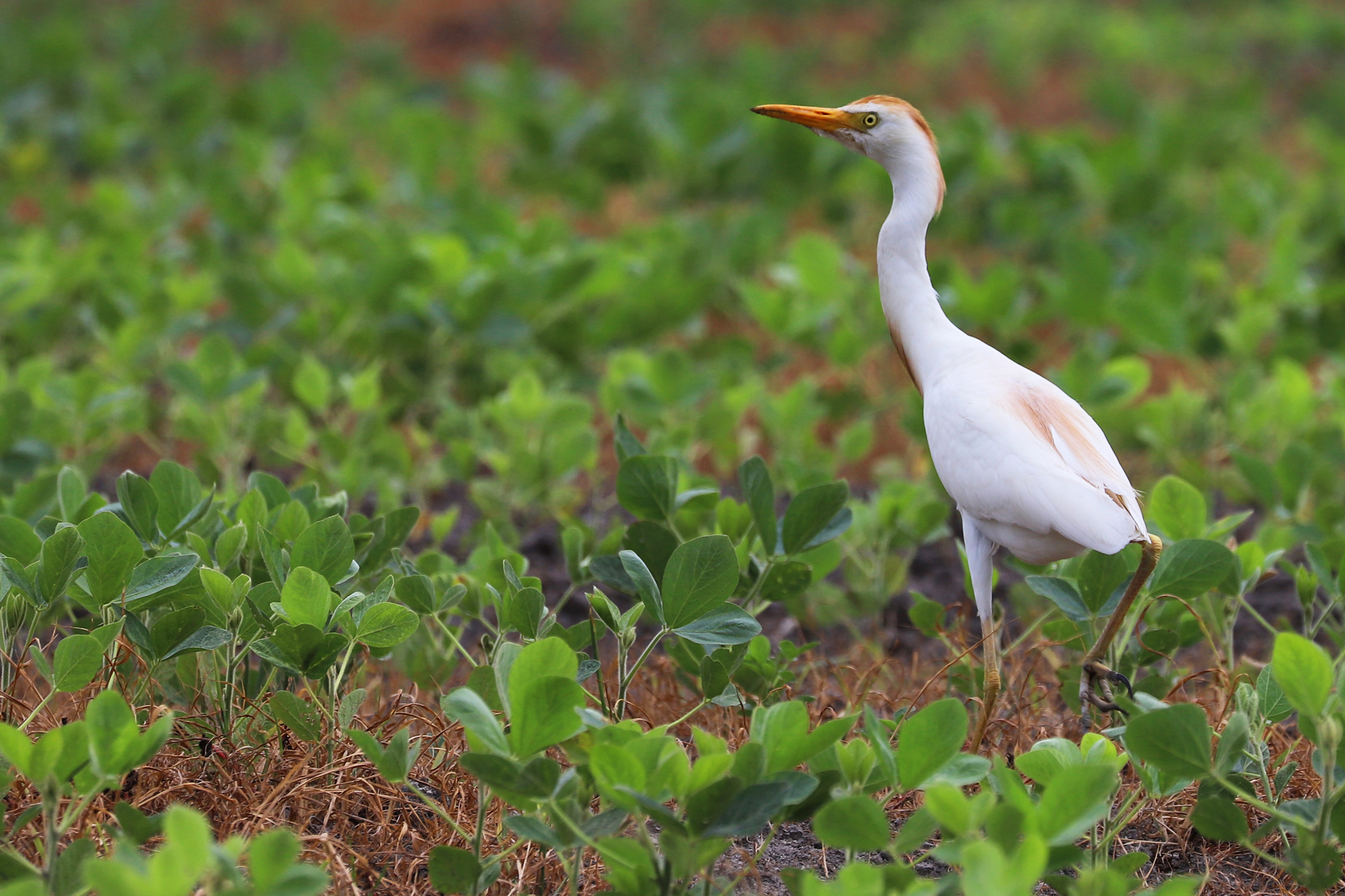 Most notable for this period were ongoing reports for a nesting pair of WARBLING VIREOS in the Ashville Park neighborhood just north of Pungo. With the first individual, a singing male, noted at this location 19 Jun (a.r. Karen & Tom Beatty), and shortly after, a female observed staying close to the male, it seemed probable that the pair were nesting somewhere nearby. Fast forward a couple of weeks and excitedly, a nest was indeed found in the neighborhood 1 Jul (vis. Andrew Baldelli and ph. Karen & Tom Beatty), making for an incredible first breeding confirmation for this species in coastal Virginia for the 2nd Virginia Breeding Bird Atlas! Thus far for the project, which runs from 2016-2020, the only other confirmation for Warbling Vireo within the Coastal Plain region of Virginia occurred at Dyke Marsh Wildlife Preserve / Belle Haven Park in Fairfax County, roughly 150 miles away! The Atlas Map for Warbling Vireo really showcases the rareness of this record more than any words being typed here can, so be sure to check it out when you have the time! Additionally, this represents the first Warbling Vireo record during the month of July in a coastal county south of New Jersey (as far as eBird goes)! These rarities were further documented by photographs & audio recordings on 2 Jul (2, ph. Emily Johnson & Nathaniel Watkins), 5 Jul (ph. & a.r. Reuben Rohn) and on 6 Jul (2, ph. Rob Bielawski) which is the most recent report logged to eBird.
The summering ANHINGA population at Stumpy Lake NA first noted way back on 21 Apr (2, ph. Stephen Keith) continued to be observed throughout the period with a high count of 3 individuals logged, and photographic records occurring 1 Jul (3, ph. Reuben Rohn), 2 Jul (1, ph. Rob Bielawski) and 4 Jul (3, ph. Jonathan Snyder; 2, ph. David Clark). Additionally, a new location, Rock Creek Recreation Area roughly 2.5 miles to the east of Stumpy Lake yielded records for Anhinga as well, and it is possible these may be some of the same individuals or a separate group. Reported initially by Nilda Schwartzwalder to Mary Reid Barrow (long-time author of the Close Encounters wildlife section of the Virginian Pilot), the first eBird record for the species at this location was input 1 Jul (1, Pamela Monahan), with another record on 4 Jul (2, Rob Bielawski). Surprisingly, this species has apparently been present at this location for several summers, starting back in 2014 as mentioned in this article in the Virginia Pilot! It would be truly interesting to find out whether the species has bred somewhere in the neighborhood along the shorelines of the collection of storm water retention ponds. At least 3 individuals have been observed here this summer (1 male, 2 female/immatures).
We had a pair of unseasonal waterfowl species reported this period, with a single AMERICAN BLACK DUCK observed at Pleasure House Point NA on 5 Jul (vis. Adam Sell), and also a single SURF SCOTER along the coast at False Cape SP during the early July survey for Back Bay NWR on the same date (ph. Drew Avery & Edward Brinkley). Additionally in the realm of unseasonals, a male HOODED WARBLER continues to be heard along the upper reaches of the Long Creek Trail at First Landing SP, with records logged this period on 2 Jul (aud. June McDaniels) and again on 7 Jul (aud. Cindy Hamilton & June McDaniels). This individual was first documented back on 23 Jun (ph. June McDaniels) in the same area, which marked Virginia Beach's first summer (Jun/Jul) record for Hooded Warbler in eBird going all the way back to 1979! This individual also earned a "probable" breeding code for the 2nd Virginia Breeding Bird Atlas, the highest code for the species in the city so far submitted to the project.
As mentioned above, early July is the first period to showcase fall arrivals, typically in the form of southbound shorebirds that have departed from their northerly breeding grounds. Four such species occurred this period, two on the early side of the expected dates, and two within their expected range. Our first records for SPOTTED SANDPIPER occurred just a day on the early side of the expected 5 Jul arrival with one individual observed at Back Bay NWR on 4 Jul (vis. Adam Sell) in the early morning hours, and another was found later in the day at Princess Anne WMA (ph. Rob Bielawski). In similar fashion, the first WHIMBREL of the season was documented at Back Bay NWR on 9 Jul (ph. Cindy Hamilton), just a day ahead of its typical 10 Jul arrival date. In terms of arrivals that fell within expected date ranges, the first was LEAST SANDPIPER with an individual found at Princess Anne WMA on 7 Jul (ph. Rob Bielawski), two days after the expected 5 Jul arrival date. Additionally, our first SHORT-BILLED DOWITCHER of the season showed up at Back Bay NWR on 9 Jul (ph. Cindy Hamilton), just four days after the expected arrival date.
Several interesting records also popped up during the early July period, led by an incredible high count of 22 CHUCK-WILL'S-WIDOWS heard vocalizing overnight at False Cape SP on 1 Jul (aud. Tracy Tate) as part of Atlasing outing. A WILD TURKEY was reported at the Adventureworks Wetland Zipline Park near Red Wing Golf Course on 2 Jul (obs. Shawn Callahan), which is quite unusual given how scarce this species is north of Indiana River & Sandbridge Roads. Lastly, a vocalizing OVENBIRD at Princess Anne WMA Whitehurst Tract on 6 Jul (aud. Rob Bielawski) marked the first time one had been recorded during the summer (Jun/Jul) at the WMA for eBird. It's possible this is already a very early post-breeding dispersal, but it is also possible that the individual is breeding in the small forested area that lines the west side of the tract. Either way, it's exciting this time of year.
Breeding bird observations were still going strong through early July and the 2nd Virginia Breeding Bird Atlas has continued to steam ahead with full momentum! Scattered breeding bird confirmations were photographically documented around the city this period as follows: a pair of recently fledged KILLDEER along Shipps Cabin Rd. on 1 Jul (ph. Karen & Tom Beatty, and later also 6 Jul, ph. Rob Bielawski); a recently fledged BLUE JAY & BROWN-HEADED COWBIRD off Holland Rd. on 1 Jul (ph. Carolyn Page); recently fledged TUFTED TITMOUSE & OVENBIRD at Stumpy Lake NA on 2 Jul (ph. Rob Bielawski); an occupied nest of GREAT BLUE HERONS at First Landing SP on 4 Jul (ph. Rob Bielawski); and recently fledged CLAPPER RAILS at Pleasure House Point on 4 Jul (ph. Rob Bielawski). Keep up all the great work Atlasing folks, and please remember, if you have any questions regarding the project, please check out the 2nd Virginia Breeding Bird Atlas Website, the official Atlas Facebook Page, or the Facebook Group for more information!
For those hoping to view every photograph submitted for Virginia Beach during this period, please see the complete listing for the month of July located on eBird's Media explorer by clicking here! Please remember, anyone with an eBird account also has the ability to rate these photographs (1-5 stars), and based on the average rating, this is how eBird populates anything media-driven on the website, particularly the Illustrated Checklists! So, if you're one of the many folks who enjoy looking at photographs of birds, take some time to click them all and rate them, it helps make eBird better and better each day!
LOOKAHEAD: With regard to annually expected fall arrivals, as of the reporting period close date, we have not yet logged first arrivals for GULL-BILLED TERN (5 Jul average expected arrivals), BLACK TERN, WESTERN SANDPIPER, LESSER YELLOWLEGS, PIED-BILLED GREBE & RUDDY TURNSTONE (10 Jul), PIPING PLOVER, SOLITARY SANDPIPER, SEMIPALMATED PLOVER, PECTORAL SANDPIPER & BLACK-BELLIED PLOVER (15 Jul) and RED KNOT & STILT SANDPIPER (20 Jul). Since passerines aren't yet on the move, this month is truly dedicated to a search for shorebirds! The coastal beaches of First Landing SP, the Resort Area & North End, Little Island Park and Back Bay NWR, as well as any low-tide marshes like those at Pleasure House Point NA and flooded fields will become highly sought-after locations to search for shorebirds as we move deeper into July. Depending on the winds, and potential for rainfall, Back Bay NWR's H Pool (along the currently open East Dike), and a pair of impoundments at Princess Anne WMA Whitehurst Tract could provide for shorebirds.
For further information regarding this thrice-monthly, online publication, please visit the Journal Overview Page which provides an in-depth explanation of the format, layout and composition of the journal. As always, thank you for reading, and please leave me a comment below (you may use your Facebook, Gmail or other accounts to easily do so), or just click the Heart icon to the lower right of this post to let me know you stopped in!