While it is the shortest of the thrice-monthly periods, Late February managed to hold its own in terms of both quantity and quality! Matching mid-February, 144 species were logged to eBird this period, and Virginia Beach birders closed out the month with a strong list of 168 species (up significantly from the 155 logged in February 2018). Temperatures dropped a bit this period from the late winter heat wave experienced in the middle of the month, though flowering trees continue to blossom. The real weather headline was the amount of rain we received though, and it felt as though the sun was only out for maybe one or two days in total this period. Highlights this period included new rarity records for CACKLING GOOSE, BARN OWL & LARK SPARROW, continuing rarity records for TUFTED DUCK, HARLEQUIN DUCK, COMMON MERGANSER, PURPLE FINCH & BREWER'S BLACKBIRD, continuing unseasonal records for BLUE-WINGED TEAL & BLACK-AND-WHITE WARBLER and interesting records for BRANT & RED-NECKED GREBE!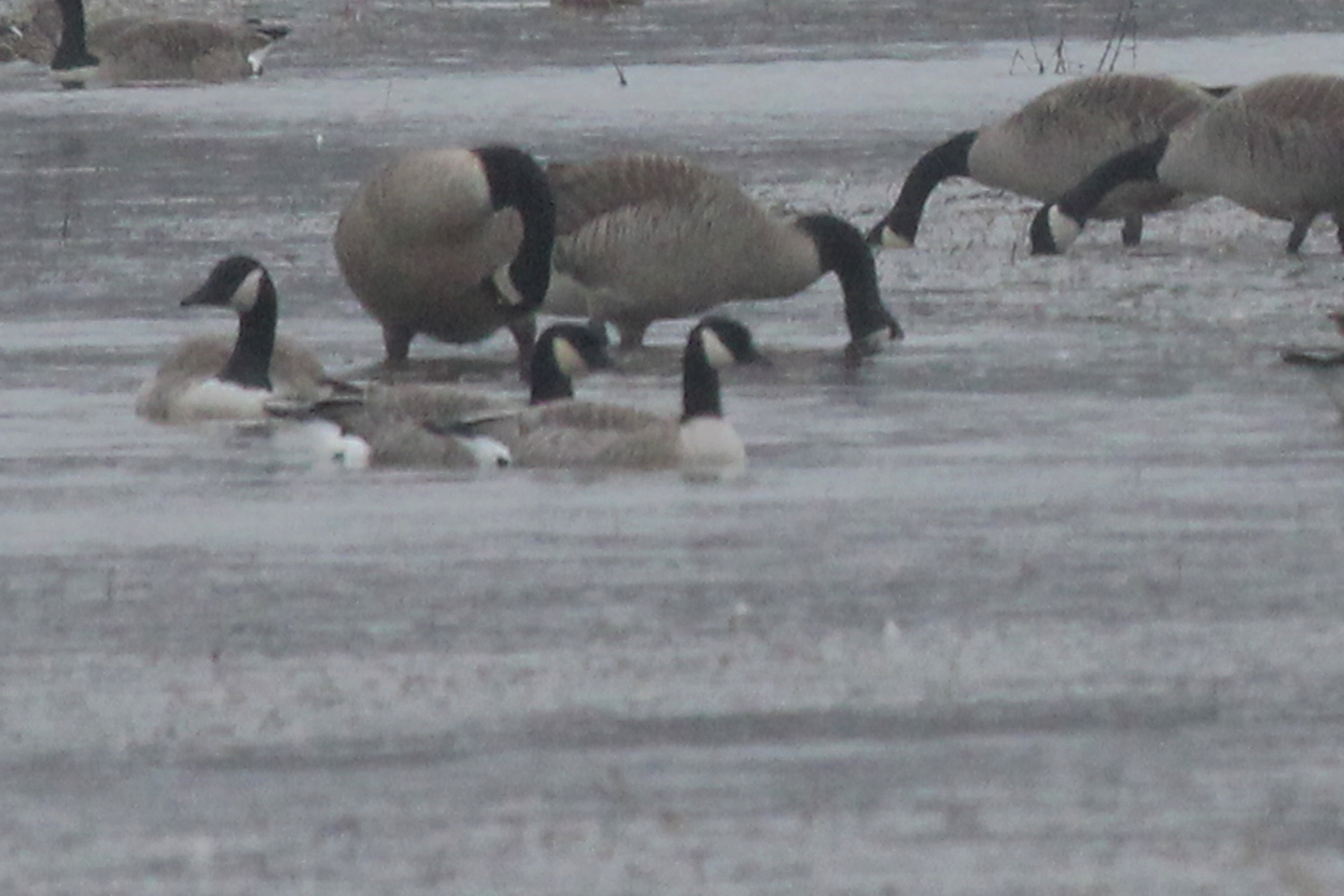 A pair of CACKLING GEESE were discovered foraging in a flood field north of Gum Bridge Road (just west of Charity Neck Road) with a large flock of Canada Geese on 23 Feb (vis. Matt Anthony & Nick Newberry). The pair was observed again the following day along with Canada & Snow Geese, as well as a single Tundra Swan (ph. Rob Bielawski). Later in the day, the several-day-long rainstorm finally cleared and the water quickly receded from this field; a quick check in the late afternoon revealed most of the flock had dispersed just as the floodwaters did. While a single Cackling Goose has been known to be present in the larger goose flock near Sherwood Lakes, this is the first record for the year of multiple Cacklers, and the first at this particular location.
Only the second ever recorded to eBird in Virginia Beach, a BARN OWL observed being mobbed by crows at Pleasure House Point NA on 27 Feb (vis. Ezra & Theo Staengl, vis. Shawn Kurtzman) was a huge surprise! Last May, a single Barn Owl was also reported at this location under the same circumstances, but it was never found again. One must consider that this is likely the same individual, and it has managed to stay hidden due to its nocturnal habits. The nearby golf course and surrounded fields/pine stands could provide perfect habitat for this bird, and frankly it's just exciting to know there is one hanging out somewhere in the city.
Last of the new finds this period, a single LARK SPARROW was found foraging along the edge of the asphalt on Nanney's Creek Road on 24 Feb (ph. Andrew Baldelli). This is the first Lark Sparrow seen here this year, and the fourth of the rare winter sparrows to be logged, along with White-crowned, Lincoln's & Clay-colored. Perhaps as we head into March, Vesper will find its way into the crowd. *Please note: There were murmurings across social media that later in the day, twitchers hoping to spot this individual were trespassing on private property. So everyone reading this is aware, this Lark Sparrow was easily viewed from the public roadway during the initial and subsequent observations (ph. Steve Myers, ph. Rob Bielawski), and there is simply no excuse for anyone walking onto private land to see this, or any other species. This is by no means an isolated issue in the grand history of birding, however, the internet has made getting the word out about rarities significantly faster, for better and for worse, and it is the responsibility of all individuals to behave properly with regard to the property of others. Birding from a public roadway often yields great birds (the Wood Stork of 2017 for example) and it is a style of birding that will always continue. Parking a car on a driveway apron and stepping onto private land is something different altogether and should never be done without permission. While this Lark Sparrow was not observed again at this location, another was reported at Stuart Road on 26 Feb (vis. Karen & Tom Beatty), which is another public road surrounded by private property, please stay on the asphalt if searching here.
Moving on to continuing rarities, the first-ever TUFTED DUCK found on the lake behind Chartway Federal Credit Union's headquarters on Cleveland Street on 19 Feb (ph. Andrew Baldelli & Tracy Tate) continued to be observed at the same location through 26 Feb (last vis. Marlee Morris). It was thoroughly searched for on the 27th & 28th, as well as on 1 Mar (as this is being written), and has not been observed. There are a large number of neighborhood ponds scattered across the Hampton Roads metropolitan area though, and it could have simply moved to another nearby location, perhaps with the group of Lesser Scaup is was associating with. If it pops up again, it'll certainly be out on the eBird alerts quickly. Many of will be left to muse about where it may have gone too, and perhaps another city nearby is in for a first record just like Virginia Beach was fortunate to enjoy. Throughout the course of 8 days while it was known, a total of 120 eBird reports were logged for the bird, probably the most for a single bird in the city dating back to the miraculous 157 reports for the Back Bay Fork-tailed Flycatcher of 2017.
Also in the waterfowl realm of continuing rarities, the immature male HARLEQUIN DUCK present since the Little Creek CBC on 31 Dec 2018 was logged again this period, though only a single time on 25 Feb (ph. Baxter Beamer). This pesky individual has been very difficult to pin down to a single viewable location, with probably better than half of the folks who've looked for it coming up empty. It has been observed ranging from the west side of the Lesner Bridge, east to the marina on the east side of Chic's Oyster Bar. However, there are many nooks & crannies for this bird to hide amongst. Twitchers be warned.
COMMON MERGANSERS continued at two separate location this period, around Lynnhaven Inlet and at Sherwood Lakes. Last period, a group of three females was observed at Lynnhaven Inlet and two of them were again found on 22 Feb (ph. June McDaniels). Additionally, the group of female Common Mergansers at Sherwood Lakes persisted through at least 26 Feb (vis. Karen & Tom Beatty, vis. Cathy Williamson). Hopefully individuals from at least one location are still present heading into March, as it is a difficult month-bird to come by out here (for those of us who are crazy enough to maintain month-lists).
Continuing female PURPLE FINCHES were observed at three separate private residences during late Feb, as follows: one in Great Neck Estates on 23 Feb (ph. J.A.), one in Laurel Cove on 26 Feb (ph. Loretta Silvia), and one in Church Point on 28 Feb (vis. Tracy Tate). This continues to be an excellent irruption year for this species in southeastern Virginia, however, there are currently no public locations known harboring the species (possibly First Landing SP?). Perhaps that will change in March?
The wintering flock of BREWER'S BLACKBIRDS along West Gibbs Road in the Blackwater section of Virginia Beach continued to be seen this period, with several reports occurring from 24-27 Feb (ph. Lisa Rose & Jason Strickland, ph. Rob Bielawski, vis. Will McPhail, vis. Cindy Hamilton) after having gone unrecorded dating all the way back to 13 Jan. The birds have been present on a private farm, Breeze Farms to be specific, and like with the Lark Sparrow mentioned earlier it is important to note that observers visiting this site be highly respectful of their surroundings. Unless you receive permission from the homeowners, it's probably best to stay on the public roadway. The blackbirds will often tee up in the nearby trees, though the bulk of their time is spent hopping around the muddy horse pens (sometimes perching on the fences). Birders beware, there are plenty of Common Grackles, Brown-headed Cowbirds and Red-winged Blackbirds at this location that can cause confusion of which species you might be looking at from a distance.

In what has continued to be a banner winter for the species, continuing BLACK-AND-WHITE WARBLERS were observed at two locations during late February. The single individual that has been observed at Stumpy Lake NA going all the way back to 15 Jan was again viewed on 26 Feb (ph. Steve Myers) along the second loop of the wooded trail, and once more on 27 Feb (ph. June McDaniels). A second continuing individual was observed at a private residence in Great Neck Estates on 25 Feb (vis. J.A.). Four separate locations have yielded Jan/Feb records in the city this year, and with their average arrival date of 5 Apr still a few weeks off, we still have time to find another potential winterer before the true migrants begin arriving, and obscure whether or not a bird wintered here.

Late February is the final period for which BLUE-WINGED TEAL are considered noteworthy, and we had our last such record at Little Island Park on 24 Feb (vis. Andrew Baldelli). Since this species has a 5 Mar average spring arrival date, the cutoff for being mentioned in this journal is 25 Feb (10 days ahead of the arrival date). For more information regarding these dates for other species, please be sure to consult the Noteworthy Observations Criteria Page for 2019.
BRANT continue to defy typical logic this winter, and yet another inland location yielded a foraging flock. This time it was the fields around Great Neck MS on 26 Feb (vis. Loretta Silvia), where a total of 34 were observed! It isn't unprecedented, but it's been a few years since we had reports like this continue to stream in for agricultural fields. Others have been noted this winter at Oceana NAS, HRSD's Atlantic Plant on Firefall Drive, and at Oliver's Pond near Lake Smith. Also interesting, a total of 22 RED-NECKED GREBES were counted off of Guy Avenue on the Chesapeake Bay on 27 Feb (vis. Andrew Baldelli), marking a 2018-19 seasonal high count, besting the previous high count of 4 by a considerable amount!

Heading into early March, the coastline should continue to be watched closely for large-scale movement of Razorbills as they begin departing the area. Snow Geese should continue to move through in large numbers, with massive flocks descending on agriculture fields in southern Virginia Beach to forage. There is only one expected spring arrival species during early March, being Blue-winged Teal (5 Mar). However, this is a good time of year to get an early Royal Tern or Piping Plover, and it's also worth searching for Vesper Sparrows which are an early migrant. We are just a couple of weeks away from the real beginning to spring migration so early March is always a good time to wrap up seeing some species that were missed in Jan/Feb before we start the flood of northbound migrants.
For those hoping to view every photograph submitted for Virginia Beach during this period, please see the complete listing for the month of February located on eBird's Media explorer by clicking here! Please remember, anyone with an eBird account also has the ability to rate these photographs (1-5 stars), and based on the average rating, this is how eBird populates anything media-driven on the website, particularly the Illustrated Checklists! So, if you're one of the many folks who enjoy looking at photographs of birds, take some time to click them all and rate them, it helps make eBird better and better each day!
For further information regarding this thrice-monthly, online publication, please visit the Journal Overview Page</journal/overview> which provides an in-depth explanation of the format, layout and composition of the journal. As always, thank you for reading, and please leave me a comment below (you may use your Facebook, Gmail or other accounts to easily do so), or just click the Heart icon to the lower right of this post to let me know you stopped in!