Record-setting heat arrived in early February across southeast Virginia, which made this a rather interesting first period for the late winter season. Early on, frigid temperatures in the Midwest and Northeast states continued to push waterfowl into much of Virginia, and while we did benefit a bit here on the coast, it seemed to be the drastic rise and drop of temperatures later in the period that really boosted our sightings locally. All told, the Early February period produced a total of 153 species reported to eBird in the city, including two additions to the Virginia Beach calendar year list which now sits at 173 species! Most reports this period originated along the immediate coast, with the Williamsburg Bird Club's boat trip to the islands of the Chesapeake Bay Bridge-Tunnel greatly aiding in the number of lists submitted. Highlights this period across the city included new rarity records for COMMON MERGANSER, AMERICAN WHITE PELICAN, PAINTED BUNTING, PURPLE FINCH & LINCOLN'S SPARROW continuing rarity records for HARLEQUIN DUCK, WESTERN GREBE, PARASITIC JAEGER, BLACK-HEADED GULL & SNOW BUNTING, new unseasonal records for BLUE-WINGED TEAL, continuing unseasonal records for BLACK-AND-WHITE WARBLER, late records for lingering BLACK SKIMMERS, first-of-year records for BLACK-BELLIED PLOVER and interesting records for SNOW GOOSE, BRANT, WHITE-WINGED SCOTER, RAZORBILL & ORANGE-CROWNED WARBLER!
Kicking things off, we notched our fourth location of the year (and fifth for the winter season) to produce a record for COMMON MERGANSER when a single female was observed with a group of Red-breasted Mergansers at Pleasure House Point NA on 2 Feb (ph. Rob Bielawski). This group of mergansers was observed foraging along Pleasure House Creek, moving upstream into the portion of the creek that sits just south of Shore Drive and east of the Bayville Golf Club. Also relating to Common Merganser, Sherwood Lakes continued to support a group of all females with a peak count of ten being observed this period with the last records appearing on 10 Feb (ph. Nancy Barnhart [7], vis. Tommy Maloney [6]). This group was originally found back on 27 Jan (ph. Prashant A.), with the most recent record occurring 5 Feb (vis. Robert Ake). With other records of single females last period occurring at Little Island Park on 22 Jan (vis. Andrew Baldelli) and on the North Landing River on 26 Jan (ph. Steve Coari & Laura Mae), all waterways seem worth checking for this species, though they tend to prefer clear, freshwater as opposed to brackish/saltwater (the Pleasure House Point individual being an obvious exception)!
Only the second record for the year, a pair of AMERICAN WHITE PELICANS were photographed in flight from Rudee Inlet on 2 Feb (ph. Greg Moyers, vis. David Bridge, Paul Sumner & Matt Wangerin). Back on 20 Jan, a flock of 15 American White Pelicans was observed at Back Bay NWR (ph. Keith Roberts, vis. Clark Olsen), and likely this same group was then later viewed from Rudee Inlet the same day (vis. Tracy Tate). It is possible some of them may have set down on Lake Rudee or another body of water nearby, but it seems more likely that this more recent pair might be separate individuals, perhaps moving from Pea Island NWR in NC to Blackwater NWR in MD, or to Hog Island WMA in Surry County, VA. These are the three locations nearest to us that seem to hold the species as residents rather than catching birds solely passing through like we're accustomed to.
While there are several known locations (all at private residences) where PAINTED BUNTINGS have been observed this year so far, a new location did pop up during early February when a female/immature type bird was logged in Lynnhaven on 2 Feb (ph. Catherine Johnson). Another female/immature was observed at a private residence in Kempsville on 3 Feb (ph. Teresa Conlon). Though this individual has likely been present since it's first report date of 7 Nov 2018, it hadn't been observed since 15 Dec 2018 so it was nice to see another report come in from this location. Adult males have been harder to find in the city, though several are present in at least one undisclosed location in central Virginia Beach. Unfortunately, there are just no public locations known where this species winters in the city.
Following suit with Painted Buntings, PURPLE FINCHES were picked up at a new location, found again at a continuing location, and unfortunately not observed anywhere on public property this period! A private residence in Laurel Cove had recently been visited by a male Purple Finch back on 27 Jan, but this period yielded a female visitor on 4 Feb (ph. Loretta Silvia). Two additional records of 'new' Purple Finches occurred during early February, with single males being photographed at First Landing SP on 8 Feb (ph. June McDaniels) and at a private residence in Larkspur on 10 Feb (ph. Steve Myers). As far as continuing Purple Finches go, a group of three was reported in South Shore Estates on 4 Feb (vis. James Marcum), and individuals have been observed off-and-on at that residence dating back to 28 Nov 2018. It really has been a banner season for Purple Finch in Virginia Beach, though records on public land have been very difficult to come by. The upcoming Great Backyard Bird Count might help ferret out some additional reports next period.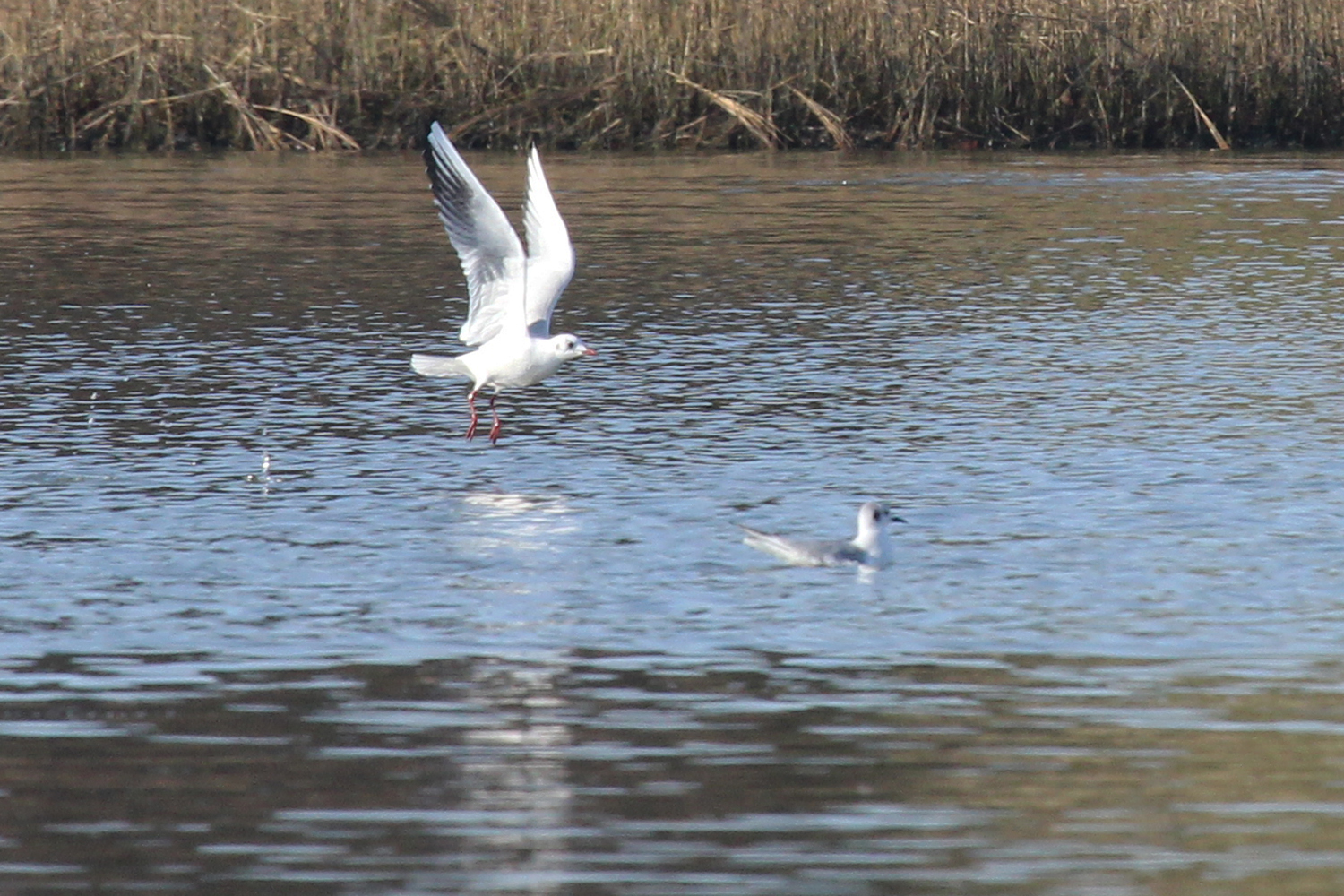 We added our 13th species of sparrow (not including Eastern Towhee, but including Dark-eyed Junco) for the calendar year this period when a single LINCOLN'S SPARROW was discovered at Princess Anne WMA's Whitehurst Tract on 10 Feb (ph. Rob Bielawski). Winter records for this species throughout Virginia area difficult to come by, though wintering individuals are slightly more expected to occur here in the southeastern portion of the state (like with most species) due to our milder climate during Dec-Feb. However, there has only been one other individual noted in the city this winter season, that being the single bird found at Taste on Shore Drive from 3-14 Dec 2018 (vis. Andrew Baldelli; later photographed on 8 Dec, ph. Rob Bielawski, Lisa Rose & Jason Strickland). Aside from these two records, the last one known in the city was way back on 9 Jan 2018 at Ashville Park (ph. Mary Catherine Miguez). Surprisingly, none were found here during fall migration, which is typically the peak movement for this species (early October specifically).
The immature male HARLEQUIN DUCK lingering around Lynnhaven Inlet since at least 31 Dec 2018 (Little Creek CBC) was again observed this period, on 3 Feb (ph. Andrew Rapp & Matt Wangerin, and observed by a great many others on the Williamsburg Bird Club boat trip), also on 7 Feb (vis. Sahas Barve, William Muhic & Russell Winter; later vis. Cindy Hamilton) and then extensively photographed on 10 Feb (ph. Prashant A.). This has been a hit-or-miss bird for many, though it seems to move into Long Creek with the incoming tide, then probably moves out as the tide falls. It has mostly been observed from the creekside of Dockside Restaurant, and other adjacent properties as it forages along the hardened/bulkhead shoreline and offshore tidal reefs. Interestingly, despite the Williamsburg Bird Club boat trip heading out to the four islands of the Chesapeake Bay Bridge-Tunnel (two in Virginia Beach, two in Northampton), this was the Harlequin Duck to get logged. Typically, it is the reverse, with most boat trips finding at least one around the islands, but not seeing any inshore. In fact, aside from this individual, there is only one other report so far this winter season in the state as a whole, with two observed on North Chesapeake Island of the CBBT in Northampton on 26 Dec 2018 (vis. Edward Brinkley) during an annual Boxing Day seawatch. That said, there was also a single record at Little Island Park on 9 Nov (vis. Tracy Tate), and an individual logged from 10-13 Nov at Rudee Inlet (ph. Mark Sopko, Stuart Sweetman & Elizabeth Wilkins as part of a Hampton Roads Bird Club outing) though these would both be considered fall records by ornithological journals, but still should be counted as part of this 'winter season'.
The miraculous WESTERN GREBE first found at Back Bay NWR way back on 3 Dec (ph. Diane Hinch & Maggee Smith; later ph. Charlie Bruggemann) was again observed this period from the Little Island Park pier on 5 Feb (ph. Dixie Sommers). Given there has not been a single other Western Grebe reported on the entire East Coast since this one, it seems 'reasonably' safe to assume this is the same individual moving along the coastline. Also, it seems pretty likely that this could be the same bird that has been found near here the past pair of winters. Of course, it is difficult to say for certain and maybe we even have more than one present in the area. However, we'll never know until more than one gets observed at the same time (or very near to it). This 'individual' was observed at Back Bay NWR only from 3-6 Dec, then was first picked up at Little Island Park during the Back Bay CBC on 29 Dec, lingering into this period with only one other record, back on 5 Jan.
A single PARASITIC JAEGER was noted harassing gulls off the Little Island Park pier in the late morning of 9 Feb (vis. Robert Ake). A first at this location dating back to 5 Jan when another individual was noted, the only other record(s) so far in the city this year have been a single jaeger viewed from the VA Aquarium Whales & Wildlife boat trips offshore of the oceanfront resort area in mid-and-late January (see those entries for more information). As we get closer to spring, this species could start popping up along the coast with more frequency, given that most records occur during transitional months and individuals in true winter are tougher to observe. Though, the fall migration in early November seems to still be the best time of year to observe jaegers from shore with 2017's migration standing out as the season to beat in terms of sheer numbers of jaegers that passed by our coastline.
An adult BLACK-HEADED GULL, likely the same individual that had been reported on the Lynnhaven Inlet tidal flats on 13 Jan (vis. Andrew Baldelli), was observed at Pleasure House Point NA on 2 Feb (ph. Rob Bielawski; later ph. Steve Myers). This individual was observed dip-feeding with a group of five Bonaparte's Gulls over the same school of fish that the Common Merganser female & Red-breasted Mergansers mentioned earlier were chasing/feeding on along the upstream tidal reaches of Pleasure House Creek. A separate report at Rudee Inlet on 4 Feb (vis. Tom Beatty) could pertain to this same individual if it is moving around with the tide cycle between the Lynnhaven Estuary and the inlet; or we could have more than one present in the city, which wouldn't be that out of the ordinary for southeast Virginia in terms of recent years' records.
Last of the continuing rarities, the small flock of SNOW BUNTINGS that took up residency starting on 12 Dec 2018 (ph. Stephen Keith) on the dune/beach line of the oceantfront's north end was again picked up this period starting on 2 Feb (ph. Allen Bryan) after an absence of almost a month! The peak count for the flock this winter was 16 back on 26 Dec (ph. Susan Remmie), with a peak of 14 observed this period from 4 Feb (ph. Andrew Baldelli & Cindy Hamilton) through 5 Feb (vis. Cathy Williamson). Reports thus far have all ranged from 88th to 82nd Street, though the same habitat continues south to 58th Street so there is a good chance they're using that whole stretch of vegetated dunes and being missed frequently as a result.
We had a pair of unseasonally-occuring species noted again this period, with BLUE-WINGED TEAL leading things off since they were reported from a new location for the year. Three individuals were first observed at Little Island Park on 1 Feb (vis. Andrew Baldelli), with additional reports for two individuals on 4 Feb (vis. James Marcum) and on 5 Feb (vis. Andrew Baldelli). Previously, the only other winter records in the city occurred at Back Bay NWR on 29 Jan (vis. Robert Ake) & 2 Dec 2018 on the Virginia Society of Ornithology outing, and at Princess Anne WMA's Beasley Tract on 6 Jan (ph. Rob Bielawski). The species is likely present each winter somewhere around Back Bay, but getting to them is likely the problem.
Two separate records for continuing BLACK-AND-WHITE WARBLERS popped up this period, with singles at Pleasure House Point NA and in Great Neck Estates. The former was first observed back on 6 Jan off of Dinwiddie Drive (ph. Nathaniel Abrahams, Logan Anderson, Carson Lambert, Andrew Rapp, Garrett Rhyne, Sam Simon & Robert Wood) and then amusingly found by two members of the same group again on 3 Feb following the Williamsburg Bird Club boat trip (ph. Carson Lambert & Andrew Rapp). The Great Neck Estates individual was observed first on 11 Jan (vis. J.A.) and then re-found at the same site on 5 Feb (vis. J.A.). A third wintering individual that had been recorded throughout January at Stumpy Lake NA ended up being reported right at the close of the period on 10 Feb (ph. Reuben Rohn), so we still have at least three Black-and-whites being seen within the city this winter which is quite remarkable!
As mentioned in the late January journal, with an expected departure date of 20 Jan in an average year, lingering BLACK SKIMMERS managed to continue to best the eBird filters this season. Though wintering is rarely observed in the state, Lynnhaven Inlet tends to be the most expected site for this to occur. A single individual has persisted at the inlet, visible from Pleasure House Point NA through at least 9 Feb (vis. Anonymous), though the last photo record (thus far) occurred on 7 Feb (ph. Cindy Hamilton). This is the only Black Skimmer still being reported in the state as a whole, and thus far Virginia Beach & Norfolk are the only cities/counties with records in Virginia during 2019. Perhaps given the unseasonal heat we experienced in early February we'll see this individual linger all the way through to the spring season?
Having logged 171 species in Virginia Beach to eBird during January, there wasn't much left out there in the city to be added during early February. However, a single BLACK-BELLIED PLOVER observed on the tidal flats where Long Creek hits the Lynnhaven on 4 Feb (vis. Andrew Baldelli) did provide a first-of-year record, for species #172 on the year in the city and the Lincoln's Sparrow mentioned in more detail above provided a second new species this period, allowing us to close out with 173 species on the calendar year in Virginia Beach. Black-bellied Plover is similar to Willet (which also showed up on that particular checklist), in that it is a common species during winter both north and south of Virginia Beach. However, finding one within the city is quite a struggle, so anytime one pops up it is exciting.
Additionally, we had a few other not-necessarily-noteworthy, but still interesting observations this period. SNOW GEESE have begun flocking up in the fields of southern Virginia Beach, and a massive group was foraging along Muddy Creek Road just north of Nanney's Creek road on 9-10 Feb (ph. J Sherwood, ph. Laura Mae, ph. Karen & Tom Beatty, ph. Rob Bielawski). A single BRANT was observed in flight over Lake Smith on 5 Feb (vis. Tracy Tate), and likely originated at Oliver's Point where an out-of-place group had been reported during January by the same observer. Another individual of an out-of-place waterfowl species, WHITE-WINGED SCOTER, was observed on the north pond at Sherwood Lakes on 2 Feb (ph. Charlie Bruggemann). This made for the very first record of the species at this location and also the first record not along the immediate coastline within Virginia Beach (at least as far as eBird records go)! Amusingly, the scoter was likely observed as a result of the Common Mergansers being present on the lake, but is actually a much rarer find at this site. Another interesting White-winged Scoter record occurred during the Williamsburg Bird Club boat trip when an adult male was photographed (ph. Andrew Rapp; observed by many). Adult males are quite rare in the city so this is an exciting one, and the only photographed so far this winter season in the city.
Early February saw a massive spike in the number of RAZORBILLS whizzing by along the coast, with a remarkable flight of 1,456 observed on 9 Feb from the Little Island Park pier (ph. Andrew Baldelli & Rob Bielawski). Groups and individuals were continuously streaming northbound past the pier for the first two hours of daylight before the flight died down. If hoping to see these lovely alcids, now is the time to watch, especially on days with onshore or northerly winds. The highest tally earlier this year was just over 300, and this is the first flight that has come close to rivaling what was observed in Feb 2017 (the historic, record-breaking season). Moving on to passerines, an ORANGE-CROWNED WARBLER photographed at Stumpy Lake NA on 1 Feb (ph. Rob Bielawski) provided only the second record for this species at the park in eBird (with the last record in mid-March 2012), and was the first eBird record here with a photograph. Though the species is an uncommon winter resident elsewhere in the city, the habitat at the park isn't really a fit, which makes this quite an out-of-place record during the winter (it might be more expected here during migration when birds tend to not be so habitat-picky). On that same outing, a pair of female COMMON/RED-BREASTED MERGANSERS were also observed but frustratingly not able to be narrowed better to species given the lighting conditions at sunset hit (ph. Rob Bielawski). Either species would be quite out of place at this location, with Red-breasted holding only three prior records at the park in eBird, and Common with only two prior records (the last one was in 1995).
Heading into mid-February, it seems likely that we might pick up our first-of-season Laughing Gulls given they have a typical arrival of 20 Feb. Also, the Great Backyard Bird Count takes place from Friday, 15 Feb through Monday, 18 Feb, which should bolster the number of eBird checklists being submitted and also has the potential to unveil some exciting birds that have so far escaped the public's eye! For more information on that event, the dedicated GBBC Website has all everything you'd need to get involved. Typically, February feels like a slower month than January, but a lot of this is simply the fact that we're all seeing new 'year birds' during January, and aren't as excited when we keep seeing the same species into February. However, February can be peak movement time for alcids and also is the beginning of spring migration for many waterfowl species (White-winged Scoter, Snow Goose, etc.) and also for Red-necked Grebes. Coastal seawatching will continue to be the best means of observing the best variety & counts of these species, but birding the woodlands of the city could always produce something interesting. All this said, it will be interesting to see what folks are able to find next period!
For those hoping to view every photograph submitted for Virginia Beach during this period, please see the complete listing for the month of February located on eBird's Media explorer by clicking here! Please remember, anyone with an eBird account also has the ability to rate these photographs (1-5 stars), and based on the average rating, this is how eBird populates anything media-driven on the website, particularly the Illustrated Checklists! So, if you're one of the many folks who enjoy looking at photographs of birds, take some time to click them all and rate them, it helps make eBird better and better each day!
For further information regarding this thrice-monthly, online publication, please visit the Journal Overview Page which provides an in-depth explanation of the format, layout and composition of the journal. As always, thank you for reading, and please leave me a comment below (you may use your Facebook, Gmail or other accounts to easily do so), or just click the Heart icon to the lower right of this post to let me know you stopped in!