The fields are purple with clover and white with Snow Geese, the early blossoming trees (Bradford Pears, Tulip Trees & Redbuds) are already showing flowers, daffodils are starting to pop, and we logged a remarkable new species for Virginia Beach this period! Mid-February produced a total of 144 species reported to eBird in the city, including four new species for the Virginia Beach calendar year list, which now sits at 177 species! An astonishing number of eBird checklists were submitted this period, bolstered heavily by the Great Backyard Bird Count event sponsored by the National Audubon Society, as well as by field trips in the city hosted by the Hampton Roads Bird Club & Richmond Audubon Society. Highlights this period included new rarity records for TUFTED DUCK (the very first record for Virginia Beach!), AMERICAN WHITE PELICAN & RUSTY BLACKBIRD, continuing rarity records for HARLEQUIN DUCK, COMMON MERGANSER, DOVEKIE & PAINTED BUNTING, new unseasonal records for SANDWICH TERN & BLACK-AND-WHITE WARBLER, continuing unseasonal records for BLUE-WINGED TEAL, an early first of season record for LAUGHING GULL and a first-of-year record for AMERICAN WOODCOCK!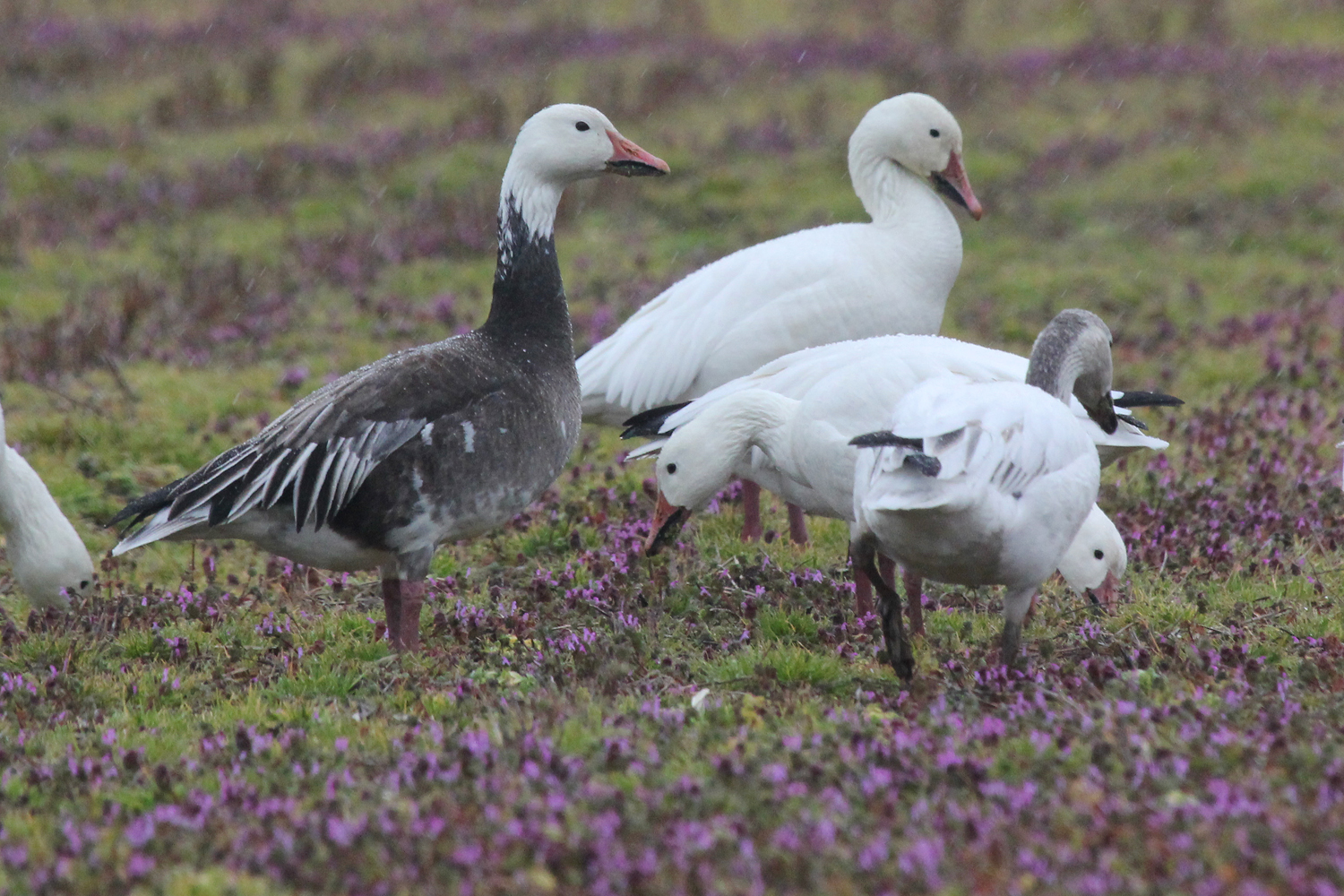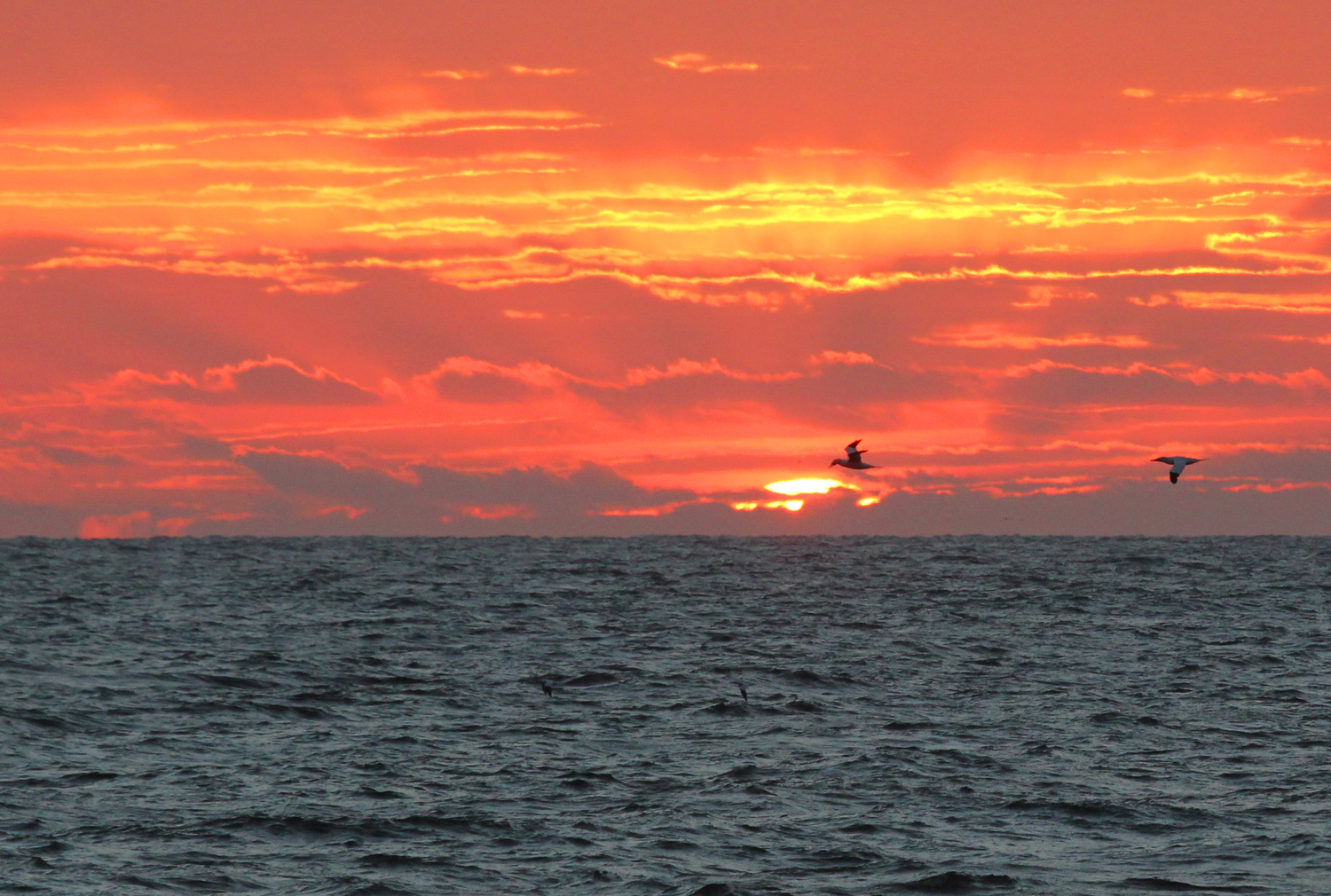 First off, the headliner: TUFTED DUCK! Found during the late morning hours on the lake behind Chartway Federal Credit Union's headquarters on Cleveland Street on 19 Feb (ph. Andrew Baldelli & Tracy Tate), this represents the first ever record for the species in Virginia Beach. In fact, this is such a rare find that there are only three prior records in the state of Virginia as a whole, with one at Lake Anna in 1994, one at Chincoteague in 1996 and one in Fauquier County in 2006. So, it has been almost 13 years since one was observed in the state, but we were fortunate enough to have it show up here, and even more fortunate that birders checked this location, were able to find and identify it, and put the word out very quickly. It was observed again throughout the day on 20 Feb, so appears to be staying in the area (who knows just how long it's been present, but simply unnoticed). Given how rare of a find this is, and the volume of birders who are likely to come to see it, please remember to be respectful of the property and anyone you encounter at this site. The grassed areas are marked with 'no trespassing' signs, so please do not wander across them.

Typically, in these journal entries, all the new rarities get run through prior to the unseasonal finds. However, this next one is such an incredible out-of-season record that it needs to be mentioned up here alongside the Tufted Duck. An incredible SANDWICH TERN was photographed from the beach at Back Bay NWR on 17 Feb (ph. June McDaniels), making for what appears to be the first winter record in Virginia for the species! Currently, eBird shows no prior winter records for this species north of North Carolina, making this one all the remarkable. With all the excitement of the Tufted Duck, many birders probably missed the initial eBird alert for this tern, but it is possible it might be lingering around Back Bay NWR, especially given gulls & terns often roost on the 'north mile' of the park. It certainly means we birders need to scrutinize every single Forster's Tern we see along the coast, in the hopes that one will turn out to be a (the?) Sandwich Tern.

Back to the new rarities, a group of four AMERICAN WHITE PELICANS was observed flying past the Virginia Beach Fishing Pier at the Oceanfront on 11 Feb (vis. Jessica Klotz). This species has been difficult to catch in Virginia Beach so far in 2019, with all the reports so far being coastal, but with all the individuals being in flight and not lingering around. Last winter we were fortunate to have an individual set down on Sherwood Lakes, where it stayed for a little over 24 hours, allowing looks by many locals. While we've had no truly chase-able American White Pelicans yet this year, we still have some time to get lucky. Last year we had records going into May for this species.

RUSTY BLACKBIRDS, rare in Virginia Beach though more common west of us at places like Great Dismal Swamp, were reportedly heard at two locations this period during the Richmond Audubon Society field trip to Back Bay NWR and False Cape SP. Thus far, there still remains only one single photographic record for this species in the city (Stumpy Lake NA in 2017), so anyone hearing (or seeing) Rusties should try their best to document with a photo. It is truly remarkable that more photographs don't exist, especially given the number of us here who take pride in photo-taking while out birding.

The immature male HARLEQUIN DUCK present since the Little Creek CBC on 31 Dec 2018 was logged quite a few times this period, with the most recent record occurring at Dockside Seafood & Fishing Center just before lunchtime on 20 Feb (vis. Rob Bielawski). This individual has been lingering along the bulkheads and piers along the north shore of Long Creek from Chic's Oyster Bar and westward to Lynnhaven Inlet. It has also been observed foraging around the oyster reef and small island visible from behind Dockside. It will likely persist in the area for a while, until longer term warm weather sets in and it heads back north along the coast.

COMMON MERGANSERS continued at two separate location this period, around Lynnhaven Inlet and at Sherwood Lakes. Last period, a single female Common Merganser was noted on Pleasure House Creek, and this period, a group of three females was observed nearby at Lynnhaven Inlet on 11 Feb (ph. June McDaniels). Additionally, the group of female Common Mergansers at Sherwood Lakes persisted through at least 17 Feb (ph. Rob Bielawski, vis. Jacob & James Flynn, vis. June McDaniels). It's likely that these Sherwood mergansers are still present, and that the ducks mentioned above perhaps have drawn more birders to different portions of the city, allowing these to go unnoticed for a couple of days. Certainly, still worth looking for into late February.

During a massive, record-setting, movement of Razorbills (7,000+ individuals) past Little Island Park on 19 Feb, an incredible four DOVEKIE were observed mixed in with the flocks (vis. Andrew Baldelli & Tracy Tate). Another individual was seen under similar, yet smaller scale, circumstances on 15 Feb at the same location (vis. Andrew Baldelli). With two prior individuals reported here in January, Little Island has solidified itself as the most reliable spot to attempt spotting this species. Though, it seems to require massive movements of Razorbills to provide the proper backdrop to picking one of these tiny alcids out, and mid-February is the peak season for those movements here on the coast. Changes still exist that heading into late February, one could be found though.

At least one continuing PAINTED BUNTING was recorded this period, with a female/immature type individual visiting a residential feeder in Kempsville on 15 Feb (ph. Teresa Conlon). Though it wasn't reported again after this, it has been present for several months, so it could return. Elsewhere in the city, there are likely to be quite a few other Painted Buntings hanging around, though there have been none reported from publicly viewable locations this season.

In mid-February we had both a continuing, and a new record for BLACK-AND-WHITE WARBLER, making this a record-setting season for this species in Virginia Beach. According to eBird, there had only been two prior Jan/Feb records for the species here, but in 2019, these two months have provided at least four individuals being logged. Of course, there are probably records that exist and aren't entered in eBird, but, there's no way of knowing. A newly reported individual was found at Back Bay NWR on 14 Feb (ph. Cindy Hamilton & June McDaniels), while a continuing individual in Great Neck Estates was last logged on 18 Feb (vis. J.A.). Other individuals reported previously at Pleasure House Point NA and Stumpy Lake NA were not observed during this period, but are likely to still be present at their respective parks.

Another noteworthy species of waterfowl continued to be recorded this period, with BLUE-WINGED TEAL reports coming in from Back Bay NWR & False Cape SP during the impoundments survey on 15 Feb, as well as during the Hampton Roads Bird Club field trip to the park on 16 Feb. The latter outing also produced a record for five Blue-winged Teal at False Cape SP (ph. Andrew Rapp), the first to be recorded at the park this year. Additionally, a drake/hen pair was recorded at Princess Anne WMA's Beasley Tract on 17 Feb (ph. Rob Bielawski), the first there since early January. With an expected spring arrival date of 5 Mar, we're heading into the time when Blue-winged Teal reports will start to become not-noteworthy, though reports through 25 Feb will still get logged to the Noteworthy Observations Page on this website.

With an expected spring arrival date of 20 Feb, we had an early arrival for LAUGHING GULL when one was reported on the flats at Pleasure House Point on 15 Feb by a portion of the Richmond Audubon Society (vis. Kathy Louthan, Len Smock & Wes Teets). This species has a narrow window during most winters where they can't be found, currently set as 10 Jan-20 Feb in eBird. During harsher winters, they'll leave earlier and return later though, so year to year it is always interesting to see how they react to the weather. Another good example of this is Black Skimmer, typically departing 20 Jan and returning 5 Apr. This year, one skimmer did linger late, but there were no reports this period for this individual.

In addition to the Tufted Duck, Rusty Blackbird & Sandwich Tern mentioned above, AMERICAN WOODCOCK was also recorded this year for the first time in Virginia Beach. Three sightings came in during mid-February, with the first being logged at Back Bay NWR on 11 Feb (vis. Tracy Tate), one at Princess Anne WMA's Beasley Tract on 17 Feb (vis. Rob Bielawski) and another at First Landing SP on 20 Feb (vis. J.A.). This could be a sign that the species is already on the move and more individuals are showing up here. This mid-to-late winter has been starkly different than last year's with regard to Woodcocks. The heavy snowfall events of last Jan/Feb made this species a much easier target as the snow tends to push them to parking lot edges and any other open patches where they can continue to forage. With no snow so far this winter, they're been much harder to find given their perfect camouflage.
Heading into late February, the coastline should continue to be watched closely for large-scale movement of Razorbills. Snow Geese should continue to move through in large numbers, with massive flocks descending on agriculture fields in southern Virginia Beach to forage. Outside of Laughing Gull, there are no other expected spring arrivals during this period, but starting in early March, we'll have expected species arrivals each period through May. The Tufted Duck is certainly one not to miss, given there's never been one logged in Virginia Beach before, so if you're looking for a bird to go see, that's the one!
For those hoping to view every photograph submitted for Virginia Beach during this period, please see the complete listing for the month of February located on eBird's Media explorer by clicking here! Please remember, anyone with an eBird account also has the ability to rate these photographs (1-5 stars), and based on the average rating, this is how eBird populates anything media-driven on the website, particularly the Illustrated Checklists! So, if you're one of the many folks who enjoy looking at photographs of birds, take some time to click them all and rate them, it helps make eBird better and better each day!
For further information regarding this thrice-monthly, online publication, please visit the Journal Overview Page which provides an in-depth explanation of the format, layout and composition of the journal. As always, thank you for reading, and please leave me a comment below (you may use your Facebook, Gmail or other accounts to easily do so), or just click the Heart icon to the lower right of this post to let me know you stopped in!